2
min read
Scrum is a popular framework on the market that is available to Product Managers all over – however, it can be quite difficult to utilize without the proper training.
The Scrum framework is popular because of how lightweight it is, and how simple it is to understand. However, do not underestimate the framework, as it is simple to understand, but difficult to master.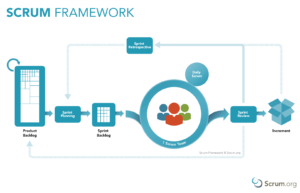 Layout of the Scrum Framework
The Scrum framework all begins with the Product Backlog, or all of the projects that are necessary in order to make the Product successful. This backlog is then split upon during sessions known as sprints, which is the basic unit of development in Scrum lasting about a month or less, with a 'done' product increment is produced. The Sprint is a timed effort, in which it is designated to a specific time duration. The Product Backlog is split into a Sprint Backlog, which is then given separately to different Scrum teams who conduct daily scrums, which is a 15 or so minute event for the development team to sync and create a plan for the next 24 hours, and sprint reviews, which is used to assess the increments, and readjust the backlogs if need be. If the Sprint is good, then it is placed back into the Product Backlog – if not, then it is incremented, or placed into a Sprint Retrospective to distribute once again into the cycle.
What the Scrum Team is Comprised of, and the Benefits of Scrum
The Scrum team consists of a Product Owner, the Development Team, and a Scrum Master. Scrum teams are not only self-functioning, but they're also cross-functioning teams composing around these 3 critical roles. Since the teams are self-functioning, they make their own decisions and choices on how to best accomplish the designated work, rather than have an outside source give directions on how to proceed with the work. So, how would this exactly provide beneficial aspects to a company? The Scrum team model is designed to optimize Creativity, Flexibility, and Productivity for the individuals.