In today's article, we will take you one step (more like multiple steps!) closer to achieving your professional dreams by revealing everything you need to know about getting a Product Manager job at Amazon!
This e-commerce tech giant is growing like no other company. Therefore, it has recently made an extensive effort to recruit top talent to expand business and operations as much as possible!
Before we get into the recruitment details, let's take a closer look at what a typical Amazon PM position requires.
What Does a Typical Amazon PM Job Posting Look Like?
Before starting your journey, the smartest thing to do is make sure you know your end goal.
In this case, it will be a Product Manager position at Amazon. We will give you the most objective and realistic view of what a typical PM role at Amazon involves and requires taking a closer look at a job posting.
As we advise with all companies, the most recent hiring announcements are made on the company website. So we went on to Amazon's job site and and found a PM role.
Let's start by taking a look at the "Key Responsibilities":

This section gives us a general idea of what the job does daily and in the long run. The expectation for this role is basically to have someone lead the product development process from ideation to release, drive critical strategies to expand existing products, and observe and report KPIs to determine how the product is doing in the market.
The job posting also tells you that you will be expected to work with multiple stakeholders and directly report the product progress to the senior leadership.
We also underlined the keywords that you should familiarize with. These words have to be on your resume, cover letter, and most importantly, you have to use them during the interviews.
Now, let's read the "Basic Qualifications":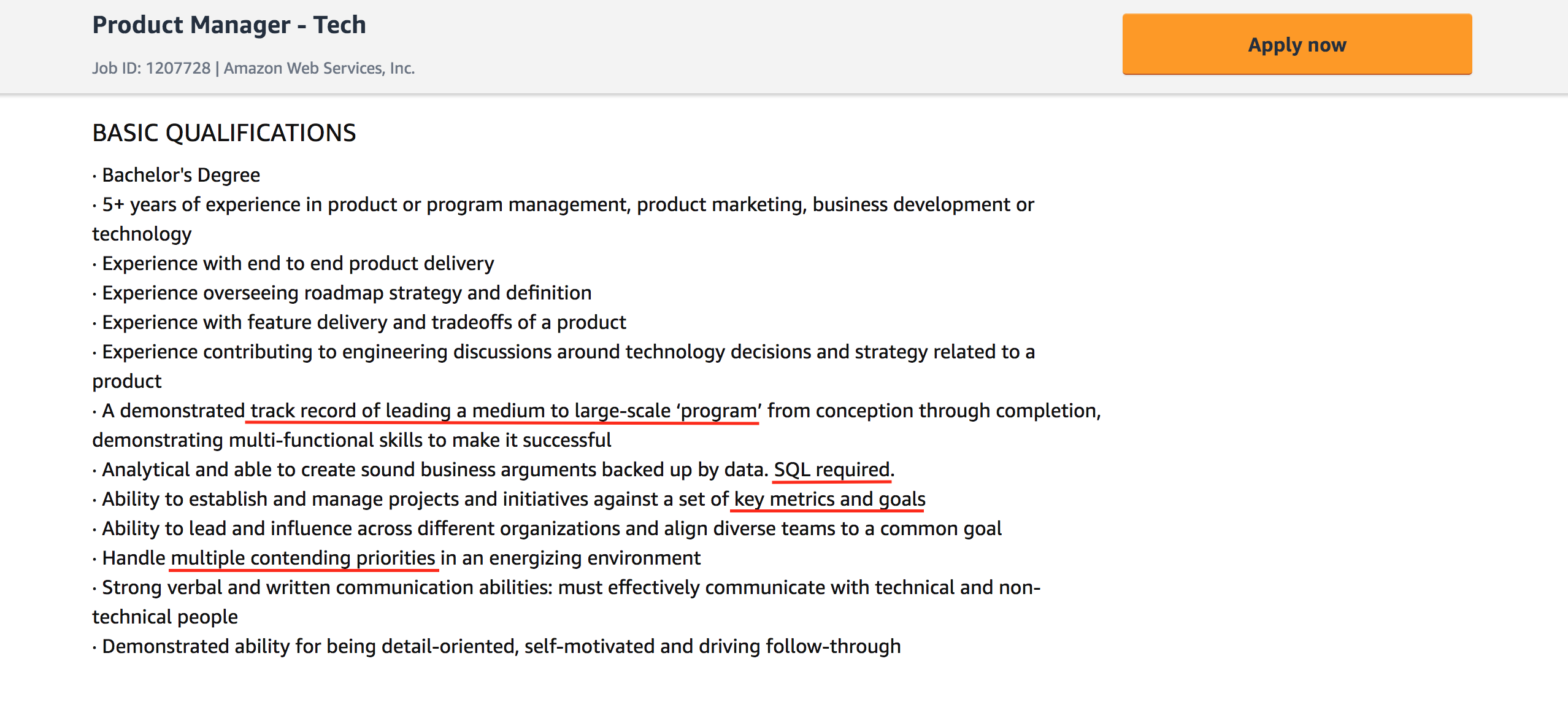 This part lists out what the company is looking for in a candidate. Other than the expected college degree or X years of experience, you can also expect some details about this job in particular.
In this case, we don't see anything that pops out, but there are a couple of lines that hint at a potential interview question or two.
For instance, the posting clearly states that "SQL is required." This means that you will most probably get a technical question about databases. So, learn your queries and databases!
They also emphasized prioritization, so it's safe to assume that there will be a strategy question in the interview.
We have one last caveat before we jump into the interview process: Do NOT be discouraged by the number of years of experience required! This is just a number, and as long as you feel comfortable about your professional experience, it means nothing!
What Is the Interview Process and Timeline?
Amazon doesn't have any official resources about this part, but we can figure out what the interview process looks like by doing more research.
The most reliable resource to understand the latest interviewing trends at a company is to go to Glassdoor and look up that specific company and position. Make sure you sort the interviews by most recent ones to know what the latest questions look like.
Here's how Amazon interviews look like on Glassdoor: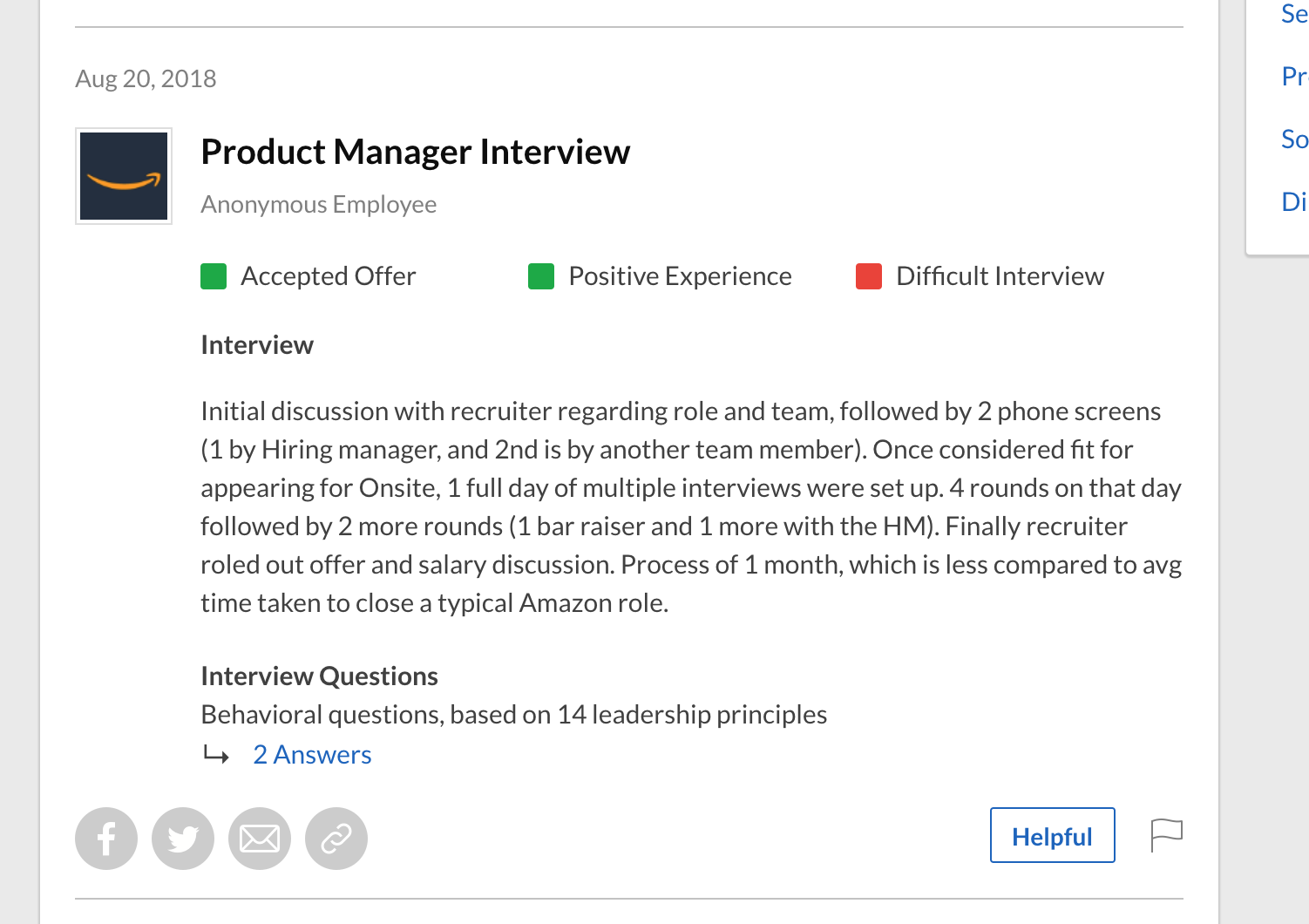 While the questions might not be as accurate, you will get a good sense of the interview timeline. After analyzing the Product Manager entries for the last couple of years and referring to other critical, external resources, such as IGotAnOffer, here's what a typical Amazon Product Manager Hiring Timeline looks like:
Submit your application

Initial HR Recruiter phone call

Phone Screens with PMs (expect 1-2)

Take-home exercise (might not be the case for all positions)

On-site interview

Hiring committee decision

Congratulations, you got an offer!