Audio streaming company Spotify has succeeded where past digital music sharing companies like Napster and LimeWire had failed. With hundreds of millions of users worldwide, Spotify is both the world's most popular audio streaming service and the music industry's largest revenue driver. Many PMs dream of a product role at Spotify, especially those who are passionate about music, art, and other creative industries. But first, you have to win the Spotify Product Manager interview.
Company Overview
Spotify is an audio streaming service that provides users with access to music, podcasts, radio programs, news, and more. The company uses a "freemium" business model, meaning that customers can pay a monthly subscription fee to receive additional product features, including ad-free and offline listening. "Free" customers can choose to upgrade at any time or continue to use the product at no cost for as long as they'd like.
With this model, as well as its advertising options, Spotify supports both the free platform and its royalty obligations to musicians and record labels. The service now hosts more than 70 million audio tracks, including works by world-famous recording artists like Taylor Swift, Lady Gaga, and The Beatles. The company is publicly traded (NYSE: SPOT), with more than 5,000 employees worldwide. Its headquarters are located in Stockholm, Sweden, where the company was originally founded by CEO Daniel Ek.
In 2006, Ek had sold his startup, Advertigo, to Martin Lorentzon, who soon became the co-founder of his next venture, a music streaming company. What came to be called Spotify launched in Europe in 2008 after Ek secured deals with several major record labels. In July of 2011, the service became available in the United States. Just two months later, Spotify reached two million paying subscribers. In 2015, the company expanded into podcasts and other audio mediums and reached 20 million paying subscribers. Three years later, the company went public on the New York Stock Exchange.
Over its history, the company has made significant investments in improving its product's user experience. Features like custom playlists, recommended songs and artists, improved sound quality, and social networking capabilities have driven customer loyalty and product "stickiness." And these investments have paid off. Currently, Spotify has 155 million subscribers and 345 million monthly active users and is available in more than 180 markets.
Product Culture at Spotify
As a freemium company, Spotify offers different versions of its core audio streaming product. These include their "forever free" product, Spotify Premium, and the soon-to-be-launched Spotify HiFi. Spotify also has an advertising service for businesses, with audience targeting options, analytics dashboards, and sound editing tools. Also, the company helps musicians build their audiences and promote their performances with the Spotify for Artists platform.
Overall Company Culture
Spotify is truly committed to crafting a strong corporate culture, so much so that they created "The Band Manifesto," a clear description of their company's vision and principles. At Spotify, the team is thought of as a band, with different components all working together toward a shared goal. All "voices" should be heard, and each member's unique talents play a role in driving the organization to success.
The company's mission is "to unlock the potential of human creativity by giving a million creators the opportunity to live off their art and billions of fans the opportunity to enjoy and be inspired by it." To encourage their team to strive toward this goal, Spotify has identified five core traits all employees should embrace: Innovative, Sincere, Passionate, Collaborative, and Playful. The organization encourages its team to have fun, work together, and bring creativity to their roles.
Product Team Culture
Product is the "what and why behind Spotify." The company's product team page emphasizes the role product plays in determining strategy, identifying opportunities, and making use of technology to create the best possible user experience. Spotify PMs are expected to be driven, innovative, forward-thinking, inspiring, and customer-focused.
How to Get a Product Manager Job at Spotify
At Product Gym, we apply a simple four-step framework to landing the Product Manager job you're looking for. With this structure and the support of the PG community, both aspiring and veteran PMs have increased the number of calls they receive for interviews. The process also leads to more of those interviews being converted into offers.
Here's how the magic works:
1. Optimize
From the best techniques for writing a cover letter to building an attractive Product Manager resume, the first step is to boost your credibility and professional branding. To get the offer from Spotify, you'll need:
A resume designed to beat the ATS
A cover letter that shows your culture fit
An optimized LinkedIn profile that aligns with the above
A 30-second personal pitch that sells you as the best possible candidate
At Product Gym, we provide branding workshops, resume reviews, and the tools you need to take your professional branding to the next level.
2. Apply
Product Gym members apply for 20+ Product Manager jobs weekly, and often average 9+ interviews in any given week. But how's that going to help you get the job at Spotify? Simple: by perfecting your application strategy and interview approach through practice and experience, you'll build the confidence and expertise you need to wow the recruiter and interviewers at your dream company when the time comes.
Of course, our tried and tested application framework is paired with tools, tips, and interview support that all come together to form a job-hunting strategy that really works.
3. Convert
Once you've lined up your interviews, it's time to zero in on converting those round ones into round twos, and so on, all the way to the Spotify Product Manager job offer. It's no secret that we focus on the Product Manager interview process here at Product Gym: we're there to help our members learn how to ace every step and every question — including behavioral questions, technical questions, case studies, salary negotiation, and more.
4. Learn
When should you start building your product management skillset? Before you apply? When you're on the job? Honestly, transitioning into product management can be a long journey. We encourage Product Managers (whether you're a first-timer or an industry vet) to start learning at the beginning and continue on past the finish line.
You likely already have skills that translate well into a Product Manager role: keep sharpening them, and find the gaps where you can learn, grow, and practice new skills to become a better Product Manager every day.
We want to make sure our members show up skilled and prepared for their interviews and their first day on the job, which is why we offer 20+ technical and business courses taught by industry experts.
What Does a Typical Spotify PM Job Posting Look Like?
Each Spotify job posting for the product team includes an overview of the specific product or product feature set that the new hire would be working on. Then it describes the specific role, providing a list of core responsibilities. Next comes an outline of the job requirements. Typically, PM roles at Spotify require at least 3 years of experience. Finally, the posting explains the perks/benefits of being part of the Spotify team and describes the company culture.
The specific job duties really depend on the product or platform the PM would be responsible for. The Senior PM — Personalized Playlist Platform role, for example, requires candidates to have experience building internal tools.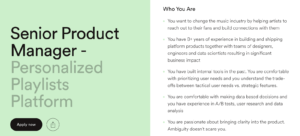 However, all Spotify PMs are expected to have certain skills in their arsenal. On the more PM-focused side, these include:
The ability to prioritize customer needs and balance them with strategic priorities

Experience building product roadmaps with multiple stakeholders

Strong familiarity with A/B testing, user research, and experimentation

A demonstrated track record of working well with design and engineering

An understanding of data analysis and how to use it to make product decisions
On the "soft skills" side, Spotify PMs must be:
Excellent

communicators

Comfortable with ambiguity

Able to inspire and motivate

Organized and structured

Creative and ready to think "outside the box"
How Do You Get a Spotify Product Manager Interview?
First, find that perfect product position. Visit Spotify's careers site, Linkedin profile, and/or Glassdoor page to search for a product role suited to your skillset. Tailor your results using filters for seniority level, desired compensation, remote work options, etc. Then, it's time to craft a stand-out application. Spotify even offers some advice on how to do that, like:
Include a cover letter

Do your research

Provide links to work samples, portfolios, personal sites, etc.
Write a Fantastic Product Manager Resume
As they say, you never get a second chance to make a first impression, so make your resume truly memorable. Before getting started, make note of the responsibilities and requirements listed in the job description. When you begin writing (or updating) your resume, be ready to include those keywords wherever possible. Most likely, the position will require you to have experience with three or more of the functions mentioned above. And if you can point to previous quantitative results in those areas, certainly do so.
Looking for more resume advice? Read our resume writing guide, which will help you build a versatile product manager resume that you can use for a variety of product positions.
Polish Your Pitch and Position Yourself as a Strong PM Hire
Once your resume is ready to go, highlight your product management skills. This means you should craft a pitch that showcases the product manager position's key responsibilities. Learn how.
Apply!
Once all of your materials are polished and proofread, it's time to hit that "submit" button. To give yourself an extra boost, you may want to reach out to former colleagues, acquaintances, or alumni to promote your candidacy and help you get that first interview. In fact, Spotify recommends seeking out a referral if you know someone at the company. Our step-by-step recruiter networking methodology is another useful tool for getting your foot in the door.
What Is the Spotify Product Manager Interview Process and Timeline?
Spotify is very transparent about their hiring procedures — they even have a "How We Hire" page. Generally, the interview process goes like this:
Initial phone or video screen with a recruiter

Interview with one or two team members

Final interview with multiple stakeholders from various departments

The offer!
Spotify tries to get back to applicants within a few weeks of their initial application, but more popular positions may require more time to respond. If you make it to the final round, you can expect a hiring decision within a couple of days.
Overall, 41% of interviewees said they had a positive interviewing experience, and the average interview difficulty was rated as 2.9 out of 5. The majority (64%) of candidates got an interview after simply applying online, and 19% got theirs through an employee referral.
How to Win the Introductory Call with the Hiring Manager(s)
Your goal here is to prove that you're qualified enough to move on to the next round. Typically, this round includes general behavioral questions plus a few role-focused ones. Be prepared to answer the "usual" job interview questions like "Tell me about yourself" and "What did you like most and least about your last job?"
Here are several other questions you may be asked:
Why do you want to work at Spotify?

How do you deliver feedback to the team and build trust?

If you had to start your last job over again, what would you do differently?

How do you define an MVP?

How do you measure success?

What metrics did you use for your last project?

How do you interact with stakeholders?
In this interview, the team members will also assess your culture fit with the Spotify "band." They'll want you to demonstrate that you can follow their core values, take ownership of your role, work well with others, and adapt to changing priorities.
How to Win the Technical and Behavioral Spotify Interview Round
At this stage, you'll be interviewing with team members and stakeholders from the different departments you'd be working with. According to one interviewee, this final round is broken into four parts: Technology and Design, Execution and Scaling, Leadership and Culture, and Vision, Strategy, and Instinct. Expect to receive questions about each of those topic areas.
You should also be ready to answer the following:
How would you launch Spotify in a new market?

Tell me about a time you delivered a feature which didn't work as expected.

How do you work with designers and

engineers

?

Talk me through a specific project.

Spotify has a 1-month trial membership. We noticed that users were not converting to paid membership after the free trial. From a product standpoint, what can you do to improve user engagement and subsequent customer retention?

How does technical debt fit into a product roadmap?
After this round, the decision is in the hands of the Spotify team. You can expect to hear back within a few days.
How Did COVID-19 Change Hiring at Spotify?
Like most companies, Spotify switched to fully virtual interviewing during the COVID-19 pandemic. However, they've always had a "Work From Anywhere" policy, so remote hiring and distributed teams are nothing new for them. Their philosophy is that employees work best where they are most comfortable, whether that's in the office, at home, or a mix of the two.
Despite the pandemic, Spotify is still hiring. Currently, they have more than 350 job openings listed, including 26 product team roles. For virtual interviews, they use Zoom and Google Meet, plus Coderpad and MURAL for more technical questions.
If you're a bit apprehensive about remote interviewing, we understand. After all, the dynamic of a virtual interview is different from that of an onsite one. To prepare, check out the Product Gym guide to dominating your virtual interviews.
Want to learn more about getting hired as a PM at a top tech company? Schedule a free consultation with us today.