Even if you've never heard the name Atlassian, you've probably used one of this company's products. Most likely, you're familiar with Jira, the work tracking and project management tool used by teams the world over. Or maybe you've used Trello to keep track of your personal or professional tasks. When it comes to agile software development, Atlassian is the leader of the pack — which is why so many product pros want to work for them. If you're one of them, read on to learn more about their hiring process so you can win the Atlassian Product Manager interview.
Company Overview
Atlassian is a software company that creates project management and issue tracking solutions for collaborative teams. Their best known product is Jira, the extremely popular project and workflow management system favored by agile development teams. Some of the world's best-known enterprise companies, including Dropbox, VISA, Pfizer, Samsung, and Coca-Cola. use Jira to plan and execute their software releases.
The co-founders of Atlassian, Mike Cannon-Brooks and Scott Farquhar, met as scholarship students at the University of New South Wales. Both were expected to join one of the scholarship program's sponsoring companies after graduating, but they decided to start their own company instead. In 2001, they registered Atlassian as an official business, and by the next year, Jira 1.0 was released. Rather than rely on outside investors, Cannon-Brooks and Farquhar initially financed the business through debt: a $10,000-limit credit card.
Atlassian's first employees were the founders' college friends, but the business grew quickly. They made their first US-based hire in 2003, and by 2005, they reached 1,000 customers. The company created the Atlassian Foundation in 2006 and pledged to donate 1% of their profits to various charities. Two years later, Atlassian started growing their portfolio by acquiring a number of businesses, including team performance tool Bamboo and identity management solution Crowd. Another major addition happened in 2010 with the acquisition of Bitbucket, a code hosting service.
2012 marked Atlassian's 10-year anniversary, and that year they reached the $100M revenue milestone. Three years later, they went public on the NASDAQ. Popular task management and list-making platform Trello became an Atlassian subsidiary in 2017, and the company expanded into India the following year. In 2020, they released their first Sustainability Report and launched the "Teamistry" podcast.
Today, Atlassian employs more than 5,000 people worldwide. It's still helmed by the original co-founders and is headquartered in Sydney, Australia. Their total customer base includes more than 180,000 companies in 190 countries, and 83% of Fortune 500 firms use an Atlassian product. Each month, 100M active users interact with Atlassian's cloud products.
Product Culture at Atlassian
Atlassian's core product is Jira Software, an issue tracking and project planning/management service. Other products under the Jira umbrella include Jira Align for enterprise strategy, Jira Work Management for collaboration, and Jira Service Management for process support.
Another well-known Atlassian product is Trello, a flexible, Kanban-style task management board that lets users move jobs from planning to in process to done. Confluence is yet another popular tool that helps teams collaborate and share/store knowledge via online wikis.
On the more technical side of things, Atlassian offers Bitbucket and Sourcetree for code management and teamwork, Bamboo for continuous release management, and Fisheye and Crucible for code monitoring and review. The company also has two products aimed at protecting identity and security: Atlassian Access and Crowd.
Another product area focuses on site monitoring and performance. Opsgenie is a solution that centralizes alerts and makes it easier for organizations to respond to critical issues as quickly as possible. Statuspage communicates real-time site status and outages to users and helps reduce support tickets while also enabling incident response. For those tickets that do come in, Atlassian also offers Halp, a ticket management tool. Users can even turn Slack and/or Microsoft Teams messages into tickets.
Core products like Jira, Trello, and Bitbucket are priced on a monthly subscription basis, while others (Atlassian Access, for example) are sold as subscription add-ons.
Overall Company Culture
Interestingly, Atlassian didn't start out with core values. Instead, they established them in 2007, six years after the company's founding. They are:
Open company, no bullshit

Play as a team

Build with balance and heart

Don't

#@!% the customer

Be the change you seek
These five values guide the company's strategic decisions, from what products to build to which people to hire.
In addition, Atlassian is especially committed to philanthropic work through the Atlassian Foundation and its 1% pledge. They also plan to run on 100% renewable power by 2025.
Product Team Culture
Product team members at Atlassian are highly focused on customer needs and solving user problems. They're also expected to follow the four key pillars of Atlassian's approach to product management:
The ability to lead and inspire

Excellent communication

Always striving to excel in the craft

Driving tangible outcomes
What Does a Typical Atlassian PM Job Posting Look Like?
Each Atlassian product manager job posting starts with a description of the product the PM would be working on. This includes the purpose of the product, its role within the organization, and its strategic value. Next is the "more about you" section, which lists the traits the ideal PM candidate will have. These generally include the following:
Able to communicate effectively with your team, executives, and other stakeholders

Skilled at building relationships across departments

Laser-focused on the customer and their needs

Knowledgeable about developer communities and ecosystems

Enthusiastic about working with data
Next up is the "On your first day, you will have …" section, which is basically a list of prerequisites. Typically, PM roles at Atlassian require 3+ years of experience. For certain positions, like the Product Manager, Compass job shown below, the company wants candidates with specific domain expertise (DevOps, in this case).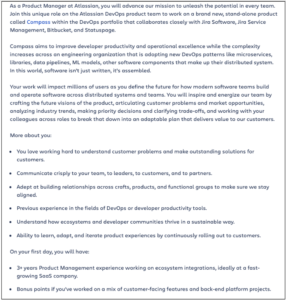 PM applicants typically need to meet the following criteria:
Experience working at a fast-growing company

A track record of effective team leadership

Excellent prioritization skills

Experience with UI/UX and experimentation

The ability to create and execute on roadmap strategy
The next section is a list of preferred qualifications, which tend to include a master's degree or other advanced education and B2B SaaS experience. Following that is a description of the Atlassian team and what it's like working there. There's also a section on company benefits. Perks include charitable donation matching, stock options, paid parental leave, gym membership, sabbaticals, and free meals and snacks.
How Do You Get an Atlassian Product Manager Interview?
Start by searching Atlassian's current job openings to find the one(s) most suited to your past experience, specific skills, areas of expertise, and professional goals. Once you've picked out one or more that seem to be a good fit, your next step is to build a standout application. And that starts with your resume.
Write the Ideal PM Resume
Your resume serves as your "first impression" with the hiring manager, so make sure it's a good one. Show off your skills and relevant job experience, and highlight any prior experience involving the responsibilities and tasks listed in the job description. If you can point to previous quantitative results around those parts of the role, you should do so.
Also, be sure to check out our free webinar on resume writing, which takes you through the process of building a well-organized resume that you can use for multiple PM roles.
Craft Your Pitch and Position Yourself as an Awesome PM Hire
Your next step is to demonstrate your product management talents. You can do that by writing a pitch that showcases the product manager position's key responsibilities. Here's how.
Apply!
The next and final step is to submit your application. But don't stop there — if you know any current Atlassian employees, reach out to ask them for a referral. According to Glassdoor, 12% of interviewees got their foot in the door via employee referral. Our step-by-step recruiter networking methodology can also help you secure that all-important first interview.
What Is the Atlassian Product Manager Interview Process and Timeline?
In general, the PM hiring process at Atlassian follows these steps:
Introductory call with the hiring manager(s) + take-home assignment

Technical and behavioral round(s) with team members and stakeholders + whiteboard session

The offer
Overall, the process takes about four to six weeks from end-to-end. According to Glassdoor, 47% of interviewees had a positive experience, and the average interview difficulty was rated a 3 out of 5.
How to Win the Introductory Call With the Hiring Manager(s)
After an initial call with a recruiter to go over logistical fit (salary, benefits, location, etc.), you'll move on to an interview with the position's hiring manager. Typically, this round focuses on basic behavioral questions like "Where do you see yourself in five years?," "Tell me about yourself," and "Why do you want to work here?" According to several Glassdoor responses, additional questions you should be prepared to answer are:
What is a product you've used recently and how would you improve it?

What do you know about Atlassian?

Can you run through your professional experience?

Why do you think you are a good fit for this role?

Tell me about a challenge you had with a colleague and how you dealt with it.

What are the qualities of a good product manager?

How do you prioritize features?

Tell me about a time when you failed. What happened and what did you do about it?
At the end of this interview, you'll also be given a take-home assignment. You'll need to pick a product or app that you like and describe how you'd improve it and why.
How to Win the Technical and Behavioral Round(s) With Team Members and Stakeholders
The next round will include several one-on-one interviews with members of the product team. During this stage, the questions will be far more specific to the PM role and what you'd be working on day-to-day. You'll likely be asked the following:
What is the latest discovery process you followed to validate a customer problem?

What product would you want to work on at Atlassian?

How do you determine if a new product was a good idea?
This is also the stage in which you'll get a lot of questions around the company's five core values. Come prepared with examples of how you've demonstrated these values in past positions.
In addition, you'll be asked to go through your take-home assignment and explain your thinking and problem-solving process. This stage involves a whiteboard session as well. You'll need to show how you took a product from concept to execution and share how you approached the challenge.
After this stage, the decision is in the hands of the hiring team. Good luck!
How Did COVID-19 Change Hiring at Atlassian?
Like most companies, Atlassian shifted to a fully-remote interviewing process during the COVID-19 pandemic. Because they consider themselves a "distributed-first" company, they'll be continuing with virtual hiring and onboarding even as restrictions ease. FYI, our guide to remote interviewing can help you prepare.
Currently, Atlassian has over 275 open positions, including several product management roles. And in August of 2020, Atlassian announced that it would allow all employees to work from home indefinitely should they want to.
Want to learn more about nailing the Atlassian Product Manager interview, or about getting hired at a well-known company? Our career coaches are offering free sessions: schedule yours now. We'd be happy to answer any questions you may still have.