Its progressive culture and emphasis on employing the best technologies and practices have made it an ideal company for many product managers! However, because of the stiff competition for the role, you will need some valuable tips.
So in this article, we will be breaking down the steps to take if you are looking to win the Bumble product manager interview. Keep on reading to learn more about the company, how product management is done there, and how to win their product manager interview. 
Company Overview
Whitney Wolfe Herd(Bumble CEO), who happened to be a cofounder of Tinder, launched Bumble with two former Tinder colleagues, Chris Gulzcynski and Sarah Mick, in December 2014. Bumble is a location-based, female-oriented dating app with some mechanisms that are inspired by Tinder.
Like Tinder, users get to swipe right for a person they are interested in or swipe left on someone they don't find attractive. The only difference is that with Bumble, only the woman can make the first contact. There is a 24-hour window for women to send a message to their match before it disappears.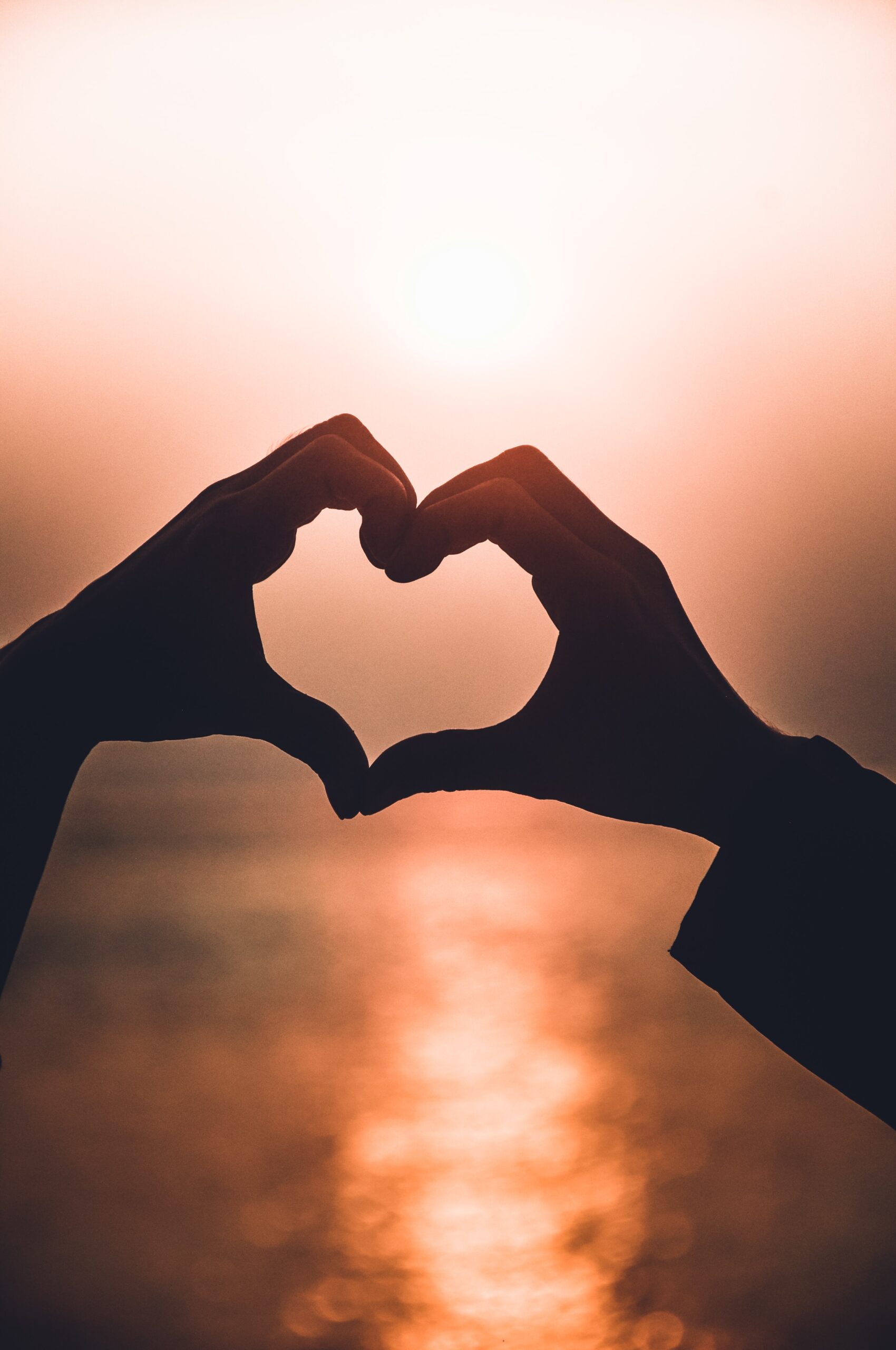 By January 2015, Bumble had about 100,000 downloads, and by the end of 2017, it had over 22 million users. According to Bedbible, the company had 100 million users in 2020. The Blackstone Group currently owns the majority of Bumble.
With more than 600 workers in its Austin, London, and Moscow offices, Bumble is determined to take online relationships to the next level.
At the moment, Bumble is currently more than a dating app as it has expanded into Bumble Bizz (a networking platform for professionals) and Bumble Bff (which helps people to make platonic friendships with "good" people).  Its Initial public offering is expected to happen in the first quarter of 2021, with a valuation between $6 billion and $8 billion. Given this expansion rate, it is only natural that Bumble will be looking to hire outstanding product managers.
Product Culture at Bumble
Bumble is an equal opportunity employer that strongly encourages people of color, lesbians, gay, bisexual, transgender, queer, and non-binary people, veterans, parents, and individuals with disabilities to apply for its product manager positions.
Bumble places a premium on flexible tools; that is why it builds almost everything within. The company has a few expectations from its product managers. Bumble product managers are expected to be detailed planners who effectively manage documentation, milestones, and product plans.
They are also expected to coordinate throughout the lifecycle of a product by generating rollout plans, go-live criteria, issue tracking, and clearing, in addition to intimating stakeholders and collaborators of progress made. The Bumble product manager is responsible for providing insights into aspects of the process that require changes.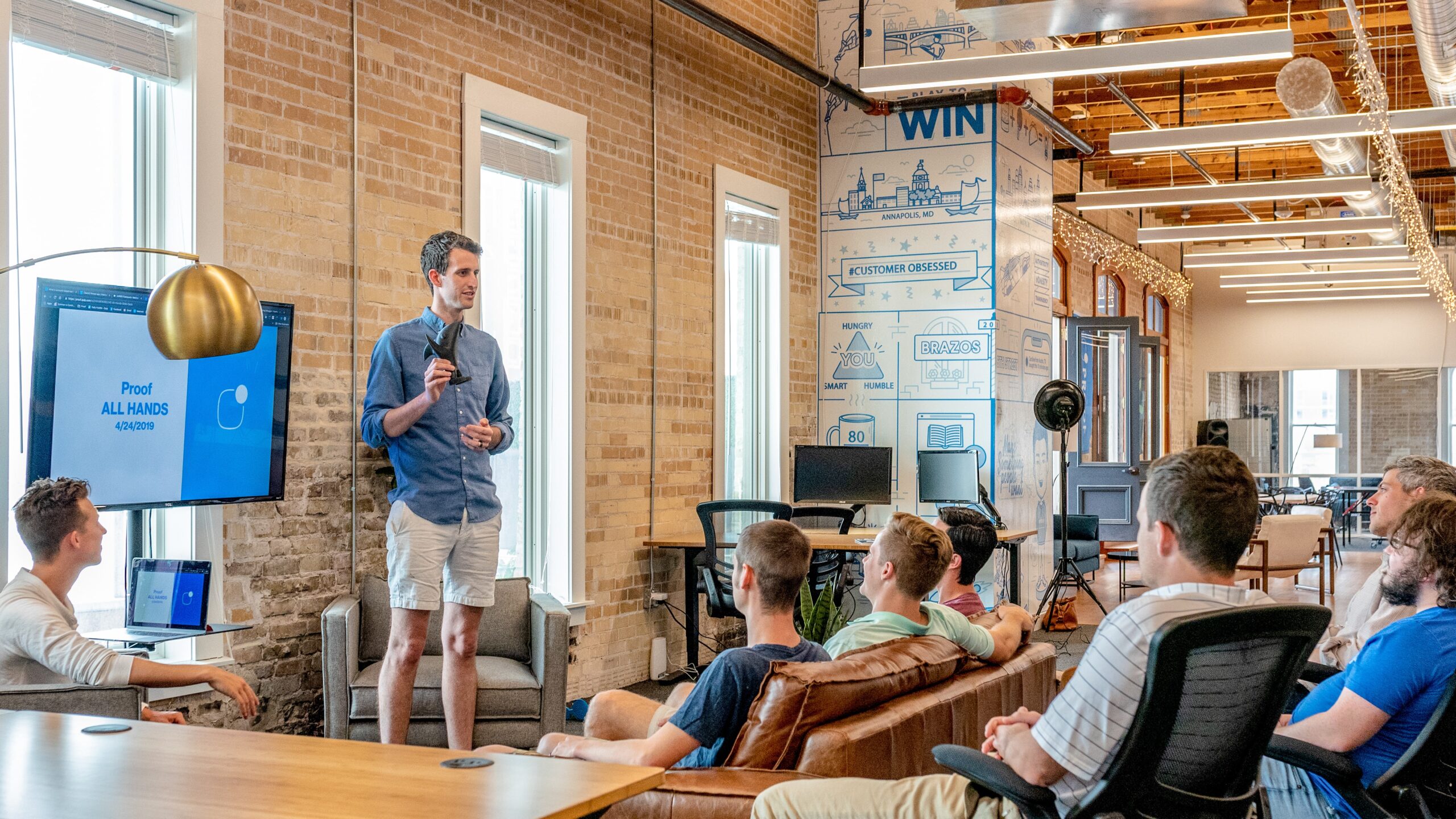 Indeed, effective communication with stakeholders is a crucial aspect of the product culture at Bumble. As a product manager, expect to build a strong rapport with your colleagues in various departments. 
The company emphasizes having product managers who know how to build strong relationships with the rest of the team. Despite its relatively small size, Bumble proves itself to be a product-centered company and therefore expects product managers to form their business's backbone.
Bumble also wants their product managers to embrace the startup mindset. This means that you should be ready to take on larger projects than your product and present your ideas/progress to the senior leadership.
Luckily, the company is determined to make its culture as product-oriented as possible. Make sure you read this blog post by a recently hired Bumble product manager to learn more about how product management is done there.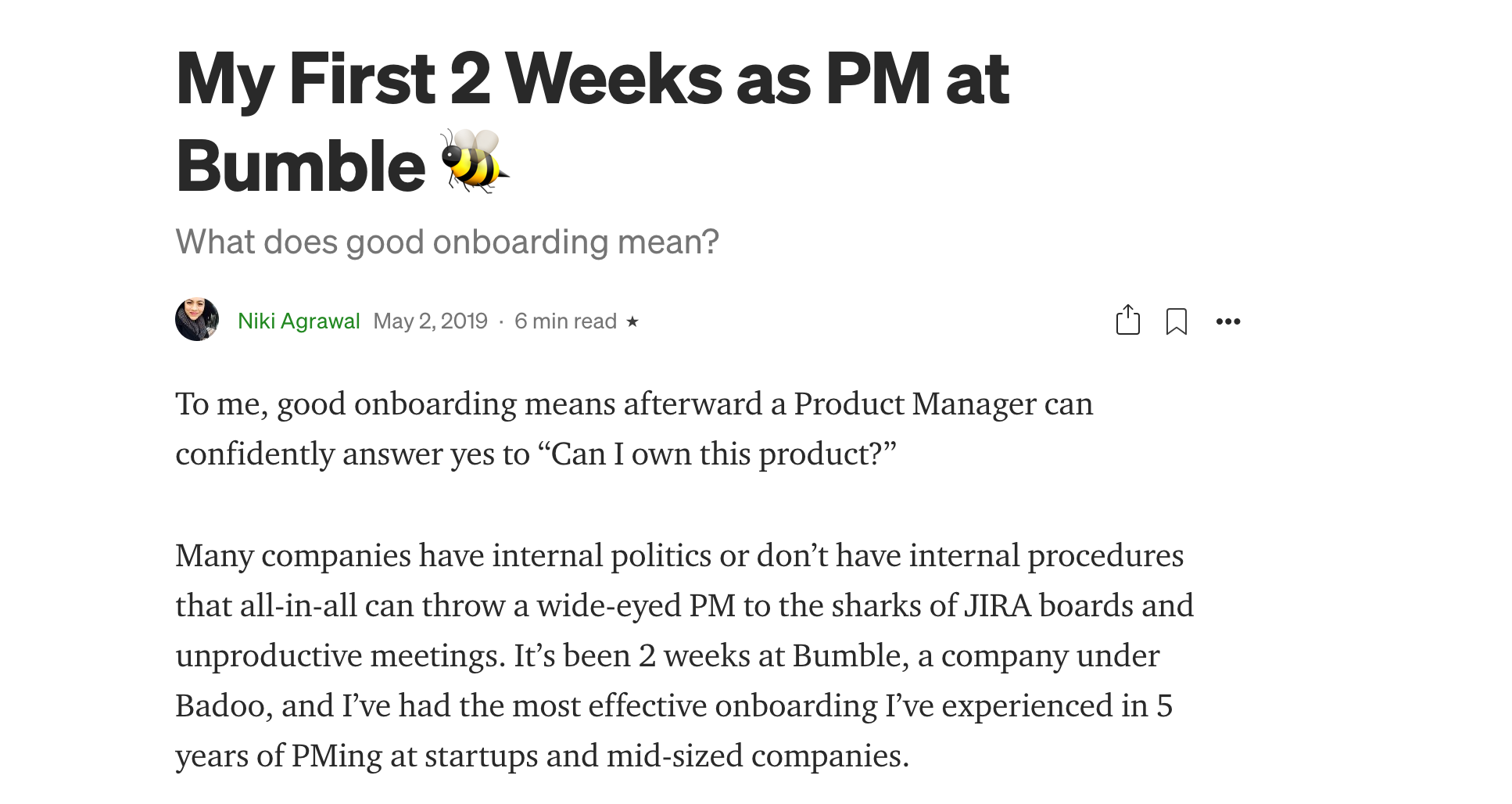 What Does a Typical Bumble PM Job Posting Look Like?
While going over the job description, we noticed that they look very much like the typical product manager job description. Some of the postings require X years of experience, but as Product Gym, we are firm believers of quality over quantity. We know that there are thousands of strong candidates out there who worked for less than the number of required years but had enriching experiences that made up for the time. Therefore, we strongly suggest our readers never to get discouraged by these requirements.
We also noticed the common skills that Bumble looks for in candidates after going through their job postings. The most important skill that comes up in all of the job requirements is stakeholder management. Bumble wants their product managers to work with the engineering, design, analytics, sales, and all other teams seamlessly.
As a product manager, you should also be able to drive products from ideation to release, act as the knowledge center of the product that you're owning, and master the KPIs that inform your product's success.
There are also a set of common skills you should possess to perform well on the job. Here are those skills:
Strong knowledge of mobile apps (makes sense, given the product is mobile)

Be able to understand the appropriate product metrics and have a background in data-driven decision making

Break large projects into manageable features and tasks and prioritize accordingly

Be comfortable communicating with engineers

Experience handling multiple produces concurrently

Knowledge of A/B testing
Here's an example of a typical job posting: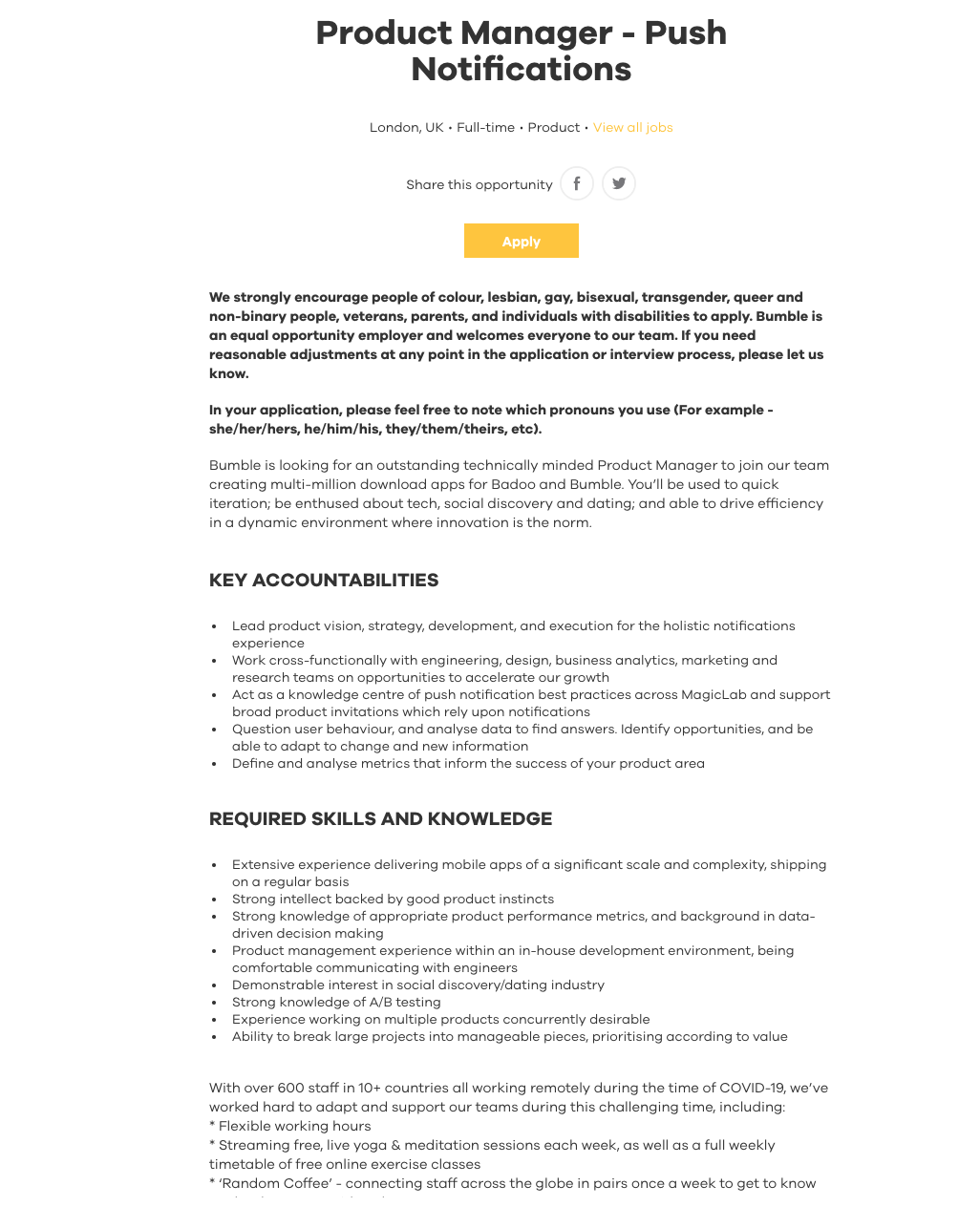 We noticed that the company is actively hiring product managers for its London office.
How Do You Get an Interview at Bumble?
To get an interview at Bumble would require a referral or an application on the Bumble career site. Regardless of how you apply to the company's open positions, there are a few fundamental steps you should be taking to get an interview at Bumble.
The first and most crucial step is to write a winning product manager resume. Your resume is the only thing that recruiters and hiring managers can use to evaluate your professional background. Therefore, your resume needs to communicate how your professional experience is an excellent fit for the product manager role you want.
That is where a good product manager's resume comes in. It will serve to get the hiring team's attention, so you want it to show how much of a great fit you are for the product manager role you want.
Need more tips on optimizing your resume and syncing your LinkedIn profile and cover letter?
Make sure you read our resume guide and watch our video on branding yourself:
The second step is learning how to market yourself as the ultimate product manager. To do that, you need to create a story that does just that. The idea behind marketing yourself is to show that you are experienced enough to handle a complete product pipeline.
Many novice product manager candidates skip this step, but it's critical for you to know and master your story and think about how you are a great candidate for the role.
Last but not least, you should apply! Having a great resume or a great backstory will not help you in any way if you don't use it!
Sometimes sending your application isn't good enough, and you need to network your way to a PM interview. Make sure you watch our video on networking with recruiters to increase your chances of getting a PM interview:
What Is the Interview Process and Timeline?
From application to hiring decision, the whole interview process can take any time, from 2 weeks to more than two months. It often comes in three parts:
Introductory call with the hiring managers

Take home case-study assignment

Several on-site interviews with Product, Engineering, Senior Management to deep-dive into your previous experiences and the case-study assignment you prepared

Hiring decision
Let's take a closer look at every step of the interview process.
How to Win the Introductory Call with the Hiring Manager to Prove That You're Qualified Enough for the Next Round?
This round can be with the recruiter as an introductory call. It could also be with the hiring manager, who is most likely a product manager. Phone interviews are just as important as in-person interviews, so adequately preparing for them can influence your success.
Expect to be asked to provide more info about the role. You'll be expected to talk about your resume and previous experience. The hiring manager will ask you about your background, skills, and experience to see if they match what the company expects from its product managers.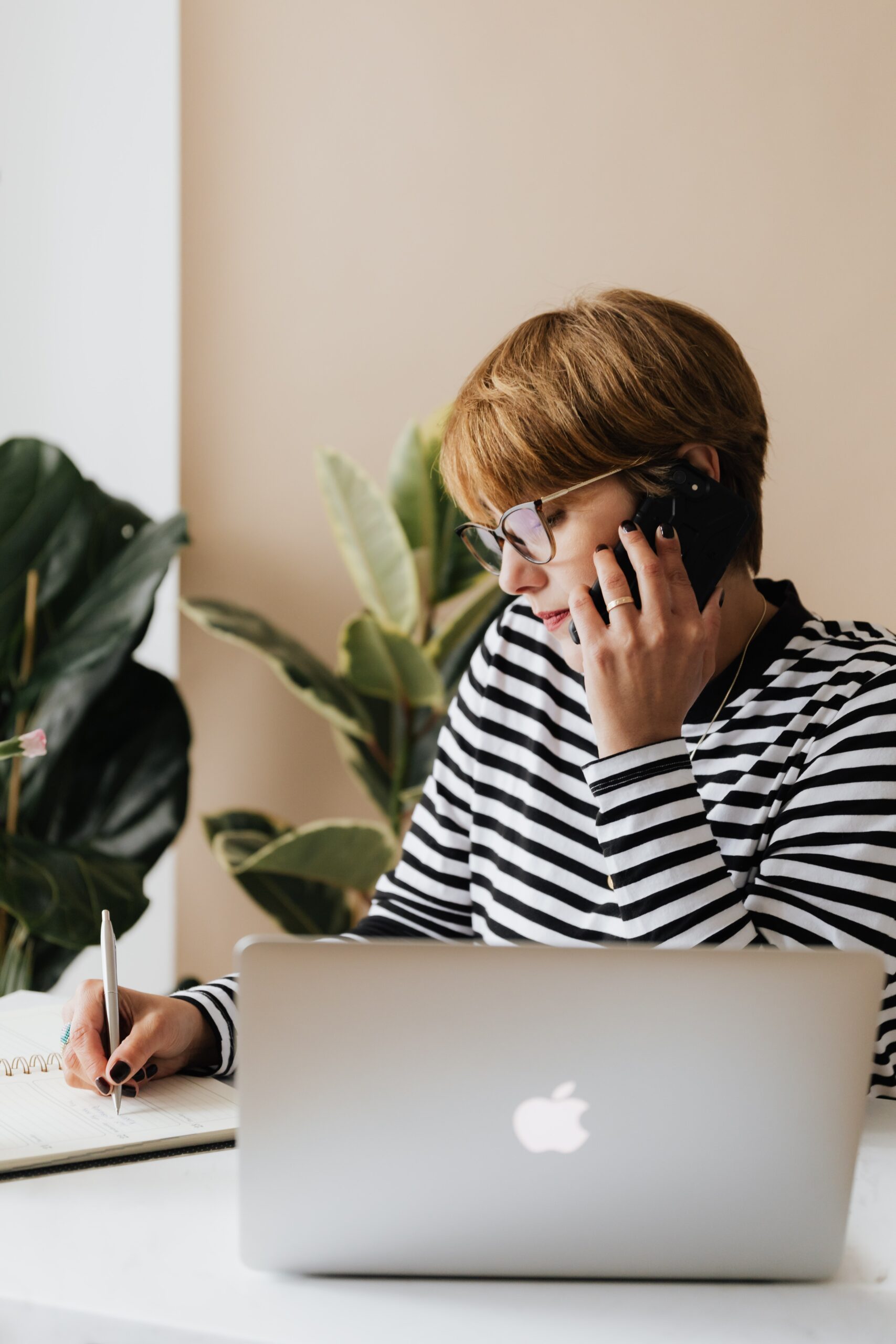 Make sure you can answer questions like "Why Bumble?" and "Why Dating?" Also, make sure you know as much as possible about the company and the product.
Do your research on Bumble and its product offering. You must know what the employer is looking for to structure your answers along those lines.
Research common interview questions so you know what you might be expected to answer. Let your research cover adaptability, leadership, collaboration, culture fit, prioritization, and development. Practice the answers to some of the questions you have figured out to be more confident when you are interviewed. You also want to prepare some intelligent questions to ask the interviewer.
A phone interview is your opportunity to show the hiring manager the skills and qualifications you bring to the table.  The idea is to find out if you are a great culture fit for Bumble.
Need more help with answering the "How to Answer the 'Tell Me About Yourself?'" question? Make sure you watch our video guide to learn exactly what to say:
How to Deliver a Winning Case Study Take-Home Assignment?
Part of the interview process is the case study take-home assignment, where you'll receive an open-ended take-home question about dating/improving the customer experience. You will be expected to deliver a presentation or a requirements document based on the take-home assignment. To ace this aspect of the process, here are some vital things that you need to consider while doing your case study interview:
Narrow down the broad prompt you were given and make sure that you can be as specific as possible. (read our case study guide to learn how to narrow down your assumptions)

Break down your idea into deliverable tasks.

Identify the key metrics to prove to your interviewers that you made data-driven decisions.
Given that Bumble is a B2C mobile product, you should be able to master all of the common KPIs known to drive success. We suggest you look at this metrics guide to learn the figures that matter for such products.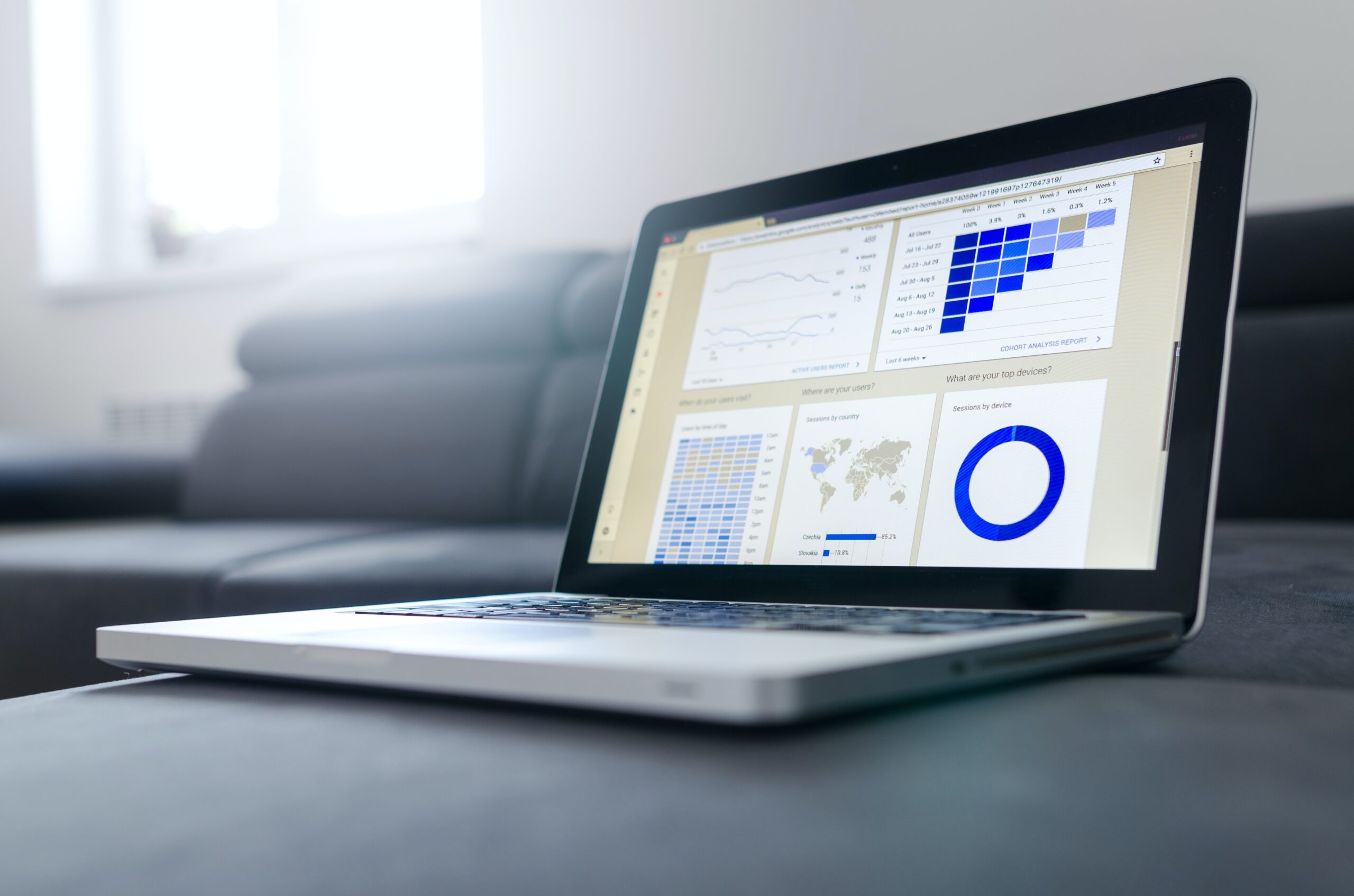 How to Win the Final Round with Different Stakeholders?
You can expect many questions at this stage because there will be a couple of different rounds with different stakeholders such as the product team, engineering, design, and senior leadership.
Expect to be asked behavioral questions like "What is Your Biggest Weakness?" or "What is Your Product Management Process?" To be comfortable with this round, you should respond to these commonly asked behavioral questions beforehand. Our research suggests that Bumble likes to ask the typical product manager behavioral questions that we identified and shared with you here.
They also want to know if you have strong A/B Testing experience and, if yes, the methods you used. You might be asked about your favorite product and the product performance metrics you use to assess your product's success. Some other product sense questions you can expect to be asked are:
How will you improve the experience of women on the app?

How will you deal with the scenario where a new feature has reduced the number of swipes?

How will you improve/change the monetization page when targeting a user from a particular country?

How would you optimize the revenues of the application?

How would you design the welcome page for a new adopter?

What would you change about Bumble? (or Badoo)
Like many startups, you'll need to be a self-starter who is ready to work with many different teams, and given that Bumble is a tech company, you'll need to prove to your interviewers that you can work with engineering. Here's how to tackle questions asking about your experience with the engineering team, even if you don't have much experience:
How Did COVID-19 Change Hiring?
The COVID-19 pandemic has changed the way people are being hired today since offices are closed at this point. Consequently, many companies are now making the shift to virtual interviews for their product manager interviews. COVID-19. Bumble happens to be one of the few companies that did well economically during the pandemic.
 Bumble is currently marked with the tag "Hiring Surge" on Glassdoor. This means that they are looking for new talent to join their team! They are currently adopting this new mode of product management interviews to overcome the pandemic's current logistic limitations. It is now common to have talks that were supposed to be in-person being conducted via video chat.

The only thing that changed, however, is the way interviews are done. Since offices are closed at this point, the in-person aspect of the interviews is now virtual. Unfortunately, Bumble doesn't have any publicly available guides on conducting interviews virtually, but we can help you with what to expect with our resources!
We know that while the expectations are identical, virtual interviews differ significantly from in-person interviews. Make sure you read the Product Gym guide to dominate your virtual interviews.
Want to learn more about landing product manager jobs in top tech companies? Schedule a free consultation with us today to find out how we can help you!