It would be difficult to find any single person that hasn't tried out a dating app, especially a dating app like Hinge. Founded back in 2012, the organization states that it's the only dating app to establish long-term connections for its users, titling itself as the 'relationship app'. If a dating app dedicated to innovation and continuous improvement sounds like the role for you, read on to learn how you can win the Hinge Product Manager interview.
Originally requiring its users to link their accounts to Facebook, the app changed and developed its interface to move away from the need to form relationships based on the 'who you know' connection and instead created the Hinge Lab, where researchers analyze the successful matches to see how they can fine-tune the app and improve the algorithms.
After being stuck in a pandemic for over a year, apps like Hinge were the only ways in which people were able to date as they couldn't meet in person: an ever-growing and developing market that any Product Manager would want to join and explore.
Company Overview
The dating app that's "designed to be deleted" was founded by Justin McLeod, with their mobile app developed and advertised back in 2013. After nearly running out of funding, it was McLeod's decision to blow the rest of their cash on a huge launch party. Surprisingly, it was this move that actually saved them from insolvency and secured their next round of funding.
After receiving glowing reviews in The New York Times wedding section, Hinge re-released itself as Hinge Matchmaker in 2017. This was the time in which the organization moved away from the Facebook layout of basing compatibility on 'friends of friends' and redesigned itself to improve its algorithms. Now owned by the Match Group, the parent company of other dating sites such as Tinder and eHarmony, Hinge tends to attract the younger users that are seeking meaningful and long-term connections, not flings.
With between 1 – 50 employees, the organization is small but provides you with an intimate environment to work in and develop and nurture your career. Offering autonomy and responsibility for individual projects, it's the dream for any Product Manager.
Product Culture at Hinge
The product interface is the most important element of the Hinge app. It takes the best parts of all its competitors' interfaces and pulls them all together. The layout enables the ease of Tinder, with the simple option of match or not match, but goes above and beyond to provide you with neat and compact personal information about your potential match. The simple monochrome design makes it easy to digest the information, as well as pictures and prompts.
"Feeling like you're getting to know the real person online before meeting them is one of the best tricks a dating app can hope to pull off"
It's this product interface that makes it so popular — the combination of the prompts, photos, and personal information gives the users more options than just opening with the stereotypical 'hey'. Hinge gives users more to work with and creates more meaningful and valuable relationships.
Like all dating apps, there is the opportunity to become a premium member. In contrast to the free version, the premium membership offers you more than the maximum of a dozen likes a day, as well as the ability to see every user that likes you.
Company Culture at Hinge
As mentioned previously, Hinge is a small organization in terms of staff with less than 50 employees. It might be this factor that makes Hinge so invested in its employees, with the belief in great people over the process.

In an interview with the CEO and Founder Justin McLeod, he stated that he doesn't allow company culture to "simply happen". An environment is curated so that all employees are able to make and execute decisions instead of decisions simply being made at the top. For the most part, this is reflected in what employees have to say about Hinge on Glassdoor: 74% of employees would recommend the company, and 87% approve of the company's top leadership.
Hinge bases their culture around 3 core values:
Authenticity: Share your genuine thoughts and opinions directly.

Courage: Invite and deeply consider challenges and criticism.

Empathy: Be empathetic, communitarian and trustworthy.
Product Team Culture at Hinge
Reviews of what it's like to work at Hinge have one thing in common: Hinge is a startup, and working on a small team at a rapidly growing company is not for the faint of heart. For some PMs, this is the ideal environment as you get to have a very in touch and hands-on approach.
For others, the growing pains of a successful startup are difficult to handle. There are several reviews mentioning how such a tight-knit culture means that those in senior leadership positions don't have the skillset to execute important decisions, thus placing pressure on subordinates to get things right the first time with little assistance. This is classic and to be expected when working for a small tech company: if hustling to make things happen and keeping up with quick decisions and changes sounds more stressful than exciting, Hinge may not be the team for you.
Because there is so much dedication to development and innovation, this culture is very much embedded and sourced from within the product team — however, such employee effort and achievement is rewarded:
Benefits package including medical, vision and dental coverage as well as a 401(k) matching plan.

Great work/life balance including 14 days holiday, 2 days 'floating' holiday and an extra bank of days for sickness and absence. This also includes "No Meeting Tuesdays" and "Friday Afternoon Close Out."

Stocked Kitchen and catered breakfasts and lunches.

$100 monthly stipend for each employee to go on dates and form meaningful relationships outside of work.

Company outings and company-wide retreats.
What Does a Typical Hinge PM Job Posting Look Like?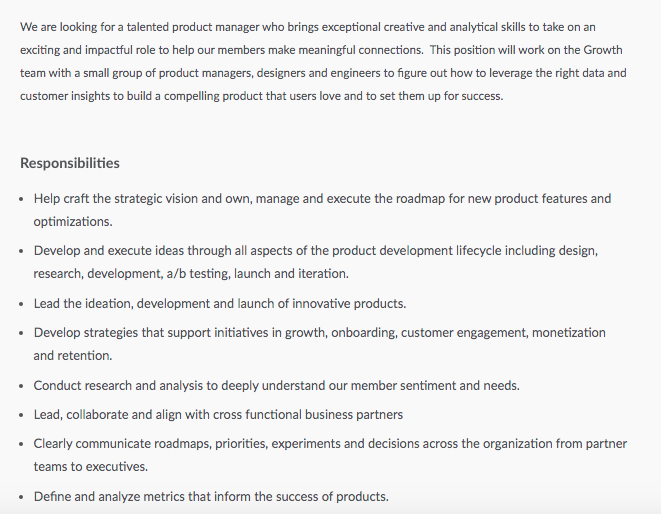 A PM posting at Hinge requires innovation and authenticity:
At lead 3 years experience as a PM with consumer-facing products, or more for senior product positions

The interpersonal and communication skills to not only motivate your team but to collaborate with other teams within the organization, as well as other important stakeholder groups.

A true dedication to what Hinge stands for: entrepreneurial spirit, proactive get-things-done attitude, user empathy. The organization's mission of changing dating culture needs to be instilled in each employee.

The ability to create long-term goals and strategies that fit in with what Hinge stands for and how they want their platform to develop and change.
Other common skills that Hinge desires include experience with design-heavy mobile products, data competency and applying this to the consumer experience, ability to prioritize and develop product roadmaps and previous experience with coding and dealing with SQL queries.
How Do You Get a Hinge Product Manager Interview?
Where can you look for Product Manager roles at Hinge? Four Product roles are currently available on their careers page. Going through their website may be the best way to apply: 52% of interviewees applied online. Other ways of applying include through a recruiter (24%) and employee referral (14%). Once you've found the job posting you want to go after, here's how to apply:
Write a Product Manager Resume
Remember, your resume essentially acts as your passport for entry when it comes to a job. So above all, it is vital that it is structured appropriately and relevant to you and what you have to offer Hinge as an organization. Ensure you thoroughly read the role's requirements and responsibilities.
Need some help on how to do this? Check out our resume writing guide as well as our free tutorial on how to synchronize your resume and your LinkedIn profile.
Prepare Your Pitch
Once you've nailed your resume, it's time to prepare a killer pitch. If you're wanting to impress the recruiter, we cannot highlight enough just how important it is for you to nail that pitch.
Apply!
There is a common misconception that submitting your resume is the only method of winning that interview. But you can also network your way into it.
There are so many different benefits to networking, such as familiarizing yourself with the work environment and discovering information regarding your recruiter. Most importantly, you're learning the ins and outs of the interview exercise, giving you the important leverage needed for when you're called to interview.
Watch this video to learn how to network your way into getting that Product Manager interview.
What Is the Hinge Product Manager Interview Process and Timeline?
The process is initiated by sending in your resume and personal information, and if successful, the second phase consists of video interviews and tests.
The first round of interviews will be with the recruiter through a video call, followed immediately by a thirty-minute screening test with someone in an executive position. This gives the recruiter the opportunity to ask behavioral questions, discuss your resume, and briefly ask about your previous experience.
How to Win the Introductory Call With the Hiring Manager
The introductory call will be dominated by behavioral questions. This tends to be a sticking point for any interviewees as they can be a pain to answer, however, it provides the recruiter with more information about you and how you will contribute to the role and the organization:
What type of management style do you prefer?

If we decided to rollout X Feature, how would you help manage and develop this?

Standard Whiteboard SQL query: How would you go about analyzing this scenario?
These questions are followed by a screening interview with one of the senior managers, the stage in which there will be more focus on what makes you the perfect candidate to fulfil the role by covering previous experience as well as giving you the opportunity to ask questions about the job and organization.
How to Win the Technical Round With the Hiring Manager and Team Stakeholders
Upon passing this initial stage, Hinge tends to provide successful applicants with homework assignments that they are required to fill in and bring to the next series of interviews. At this stage, the interviewer will identify your technical knowledge, experience with other stakeholder groups and the more in-depth behavioral questions. These can include:
Which of the company's cultural attributes do you identify most with?

Which types of strategies might you employ to maintain good company culture in a company that is growing so quickly?

What barriers do you expect to face when it comes to developing elements of the app?
As demonstrated in the above questions, the skills required for the technical ins and outs of the job are just as important as sharing the overall vision of Hinge and how it wants to develop its app.
If you want further assistance at this stage of the interview, check out these extra tips:
How Did COVID-19 Change Hiring?
More and more people have used dating apps as it was the only way of dating amid a pandemic, with an increase of 63% of Hinge users during Covid19, making it a better time than ever to join an ever-growing organization.
Before the pandemic, a significant part of Hinge's interview process existed online, especially when it came to the initial stages. However, the technical, more advanced round of interviews that were previously conducted in person, had to be moved to an online platform. This can change the rules when it comes to interviews, so make sure you read our guide on being able to overcome this and ace that Hinge Product Manager interview.
Need more help with acing your interview? Schedule a call with our in-house experts for a free career coaching session: we'd love to help you take the first step in kickstarting your PM career.