A Netflix Product Manager has a hand in how millions of people experience entertainment. The groundbreaking streaming company changed how we view TV and movies and continues to host and create innovative, high-quality content enjoyed by viewers around the world. Just about any driven, talented job-hunter would be thrilled by the opportunities offered by a Netflix Product Manager job. If that sounds like you, read on to learn about the company's interview and hiring processes.
Company Overview
Netflix is an online entertainment streaming service that allows users to watch television programs, movies, and other video content from their digitally connected devices. For a monthly fee, members get unlimited access to over one billion hours of ad-free TV and film. This includes Hollywood blockbusters, network TV shows, and Netflix's own original programming.
The company launched its signature streaming service in 2007. However, the Netflix story started a full decade earlier, when co-founders Reed Hastings and Marc Rudolph decided to disrupt the movie rental industry with a DVDs-by-mail service. They launched Netflix.com in 1998 and started their subscription membership offering a year later. Customers could rent DVDs, have them mailed directly to their homes, then mail them back without late fees or due dates. The idea was a big success, and the company went public in 2002 (NASDAQ: NFLX). By the following year, membership reached one million subscribers.
By the time streaming was introduced, that number had broken the five-million mark. Soon after, Netflix partnered with consumer electronics companies to enable streaming on TV set-top boxes and Blu-ray players. In 2010, they launched mobile streaming. Three years later, the company announced it was creating original programming. The first round of original Netflix series included "House of Cards," which became the first online show to win a Primetime Emmy. In 2018, Netflix earned the most Emmy nominations of any studio.
Today, Netflix has over 200 million members and is available in more than 190 countries. It's helmed by CEO and co-founder Reed Hastings and has headquarters in Los Gatos, California. Netflix's original programming has received both Emmy and Academy Awards, and the company continues to produce new films and series each year. They've also made continuous improvements to their product, introducing features like recommended content, download capability, and the "popular on Netflix" list. Currently, the company employs more than 9,400 people and earns revenues in excess of $25 million annually.
Product Culture at Netflix
Netflix offers three "tiers" of its monthly subscription-based streaming product: Basic, Standard, and Premium. They vary in terms of cost and access to additional product features, like HD and Ultra HD streaming. In addition, the company also offers a DVD-only plan through their DVD.com site.
Company Culture
To know if you're a good fit for a Netflix Product Manager position, you should understand the company culture. Over its 20+-year history, Netflix has cultivated a very specific and somewhat unusual culture, summed up by the phrase "people over process." The company's culture memo outlines their particular emphasis on teamwork, honesty, and dissent. Disagreements are encouraged and complete candor is the communication style of choice. Wherever possible, they avoid creating rules or policies, relying instead on their employees to show good judgment and practice "freedom and responsibility." Effort is not as important as results, and those employees whose managers would not fight to keep them (the "keeper test") are let go with a generous severance.
The culture memo makes it clear that this kind of work environment is not for everybody. Employees who value seniority, security, and structure will likely be unsuccessful at Netflix. Anyone who is uncomfortable with sometimes-brutal honesty or is unwilling to speak up if they disagree with someone will also struggle to fit in as a Netflix PM. However, those who do succeed in this environment receive a number of perks. These include unlimited vacation and parental leave, flexible work hours, and stock options.
Product Team Culture
Like all teams at Netflix, the product team values collaboration both within and across departments, the open exchange of ideas and information, and honest, candid communication. This team is small at Netflix, so a new Product Manager Netflix can make their mark quickly. They'll get the chance to work on innovative projects, solve tricky challenges, and have a hand in the product experience of millions of subscribers. Priorities for the team include driving delightful user experiences across devices and implementing personalization features to increase member loyalty.
What Does a Netflix Product Manager Job Posting Look Like?
Each Netflix job description begins with an explanation of why an individual would want to work for Netflix and why now is a great time to join their team. Then, it shares a brief description of the role. Next comes a list of the specific responsibilities the PM would be responsible for. Finally, the "What We're Looking For" section outlines the traits of the ideal candidate.
Most Netflix product management jobs require at least five years of experience. Depending on the product or business area, the candidate might also need specific domain expertise. For example, applicants for the Product Manager, Growth position should have experience working with external partners.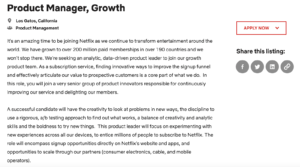 Generally, product team members at Netflix are expected to have the following:
Experience with A/B testing potential product improvements

Strong analytical skills

A track record of inspiring and motivating team members

Familiarity with UX/UI principles

Experience with direct-to-consumer products (preferably global ones)

A "

General Manager mentality

— "

interest in the intersection of technology, operations, and business. Ability to mobilize the entire organization towards a common goal."

Exceptional prioritization skills

Experience building, communication, and executing a product roadmap

Proven experience with product launches

Excellent communication skills
How Do You Get an Interview at Netflix?
Step One is to find a PM job opening that fits your skills and experience. You can do that on Netflix's jobs site or Linkedin profile. To make your search results as relevant as possible, use filters for desired compensation, years of experience, location, etc. Next, you need to craft a fantastic application.
Write an Excellent Product Manager Resume
Your resume serves as your "first impression" with the hiring manager, so definitely take the time to make it the best it can be. Note the key skills and responsibilities listed in the job description and be ready to include those keywords wherever possible. The role will likely require you to have experience with three or more of the functions mentioned above. Use your resume to point to prior quantitative results in those areas if you can.
Before getting started, we recommend you check out our resume writing guide, which will take you through the process of crafting a stand-out resume that you can use again and again.
Craft Your Pitch and Market Yourself as a Top-Tier PM Hire
Now that you've written a great resume, Step Two is to showcase your product management skills. You can do that by crafting a pitch that highlights a product manager position's key responsibilities. Learn how.
Apply!
It's finally time to submit your application. But don't stop there — if you know someone who works at Netflix, you may want to reach out to them and ask for a referral. According to Glassdoor, 14% of interviewees got their foot in the door through an employee referral. Our step-by-step recruiter networking methodology is another useful tool for helping you get that first interview.
What Is the Netflix Interview Process and Timeline?
The Netflix hiring process usually follows these four stages:
Initial phone screen or video screen with a recruiter

Introductory call with the hiring manager(s)

Interview(s) with multiple team members and stakeholders

The offer
According to Glassdoor, 40% of interviewees had a positive job candidate experience, and the average interview difficulty was rated a 2.9 out of 5. As far as the timeline goes, the average duration from application to offer/no-offer seems to be around a month, with some decisions taking as little as two weeks and others as long as three months.
How to Win the Introductory Call with the Hiring Manager(s)
This round typically includes both general behavioral questions and a few PM role-focused ones. You'll be asked the "usual" job interview questions like "Where do you see yourself in five years?," "Tell me about yourself," and "What are your greatest strengths and weaknesses?" In addition, you may be asked the following Netflix interview questions:
Why do you want to work at Netflix?

Tell me what you think about our culture memo.

Why do you think [x] feature was built?

How do you measure product success?

Describe a situation in which a product you were managing wasn't performing well. How did you deal with it?
Also, you'll be asked questions aimed at determining whether or not you'll fit in with Netflix's company culture. For example, the interviewer will ask about your preferred style of communication and of giving/receiving feedback. They'll want to know how you feel about extreme candor and honesty, and how comfortable you feel disagreeing with your colleagues and/or manager.
How to Win the Technical and Behavioral Round(s) With Team Members and Stakeholders
During this round, you'll get the chance to really show your product management expertise. Questions will revolve around collaboration across departments (including engineering), innovation, evaluating product performance, and identifying new opportunities for user delight. Some of the questions you may be asked include:
After this interview, the ball is in the hiring team's court. The next step will be to either receive an offer or not.
How Did COVID-19 Change Hiring at Netflix?
In spite of the COVID-19 pandemic, Netflix is still actively hiring. Their LinkedIn profile currently lists more than 420 open positions. However, you can expect to interview virtually versus in person.
We understand that you may be a bit apprehensive about remote interviewing. After all, the dynamic of a virtual interview is different from that of an onsite one. To prepare, check out the Product Gym guide to dominating your virtual interviews.
You can check out our below mention blog to win the product manager interview:
Want to learn more about how to get hired as a product manager at a top-tier company? Schedule a free consultation with us.