Technical Product Managers work more closely with engineers than any other type of Product Manager. So what do engineers look for in a Product Manager, and how can you impress the technical panel during the interview? Understanding the key traits that engineers are looking for in their next PM hire can give you a significant edge in your technical Product Manager interview.
You may think you're a great person to work with; you've probably even said it to your interviewer in the past. Unfortunately, it's not enough to simply answer the question being asked. Your responses have to highlight the desirable traits that engineers look for in a non-technical first-time Product Manager.
The key to what engineers want in a Product Manager comes down to six key traits. Read on to find out what these are and how you can illustrate them in your future answers to technical Product Manager interview questions.
Product Manager Interview Questions Score Card
First things first, let's talk about the breakdown of Product Manager interview questions. The PM interview process has four rounds:
Round one: You'll be interviewed by a recruiter
Round two, with the Head, Director, or Vice President of Product at the company
Round three, with a technical panel
Round four, with a business panel
Sometimes rounds three and four are combined, but that is becoming less common. All these interviews are set to score for three general requirements:
Background culture fit
Business or marketing acumen
Technical ability
The order of importance may surprise you: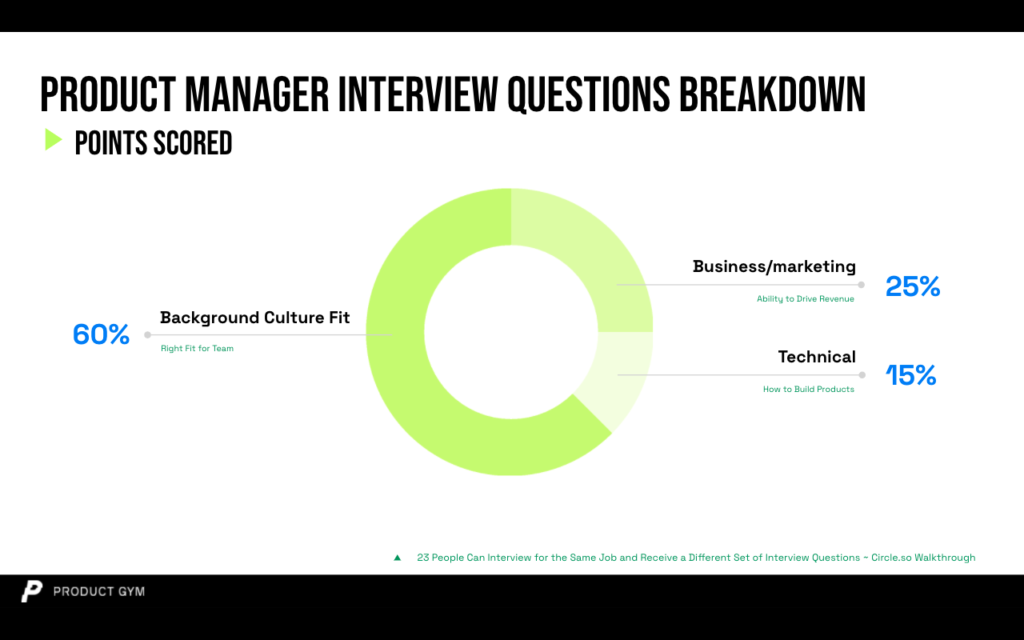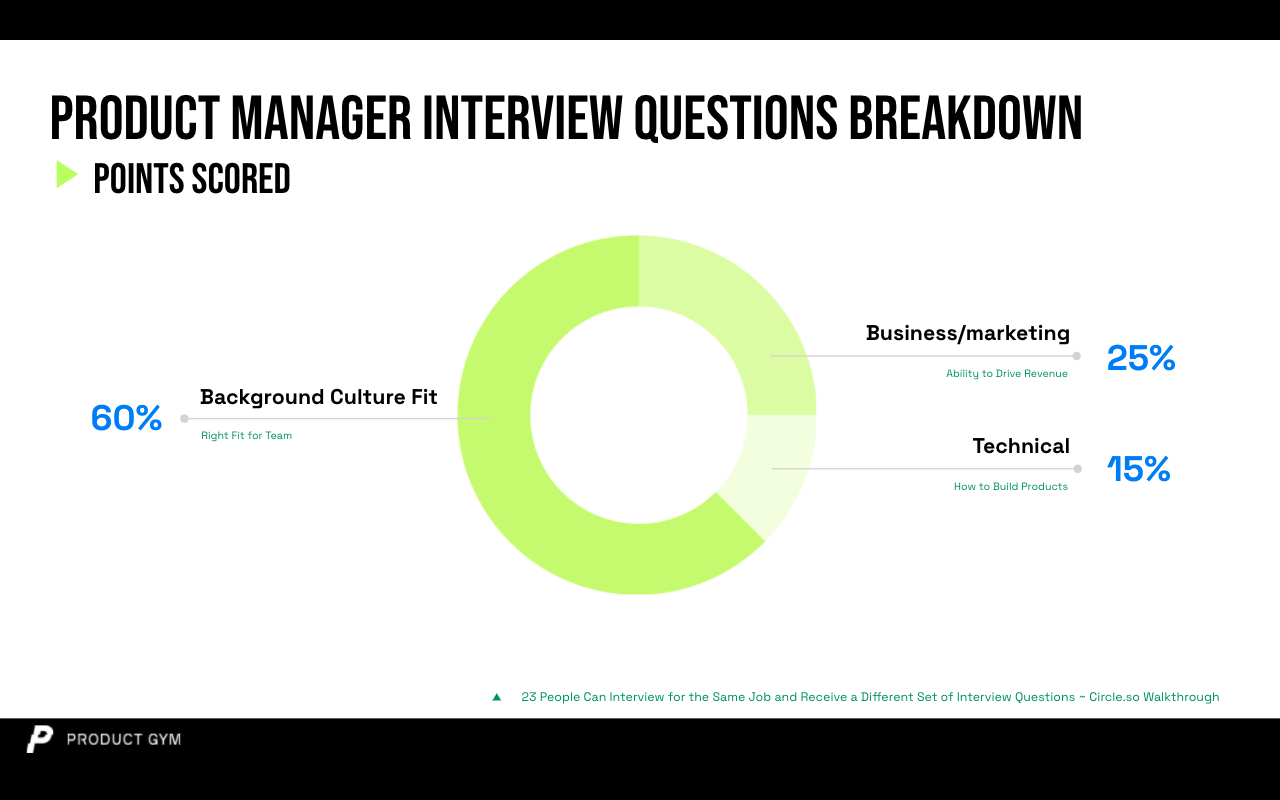 60% of the PM interview is to gauge whether or not you're a good culture fit for that company. Hiring teams mainly use behavioral questions to assess this. This means that even when a Product Manager is qualified for the job, they might get rejected because the team can't envision working with them. This is good news for first-time PMs as companies are willing to give less qualified candidates a chance just because they are the right culture fit.
25% of the interview will focus on strategy and metrics-based questions. The interviewers use these to gauge whether you can put together a game plan that can drive revenue for the company.
15% of the interview covers technical and product design topics. Here, technical and design teams measure your ability to build products. However, it's not just about technical acumen. The technical panel will also be judging how effective you are as a non-technical leader.
Technical vs Non-Technical Product Manager
The above order of importance may fool you into thinking that technical questions are not important, but this is not the case. Though it makes up the smallest percentage in terms of score, you still need to interview well for the technical questions. You just don't have to be a Software Engineer.
So, what's the difference between a Product Manager and a Technical Product Manager?
There are three key differences:
Technical Product Managers are more involved in the technical scoping of products than regular PMs.
A technical PM must be willing to dive deep into understanding the product area in question, which is likely to be a bit more technical than other products.
Technical PMs may work more closely with engineers than other Product Managers when it comes to scoping out solutions for products.
With the above in mind, let's get into what engineers will be looking for when you face them in Round Three of your interview.
What Do Engineers Look for in a Product Manager?
1. Enjoys Getting to Know Engineering Team Members
This is especially so for Product Managers coming from a non-technical background. This trait shows the engineers that you will see them as people first.
2. Builds a Collaborative Relationship With Engineering Leads And/or Managers
Engineers do not want to work with a PM who treats them as if they were manual labor, delegating work to them without considering how it affects them.
3. Ensures Open and Structured Communication With Engineering Team Members
You don't have to know everything about the job, but you're willing to keep communication lines open and value their work. In fact, engineering teams often reject Product Managers with a software engineering background. The worry there is that the Product Manager might rewrite or audit their code.
4. Vouches For and Defends the Needs of the Engineering Team Against Other Competing Priorities of the Organization
Engineers want a Product Manager who can advocate for additional resources for the team should they need them. For this, they gauge how influential and persuasive you are, the traits of a leader.
5. Properly Defines Solutions to Projects Before Implementation to Reduce Churn
The last thing engineers want is churn. They hate it when they take their time to build things, only to have them discarded later on.
Showing them you are a PM who thinks things through and ensures well-defined instructions for projects is key. In addition to your answers, take time to think about the question and ask for more information. Jumping at questions sends a bad message that you make impulsive, hasty decisions.
6. Takes Ownership of Collaborating With the Team to Scope Technical Aspects of Projects
It's easy for engineers to get blamed for a lot of the problems in the production process. They do not like it. An indication of this is the way you answer the questions. Be honest about mistakes you've made in the past and if you don't know the answer to something.
Objectives of the Technical Interview for First-Time Non-Technical Product Managers
These are the things you should be looking to find out when you go into a Round Three interview:
Determine the preferred communication style with your tech or engineering lead: Understand what type of working relationship they want to have and how they prefer to communicate.
Define the ideal working relationship your tech lead wants to have with you: Find out their ideal scenarios.
Inquire about past experiences, both positive and negative: Ask about positive or negative working relationships they have had with non-technical PMs in the past.
Learn the greatest needs challenges or bottlenecks they face: Great questions to ask here are about the resources they need, how you can help, what is getting in their way, and what would make their lives easier.
Remember, it's not enough to just answer the questions, you have to signal to the team that you are going to be of value to them. Do this by learning what engineers want from the above and incorporating that into your answers.
As a former tech recruiter in California for two of the largest tech recruiting agencies in the entire country, our co-founder Rich Chen has helped companies place hundreds of technical PMs. Watch his breakdown of the key traits engineers are looking for below:
One Last Tip
If you're worried about having the qualifications and skills to be a technical PM, remember this: Your job is not to be a software engineer. Less than half of the positions that are out in the job market today require you to be highly technical. It's all about interviewing effectively.
Want more career advice and interview strategies? Book a free discovery call with us to learn how Product Gym can help you kickstart your Product Manager career.