Like the other FAANG companies, Facebook has an extensive interview process to ensure that it's hiring the best of best. Remember: if you're prepared, you have no reason to be intimidated.
Facebook is a generalist when it comes to hiring, meaning that they hire Product Managers for no particular team. They decide where to place the candidate after receiving the offer.
Therefore, the Facebook Product Manager interview is more or less the same for the Rotational Product Manager Program and the regular Product Manager positions. We'll go over the interview process in this guide, touching on some of these key topics:
What Does a Typical Facebook Job Posting Look Like?
Before we dive into what to expect from the Facebook PM interview, let's take a look at a typical Facebook Product Manager job posting to see what the company is looking for: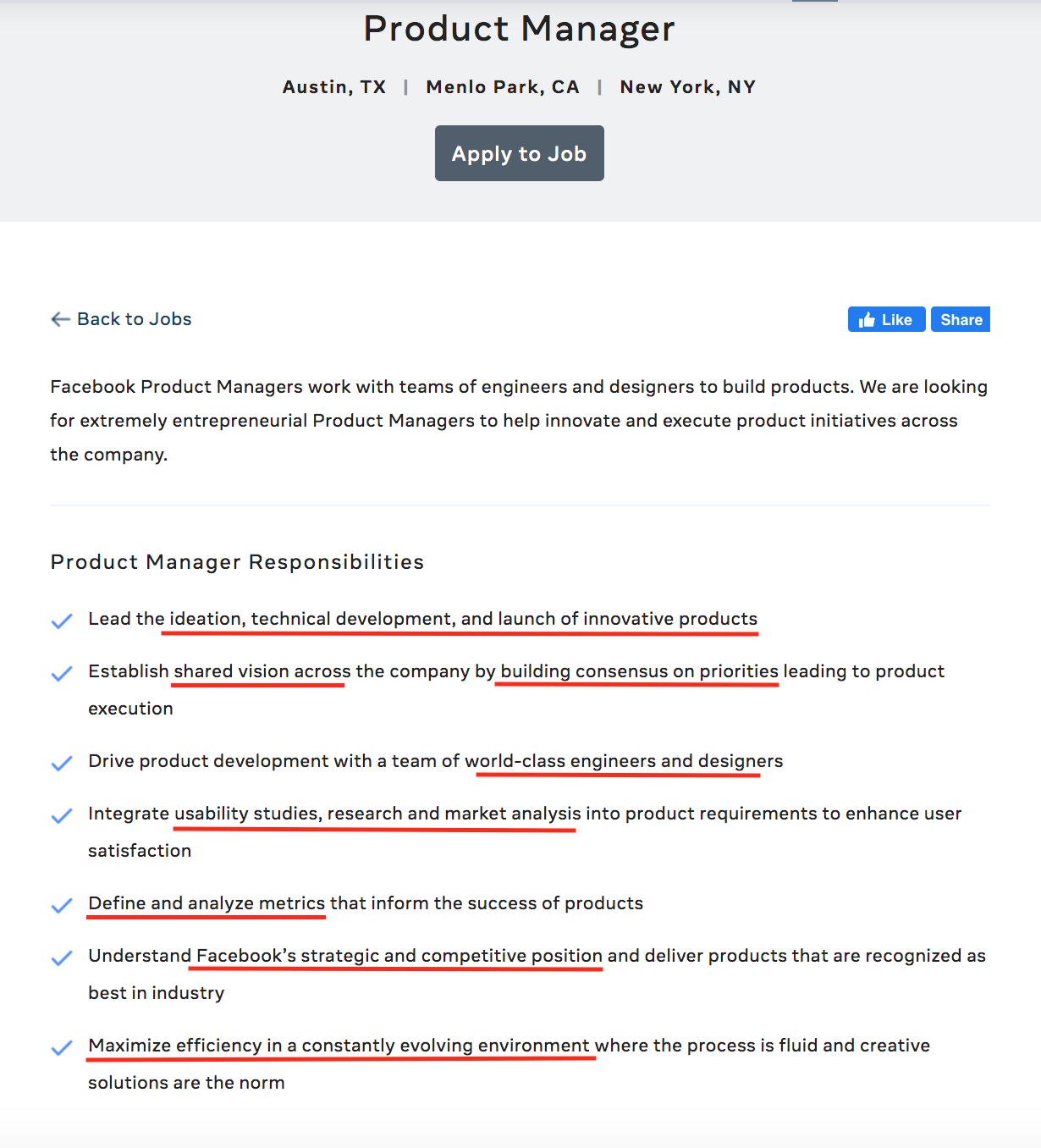 Like many other job postings, this section gives a general overview of a Facebook Product Manager's responsibilities. In addition to driving the product from ideation to release, a Facebook Product Manager must utilize data to lead the creation of products that align with Facebook's business.
Let's also take a look at the qualifications listed to see if there are any hints about the interview content: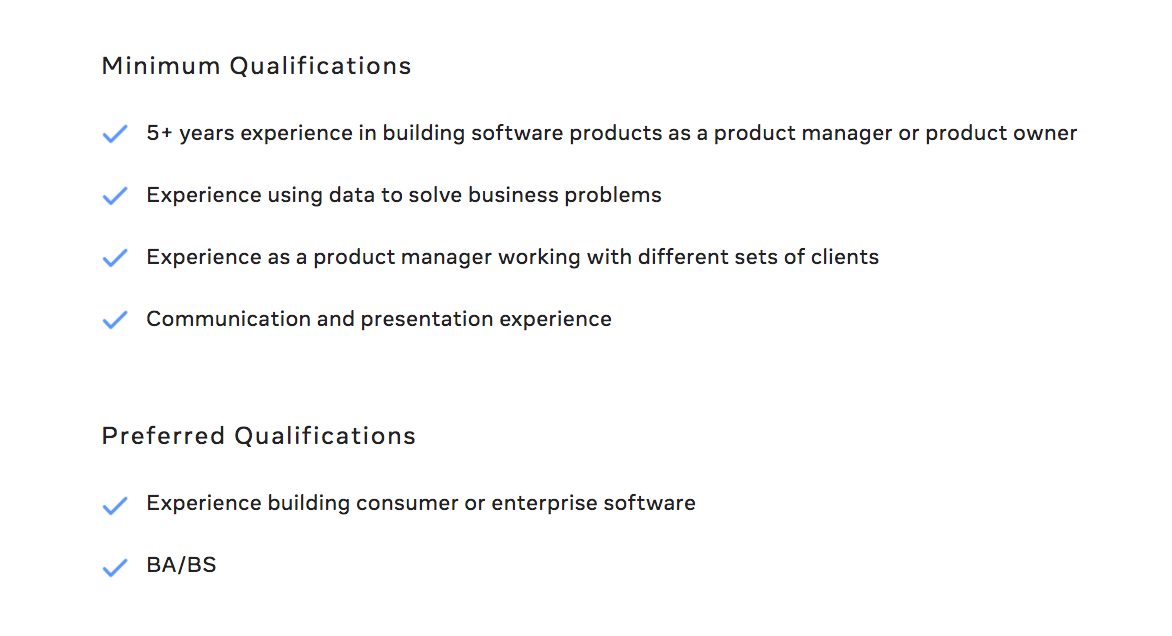 Interestingly, for a highly competitive role, the qualification list is very short. While there is a "5+ years of experience" requirement, we know that this is just a number. Everyone who feels comfortable about their professional background should apply, regardless of how long they have been working.
What Is the Interview Process and Timeline?
First, you'll go through the typical HR phone screen. In the call, you will talk about yourself, why you want to work at Facebook, and why you believe your professional background fits well.
Then, if you pass the HR phone screen, you will have two phone interviews with Facebook PMs. According to our members who interviewed, the recruiter will be very transparent and specific about the interview process.
The Facebook Product Manager interview is divided into three themes:
Product Sense

Execution

Leadership & Drive
One phone interview will ask you a product sense question, and you will have 45 minutes to answer it. For the second phone call, you will answer an execution question.
If you pass the two phone interviews, the interviewers will invite you for an onsite interview. Here, you'll have three interviews, one for each of the themes discussed above.
How Are You Evaluated?
Thanks to the feedback we have received from Product Gym members who interviewed at Facebook, we know the evaluation system is very objective. Numerous steps are carried out before a decision is made.
According to IGotAnOffer, here's what happens behind the scenes:
After the two PM phone interviews, the interviewers you spoke to are given 24 hours to submit an internal rating and notes detailing how well you did. Depending on their feedback, the recruiter decides whether you are qualified for the onsite interview or not.
After the on-site interview, the three interviewers will make a recommendation on whether to hire you or not. The recruiter will compile the interviewers' decisions, along with a packet including your interview feedback, resume, cover letter, and referrals.
The hiring committee, consisting of senior leaders, will review this packet and make a final decision. Note that this committee also decides your level and compensation.
How Do You Get an Interview at Facebook?
As with any other job posting, you are expected to submit your resume and cover letter through their website. Unlike other companies, however, Facebook receives thousands of applications from extremely talented individuals.
There are two things that you can do to set yourself apart from the competition.
The first action item is to write a Rockstar Product Manager resume. This is no easy task: it requires you to think, research, and write out your professional experiences from the perspective of a Product Manager.
Unfortunately, many qualified candidates fail at this preliminary stage. Thankfully, we are here to help! Watch the video below and read the blog post, linked in the video's description, to learn to write the best Product Manager resume:
Given the intense competition, you have to go above and beyond to be considered for Facebook. The best way to get noticed is to start networking with as many Facebook recruiters as possible.
Networking takes a long time and requires consistent effort. Sending your resume to every Facebook recruiter you find on Linkedin will get you nowhere. Watch our FAANG recruiter network guide to learn the proper networking approach that landed many Product Gym members PM jobs:
Question Types
As we mentioned above, there are three themes that the questions are centered around:
Product Sense: As a Facebook Product Manager, you are expected to roll up your sleeves and work cross-functionally to create a product. You'll be given a hypothetical scenario and asked about your approach to solving it.
Execution: This part of the interview assesses your ability to identify and prioritize opportunities for your product. Interviewers will ask about your prioritization strategy and relevant metrics to measure your success. They will expect you to state the trade-offs in your responses clearly.
Leadership & Drive: This is where your people skills will be put to the test. You'll need to impress the interviewers with how you communicate with your stakeholders and teammates.
Product Sense Sample Questions and Preparation Tips
In this part of the interview, you should display your customer-centric skills. The questions are all about product design and strategy, meaning that you will have to clearly explain how you would gather client requirements, design your product, and prioritize which features to build depending on the market needs.
Here's what Facebook is looking for and a list of sample questions to get you started: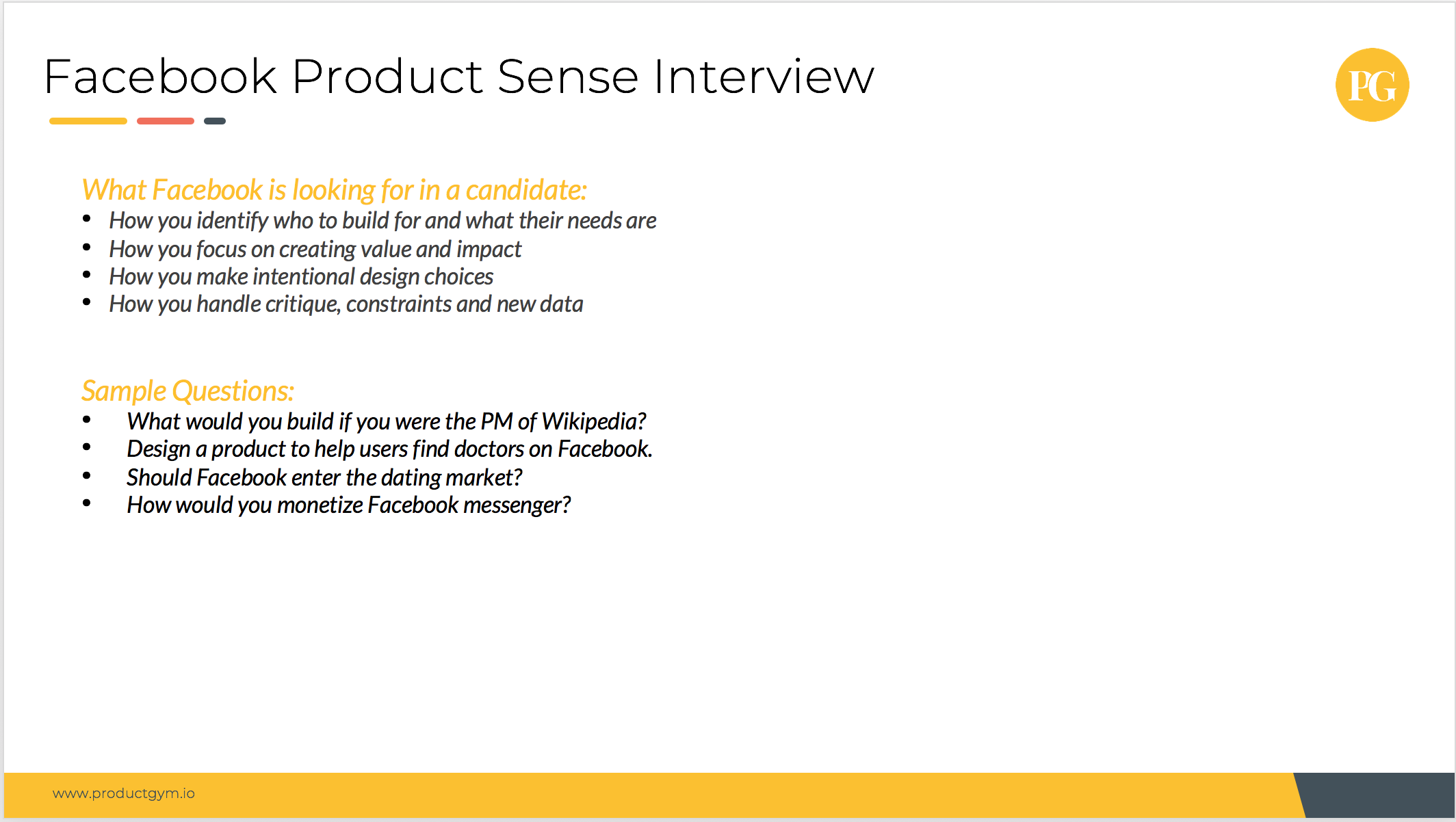 It is essential to focus on:
establishing a meaningful value proposition

customers and business areas

what kind of impact this product has

and how you can maximize that impact.
You should also be able to answer questions on how you will segment the customers and audience. Based on your segmentation decision, tie this back to impact.
The interviewers will likely give you a product to answer your questions. Whatever product they give you, here are some things to keep in mind:
Segment your customers and audience (as the customer). For example, if there's a question on a "Sports App," who would be your target customer? Why would you target them?

Prioritize your product areas around your segments.
Also, note that you will not need to address goals and metrics since your Execution interview will assess those.
Here are a few extra resources that you can check to answer Product Sense questions:
Execution Sample Questions and Preparation Tips
This section of the interview is all about choosing the right success metrics and prioritizing features accordingly. Interviewers will assess your analytical thinking skills. You will also face questions about troubleshooting problems or adapting to changes in customer requirements.
Here's a look at what Facebook is after, along with a list of sample questions to get you started: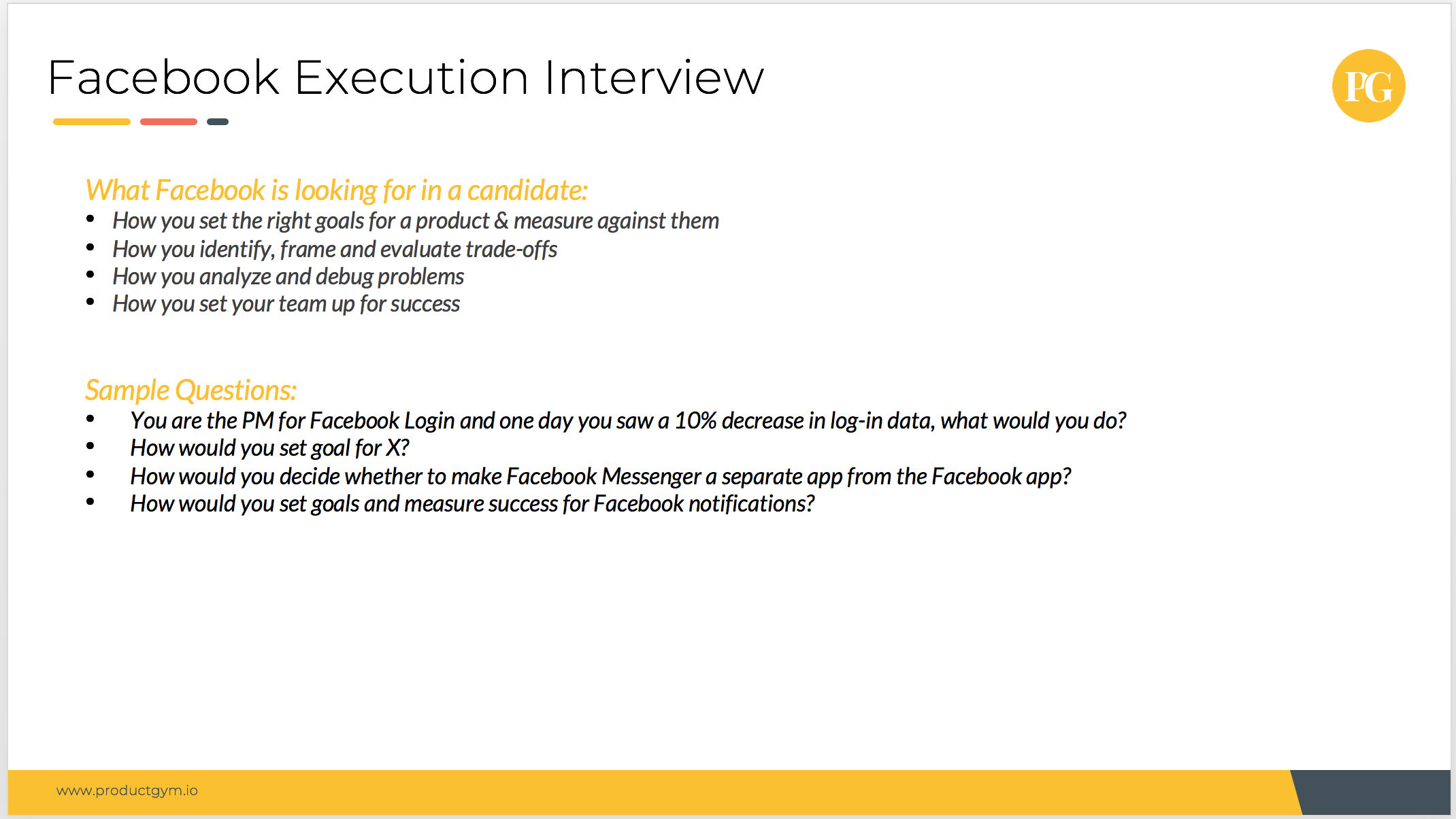 You will talk about metrics and goals. For metrics questions, your answer should address the following:
What metrics did you pick out, and why?

How do they relate to the problem statement?

How would you measure the success of those metrics?
The interviewers will poke holes in your metrics. You should be able to defend them to the best of your abilities. You should also be able to identify trade-offs and metrics to measure your trade-offs.
In summary, you should be as structured as possible. This includes being able to take a problem statement and end goal, and create metrics that tie back to the goal. Identify the dynamics of the product and any trade-offs you make along the way, and lay out decision criteria for everything.
Make sure you check out these resources to prepare for Execution questions:
Leadership & Drive Sample Questions and Preparation Tips
Next, you will need to answer a range of behavioral questions asking you to talk more in-depth about your professional experiences. For these, you'll need to show how you trust and support your teammates and that you have a mechanism for handling challenging situations.
Here's what Facebook is looking for in this interview: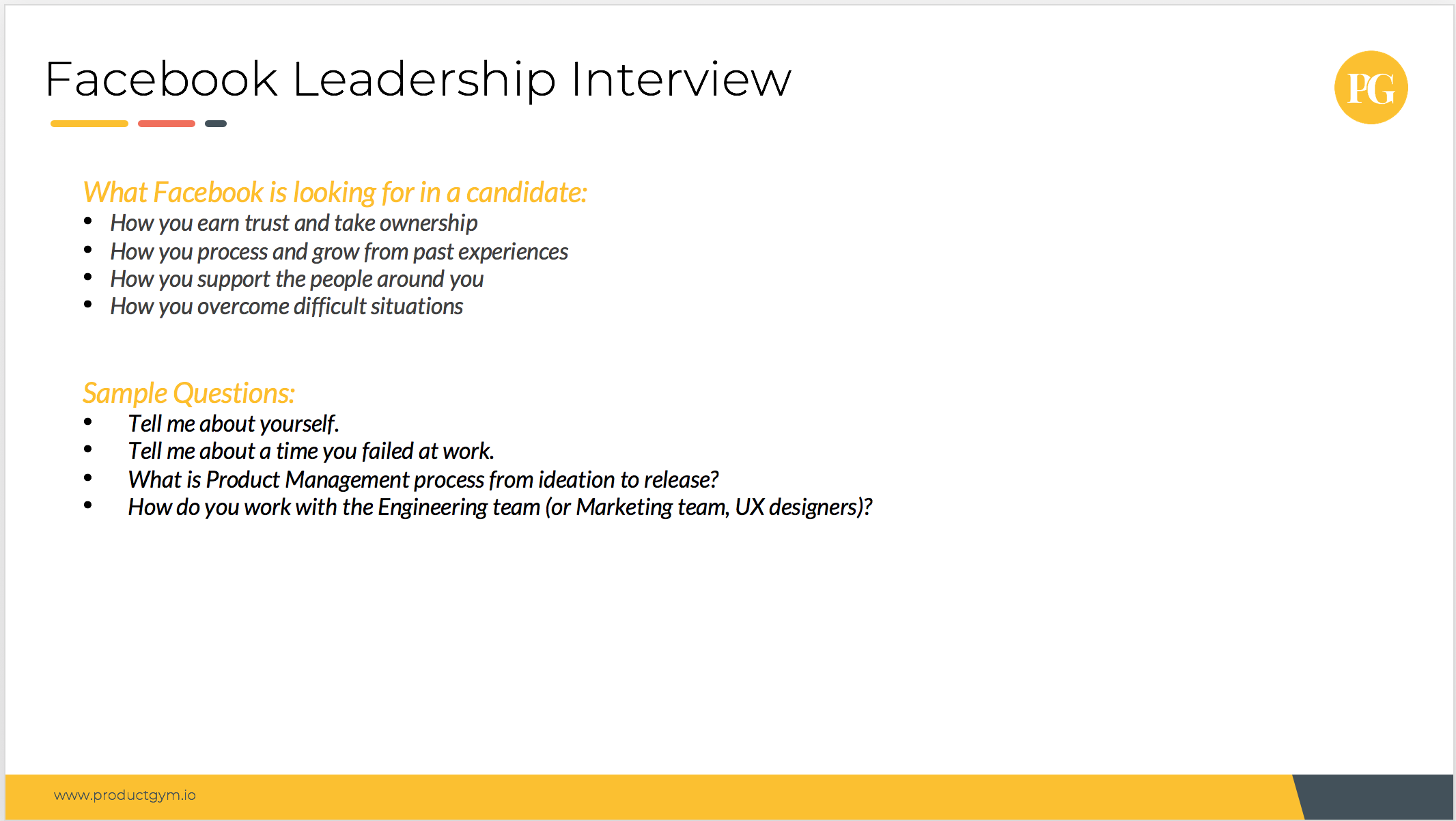 We know that these questions seem easy at first, but they may quickly destroy your chances of qualifying for the next round of your interview.
Make sure you watch our video on how to answer the "Tell me about yourself" question in a Product Manager interview:
Given that Facebook is a software company, the engineering team will need to approve of you. This is the team you will be working with the most. If you're a novice Product Manager, you may find it challenging to understand how engineering functions at a company and how best to communicate with the team.
Here's the Product Gym guide to understanding the Engineer persona and answering related questions in a Product Manager interview:
Another common question that throws even the most seasoned Product Managers is "What is your product management process?" You can learn how to answer this question the right way here:
How Did Hiring Change At Facebook After COVID-19?
Despite the enormous economic damage caused by COVID-19, Facebook is keeping up with its usual hiring. We have noticed a consistent number of Facebook Product Manager roles available to candidates on LinkedIn and other popular sites. For example, two Product Gym members got Facebook offers in early April, at the pandemic's height.
That said, one big change to Facebook's hiring process is the way that interviews are conducted in lockdown. Given the company's current work-from-home policy, candidates are expected to complete their in-person interviews virtually.
According to Facebook, candidates can use any tool they find suitable to complete the onsite interview, as long as they have a reliable internet connection.
Also, they have updated the candidate portal to further help with interviewing, given the current conditions. The new portal is enhanced with new and improved interview prep resources. There's even a feature where the candidate can send thank you notes to the interviewers.
Here's a helpful blog by Facebook that can give you deeper insight into their virtual interview process!
We know that virtual interviews are tough, and we are here to help. We published the official Product Gym guide to dominating the virtual Product Manager interview back in April to help everyone adapt to the new normal.
Remember, don't step into your video interview without reading this comprehensive guide! And while you're at it, check out our free training on how to network with FAANG Product Managers for job referrals.