An Apparel Product Manager, like any other PM, owns the product throughout its lifecycle, including product planning and execution. For the fashion and garment industry, this includes:
"gathering and prioritizing product and customer requirements for the fashion/retail company, defining the product vision of the fashion brand, and working closely with engineering, sales & marketing, and design to ensure revenue and customer satisfaction goals are met."
If you're passionate about fashion and the garment industry, this might be the route you want to take as you pursue your career in product management.
What Does an Apparel Product Manager Do?
The fashion industry is defined by its rapidly changing environment, and an Apparel Product Manager tends to be the centre of the operations. Although there are many strengths and skills needed for this role that are similar to that of a Product Manager in any industry, an Apparel Product Manager has to have a wide range of responsibilities at various different stages, from buying to product design. Here are a few examples:
Oversee the conceptualization, design, construction, and distribution of manufacturing.

Set up and implement quality and assurance protocols for the product.

Handle the specific product or product line.

Determine the human and material resources needed.

Draft timescales for a job.

Estimate costs and sets the quality-control programs.

Be responsible for the selection and maintenance of the equipment.
Skills Needed for Apparel Product Management
So what skills do all of these responsibilities require?
Attention to detail:

this will be needed for processing materials, ensuring that jobs are finished on schedule, knowing when the team hasn't achieved the desired results

and managing problem-solving.
Collaboration and Communication: as highlighted above, because there are so many stages in which the apparel Product Manager takes part

, this requires them to oversee and liaise with other team members to ensure it goes smoothly.

Leadership: like any Product Manager, an Apparel Product Manager needs to have stellar interpersonal communication skills. They'll ensure that all team members are working to the required standard and striving towards a unified goal.
Maintain production records

: organization and tracking of records are especially needed for delivery dates, schedules, and operating problems.
Because the fashion industry is fast-paced and multi-faceted, the skills and responsibilities required of Fashion Product Managers may also turn on a dime. The role tends to be incredibly different from the typical Product Manager role because this industry requires the Product Manager to oversee fittings, act as liaisons across designers and stylists, and assume the role of the event planner, just to name a few.
Fashion PM Job Description
Now that we've outlined the different responsibilities and skills required for the Apparel Product Manager, let's dig deeper into what you can expect to see laid out in a Fashion Product Manager job description. Click the example to zoom in on the details: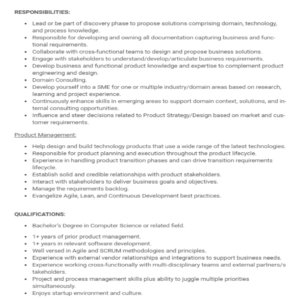 Needless to say, the role of an Apparel Product Manager is going to differ depending on the company. However, there are many elements that are common across the industry, such as:
Defining the roadmap and product strategy

Delivering

MRDs and PRDs

with prioritized features

Collaborating with stakeholders

Trialling beta and pilot programming

Having an in-depth knowledge of the competition

Acting as a leader within the company
Although company culture is also an element that differs across companies, it is common for the fashion industry that organizations foster creativity and the ability for Product Managers to make — and learn from — mistakes. For those working within the industry, money tends not to be the motivator so much as creative freedom.
Salary Expectations
In the US, the average Apparel Product Manager's salary tends to be $87,840. This compares to the average of £52,624 in the UK. As with everything else, the salary is going to differ across the apparel industry and is also dependent on the seniority of your Product Manager role.
When it comes to product management, many candidates seek to work at the FAANG organizations. There are certainly discrepancies between the salaries of the Big 5 in comparison to that of an Apparel Product Manager. Listed below are the base salaries when becoming a Product Manager at a FAANG company:
Facebook – $180k

Amazon – $164k

Apple – $176k

Netflix – $209k

Google – $191k
However, it is rarely the salary that is the main motivation for an Apparel Product Manager: it is the creative freedom. So depending on your outlook, the discrepancy between tech Product Manager salaries and Fashion Product Manager salaries wouldn't necessarily matter.
But don't think that the job is easier or lesser because it leans into creativity overcompensation. Because of the intense and changing nature of the job, and the number of responsibilities it demands, it is difficult to get an Apparel Product Manager job. Candidates will have to prove that they are able to hold their own in the unique environment of the fashion industry, all while still owning products to the highest standard.
How to Become a Product Manager in Fashion
The fashion industry may be a different beast than the tech giants usually associated with product management, but when it comes to applying, the steps to success remain the same. Here's how to land your dream Apparel Product Manager role, step-by-step:
1. Start by Revamping Your Resume
Your resume acts as your passport to getting that interview. Ensure that you're structuring it appropriately, thus making it relevant to the job that you're applying for. The last thing a recruiter will want to see is an application that completely lacks relevance, so you must read the role's responsibilities and requirements to include these in your resume. Do you need some help with this? Check out our resume writing guide as well as our free webinar course on how to synchronize your resume and your LinkedIn profile.
2. Optimize Your Linkedin
LinkedIn has become so important over the years as employers are starting to engage more in headhunting than traditional recruitment. Check out this article for ways of making your Linkedin the best it can be: tailor this to an Apparel Product Manager role.
3. Apply!
Once you have your branding assets ready to go (hint: that's your LinkedIn profile and killer resume), it's time to take the plunge. Most companies will post job openings on their site: apply directly this way rather than through job search platforms for an optimal opportunity. Recruiters are more likely to look at those applications before skimming through third-party sites.
But keep in mind that the traditional way of applying for jobs is changing. As mentioned above, headhunting is becoming more and more popular. Therefore, you might want to consider networking your way into a job:
There are many benefits to networking: Firstly, you can familiarize yourself with the employee culture, gain information regarding the recruiter, as well as learn the ins and outs of the interview process. This gives you incredible leverage when it comes to you being called for an interview.
4. Follow Up
After submitting your resume, you'll be notified if you are successful and called to an introductory interview. If you haven't heard back after five days, it's time to reapply and follow up. You should follow up on an application 3 times:
After five business days with no response

After ten business days with no response

12 to 15 days after your original application
If you still haven't heard anything after 15 days, you'll want to dig deeper by following up with the correct manager on LinkedIn. Learn more about the application and follow-up strategies in this article.
5. Practice for Common Interview Questions
As with other Product Manager roles, there will be four stages of the interview process to become a Fashion PM:
First-round screening call with a Recruiter

Second-round with the Hiring Manager or Product lead

Third-round interview with multiple stakeholders

Fourth-round: typically a case study
Make sure that you're well-versed in the most common technical, behavioural, and data analysis interview questions.
6. Prepare Your Personal Pitch
You need to ensure that you prepare a killer pitch to impress the Recruiter and Hiring Manager. Find the balance between customizing the pitch to address the needs of the company and individual stakeholders while remaining true to who you are. The goal is to paint your background and work history in the best possible light.
How Career Coaching Can Help You Become an Apparel Product Manager
At Product Gym, our career coaches apply a simple four-step framework to land our members the Product Manager job they're looking for. With this structure and the support of the PG community, both aspiring and veteran PMs have increased the number of calls they receive for interviews. The process also leads to more interviews converted into offers.
Here's how the magic works:
1. Optimize
From the best techniques for writing a cover letter to building an attractive Product Manager resume, the first step our coaches focus on boosting your credibility and professional branding. We'll help you optimize your application with:
A resume designed to beat the ATS
A cover letter that shows your culture fit
An optimized LinkedIn profile that aligns with the above
A 30-second personal pitch that sells you as the best possible candidate
At Product Gym, we provide branding workshops, resume reviews, and the tools you need to take your professional branding to the next level.
2. Apply
Product Gym members apply for 20+ Product Manager jobs weekly, and often average 9+ interviews in any given week. By perfecting your application strategy and interview approach through practice and experience, you'll build the confidence and expertise you need to wow the recruiter and interviewers at your dream company when the time comes.
Of course, our tried and tested application framework is paired with tools, tips, and interview support that all come together to form a job-hunting strategy that really works. And our coaches are with you every step of the way.
3. Convert
Once you've lined up your interviews, it's time to zero in on converting those round ones into round twos, and so on, all the way to the Apparel Product Manager job offer. It's no secret that our coaches focus on the Product Manager interview process here at Product Gym: we're there to help our members learn how to ace every step and every question — including behavioral questions, technical questions, case studies, salary negotiation, and more.
4. Learn
When should you start building your product management skillset? Before you apply? When you're on the job? Honestly, transitioning into product management can be a long journey. We encourage Product Managers (whether you're a first-timer or an industry vet) to start learning at the beginning and continue on past the finish line.
You likely already have skills that translate well into a Product Manager role: keep sharpening them, and find the gaps where you can learn, grow, and practice new skills to become a better Product Manager every day.
We want to make sure our members show up skilled and prepared for their interviews and their first day on the job, which is why we offer 20+ technical and business courses taught by industry experts
Start Your Apparel Product Manager Job Hunt
Are you an aspiring Apparel Product Manager? If you're learning the ropes of product management and are looking to dive into a PM career, we're here to help.
Product Gym is a lifetime membership program for Product Managers, aspiring product manager job-hunters, and product people of all sorts. Join our supportive community groups to get in touch with like-minded folk. And when you're ready to get serious about kickstarting your career in product management, give us a call. We're offering free career coaching sessions with our in-house team. We'd love to answer any questions you have and help you get on track to landing the Apparel Product Manager job of your dreams.