Like any Product Manager, an International Product Manager must own the product from ideation, through development, to implementation and launch. The only difference? They still have a heavy focus on customer needs and technical development of the product, but on a more vast and complex scale. They are responsible for the product at an International level.
Product Manager Posting VS International Product Manager Posting
A significant number of the responsibilities included in any Product Manager job posting have to do with the understanding of customer needs. Therefore, an International Product Manager job posting takes into account how varied these will be across different countries. This causes three main variations:
Internationalization:

the Product Manager ensures that the design and the use of the product is suitable for localization. Essentially an International PM will need to ensure that the product is able to be targeted to more specific areas.

Localization:

the International Product Manager is responsible for the product adapting to meet market-specific cultures and languages. This includes components such as date/time formats and market-relevant documentation.

Customization:

Product Managers at the interantioanl level will need the product to target the right consumers, taking market preference variations into account.
All three of these elements then combine to accomplish personalization — the achievement of creating a product that is specifically related to the individual, but on a large scale. In addition to this, an International Product Manager will have to pay close attention to political and economic influences and factors. They'll need be able to analyze what impact these will have on the product and thus how it will affect their role.
How Does an International Product Manager Salary Differ From Other Roles?
It's not as simple as being able to give a stark figure to represent the difference between a regular Product Manager job and an International Product Manager role. It depends on many different variations, including where you're based and the level of seniority of your role, etc.
However, because of the increased level of responsibility, an International Product Manager tends to earn more. For example, a regular Product Manager salary in the USA averages out at $109,000, whereas an International Product Manager in America earns $119,365. This is a similar trend seen across the world, as demonstrated in the UK where a regular Product Manager earns £53,000 on average and an International Product Manager earns £64,000.
What Does an International Product Manager Do?
So, we've covered the vast and more surface-level differences between a regular Product Manager role and an International Product Manager role. Now let's go further in depth regarding just what the Product Manager role comprises in terms of skills and responsibilities at an interantional level.
Key Responsibilities
Let's start with the responsibilities:
Identify and manage any original equipment manufacturer (OEM) partnerships to ensure that hardware and software modifications can be made to meet market-specific cultures and languages.

Deliver and implement a global harmonization strategy managing elements such as product life cycles.

Contribute to the preparation and distribution of product proposals.

Creating user stories for current and future products for the various consumers across the different locations that the product serves.

Keeping a constant eye on competitors and taking this into account when developing your own products and product strategy.

Be accountable at every different stage of the product life-cycle, ensuring that the product is fulfilling the aims and objectives that were established at the start.
Job Posting Example
Take a closer look at the responsibility demands for an International Product Manager in this live posting at Timberland: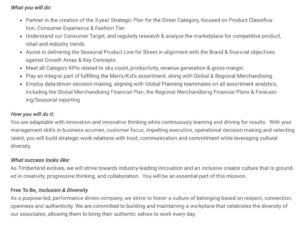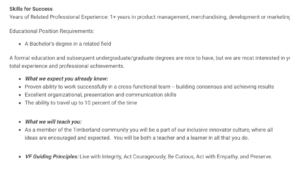 As you can see, there's a fair amount of crossover between the requirements for any Product Manager and the responsibilities for a Product Manager at the international level. But there are some areas that apply only to International jobs:
Willingness to travel for a certain percentage of the time:

as a successful International Product Manager, you'll have to touch base with the customers in the various areas in which you operate. By travelling, you're seeing first-hand the context of the market, thus being able to take this into consideration upon making important decisions. The amount of time away is very much dependent on the job posting and organization.

Ability to work in a cross-functional team:

there will be a variety of teams you'll have to work with across the areas that you operate in. This might require certain language requirements for the countries that you'll be travelling to as this helps when trying to maintain partnerships. At the very least, there is a higher need for outstanding communication skills.

Highly organized:

you'll be working in a variety of markets and coordinating cross-functional teams. It should go without saying that this wide-reaching role demands a high level of organization. Use your organization skills to ensure that your focus for each market is based on the area-specific context and research.
How to Become an International Product Manager
Revamp your resume:

for a career in international product management, you have to be passionate about wanting to be meeting the needs of the various customers across different areas. Ensure that you're providing all your relevant experience as well as searching for the specific qualities and skill sets you are looking for and insert these across your resume.

Optimize your LinkedIn:

with many companies now using headhunting techniques instead of traditional job advertising, this is now a prerequisite for any Product Manager role.

Ensure that your LinkedIn is constantly updated

with skills relevant to the role you're looking to fill. If you are able to get other LinkedIn users to endorse these skills, you'll have an even better chance at attracting a recruiter.

Apply and Prepare Your Personal Pitch:

In addition to your resume and application, you must provide a

killer pitch

that outlines the Product Manager position's key responsibilities. Your pitch should position your experience and backstory in the best possible light while also being customizable. In your interviews, you'll be pitching yourself to different stakeholders: make sure you can customize how you present yourself to answer the needs of different audiences.

Network with Recruiters and Hiring Managers:

If you have some previous experience in product management and are looking to make a lateral move into an International Product Manager role, networking can be an alternative strategy to level up your job hunt. Learn more about how to network your way into Product Manager roles in the video included below.

Practice for Common Interview Questions:

remember that for this step, the internet is your friend. You can research general

common questions

across the industry and check company websites for specific questions and practices the company relies on in interviews. For example,

Amazon recommends

their candidates brush up on the

STAR Method

for their in-person interviews. Get ahead of the interview question game with our downloadable interview guide. We put together a collection of every interview question we've recorded our members being asked over the years, and created this ultimate list.

Download it for yourself

to take your interview prep the the next level.
How Career Coaching Can Help You Become an International Product Manager
At Product Gym, our career coaches apply a simple four-step framework to land our members the Product Manager job they're looking for. With this structure and the support of the PG community, both aspiring and veteran PMs have increased the number of calls they receive for interviews. The process also leads to more interviews converted into offers.
Here's how the magic works:
1. Optimize
From the best techniques for writing a cover letter to building an attractive Product Manager resume, the first step our coaches focus on boosting your credibility and professional branding. We'll help you optimize your application with:
A resume designed to beat the ATS
A cover letter that shows your culture fit
An optimized LinkedIn profile that aligns with the above
A 30-second personal pitch that sells you as the best possible candidate
At Product Gym, we provide branding workshops, resume reviews, and the tools you need to take your professional branding to the next level.
2. Apply
Product Gym members apply for 20+ Product Manager jobs weekly, and often average 9+ interviews in any given week. By perfecting your application strategy and interview approach through practice and experience, you'll build the confidence and expertise you need to wow the recruiter and interviewers at your dream company when the time comes.
Of course, our tried and tested application framework is paired with tools, tips, and interview support that all come together to form a job-hunting strategy that really works. And our coaches are with you every step of the way.
3. Convert
Once you've lined up your interviews, it's time to zero in on converting those round ones into round twos, and so on, all the way to the International Product Manager job offer. It's no secret that our coaches focus on the Product Manager interview process here at Product Gym: we're there to help our members learn how to ace every step and every question — including behavioral questions, technical questions, case studies, salary negotiation, and more.
4. Learn
When should you start building your product management skillset? Before you apply? When you're on the job? Honestly, transitioning into product management can be a long journey. We encourage Product Managers (whether you're a first-timer or an industry vet) to start learning at the beginning and continue on past the finish line.
You likely already have skills that translate well into a Product Manager role: keep sharpening them, and find the gaps where you can learn, grow, and practice new skills to become a better Product Manager every day.
We want to make sure our members show up skilled and prepared for their interviews and their first day on the job, which is why we offer 20+ technical and business courses taught by industry experts
Land the Product Manager Job of Your Dreams
Still have questions about being a Product Manager on an international scale? Many of the factors that go into your success as a Product Manager will depend on the industry and the company of your choice, along with your background and skill set. To learn about becoming a Product Manager in more detail, why not talk to someone one on one? Our career coaches are offering free 30-minute career coaching sessions: we'd love to answer any questions you may still have. Schedule your session today!