In today's article, we're covering everything you need to know about the Amazon Product Manager interview. We're here to take you one step closer to achieving your professional dreams of getting a Product Manager job at Amazon!
This e-commerce tech giant is growing like no other company. Therefore, they have recently made an extensive effort to recruit top talent to expand business and operations as much as possible.
Before we get into the recruitment details, let's take a closer look at what a typical Amazon Product Manager position requires.
What Does a Typical Amazon PM Job Posting Look Like?
Before starting your journey, the smartest thing to do is make sure you know your end goal.
In this case, it will be a Product Manager position at Amazon. As we advise with all companies, look for the most recent hiring announcements on the company website. We went to Amazon's job site and found a PM role to look into more closely.
Key Responsibilities

This section gives us a general idea of what the job involves daily and in the long run. The expectation for this role is basically to have someone lead the product development process from ideation to release, drive critical strategies to expand existing products, and observe and report KPIs to determine how the product is doing in the market.
The job posting also tells you that you will be expected to work with multiple stakeholders and directly report the product progress to the senior leadership.
We underlined the keywords that you should familiarize yourself with. These words have to be included in your resume and cover letter, and most importantly, you have to use them during the interviews.
Basic Qualifications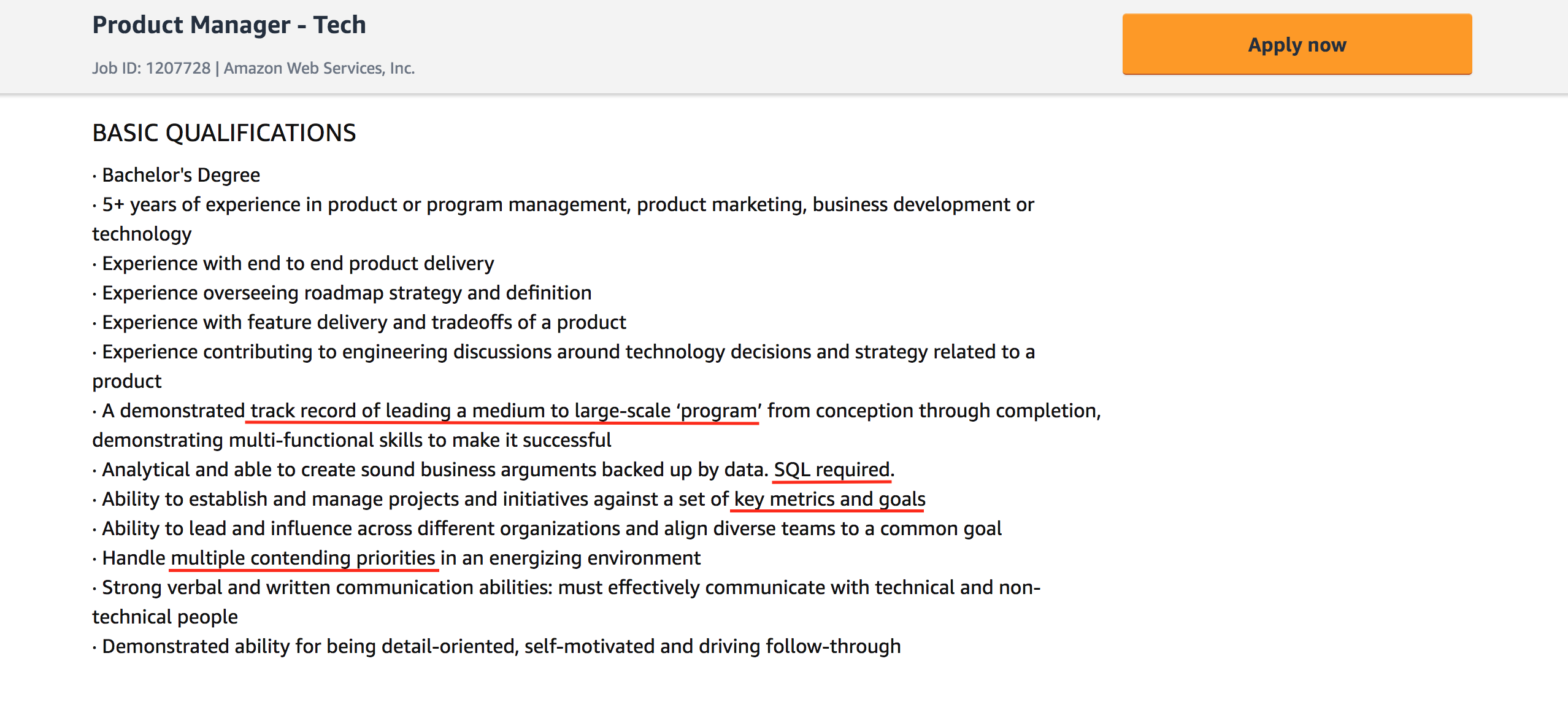 This part lists what the company is looking for in a candidate. Other than the expected college degree or X years of experience, you can also expect some details about this job in particular. In this case, we don't see anything that stands out, but there are a couple of lines that hint at a potential interview question or two.
For instance, the posting clearly states that "SQL is required." This means that you will likely get a technical question about databases. So, learn your queries and databases!
They also emphasized prioritization, so it's safe to assume that there will be a strategy question in the interview.
We have one last caveat before we jump into the interview process: Do not be discouraged by the number of years of experience required! This is just a number, and as long as you feel comfortable about your professional experience, it means nothing.
How to Get a Product Manager Job at Amazon
At Product Gym, we apply a simple four-step framework to landing our members the Product Manager job they're looking for. With this structure and the support of the PG community, both aspiring and veteran PMs have increased the number of calls they receive for interviews. The process also leads to more interviews converted into offers.
Here's how the magic works:
1. Optimize
From the best techniques for writing a cover letter to building an attractive Product Manager resume, the first step is to boost your credibility and professional branding. To get the offer from Amazon, you'll need:
A resume designed to beat the ATS
A cover letter that shows your culture fit
An optimized LinkedIn profile that aligns with the above
A 30-second personal pitch that sells you as the best possible candidate
At Product Gym, we provide branding workshops, resume reviews, and the tools you need to take your professional branding to the next level.
2. Apply
Product Gym members apply for 20+ Product Manager jobs weekly, and often average 9+ interviews in any given week. But how's that going to help you get the job at Amazon? Simple: by perfecting your application strategy and interview approach through practice and experience, you'll build the confidence and expertise you need to wow the recruiter and interviewers at your dream company when the time comes.
Of course, our tried and tested application framework is paired with tools, tips, and interview support that all come together to form a job-hunting strategy that really works.
3. Convert
Once you've lined up your interviews, it's time to zero in on converting those round ones into round twos, and so on, all the way to the Amazon job offer. It's no secret that we focus on the Product Manager interview process here at Product Gym: we're there to help our members learn how to ace every step and every question — including behavioral questions, technical questions, case studies, salary negotiation, and more.
4. Learn
When should you start building your product management skillset? Before you apply? When you're on the job? Honestly, transitioning into product management can be a long journey. We encourage Product Managers (whether you're a first-timer or an industry vet) to start learning at the beginning and continue on past the finish line.
You likely already have skills that translate well into a Product Manager role: keep sharpening them, and find the gaps where you can learn, grow, and practice new skills to become a better Product Manager every day.
We want to make sure our members show up skilled and prepared for their interviews and their first day on the job, which is why we offer 20+ technical and business courses taught by industry experts.
The Amazon Product Manager Interview Process and Timeline
Amazon doesn't have any official resources about this part, but we can figure out what the interview process looks like by doing more research.
The most reliable resource to look to for the latest interviewing trends at a company is Glassdoor. Log in and look up that specific company and position. Make sure you sort the interviews by most recent to know what the latest questions look like.
Here's what Amazon interviews look like on Glassdoor: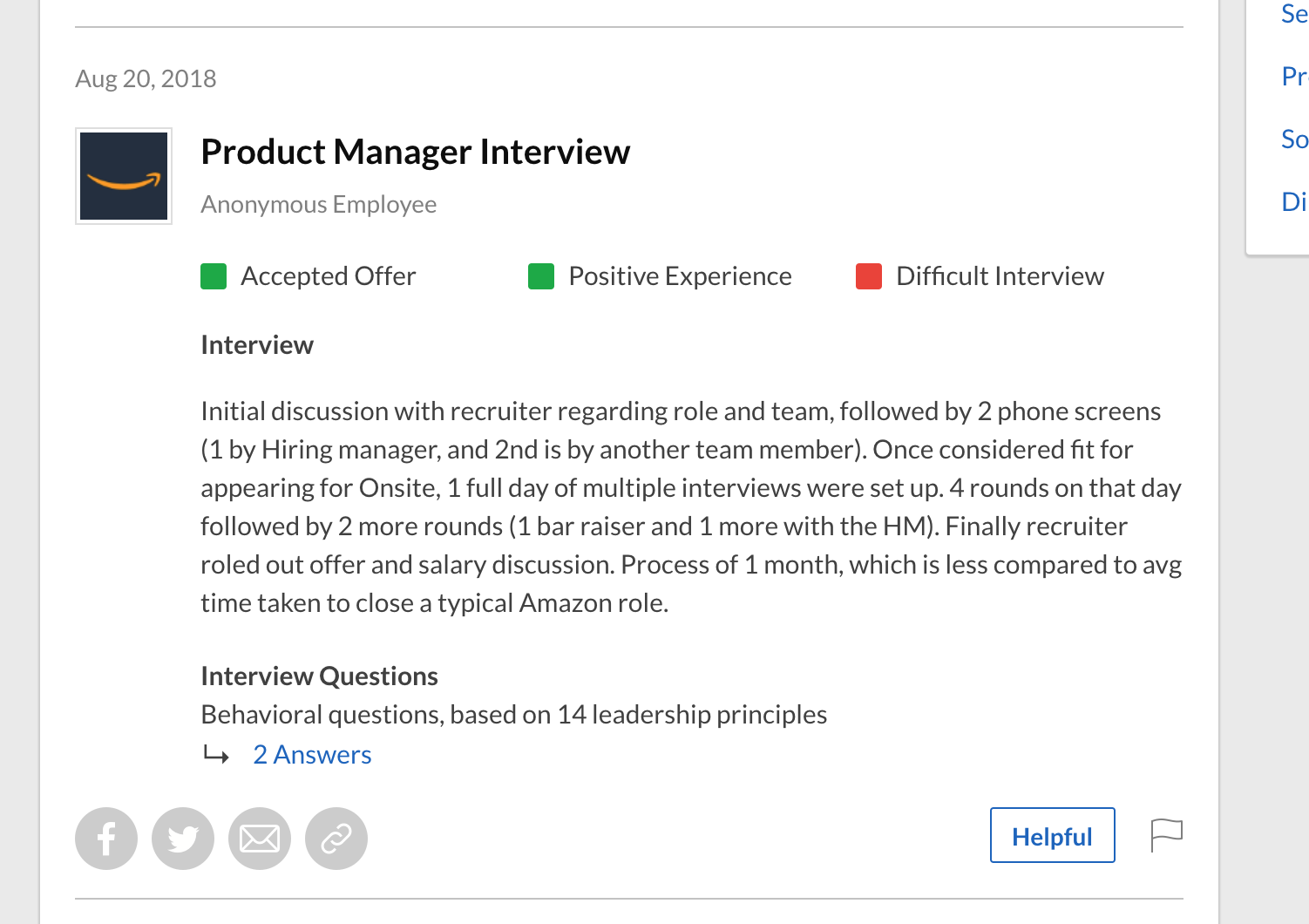 Timeline
While the product manager interview questions might not be as accurate, you will get a good sense of the interview timeline. After analyzing the Product Manager entries for the last couple of years and referring to other critical, external resources, such as IGotAnOffer, here's what a typical Amazon Product Manager Hiring Timeline looks like:
Submit your application

Initial HR Recruiter phone call

Phone Screens with PMs (expect 1-2)

Take-home exercise (might not be the case for all positions)

On-site interview

Hiring committee decision

Congratulations, you got an offer!
According to our research, the overall process could take three to six weeks.
How Do You Get an Amazon Product Manager Interview?
The most conventional way of getting an interview at Amazon is by applying through their careers site. You can apply by creating a profile, submitting your resume and cover letter, and expecting a response from the recruiter if there was a match.
Given the intense competition for this role and Amazon, you might want to take your career hunt a step further by networking with a recruiter. This can be a complicated and time-consuming process, so to do it the right way, follow our proven strategy to get interviews at any FAANG or high-profile company:
Question Type Breakdown
There are three common types of questions to prep for in the Amazon Product Manager Interview:
Behavioral questions

Strategy questions

Technical and Analysis Questions
Behavioral questions form an essential part of the interview. These questions go beyond a typical "tell me about yourself" and require you to relate your professional experiences to Amazon's Leadership Principles. We will take a deeper dive into these principles and how do they show up in an interview in a minute.
Strategy questions are also important when it comes to assessing your ability to manage and strategize products. Looking at the Glassdoor responses, these questions will give you an example prompt and ask you about your approach.
Technical and Analysis questions these questions specifically assess how technical and well-versed you are when it comes to acquiring and understanding KPIs. Given that Amazon is a software company, you are expected to have a good grip on technical concepts and product design.
Behavioral Questions
When it comes to behavioral questions, Amazon is very clear about what they expect you to know. Make sure you review their guide.
The key to answering their common behavioral questions is by incorporating Amazon's Leadership Principles into your own responses. You are expected to demonstrate how well you align with these principles in the professional world.
Amazon's Leadership Principles state the company's vision when it comes to how they operate. It is the greatest demonstrator of the company culture, and therefore, every prospective employee is expected to know it.
Leadership Principles:
Here are the 14 Leadership Principles that you need to know, along with a real interview question (found on Glassdoor):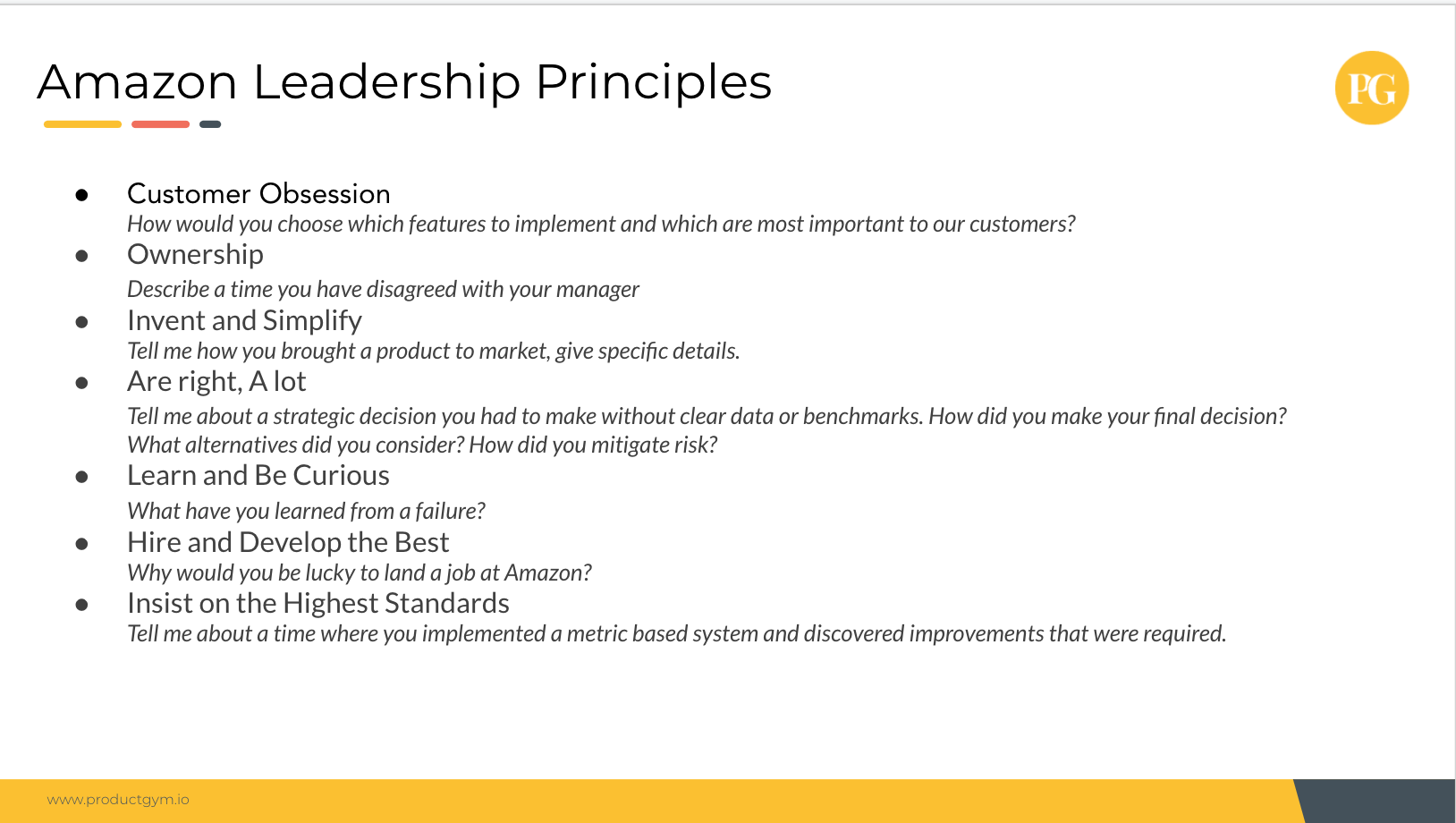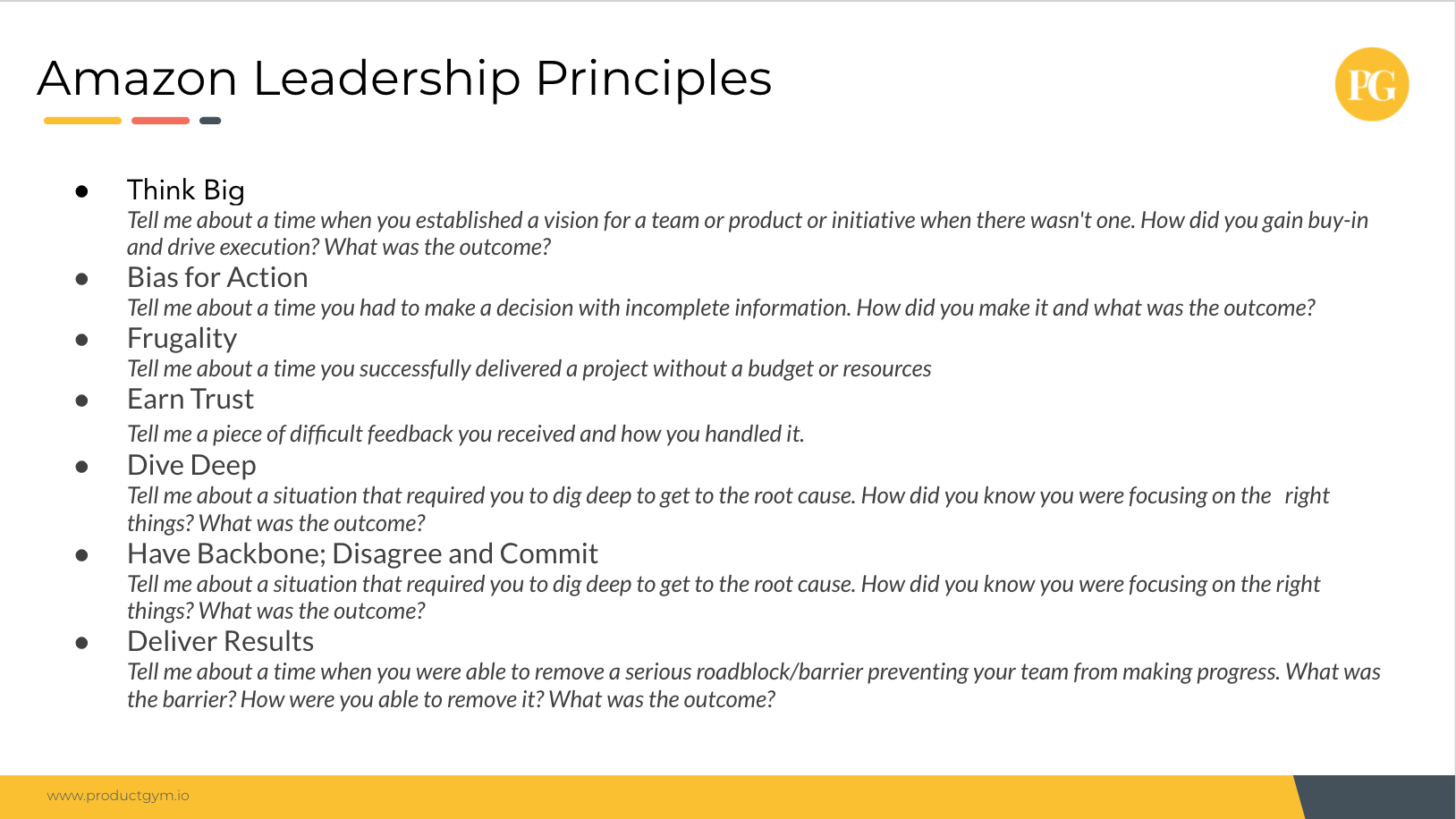 Notice how most of them begin with "Tell me about a time…"?
We cannot emphasize how vital these Leadership Principles are. Hiring Managers take them very seriously and expect you to know everything about them before entering the interview.
Amazon's official interview preparation page also suggests using the STAR method to answer any behavioral questions. Therefore, before the interview, make sure that you know this approach and have prepared your answers accordingly: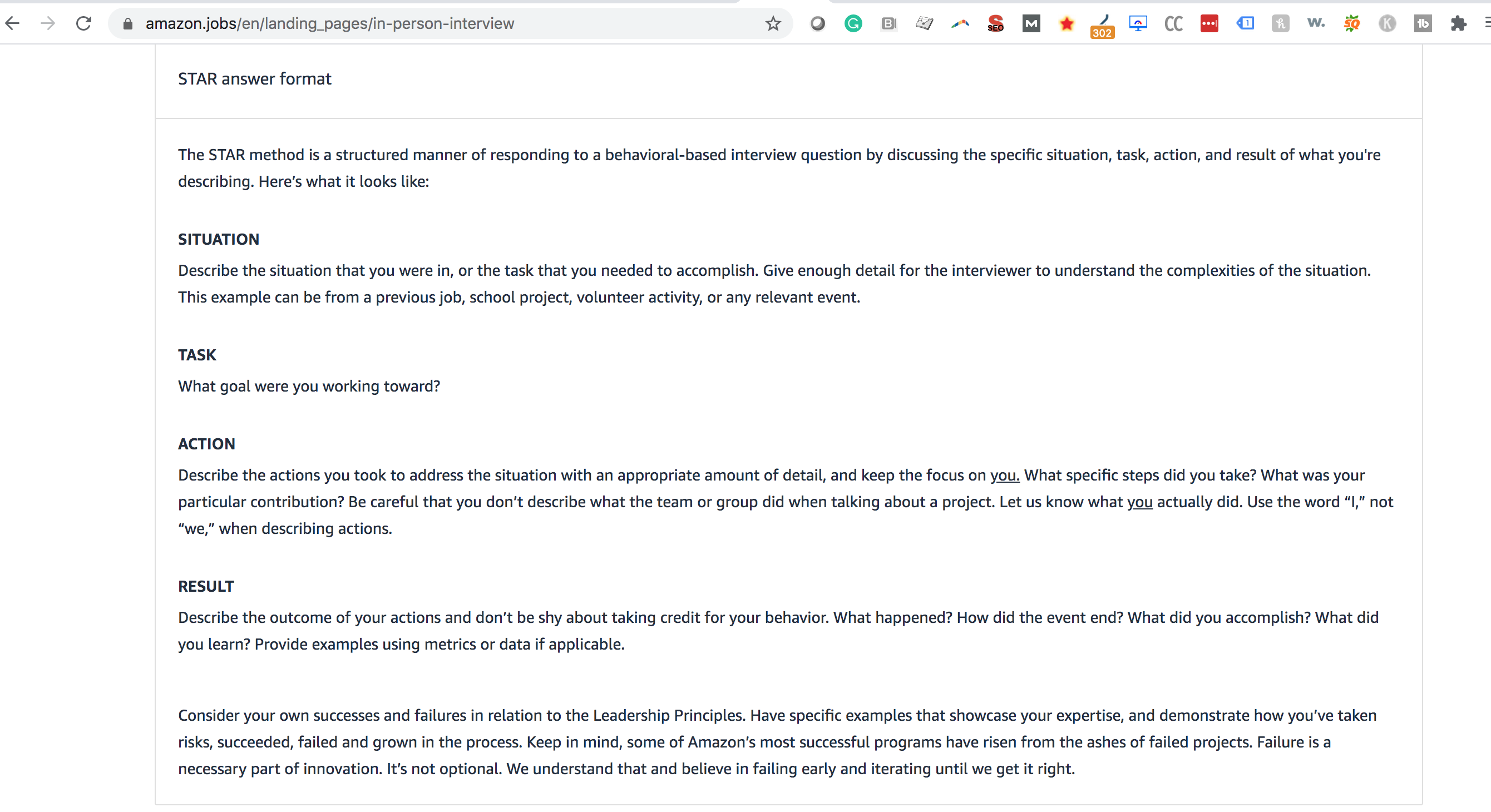 Strategy Questions
These questions assess your ability to develop a product roadmap and evaluate the risks/benefits of a potential product. Interviewers assess how familiar with Amazon's products and business as well as your creativity and analytical thinking.
Here are a couple of sample questions we found on Glassdoor:
How would you determine the appropriate price and method to promote this ___________ product and why?

Think of a new product or business for Amazon, and describe how you would decide to create the product and launch it.

Tell me how to improve the current third-party seller registration process.
Technical Questions
Technical questions test your abilities to incorporate technology and quantitative methods into your decision-making. Given that Amazon is a technology company with e-commerce and cloud as its core business, you should also expect to get questions that assess your understanding of web and cloud concepts.
You'll be the bridge between the engineers and the senior leadership, so you should be an astute translator between the two entities.
Here are some common questions that our members received, as well as a few from Glassdoor:
Describe what you know about ACID transactions. (Databases)

What's the difference between an API and an SDK? (Software concepts)

How did you prioritize work items in your previous role? (Prioritization)

How do you select which KPIs to focus on (given a product)? (Metrics)
While it's impossible to be prepared for every single question, the best way to stay focused and be ready for the technical questions is by learning the most common concepts. We have included a list of well-written and concise resources in the section below to get you started.
How Should I Prepare for the Amazon Product Manager Interview?
There are two phases of your preparation. The first phase is things to do before the interview, and the second phase involves how to prepare once you have an interview scheduled. The first phase has two steps:
Update your resume
Expand your Network
Phase One: Before the Interview
The first item on your list should be making sure that your resume, cover letter, and LinkedIn profile are ready for the recruiter. You will need a Product Manager resume to show the companies that you are professionally aligned with what they are looking for.
If you are not sure where to start with writing your resume check out this video for some tips:
The second item is expanding your network and focusing on talking to more FAANG recruiters to increase your chances of getting a Product Manager interview at a high-profile company. Given the current competitive landscape, you will likely need a personal connection.
Phase Two: Interview Scheduled
The second phase involves action items after receiving your interview request from Amazon. Here are the steps you'll take in this phase:
Prepare your personal pitch
Prepare for a case-study
Familiarize yourself with technical concepts
First off, you should be reviewing your resume and preparing a personal pitch to highlight your previous experiences using Product Manager terminology. Given Amazon's strong emphasis on Leadership Values, you will also have to incorporate those aspects to ensure that your pitch entirely satisfies what the recruiter is looking for.
We have prepared an extensive guide for our members to develop their elevator pitches and figure out how to answer the common behavioral questions. Here's also a video tutorial we created:
Next, you'll need to ready for case study questions and potentially take-home assignments. In the past, we have created a couple of guides to help our members to address these questions:
Lastly, you should be familiarizing yourself with relevant technical concepts. While a Product Manager is not required to learn to program, they should know how things work from a technical perspective. Here's a list of a few valuable resources to prepare for technical questions:
How Did Hiring Change After COVID-19?
Given the current conditions, it's no surprise that hiring changed after COVID-19. Thankfully, Amazon is one of the few companies that did well economically during the pandemic and continued to expand.
However, one thing that has changed is the way the Amazon Product Manager interview will be done. Since offices are closed, the in-person aspect of the interviews is now virtual.
Amazon has a very detailed page with regards to how virtual interviews work. Before you have your Amazon Product Manager interview, make sure you read their instructions and that their recommended software video conferencing (Amazon Chime) works on your computer.
We know that while the expectations are identical, virtual interviews differ significantly from in-person interviews. Check out the Product Gym guide to video interviews dominate your virtual interviews.