Apple is one of the most well-known technology companies in the world. Their product lines span both software and hardware, and new releases of their iPhones, iPads, and Mac computers are met with global anticipation and enthusiasm. For many Apple users, the company is more than just a brand — it's part of their personal identity. With this degree of customer loyalty, it goes without saying that so many product professionals would be thrilled to land an Apple Product Manager interview and work for this global giant.
Company Overview
Apple is a manufacturer, marketer, and retailer of a wide range of devices and associated software, such as computers, mobile phones, tablets, and peripheral items and services. Their product portfolio includes the iPhone, iPad, Mac, and Apple TV, along with the iOS and OS X operating systems and the M1 computer chip. It was the first company to profitably sell personal computers and is considered a pioneer of the graphical user interface (GUI).
The company was founded in 1976 by Steve Jobs, Steve Wozniak, and Ronald Gerald Wayne. Wozniak's dream was to build his own computer, which he did in 1975 using the newly-invented microprocessor chip. Hewlett-Packard, where Wozniak worked, had no interest in the idea, so he founded his own company with Steve Jobs and the two began building computers in the garage of the Jobs house.
The Apple II computer was their first success, becoming the dominant player in the primary school education space. By December of 1980, the computer had gone public in the biggest IPO since the Ford Motor Company's in 1956. Facing increased competition from IBM, Jobs invested in the graphical user interface (GUI), which enabled a far more intuitive user experience. The company's Macintosh ("Mac") computer release, however, was not as successful as investors hoped, and Jobs was fired.
He returned, however, after Apple began losing significant market share to Microsoft personal computers (PCs), which now featured their own GUI-based operating system: Windows. In 1997, he was named CEO of the company he co-founded twenty years prior. Under his leadership, Apple released the iMac computer, which became a bestseller and drove the company to profitability in 1998.
Their next huge success was iTunes and its associated portable MP3 player, the iPod, which became available in 2001. The iPhone mobile device made its debut in 2007, and the iPad tablet was released in 2010. The following year, Jobs resigned as CEO due to failing health and was replaced by Tim Cook. He remains the CEO as of this writing. Notable products launched under his tenure include the Apple Watch, the Siri personal assistant program, the AirPods wireless earphones, and most recently, the M1 microprocessor chip. In 2018, Apple became history's first trillion-dollar company.
Today, Apple is headquartered in Cupertino, California and employs approximately 160,000 individuals. Over the past decade, their annual revenues have quadrupled. During the fiscal year 2020, the company had sales of nearly $275 billion. Currently, Apple has the largest market cap of any tech company.
Product Culture at Apple
Apple has a large product portfolio that spans a range of categories. Major consumer goods product lines include computers (MacBook Air, iMac, MacBook Pro), smartphones (iPhone), tablets (iPad), wearables (Apple Watch, AirPods), music devices (iPod), and home electronics (Apple TV, HomePod). In addition, Apple offers several software products, including the OS X and iOS operating systems. Services include AppleCare support, the Apple Card credit card, the iCloud, and a large number of applications (Apple Podcasts, Apple Music, Apple TV+) available through the Apple App Store.
Apple also has product lines tailored to specific market segments, such as businesses, K-12 education, universities, healthcare providers, and federal, state, and local governments.
Overall Company Culture
Apple has seven corporate values: Accessibility, Education, Environment, Inclusion and Diversity, Privacy, Racial Equity and Justice, and Supplier Responsibility. Each Apple employee is expected to consider these values when making key decisions and while fulfilling their responsibilities. They also inform the company's product strategy and the features they build into each device and service. For example, functionality around accessibility is part of every iPhone, MacBook, and iPad.
In addition, Apple is committed to driving positive change when it comes to the environment and to social justice. The company is carbon neutral, and they plan on having each product be the same by 2030. Recently, they launched the Racial Equity and Justice Initiative aimed at improving access to education, reforming criminal justice, and promoting economic equality.
Product Team Culture
Apple has a functional organizational structure, meaning it is not structured by business units/divisions (like Product Group A or Product Group B). Instead, functions like marketing, legal, design, engineering, etc. all report up to the CEO. Famously, Steve Jobs fired all general managers when he returned to Apple, believing that they created unnecessary silos. Product managers at Apple do still work on specific products, but they're also expected to understand where their role fits into the overall company function they're part of.
How to Get a Product Manager Job at Apple
At Product Gym, we apply a simple four-step framework to landing the Product Manager job you're looking for. With this structure and the support of the PG community, both aspiring and veteran PMs have increased the number of calls they receive for interviews. The process also leads to more of those interviews being converted into offers.
Here's how the magic works:
1. Optimize
From the best techniques for writing a cover letter to building an attractive Product Manager resume, the first step is to boost your credibility and professional branding. To get the offer from Apple, you'll need:
A resume designed to beat the ATS
A cover letter that shows your culture fit
An optimized LinkedIn profile that aligns with the above
A 30-second personal pitch that sells you as the best possible candidate
At Product Gym, we provide branding workshops, resume reviews, and the tools you need to take your professional branding to the next level.
2. Apply
Product Gym members apply for 20+ Product Manager jobs weekly, and often average 9+ interviews in any given week. But how's that going to help you get the job at Apple? Simple: by perfecting your application strategy and interview approach through practice and experience, you'll build the confidence and expertise you need to wow the recruiter and interviewers at your dream company when the time comes.
Of course, our tried and tested application framework is paired with tools, tips, and interview support that all come together to form a job-hunting strategy that really works.
3. Convert
Once you've lined up your interviews, it's time to zero in on converting those round ones into round twos, and so on, all the way to the Apple Product Manager job offer. It's no secret that we focus on the Product Manager interview process here at Product Gym: we're there to help our members learn how to ace every step and every question — including behavioral questions, technical questions, case studies, salary negotiation, and more.
4. Learn
When should you start building your product management skillset? Before you apply? When you're on the job? Honestly, transitioning into product management can be a long journey. We encourage Product Managers (whether you're a first-timer or an industry vet) to start learning at the beginning and continue on past the finish line.
You likely already have skills that translate well into a Product Manager role: keep sharpening them, and find the gaps where you can learn, grow, and practice new skills to become a better Product Manager every day.
We want to make sure our members show up skilled and prepared for their interviews and their first day on the job, which is why we offer 20+ technical and business courses taught by industry experts.
What Does a Typical Apple Product Manager Job Posting Look Like?
Each Apple PM job posting begins with a summary of both Apple as a company and of the role itself. It includes an explanation of the product or business area the candidate would be responsible for, and why Apple is looking to fill the position. Next comes a list of key qualifications, including years of experience, degree of expertise, critical skills, and level of education. In general, product manager roles at Apple require at least five years of experience, and many require more than eight.
The next section is the "description," which is essentially a list of job responsibilities. PMs at Apple are expected to:
Work closely with stakeholders across departments

Develop and communicate product roadmaps

Demonstrate excellent presentation and written communication skills

Act as the "owner" of their product, from discovery to launch

Stay up-to-date and informed on key industry trends

Demonstrate strong analytical skills

Assert leadership in situations involving ambiguity and shifting priorities

Think strategically and with overarching company business goals in mind

Have prior experience with use case creation and requirements definition
Certain PM positions, like the Product Manager, Apple Pay role pictured below, require candidates to have specific domain experience. For example, the PM, Apple Pay job states that applicants must have an understanding of financial transaction processing systems, along with past experience in the Payments industry.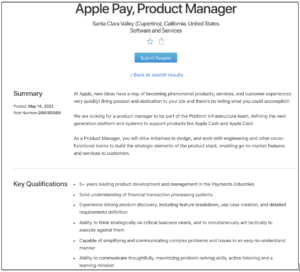 The final section in each job description is the Education and Experience section, which lists the minimum level of education and years of experience an applicant should have. Most PM positions require at least a Bachelor's degree in Computer Science, Engineering, or a related field. Several product roles also require an MBA or equivalent experience.
How Do You Get an Apple Product Manager Interview?
Get started by browsing Apple's current job openings to find the one(s) most suited to your past experience, specific skills, areas of expertise, and professional goals. Once you've identified that "best git" role, your next step is to craft a standout application. For an in-depth look at how to increase the number of interviews you land with FAANG companies like Apple, read our FAANG interview guide next.
Write the Perfect PM Resume
They say you never get a second chance at a first impression, and your resume is that "first impression" with the hiring manager. So, be sure it really shows off your skills and relevant job experience. Highlight any specific experience involving the responsibilities listed in the job description. And if you can point to previous quantitative results around those parts of the role, you should do so.
Be sure to check out our free webinar on resume writing, which takes you through the process of building a well-organized resume that you can use for multiple PM roles.
Craft Your Pitch and Position Yourself as a Great PM Hire
Your next step is to demonstrate your product management talents. You can do that by writing a pitch that showcases the product manager position's main responsibilities. Here's how.
Apply!
Now it's time to submit your application. But don't stop there — if you know any current employees at Apple, ask them for a referral. According to Glassdoor, 15% of interviewees got their foot in the door via employee referral. Our step-by-step recruiter networking methodology can also help you secure an initial interview.
What Is the Apple Product Manager Interview Process and Timeline?
The PM hiring process at Apple generally follows these steps:
Introductory call with the hiring manager(s)

Technical and behavioral round with team members

The offer
According to Glassdoor, 64% of interviewees had a positive experience, and the average interview difficulty was rated a 3 out of 5. On average, the entire process takes around 4-6 weeks, with some decisions taking as long as three months.
How to Win the Introductory Call With the Hiring Manager(s)
After an initial call with a recruiter, you'll move on to an interview with the position's hiring manager. In general, this round focuses on basic behavioral questions like "Where do you see yourself in five years?," "Tell me about yourself," and "What are your greatest strengths and weaknesses?" The hiring manager will also be assessing your fit with regard to the company's seven cultural values. According to several Glassdoor responses, additional questions you should be prepared to answer are:
Why do you want to work at Apple?

What's your favorite Apple product? Why? How would you improve it?

Tell me a time where you had to deal with ambiguity.

Tell me about a time when you had to convince someone of something without you having authority over them.

Was there ever a time when you disagreed with a manager's decision? How did you handle it?

Tell me about your career experience to date.

What has been the proudest moment of your career?

What is your greatest accomplishment?
If the hiring manager is impressed by your answers, you'll be asked to move to the next stage: the technical and behavioral round.
How to Win the Technical and Behavioral Round(s) With Team Members and Stakeholders
Several Apple job candidates described this round on Glassdoor, explaining that it involved a long day of back-to-back interviews with various stakeholders. The total number ranged from five to ten. During this stage, the questions will be far more specific to the PM role and what you'd be working on day-to-day. You'll likely be asked the following:
Walk me through the components needed to build a data processing and reporting system.

What feature(s) would you like to see added to [product X]?

How would you measure a feature you built?

A large

number of Apple Card customers are not making their monthly payments, resulting in negative effects on customer accounts

. Why might the customers be having issues making payments

?
After this round, your next step is to wait to hear from the Apple hiring team. Best of luck!
Want to learn more about getting hired as a Product Manager at a well-known company? Schedule a free consultation with us.