If you've ever ordered takeout, you've likely come across the DoorDash name — or even used their services. Or maybe you've seen their logo in the window of your favorite local restaurant. Along with well-known competitors like GrubHub, Postmates, and Uber Eats, DoorDash connects restaurants with hungry customers for quick food delivery right to their, well, door. If you like fast-growing startups — or are just a fan of food — DoorDash might be your ideal employer. Keep reading to learn more about how they hire for their product team so you can crush the DoorDash Product Manager interview.
Company Overview
DoorDash is a food delivery and logistics company that connects local merchants (primarily restaurants) with customers. Their network of delivery drivers, known as "Dashers," operates in 80 cities across the US, Canada, and Australia.The company serves both independent restaurants and popular national chains like Chipotle, The Cheesecake Factory, Subway, McDonald's, and Taco Bell. 
The idea for DoorDash came to founders Evan Moore and Tony Xu in 2012 while they were students at Stanford. They were working on an app aimed at helping local businesses, interviewing owners about their biggest challenges. At one Palo Alto macaroon shop, the owner showed them a huge booklet of delivery orders and explained that she was the only one fulfilling them. She couldn't find any drivers. This conversation spurred the idea of "an on-demand Fedex." 
Moore and Xu discussed the concept with classmates Andy Fang and Stanley Tang, and the four of them spent weeks interviewing hundreds of area business owners. The consensus was clear: delivery was their most pressing challenge. Within a few hours, the four founders had built the first prototype of what would become DoorDash. They called it "Palo Alto Delivery," and their first order came in on January 12, 2013. Soon, the founders were taking orders and making deliveries during class, giving them extensive experience with the "Dasher" side of the business. Even today, every new DoorDash team member starts as a driver. 
They changed the name to DoorDash in June of 2013, and the business took off around the Stanford campus. After six months in business, they applied to the famous Y Combinator accelerator and were accepted, receiving a seed investment of $120,000. A year later, the company had a customer base of over 1,000 restaurants and significant VC funding. 
By 2018, DoorDash had passed Uber Eats in food delivery sales in the US, and was second only to GrubHub. In early 2019, DoorDash took the top spot. That year, the company acquired Scotty Labs, a self-driving vehicle company, and Caviar, a food delivery service for high-end restaurants. They also opened their first ghost kitchen. 
During the COVID-19 pandemic, DoorDash saw explosive growth as restaurants were forced to rely on delivery rather than in-person service. Their "Reopen for Delivery" program launched in October of 2020, helping restaurants that closed during the crisis get customers once more. The next month, the first DoorDash restaurant opened in San Francisco. In December, DoorDash went public (NYSE: DASH). 
Today, DoorDash serves over a million deliverers, 20 million customers, and 450,000 merchants across North America, and employs nearly 4,000 employees. The company is based in San Francisco and is helmed by CEO and co-founder Tony Xu. In 2020, DoorDash earned $2.9 billion in revenue.
Product Culture at DoorDash
The DoorDash business model focuses on three key segments: Dashers, merchants, and customers. Each group is served by multiple products. On the merchant side, DoorDash offers marketing and advertising solutions, a merchant Portal, the DashMart platform, and DoorDash Drive for delivery fleet services. For Dashers, the company provides a driver app, and customers have access to a number of services beyond just delivery, like the DashPass rewards program, and DoorDash for Work, which allows companies to send food to their remote employees. 
Overall Company Culture
The DoorDash company culture is centered around teamwork, execution, and leadership. Underlying these cornerstones are twelve core values, which are organized into four categories: 
We Are One Team
Make Room at the Table

Think Outside the Room

One Team, One Fight
We Are Leaders
Be An Owner

Dream Big, Start Small

Choose Optimism & Have a Plan
We Are Learners
Truth Seek

1% Better Every Day

Consumer-Obsessed, Not Competitor Focused
We Are Doers
Bias for Action

Operate at the Lowest Level of Detail

And, Not Either/Or
In addition, DoorDash is committed to corporate philanthropy through their DoorDash Impact initiatives. Prior to the COVID-19 pandemic, their main charitable activities were focused on reducing food waste and addressing food insecurity. Through their Project DASH program, the company works with local organizations to increase access to healthy food. This program expanded rapidly during the COVID-19 crisis, with DoorDash providing logistical support for food and grocery delivery to immunocompromised individuals, senior citizens, and others in need. 
Since the beginning of the COVID-related shutdowns, DoorDash has delivered approximately 11 million meals. According to the DoorDash Impact Report, about two-thirds of restaurants stated that DoorDash was critical to their business, and nearly 80% of customers relied on DoorDash deliveries during the crisis. 
Product Team Culture
At DoorDash, the product team culture emphasizes cross-departmental collaboration. Product managers can expect to work very closely with design, engineering, and operators to meet the needs of the customer, merchant, and Dasher segments. 
What Does a Typical DoorDash Product Manager Job Posting Look Like?
A DoorDash product management job description usually begins with an "About the Role" section which describes why the company is hiring for this position and how the role fits into the larger product team. It also includes some of the core responsibilities of the position.
Next comes a "You're excited about this opportunity because you will …" section, which goes into more detail about what is expected in the role. After that is a "We're excited about you because …" section, which is essentially a list of requirements. A few positions, like the Product Manager role pictured below, also include a "Nice to Haves" section.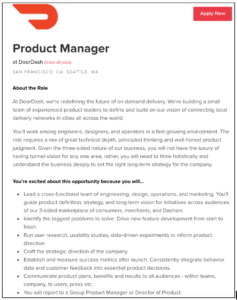 Most PM roles at DoorDash require 5+ years of experience. Product managers are also expected to possess the following:
Experience collaborating with engineers and designers

Excellent analytical skills

An ability to balance user needs with quantitative business impact

Familiarity with user research, usability studies, and experimentation

Strong written and verbal communication skills

A passion for solving complex customer problems
Up next comes a "Why You'll Love Working at DoorDash" section listing key core values, followed by an "About DoorDash" paragraph. The job listing ends with a statement on diversity and inclusion at DoorDash. 
How Do You Get a DoorDash Product Manager Interview?
Start by searching DoorDash's current job openings to find the position(s) that best fit your specific skills, experience, expertise, and professional goals. Once you've selected one (or more) that seems promising, your next step is to create a standout application — and that includes a well-written resume.
Craft a Great Product Manager Resume
Most likely, the hiring manager at DoorDash will look at your resume first. Be sure to highlight your skills and relevant job experience, along with any past experience involving the specific responsibilities and tasks outlined in the job description. If you can show prior quantitative results around those parts of the role, do so.
Before getting started, check out our free webinar on resume writing, which guides you through the process of crafting a resume that can be used for various PM positions. 
Create Your Pitch and Position Yourself as a Strong PM Hire
Your next step is to showcase your product management skills by writing a pitch that showcases the product manager position's key responsibilities. Here's how.
Apply!
Now it's time to submit your application. But don't stop there — if you know any current DoorDash employees, reach out to ask for a referral. According to Glassdoor, 13% of interviewees got their foot in the door through an employee referral. In addition, our step-by-step recruiter networking methodology can help you secure that all-important first interview.
What Is the DoorDash Product Manager Interview Process and Timeline?
The PM hiring process at DoorDash generally follows these steps:
Take-home assignment and introductory call with product director

Presentation and technical and behavioral round(s) with team members and stakeholders

The offer
The process generally takes about four weeks from start to finish. According to Glassdoor, 35% of interviewees had a positive experience, and the average interview difficulty was rated a 2.6 out of 5. 
How to Win the Take-Home Assignment and Introductory Call With a Product Director
Your hiring experience at DoorDash will start with an initial recruiter screen to go over logistical fit, expected comp, etc. If that goes well, you'll be given a take-home assignment to complete before your interview with one of the company's product directors. The assignment should take a few hours and the goal is to evaluate your analytical skills and how comfortable you are working with product data. According to a few Glassdoor responses, you'll receive a spreadsheet of product data and be asked to make some recommendations based on the numbers.
During the interview with the Product Director, you'll get the chance to present your findings and receive feedback. You should also be prepared to answer the following questions:
Why did you decide to apply to DoorDash?

What is your favorite music product and how would you improve it?

How would you improve engagement with X?

How would you improve the user experience of Y?

What's your process for prioritizing features?

What do you like/not like about the DoorDash app?

How would you test X product hypothesis?
DoorDash recommends considering these questions as well:
Every DoorDash problem is our problem. Do you have the ability to hold two opposing ideas? Can you hold your direct reports, peers, manager, and leaders accountable without placing blame? 

Do you find value in admitting your mistakes or being honest when things get hard?

Do you find yourself wishing that people stayed in their lanes, or do you welcome collaboration?
If this round goes well, you'll be asked to interview with several members of the product team and additional stakeholders, including executives.
How to Win the Technical and Behavioral Round With Team Members and Stakeholders
During this interview, you'll meet with multiple team members and be asked a number of product-specific questions around design, analytics, and collaboration, as well as a few in-depth behavioral questions. Be prepared to answer the following:
Walk us through the product design of either the Apple app store or Google Play.
After this round, DoorDash recommends sending individualized thank-yous to each interviewer to give you the best chance at an offer. Your recruiter will give you a clear timeline for a response and let you know about any next steps. Good luck!
How Did COVID-19 Change Hiring at DoorDash?
Like most companies, DoorDash shifted to a fully-remote interviewing process during the COVID-19 pandemic. Due to the nature of their business, the company expanded rapidly during the crisis, doubling its team size in 2020. Currently, DoorDash has more than 3,300 open positions, including several product management jobs. 
Recently, the company announced that they will be establishing a hybrid work environment post-pandemic. Physical workspaces will remain fully closed until January of 2022, at which point employees can choose to come to the office. DoorDash expects that about 80% of their workforce will be in-office a few days a week, while 15% will remain fully remote. The last 5% will be in-office full time. Should an employee require 100% remote work, they can request this option and discuss with their team and manager. 
Want to learn more about winning the DoorDash Product Manager interview or about getting hired at a well-known company? Our career coaches are now offering free sessions: schedule yours today. We'd be glad to answer any of your questions.