Dropbox Inc designs and develops document software services, best known for its offering of a platform that enables users to store and share files, photos, videos and much more. In addition to cloud storage, the organization also offers file synchronization, personal cloud and client software. Sound like the company for you? To become a PM at Dropbox, start prepping for the Dropbox Product Manager interview!
Established in 2007, Dropbox prides itself on being able to help the small start-ups to the large corporate organizations, with more than 500 million users signed up. Along with its headquarters in San Francisco, the company has 12 offices located around the world.
Company Overview
Headquartered in San Francisco, California, Dropbox was founded back in 2007 by MIT students Drew Houston and Arash Ferdowsi, with the idea borne from them both continually forgetting their USB flash drives whilst attending college. After its initial funding from Seed Accelerator Y Combinator, by the end of 2009 it exceeded over 3 million registered users, and is one of Seed Accelerator's biggest success stories with a valuation of over $10 billion. Houston states that the success of Dropbox lies mainly in the fact that its empire was built on being a minimum viable product, stating that it gave the company the opportunity to test fundamental business hypotheses.
Product Culture at Dropbox
The way in which Dropbox works allows the user to upload their file to the virtual Dropbox cloud, enabling them to access it from any device in which they can access their Dropbox account. Furthermore, by using the 'freemium' business model, the size and amount of these files uploaded by the user is very much based on their subscription plan:
Personal:
| | | |
| --- | --- | --- |
| Basic | Free | 1 user and 2GB of encrypted storage. |
| Plus | $9.99/month | 1 user and 2TB of encrypted storage. |
| Family | $16.99/month | Up to 6 users with individual accounts and 2TB of encrypted storage. |
Business:
| | | |
| --- | --- | --- |
| Basic | Free | 1 user and 2GB of encrypted storage. |
| Standard | $10.00/month | 3+ users and 5 TB of encrypted storage (for growing teams). |
| Professional | $19.99/month | 1 user and 3TB of encrypted storage (for solo workers). |
| Advanced | $25.00/month | 3+ users and as much encrypted storage needed (for large teams). |
Furthermore, by developing the organization and its product through an application programming interface, this enables third-party integration — for example, their partnership with Facebook allows Facebook groups to share files by using Dropbox.
Overall Company Culture
Dropbox have always prided themselves on a company culture that nurtures and benefits their employees, especially when it comes to striking an effective work/life balance, something that has been attested to by employees on Glassdoor. For example, their annual Hack Week allows employees to venture out of the traditional working environment and to help improve their work and to challenge their perceptions.
Another significant element of the Dropbox company culture is diversity. Although it's a buzzword used by many organizations to make their brand look better, Dropbox are very much committed to it and have the fundamental belief that their products and services are testament to this. The company consistently sets itself new benchmarks to ensure that they are dedicated to improving the diversity of their workforce by providing programmes such as the employee resource groups (ERG) or their equal pay policy.
It's the small things that matter at Dropbox: from thankful gestures to handwritten notes, the Dropbox employees know that they're appreciated and have the opportunity to work their way up the ladder if they so wish.
Product Team Culture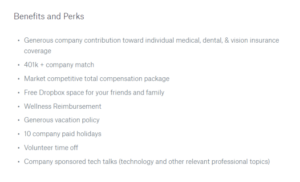 According to Glassdoor, 67% would recommend working at Dropbox, whether this be due to the small gestures of goodwill or the many accrued benefits of working as part of the product management team. As highlighted throughout this piece, the success of Dropbox very much lies within the innovation of the variations of their product that they provide — so don't expect an easy ride.
It cannot be emphasized enough just how valued teamwork is within Dropbox: with a flat structure, leadership strays very far from being someone's boss, but rather is simply a port of call for help and instruction. Therefore, if you nail the interview, the Product Manager role will comprise giving employees no-pressure opportunities to discuss their professional development, as well as their life outside of the office.
What does a Typical PM Posting Look Like?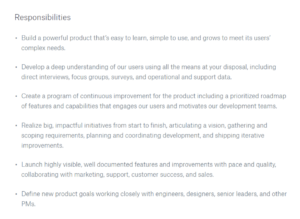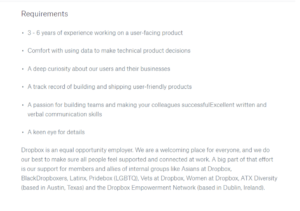 A PM post at Dropbox relies on the individual to prioritise and be innovative:
3+ years of experience in a similar PM role

Working intimately with important stakeholders and having the ability to prioritise their requests.

The ability to understand and meet the consumer's needs. This includes the collection, analysis and interpretation of data.

The ability to visualise and deliver impactful initiatives from start to finish. This means seeing it out from start to finish and coordinating all the different components necessary.

Effective communication and interpersonal skills required for strong leadership — not only needed to motivate your team members but it's also having to effectively interact and work with various stakeholders.
Other common skills required include the ability to produce and develop product roadmaps, using data to make technical product decisions and having a genuine passion for the product and services that Dropbox provides.
How Do You Get a Dropbox Product Manager Interview?
Where can you look for PM roles at Dropbox? According to Glassdoor, 47% of applicants found job postings online, while 33% of interviewees were connected via referral — Dropbox currently has 98 jobs posted on Glassdoor. Upon finding Product Manager postings, here's how to apply:
Write a Product Manager Resume
Always remember – your resume acts as your passport to getting that interview so it is imperative that you structure it appropriately and ensure it is relevant to your experience and what you have to offer to the advertised role. How do you make sure of this? Read and include the role's requirements and responsibilities as the recruiter will not give an applicant the time of day if they just list all experience and qualifications without tailoring it as such.
Do you need help with this? Check out our resume writing guide as well as our free tutorial on how to synchronize your resume and your LinkedIn profile.
Prepare Your Pitch
A great resume isn't enough to win that interview, you need to prepare that killer pitch. It cannot be emphasised enough just how significant this pitch is in its role in impressing
We cannot emphasise enough just how significant this is if you're wanting to impress the recruiter and secure that interview.
Apply!
Did you know that when it comes to shooting your shot at winning an interview, submitting your resume isn't the only way of doing so? You can actually network your way into that interview. By doing so, not only are you familiarising with employee culture, your possible working environment and recruiter, but you're obtaining information regarding the ins and outs of the interview exercise, giving you that all important leverage when you're called to interview. Watch this video to learn how to network your way into getting that Product Manager interview:
What Is the Dropbox Product Manager Interview Process and Timeline?
If your resume has impressed the recruiter, you'll be invited to a video/phone call with their recruiting manager. This stage acts as an opportunity for Dropbox to learn more about you and what you can bring to the PM role. Have a look at this focus piece on these questions for guidance on the best way to approach this and the questions they may ask.
How to Win the Introductory Call With the Hiring Manager
This stage is defined by behavioral questions – although this tends to be an interviewee's personal idea of hell, it provides the recruiter with more information about how you would fit into their organization and how you would approach the PM role. Most behavioral questions for PM roles include:
Discuss a product you like using and how you would change it.

Name your three favorite software programs then talk into how you would improve them

How did you measure your success from a previous project?

How do you work with others in your team?
Looking at the stats, 53% said that this interview was a positive experience, stating that the questions were the right amount of challenging and interesting. In comparison, 32% reported a negative experience defined by inexperienced and unprofessional recruiters. Many interviewees state that this part of the interview was heavily influenced by design and coding questions – so make sure you brush up on those skills.
If you're successful, the next stage you'll meet your hiring manager and possibly complete a case study.
How to Win the Technical Round With the Hiring Manager and Team Stakeholders
This part of the interview stage is defined by testing your technical knowledge, your reaction to a case study and how you interact with significant stakeholder groups. These can include:
What considerations would you take to develop a mobile app?

How to align stakeholders that have different options when you get into a project?

Design a flow to improve the amount of users who add files to their account.
As mentioned, some of the interviewees mentioned how they completed a case study/test – you need to be prepared to have your technical knowledge tested. If you want further assistance on this stage of the interview, check out some tips here.
How Did COVID-19 Change Hiring at Dropbox?
At the start of this year, the organization laid off around 11% of its workforce, partially due to the pandemic but also to focus company team structure and focus top-level priorities. Dropbox is still hiring new talent, however, the pandemic has made a change to the in-person interview stages, which are now conducted through Zoom or Microsoft Teams – this can change the game when it comes to interviews, so make sure you read our guide on being able to overcome this and ace that Dropbox Product Manager interview.
Need more help with acing your interview? Schedule a call with our career coaches for a free coaching session and learn how we can help you kick-start your PM career.