Lyft operates a mobile app that provides a range of services for its users, whether it be ridesharing, motorized bikes for hire, or food delivery. With 30% of the market share, Lyft comes behind only Uber as the biggest ride sharing company in the US, with its valuation currently sitting at $24 million. Maybe you've heard of their APM program, or maybe you just want to be a part of their passionate and driven team. If you're looking to be a Product Manager at Lyft, first you'll need to win the Lyft Product Manager interview. Here's your guide on how to do it!
Company Overview
Lyft was launched in 2012 by Logan Green and John Zimmer, previously named as Zimride when it was simply a long-distance intercity carpooling company. Headquartered in San Francisco, the company is renowned for being fun, featuring a whimsical "pink mustache" front desk, a fuzzy pink elevator, a rooftop terrace, and a secret entrance in a wall painting to a hidden room.
With 23 million users, 1.4 million drivers and operating in over 350 cities within Canada and the US, Lyft is slowly catching up with Uber when it comes to the ridesharing market.
Product Culture at Lyft
The product culture at Lyft has evolved with the needs of the US consumer. As previously highlighted, Lyft started as a long-distance intercity carpooling company but now provides everything from rideshares to food delivery.
Similarly to Uber, Lyft provides several service classes, which vary by city:
Original Lyft provides rides in regular vehicles for up to four passengers.

Lyft XL provides rides in regular vehicles for up to six passengers.

Lyft Lux provides premium black car service in luxury vehicles.

Lyft Black is a premium black car service including luxury vehicles.

Lyft Black XL provides rides in premium black SUV service for up to four people.
Overall Company Culture Lyft
Lyft states that the success of the business depends heavily on creating a diverse team of smart and passionate employees. This is demonstrated through its holistic approach to its company culture:
Workplace: Lyft sets to establish an inclusive environment within the workplace by establishing and putting into practice thoughtful policies to contribute to an equitable environment for everyone. Whether this be its Gender Identity and Affirmation Policy or its celebration of Black History Month, Lyft is dedicated to live out their core values: be yourself, uplift others, and make it happen.
Workforce: Lyft ensures that they engage early and frequently with leadership to promote equitable opportunities within leadership and advancement across a diverse talent pool.
Marketplace: Lyft recognises that the focus on the internal culture isn't enough and that encouraging equality and diversity also needs to occur within the markets that it operates in. It wants to be trusted and valued and this is reflected in the organizations that they collaborate and partner with.
Accountability: By holding itself to accountability metrics, Lyft ensures that they are solidifying their commitment to making a difference and promoting equality within its organization.
Product Team Culture
As highlighted above with the overall company culture, Lyft believes its success is heavily dependent on its employees: its employee benefits are testament to this.
According to Glassdoor, the employee reviews are positive, with 83% of employees recommending the job to a friend. Many of the reviews solidify how dedicated the organisation is to diversity and equality representation, with other benefits including good pay and passionate team members. The only repetitive negative comment was the large amount of pressure to perform well and to work up the Lyft career ladder, however, it's safe to assume that some perceive that pressure as a positive motivator as well.
Lyft goes one step further with its Associate Product Manager program — an 18 month rotational program designed to develop careers of prospective Product Managers. Within this program, those involved learn the fundamentals of product management and leadership. However, like any other product managers, they will have to go through the PM interview process, which is discussed further below.
What Does a Typical Lyft PM Job Posting Look Like?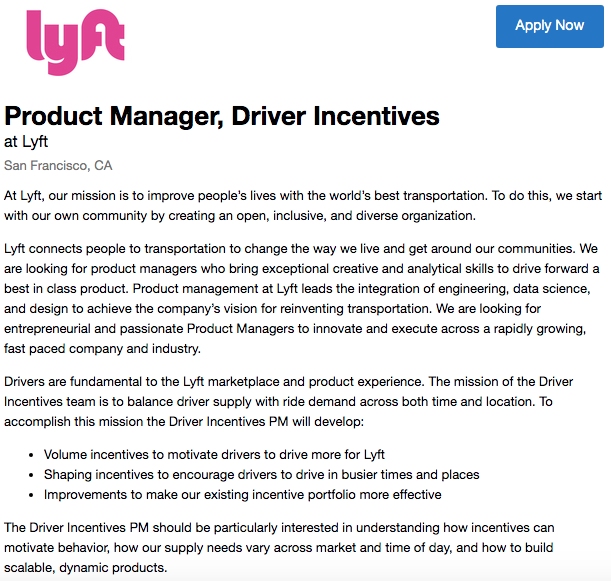 A PM post at Lyft relies on the individual to be innovative:
Previous experience in a product management role (no amount specified)

The ability to create and develop product roadmaps, making sure you have prioritisation skills.

The skills to lead and align with cross functional partners, teams and any additional stakeholders.

Dedication to your team's products/services, from ideation and carrying it through to actualisation.

Ensuring that you comprehend and Lyft's strategic and competitive standing – this means aligning yourself and your team with Lyft's objectives, ethos and progress.
Other common skills required include strong communication and interpersonal skills, understanding of analytics and the ability to lead a team and maintain all your other responsibilities when it comes to ambiguous situations.
How Do You Get a Lyft Product Manager Interview?
Where can you look for PM roles at Lyft? According to Glassdoor, 62% of applicants found job postings online — Lyft currently has 7 jobs posted on Glassdoor. You can also apply directly through their website: Lyft has 19 jobs in product posted worldwide.
While 24% of interviewers got connected via referral, and 12% found the job through a recruiter. Once you've found the job posting, here's how to apply:
Write a Product Manager Resume
Your resume is your passport into getting the job interview of your dreams. Therefore, ensure that you're structuring it appropriately and making it relevant to what you can bring to the job. Make sure that you're reading the role's responsibilities and requirements and include these in your resume, because the last thing a recruiter will want to see is an applicant completely lacking relevance.
Do you need some help with this? Check out our resume writing guide as well as our free webinar course on how to synchronize your resume and your LinkedIn profile.
Prepare Your Pitch
Did you know that an impressive resume isn't enough? When you get to the interviews, you'll need to have a killer pitch prepared. We cannot emphasize enough the significance of making this pitch successful when it comes to impressing the recruiter and interviewers.
Apply!
It's a common misconception that submitting your resume online is the only way of securing that interview — you can actually network your way into it. Did you know just how many benefits come from doing so? You're able to familiarize yourself with the employee culture and work environment while also gaining information regarding your recruiter.
But the most significant upside is that it gives you the opportunity to familiarize yourself with the ins and outs of the interview exercise, which will give you the leverage that you need when you're called to interview. Watch this video to learn how to network your way into getting that Product Manager interview.
What Is the Interview Process and Timeline?
The Lyft Product Manager interview process commences with sending in your resume or connecting directly with a recruiter. And if successful, you will be called to interview. As with other Product Manager interview processes, you'll need to pass through 3-4 interview rounds. At Lyft, after the introductory call with a recruiter, there are two rounds of technical interviews with the Product team, called 'hangouts'.
Introductory Call
First Hangout Interview
Second Hangout Interview
Case Study
How to Win the Introductory Call With the Hiring Manager
The introductory interview will take place with the recruiter over the phone/video call. This will heavily focus on your resume and your experience and they will predominantly ask you behavioral questions. Check out this focus piece on these questions for guidance on the best way to approach them.
This tends to be the most hated part for interviewees. However, they provide the recruiter with further information regarding you and how you will approach the role. Most behavioral questions for PM roles include:
Imagine you are a PM for a default pickup location feature, how would you improve this feature?

Tell me about a challenge you faced?

Build an MVP of Lyft for commuters

How would you navigate being the PM at a Waterpark?

Why are you leaving your current position?
Looking at the stats, 49% had a positive experience of the interview process stating that it was just the right amount of challenging, making it incredibly rewarding. Still, 40% state they had a negative experience with the interview process, saying that it was too challenging. So make sure when you are interviewed, you know your stuff about Lyft.
How to Win the Technical Rounds With the Hiring Manager and Team Stakeholders
Upon passing this initial screening stage, you will be invited to participate in two further 'hangout' interviews. These will be used to identify your technical knowledge, experience with other stakeholder groups and the more in-depth behavioral questions. These can include:
Design a dashboard for a food delivery service.

Design a new feature for Lyft.

Measure success of a new product and develop a dashboard for the same.
The first of these hangout interviews seeks to ask you more about how you will approach product/service design and the second focuses more on product/service execution. If you want further assistance on this stage of the interview, check out some tips here:
Like other Product Manager interviews at other organizations, there is also a third stage — solving and presenting a case study. Here's an example of a potential Lyft Case Study question:
How would you explore, analyze, design, and ultimately rollout the following products / features at Lyft?
And potential solutions:
Surge pricing

Ad platform

Lyft for commuters

Lyft for large parties
How Did COVID-19 Change Hiring at Lyft?
The pandemic has called for the movement of in-person meetings to an online platform, whether this be through Zoom or Microsoft Teams. For Lyft, this means that the two hangout interview stages, and the case study stage, will move to a phone/video interview rather than meeting in person. This can change how you perform in an interview, so make sure you read our guide on being able to overcome this and ace that Lyft Product Manager interview.
Need more help with acing your interview? Schedule a call with our career coaches for a free 30-minute session and learn how we can help you kickstart your Product Manager career.