Have you ever gotten a text asking you to confirm a doctor's appointment? Received an automated message from your bank regarding a suspicious transaction? Signed up for SMS alerts from a favorite organization? Whether you knew it or not, those messages were likely powered by Twilio. This groundbreaking developer platform drives more than 930 billion interactions each year. With that kind of reach, it's no surprise that so many PMs want a hand in crafting even a small part of the product experience. If you're one of them, read on to learn about how to shine in your Twilio Product Manager interview.
Company Overview
Twilio is a developer platform that enables businesses to interact with their customers through channels like voice, SMS, video, chat, and email. Through their application program interfaces (APIs), developers can build highly customized, contextual experiences for every stage of the customer journey. With the help of what they call the Super Network of carriers, Twilio allows organizations to communicate with their users quickly, easily, and at scale.
The inspiration for Twilio came to founder Jeff Lawson during his days at Amazon. As he worked on what eventually became Amazon Web Services (AWS), he was inspired by the idea of creating software through different building blocks. He and two friends, John Wolthuis and Evan Cooke, founded Twilio in 2008. Their first customer was an app called PhoneMyPhone.com, which let users dial their own phone number from the web. Initial functionality was limited, with only five APIs available. However, the company expanded rapidly, as did some of its customers. In 2011, they landed Uber (then a small startup) as a client, and still power the communications between drivers and riders today.
In 2015, Twilio made its first acquisition: two-factor authentication API Authy. A year later, The company went public (NYSE: TWLO) at a valuation of $1.2 billion. Share prices doubled over the first day and did so again within just two months. Over the course of 2020, the company made three acquisitions, including well-known customer data infrastructure provider Segment in October. Twilio's most recent acquisition was in March of 2021 when they purchased the enterprise communication platform ValueFirst.
Twilio's current customer list includes brands like Match.com, WhatsApp, Netflix, The New York Times, Airbnb, and Expedia. Their philanthropic arm, Twilio.org, enables communications for charitable organizations. For example, Twilio powers the Crisis Text Line, which connects those experiencing mental health crises with volunteers who can help.
Today Twilio employs 4,500 people and has 26 offices in 17 countries, including its HQ in San Francisco. Their total customer base totals more than 190,000 companies across a wide range of industries, from banking to hospitality to software. In 2020, Twilio earned $1.76 billion in annual revenue, up 55% from 2019. It is still helmed by founder Jeff Lawson.
Product Culture at Twilio
Twilio has four main products: Twilio Conversations, Twilio Programmable Messaging, Twilio Flex, and Twilio Video WebRTC Go. Twilio Conversations is a unified API that allows developers to build back-and-forth communications through channels like text messages and chat into their product(s). Programmable Messaging is an API specifically for enterprise clients that reliably delivers SMS, WhatsApp messages, and MMS at high volumes. Twilio Flex allows companies to create contact or call centers specifically tailored to their needs. And finally, Twilio Video WebRTC Go is a toolkit that lets developers make and run 1:1 video applications at no cost.
Product pricing is highly flexible and customizable. Customers pay as they go based on usage rates instead of on a contract basis. In addition, users can select the individual APIs that meet their specific needs rather than pay for a predetermined package.
Product Team Culture
The product team at Twilio moves quickly, building and shipping at a rapid pace. According to one PM, no two days are the same, which can be both exciting and a little chaotic. Product managers at Twilio must be skilled multitaskers with a passion for solving customer problems. And while the famous statement that product managers are the CEOs of the product is controversial, at Twilio it's quite accurate. Each PM is expected to take full ownership of the product they're responsible for.
What Does a Typical Twilio PM Job Posting Look Like?
Each product management job posting at Twilio is broken into four main sections: the who, what, where, and why. The "who" section includes what other companies might refer to as "responsibilities" or "job duties;" it's basically a list of the requirements they're looking for in a candidate, both basic and preferred. Most PM roles at Twilio require 3-5 years of previous product experience. Some, like the Product Manager – Email Platform position pictured below, require more technical and specialized expertise with cloud technologies, like 5+ years of experience with public cloud providers like AWS, Azure, and Google.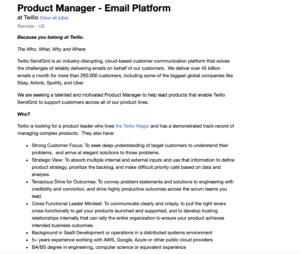 In addition, PMs at Twilio are expected to have the following:
The ability to ruthlessly prioritize tasks and projects

Experience building and communicating product roadmaps

Familiarity with the software development process and experience working with engineering teams

Excellent communication skills

Prior experience working in a fast-paced environment

Strong analytical skills
The "what" section lists the Twilio Magic values that the candidate should most exemplify. For most PM positions, these are Write It Down, Draw the Owl, Be Bold, No Shenanigans, and Wear the Customer's Shoes.
The "why" section outlines the reasons they're looking to bring this person on and the purpose the particular product serves within the organization. And "where" is fairly self-explanatory. Most product positions can be done remotely or from an office.
How Do You Get a Twilio Product Manager Interview?
First, browse their current job openings to find the one that's most suited to your experience, expectations, skills, and professional needs. Once you've found that perfect role, it's time to build a stellar application.
Craft the Ideal Product Manager Resume
Your resume serves as your "first impression" with the hiring manager, so make sure it really showcases your skills and relevant expertise. Highlight any prior experience involving the key responsibilities listed in the job description, and if you can point to previous quantitative results around those parts of the role, do so.
Before getting started, view our resume writing guide, which takes you through the process of crafting a well-organized resume that you can use for a range of product management positions.
Write Your Pitch and Position Yourself as a Top-Tier PM Hire
Next, you'll want to demonstrate your product management talents. You can do that by creating a pitch that highlights the product manager position's main responsibilities. Here's how.
Apply!
Finally, you need to submit your application. But don't stop there — if you know any current employees at Twilio, ask them for a referral. According to Glassdoor, 16% of interviewees got their foot in the door via employee referral. Our step-by-step recruiter networking methodology can also help you get that first interview.
What Is the Twilio Product Manager Interview Process and Timeline?
In general, the hiring process at Twilio follows these steps:
Introductory call with the hiring manager(s)

Technical round with multiple team members, including a "bar raiser" interview

The offer
According to Glassdoor, 41% of interviewees had a positive experience, and the average interview difficulty was rated a 2.9 out of 5. On average, the entire process seems to take 1-3 weeks, with some decisions taking as long as two months.
How to Win the Introductory Call With the Hiring Manager(s)
After the initial recruiter call to go over logistical fit (compensation, location, availability, etc.), you'll be asked to interview with the hiring manager. This round generally includes more general behavioral questions than PM-specific ones. You'll be asked the "usual" job interview questions like "Where do you see yourself in five years?," "Tell me about yourself," and "What are your greatest strengths and weaknesses?" The hiring manager will also be assessing your fit with regard to the company's values and culture. According to a few Glassdoor responses, other questions you should be ready to answer are:
Why did you become a product manager?

Why do you want to work at Twilio?

How do you connect with Twilio's values?

Tell me about a time when you were totally out of your comfort zone.

What's the biggest risk you've ever taken?

What is your best quality?

How did you handle a difficult customer and what was the outcome?

How do you manage conflict?

What makes you stand out from other candidates?

Tell me about a time when you took a risk.
If you do well during this interview, you'll be asked to move to the next stage: the technical and behavioral round.
How to Win the Technical and Behavioral Round With Team Members and Stakeholders
According to PM job candidates who shared their experiences on Glassdoor, this round involves an intense, marathon day of back-to-back interviews either onsite at Twilio (pre-COVID) or remotely. During this day-long process, you'll meet with a group of team members for a panel-style conversation, then have one-on-one interviews with each of them. In addition, you'll have a 1:1 "bar raiser" interview with someone outside of the product team. The questions in this round are far more specific to the PM role and tend to be "situation-based" like these two examples:
I am the soccer organization FIFA and need to build my website to sell tickets for the 2021 games — how do you suggest I go about it?
Prior to this interview, you may be asked to complete a "homework" assignment that will factor into the questions you'll be asked. You should also familiarize yourself with the STAR method of responding to interview questions.
After this round, the decision is in the hands of the Twilio team. Good luck!
How Did COVID-19 Change Hiring at Twilio?
Like the majority of companies, Twilio switched to a fully remote interviewing process during the COVID-19 pandemic. As restrictions ease, they will likely return to a mix of on-site, video, and phone interviews. If you are asked to do a remote interview, use our guide to help you prepare. Currently, Twilio has over 800 open jobs, including more than 70 in product management.
Want to learn more about getting hired as a product manager at a top company? Schedule a free consultation with us.