Social media giant Twitter is more than just a tech company, and a Twitter Product Manager interview can be life-changing. Posts and discussions on this global microblogging platform have the potential to influence opinions, drive social change, and even affect world events. It's no wonder, then, that so many ambitious and talented product people seek careers at Twitter.
Company Overview
Twitter is a social networking and microblogging platform where users post content in the form of "tweets." Each tweet may contain up to 280 (formerly 140) characters and be on any topic whatsoever. Tweets may contain images, links, videos, and/or #hashtags, which are used to group tweets on a particular subject.
Today, Twitter's active members include movie stars, politicians, musicians, scientists, athletes, and business leaders. The company is publicly traded (NYSE: TWTR) and has over 5,000 employees worldwide. Twitter is headquartered in San Francisco and is headed by CEO Jack Dorsey, one of the company's founders.
In 2006, Dorsey worked for podcasting startup Odeo along with Evan Williams (founder of Blogger), Noah Glass, and Biz Stone. During a brainstorming session, Dorsey pitched the idea of a "status" platform, and by the next month, he'd set up a basic version of what was then called "twttr." He even posted the first tweet: "just setting up my twttr."
At the 2007 South by Southwest conference, Twitter won the coveted "best startup" award and began quickly gaining traction. By September of 2011, Twitter reached 100 million users, then doubled that number by the end of the following year. In November of 2013, the company went public with an IPO valuation of $31 billion.
Currently, Twitter has over 255 million monthly active users and more than 400 million monthly visitors. In 2020, the company's revenue was $3.7 billion, an increase of 7.4% from the previous year. Each day, 500 million new posts appear on Twitter. Over its 15-year history, Twitter has evolved from a social sharing network to a highly influential public platform that has played a role in elections, world events, and social progress. Today, users around the globe visit Twitter to receive news, interact with peers, share opinions, and learn about trends and controversies. And after the events of 2020, the platform's reach is larger than ever.
Product Culture at Twitter
In addition to its free-to-use social network, Twitter offers a number of revenue-generating products aimed at other businesses. The best-known of these is Promoted Tweets, part of the company's advertising portfolio that also includes Promoted Accounts, Promoted Trends, and Promoted Products. Within Twitter's Advertise platform, marketers can create ads to attract new customers, then track their spending, performance, and ROI. Another key product line is Twitter data, which gives companies paid access to analytics surrounding customer sentiment, brand engagement, user demographics, and more.
According to the Twitter blog, major priorities for the company's product team include curbing the spread of misinformation, ending bullying and abuse, and blocking violent speech. Recently, they announced their pilot Birdwatch program, a community-based method for flagging misinformation on Twitter.
Overall Company Culture
Excited about your Twitter Product Manager interview? You should be! Twitter's guiding corporate philosophy is to "serve the public conversation." To support that goal, the company follows five principles: promoting health, earning people's trust, uniting profit and purpose, making it straightforward, and being fast, free, and fun. Philanthropy is a big part of Twitter's culture, and their Twitter for Good initiatives include donation matching, employee volunteerism, pro bono advertising, and training programs for nonprofit organizations. Additionally, the company is working to address controversies and criticism surrounding civic integrity, election tampering, misinformation, and audience manipulation.
Twitter employees, aka "Tweeps," receive benefits such as flexibility, remote work options, and paid parental leave. Other perks include gym membership reimbursement, laundry service, and generous vacation policies. Overall, Tweeps seem to enjoy working at Twitter. The company currently has a Glassdoor rating of 4.2 stars out of five, based on over 1,000 reviews.
Product Team Culture
The product team at Twitter puts a strong emphasis on training, education, and collaboration. In fact, going into your Twitter Product Manager interview, you should note that they offer both a product management internship (PMI) and an associate product manager (APM) program. These structured courses give recent graduates and new PMs the chance to learn everything about product at Twitter and start their careers on the right foot.
What Does a Typical Twitter PM Job Posting Look Like?
Twitter's Product Manager positions vary quite a bit depending on the product line or target market that the PM is responsible for. So, there isn't really a "typical" product job posting, and you won't encounter a typical Twitter Product Manager interview. Some of Twitter's current openings, like the one below for Senior Product Manager — New Customers, are geared toward specific strategic segments. Others, however, focus on a single product area.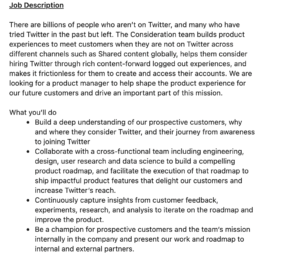 No matter the position, there are certain product-specific skills most Twitter PMs should have, including:
The ability to build clear, well-structured roadmaps that communicate product priorities

Experience with customer journeys and user research

Strong familiarity with experimentation and data analytics

A demonstrated track record of executing on product priorities
Also, Twitter PMs must be:
Enthusiastic collaborators

Comfortable working across departments and teams

Able to balance multiple priorities

Strong communicators

Passionate about all things product
How Do You Get an Interview at Twitter?
To land a Twitter Product Manager interview, first you need to find the Twitter role that best matches your skills and experience. To search for and apply for a PM position at Twitter, check out their corporate careers page, Linkedin profile, or a job posting board like Glassdoor. Use filters to tailor your search results for your ideal Twitter Product Manager interview by your seniority level, desired office location, years of experience, compensation, etc. However, make sure you've completed the following steps before you send in your application.
Write a Stand-Out Product Manager Resume
Your resume serves as your "first impression" with Twitter's recruiting team. When drafting your product manager resume, make note of the requirements and core job duties listed in the job description, then be sure to include those keywords. No matter your professional background, the role will likely require you to have experience with at least three of the functions mentioned in the above section. If you can share previous quantitative results in those areas, definitely do so.
Also, check out our resume writing guide, which will help you craft a winning product manager resume that you can use for a wide range of PM positions.
Perfect Your Pitch and Position Yourself as the Best Possible PM Hire
After writing and proofreading your resume, your next step is to showcase your PM skills in the best possible light. This will require you to craft a pitch that highlights the product manager position's significant functions and requirements. This is how to do it.
Apply!
Sending in your application may not be enough to ensure an interview. In order to get your foot in the door, you may need to reach out to former colleagues, acquaintances, or alumni to get that initial call. You should also make use of our step-by-step recruiter networking methodology to boost your odds of success.
What Is the Interview Process and Timeline?
If you've secured an interview (congrats!), we highly recommend checking out Twitter's Glassdoor page, which includes over a thousand interview recaps from real-life candidates. Overall, 39% of interviewees said they had a positive experience, and the average interview difficulty was rated as 3 out of 5. The majority (57%) of candidates got an interview after simply applying online, and 18% got theirs through an employee referral.
The length of time from the initial phone screen to an offer varies pretty significantly, with some candidates answering that it took one week and others saying it took six weeks. The average seems to be around 3-4 weeks. Generally, the interview process follows this structure:
Phone screen with recruiter

Call with hiring manager

Interviews with team members

Final round of interviews + presentation

The offer!
Based on the Glassdoor responses, the first call with the recruiter focuses on hiring logistics, such as desired salary, work authorization, location, availability, etc. The call with the hiring manager is when the product management-specific questions come up. In the next section, we'll go over how to win this all-important call.
How to Win the Introductory Call With the Hiring Manager
If you ace this interview, you'll prove that you're qualified to move on to the interviews with the team members you'd be working with on the job. Generally, this round includes both general behavioral and more pointed job duty-related questions. You'll need to be able to answer the usual questions, such as "Tell me about yourself" and "What did you like most and least about your last job?." In addition, the Glassdoor responses mention a particular focus on "situational" questions ("Tell me about a time when …"), so definitely prepare examples for those.
Here are five more key questions you should be ready for during this interview:
What is the most challenging part of product management?

Why do you want to work for Twitter?

Give an example of a hunch you had and how you tested or quantified it.

How do you decide what experiments to run and balance between intuition and measurement?

What do you bring to the table?
Also, you'll need to be prepared to discuss your resume, what you learned from your previous roles, and your level of experience with specific PM job duties. If you're leaving your current role, the hiring manager will ask why. Do your research on Twitter's various products, features, corporate culture, history, and recent press. If you can tie your past accomplishments to the requirements listed in the job description, now is the time to do it!
How to Win the Technical and Behavioral Round With Team Members and Stakeholders
The next step in the PM hiring process at Twitter is a round of interviews with the colleagues you'd be working with. At this stage, you'll be asked questions specific to the job itself, plus a few "out of the box" ones designed to assess your critical thinking skills.
Here are some of the questions you should be ready to answer during this round:
What new products would you build to increase Twitter engagement?

If Twitter were to get into payments, how should they do it?

How many logins are there in a day into Gmail?

How would you make the perception of the airline industry better across America?

How would you decide whether to launch a feature, and once launched, whether or not to continue it?
During this interview, you should take advantage of the opportunity to ask current team members about working style, prioritization, processes, etc. to ensure the role is a good fit for you as well.
How to Win the Final Interview Round
This will be the most technical interview and will likely include a presentation and/or take-home assignment. During this final round, you may encounter the following questions:
How would you balance infrastructure and product feature development in your roadmap?

What is the most challenging project you've worked on?

What is the project you're most proud of?

What is an app that you like and why? How would you apply this to Twitter?

How would you convince someone to run an experiment?

If you had unlimited resources, what would you do at Twitter?
Based on a few of the Glassdoor responses, the presentation/assignment involves creating a roadmap based on a list of priorities, then explaining the reasoning behind your thinking. Take advantage of the time you have to prepare by practicing your presentation in front of friends or family.
How Did COVID-19 Change Hiring at Twitter?
The coronavirus pandemic has changed the way people are being hired today since many offices are shut down. However, Twitter has long allowed employees to work remotely, so the switch to virtual interviewing wasn't something new for the company. And Twitter is definitely still hiring. Currently, they have nearly 1,200 jobs listed, with 85 of those in the product management space.
Nervous about interviewing virtually? Don't worry — we're here to help. We understand that while the expectations are the same, the dynamic of a virtual interview is quite different from that of an in-person one. To prepare, check out the Product Gym guide to dominating your virtual interviews.
Want to learn more about landing product manager jobs at top tech companies? Schedule a free consultation with us today.