It's rare that a company completely changes an entire industry, let alone one as established as transportation. Uber is one of those companies. Before Uber existed, people were reliant on public transit or taxis if they were without a car. Now, anyone with the Uber app can call themselves a ride, a process that's so common it's become a verb — "Ubering" somewhere. For product pros looking to work for a well-known name, Uber is an attractive option. If you're one of those PMs, keep reading to learn how to crack to Uber Product Manager interview.
Company Overview
Uber is a mobile app that allows users to request a ride from a driver near them. It's one of the major players in the ridesharing industry and has expanded into food delivery, freight shipping, and business travel. Currently, its services are available in 10,000-plus cities across the globe.
The idea for Uber came to founders Travis Kalanick and Garrett Camp in 2008 when they were stranded without a ride on a cold night in Paris. The experience inspired Camp to build the "UberCab" smartphone application, which launched in March of 2009. Initially, the service was only available in San Francisco, where the first official Uber ride took place on July 5, 2010. The app caught on right away. It was cheaper than a cab and more convenient. Just seventeen months later, the company had already expanded internationally. Its first overseas location was Paris, where the idea took shape.
By mid-2015, Uber was considered the world's most valuable startup and had reached one billion rides by the end of that year. 2017, however, was marked by major losses and controversies. The company's financials showed a loss of $3.8 billion for the 2016 fiscal year. At the same time, Uber came under fire for its allegedly sexist and offensive company culture. A blog post written by a female former employee went viral, leading to more than 20 firings. The CEO, Travis Kalanick, resigned under shareholder pressure and was replaced by Dara Khosrowshahi, the former CEO of Expedia.
This is not the only scandal Uber has faced over its history. Taxi drivers in major European cities protested Uber for unfair competition in 2014, leading to a temporary ban. It has also received backlash for its surge pricing practice, as well as its classification of drivers as independent contractors rather than employees. There have also been safety concerns after several high-profile assaults on both passengers and drivers.
Nevertheless, Uber (NYSE: UBER) went public in the spring of 2019. Its IPO made history for the biggest first-day loss ever. Even now, the company continues to struggle to turn a profit, in part due to the coronavirus pandemic. In early 2021, they acquired alcohol delivery service Drizly for $1.1B. Other notable acquisitions include food delivery platform Postmates in mid-2020 and e-bike provider JUMP Bikes in 2018.
Today, Uber employs over three million active drivers and operates in more than 80 countries. The company is headquartered in San Francisco and is still helmed by CEO Dara Khosrowshahi. More than 75 million people around the world consider themselves active Uber riders. In the United States alone, 40 million Uber rides take place every month.
Product Culture at Uber
Uber's base rideshare product is UberX, which provides groups of one to four passengers with a ride in a four-door sedan. Larger groups can request an UberXL, and those looking for a ride in a higher-end car can choose UberBLACK, UberSUV, or UberLUX. The company also offers accessible (UberACCESS) options and carpooling services (UberPOOL) for passengers headed to the same destination.
In addition to ridesharing, the company offers food ordering and delivery through its UberEats product. Uber Freight, which connects companies with shipping and hauling resources, is yet another product line, as is Uber for Business.
Overall Company Culture
In 2017, a whistleblower published a blog post outlining her experiences at Uber. The culture she described was sexist, toxic, and based on core values that many found problematic, such as "always be hustlin'" and "toe-stepping." This post quickly went viral, and the CEO stepped down amid mounting shareholder and customer anger.
He was replaced by Dara Khosrowshahi, who remains the CEO today. Under his leadership, the company crafted eight new "cultural norms:"
We build locally, we live globally.

We are customer-obsessed.

We celebrate differences.

We do the right thing.

We act like owners.

We persevere.

We value ideas over hierarchy.

We make big bold bets.
Uber's current cultural direction is focused on diversity and inclusion, philanthropy, and safety. The company has made a public commitment to becoming an anti-racist organization and has created detailed Community Guidelines to ensure respect and security for all users and drivers.
Product Team Culture
For members of the product team at Uber, the most important cultural norms seem to be those around customer obsession, ownership of ideas, innovation, and making bold decisions. Candidates looking to succeed in the Uber Product Manager interview process will be expected to demonstrate persistence, sound judgment, accountability, and a strong willingness to collaborate.
How to Get a Product Manager Job at Uber
At Product Gym, we apply a simple four-step framework to landing our members the Product Manager job they're looking for. With this structure and the support of the PG community, both aspiring and veteran PMs have increased the number of calls they receive for interviews. The process also leads to more interviews converted into offers.
Here's how the magic works:
1. Optimize
From the best techniques for writing a cover letter to building an attractive Product Manager resume, the first step is to boost your credibility and professional branding. To get the offer from Uber, you'll need:
A resume designed to beat the ATS
A cover letter that shows your culture fit
An optimized LinkedIn profile that aligns with the above
A 30-second personal pitch that sells you as the best possible candidate
At Product Gym, we provide branding workshops, resume reviews, and the tools you need to take your professional branding to the next level.
2. Apply
Product Gym members apply for 20+ Product Manager jobs weekly, and often average 9+ interviews in any given week. But how's that going to help you get the job at Uber? Simple: by perfecting your application strategy and interview approach through practice and experience, you'll build the confidence and expertise you need to wow the recruiter and interviewers at your dream company when the time comes.
Of course, our tried and tested application framework is paired with tools, tips, and interview support that all come together to form a job-hunting strategy that really works.
3. Convert
Once you've lined up your interviews, it's time to zero in on converting those round ones into round twos, and so on, all the way to the Uber job offer. It's no secret that we focus on the Product Manager interview process here at Product Gym: we're there to help our members learn how to ace every step and every question — including behavioral questions, technical questions, case studies, salary negotiation, and more.
4. Learn
When should you start building your product management skillset? Before you apply? When you're on the job? Honestly, transitioning into product management can be a long journey. We encourage Product Managers (whether you're a first-timer or an industry vet) to start learning at the beginning and continue on past the finish line.
You likely already have skills that translate well into a Product Manager role: keep sharpening them, and find the gaps where you can learn, grow, and practice new skills to become a better Product Manager every day.
We want to make sure our members show up skilled and prepared for their interviews and their first day on the job, which is why we offer 20+ technical and business courses taught by industry experts.
What Does a Typical Uber PM Job Posting Look Like?
Each PM job posting at Uber includes an "About the Role" section that summarizes the role's basic responsibilities. This is followed by lists of basic and preferred qualifications. Generally, PM roles at Uber require at least 3 years of product experience. Some, like the Product Manager, Global Intelligence opening pictured below, require strong familiarity with data analysis and experience with SQL.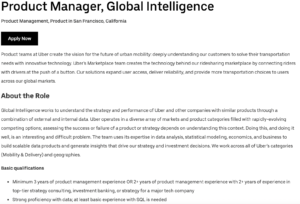 In general, product managers at Uber should have:
Excellent communication skills

Experience with consumer-oriented UX

A willingness to collaborate with stakeholders across departments

Strong drive toward execution and measurable results

Familiarity with creating and communicating product roadmaps
How Do You Get an Uber Product Manager Interview?
Step one is to go through the company's current job openings to find one that fits your experience, interests, and specific skill set. Once you've found the right potential role, you'll need to create a stand-out application.
Write a Great Product Manager Resume
Your resume is likely the first thing the hiring manager is going to look at, so be sure it truly showcases your most relevant skills and specific areas of expertise. Make any prior experience involving the responsibilities listed in the job description really stand out. If you can share previous quantitative results around those aspects of the role, definitely do so.
Before updating your resume, check out our resume writing guide, which guides you through the process of building a well-structured resume that you can use for multiple product management openings.
Craft Your Pitch and Market Yourself as a Top-Notch PM Hire
Your next step is to demonstrate your product management talents. To do that, create a pitch that highlights the product manager position's critical responsibilities. Here's how.
Apply!
Now it's time to send in your application. But don't stop there — if your network includes any current Uber employees, reach out and request a referral. According to Glassdoor, 19% of interviewees got their foot in the door via employee referral. In addition, our step-by-step recruiter networking methodology can help you secure that all-important first interview:
What Is the Interview Process and Timeline?
Generally, the PM hiring process at Uber involves the following steps:
Phone screen with a recruiter

30-minute introductory call with the hiring manager(s)

One-hour case study/idea jam

Five hours of technical 1:1s with team members

The offer
According to Glassdoor, 49% of interviewees had a positive experience, and the average interview difficulty was rated 2.9 out of 5. On average, the entire process seems to take between a month and six weeks.
How to Win the Introductory Call with the Hiring Manager(s)
After a brief recruiter call to discuss logistics (compensation, benefits, availability, etc.), you'll be asked to interview with the hiring manager(s). Typically, this round includes general behavioral questions plus a few PM-specific ones. You'll be asked the "usual" job interview questions, such as "Why do you want to work here?" "Tell me about yourself," and "What are your greatest strengths and weaknesses?" The hiring manager will also be assessing your fit with regard to Uber's cultural norms.
Other questions you should be ready to answer are:
Tell me about your ideal job.

How do you cope with stress?

What is the biggest challenge you've faced on the job?

What are your pet peeves?

Tell me about a time when you had to overcome a difficulty.

How do you manage conflict?

How do you like to work with designers and

engineers

?
In an interview with Product School, former Uber product lead Sunil Parekh suggested that PM candidates read The Product Manager Interview by Lewis Lin to help them prepare. He also recommended that interviewees study Uber's multiple product lines, prepare a SWOT analysis for the business, and review recent earnings reports.
If you nail the first interview, you'll be given a homework assignment/case study and an invite to a one-hour idea jam. Based on a few Glassdoor responses, the idea jam is really a slightly less formal interview, with some whiteboard sessions and brainstorming included. If that goes well, you'll move to the next round.
How to Win the Technical and Behavioral 1:1s With Team Members and Stakeholders
According to Glassdoor, this stage involves five-plus hours of 1:1 interviews with members of the product team and stakeholders from other departments. The questions in this round are far more technical and are very tailored to the particular role you're applying for.
Some of the specific questions you should be prepared to answer include:
You can also expect to go over your case study homework and answer questions related to your thinking on the project.
How Did COVID-19 Change Hiring at Uber?
The COVID-19 pandemic hit Uber hard, as quarantine orders forced them to stop operations in multiple cities. Hiring became fully virtual, as did the company's workforce. However, with vaccination rates rising and restrictions easing, Uber is planning to return to the office in September of 2021. Employees will be expected to be in the office three days per week but can work remotely the remaining two.
Win the Interview
Currently, Uber is looking to fill 68 roles on their product management team. Likely, some interviews will continue to take place virtually — but expect onsites to be a possibility in the near future, if not now.
Want to learn more about getting hired as a product manager at a well-known company? Schedule a free consultation with one of our in-house career coaches: we'd love to help you take the first step.