Being one of the top 10 most downloaded e-commerce mobile application of 2020, there is no doubt that Wish a dream company for aspiring product managers. Here's everything you need to know to work for this giant as a product manager!

Company Overview
Wish is an American e-commerce web platform that offers a marketplace where buyers can meet with sellers. It does this by employing an algorithm created to map out products according to customers' wish lists and favorite interests.
It was founded in 2010 by Piotr Szulczewski (Chief Executive Officer) and Danny Zhang (former Chief Technology Officer).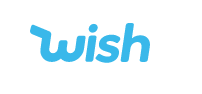 Piotr Szulczewski started his career as an intern with Google in 2004. At 24, he already had a sense of direction and exuded a passion worthy of emulation and appreciated by the "higher-ups." After four months of internship, he was appointed as an employee. Upon this appointment, he wrote a prototype algorithm for "Keyword Expansion," a unique feature Google advertised, and as Szulczewski claims, it generated about $100 million to Google's annual revenue.
His general success influenced his transfer to Google's new office in South Korea outside the Silicon Valley bubble. After months of research and study, he found out that Koreans prefer a search portal to be flooded with information rather than the simple interface of Google.
This observation formed the basic idea of Wish as Wish is built on giving people what they want rather than what Silicon Valley thinks they should want.
Piotr Szulczewski left Google in 2009 with enough money to start anew. He spent six months building an algorithm that brings the market to the customers, using their web searches and online activities to predict their interests and products of choice.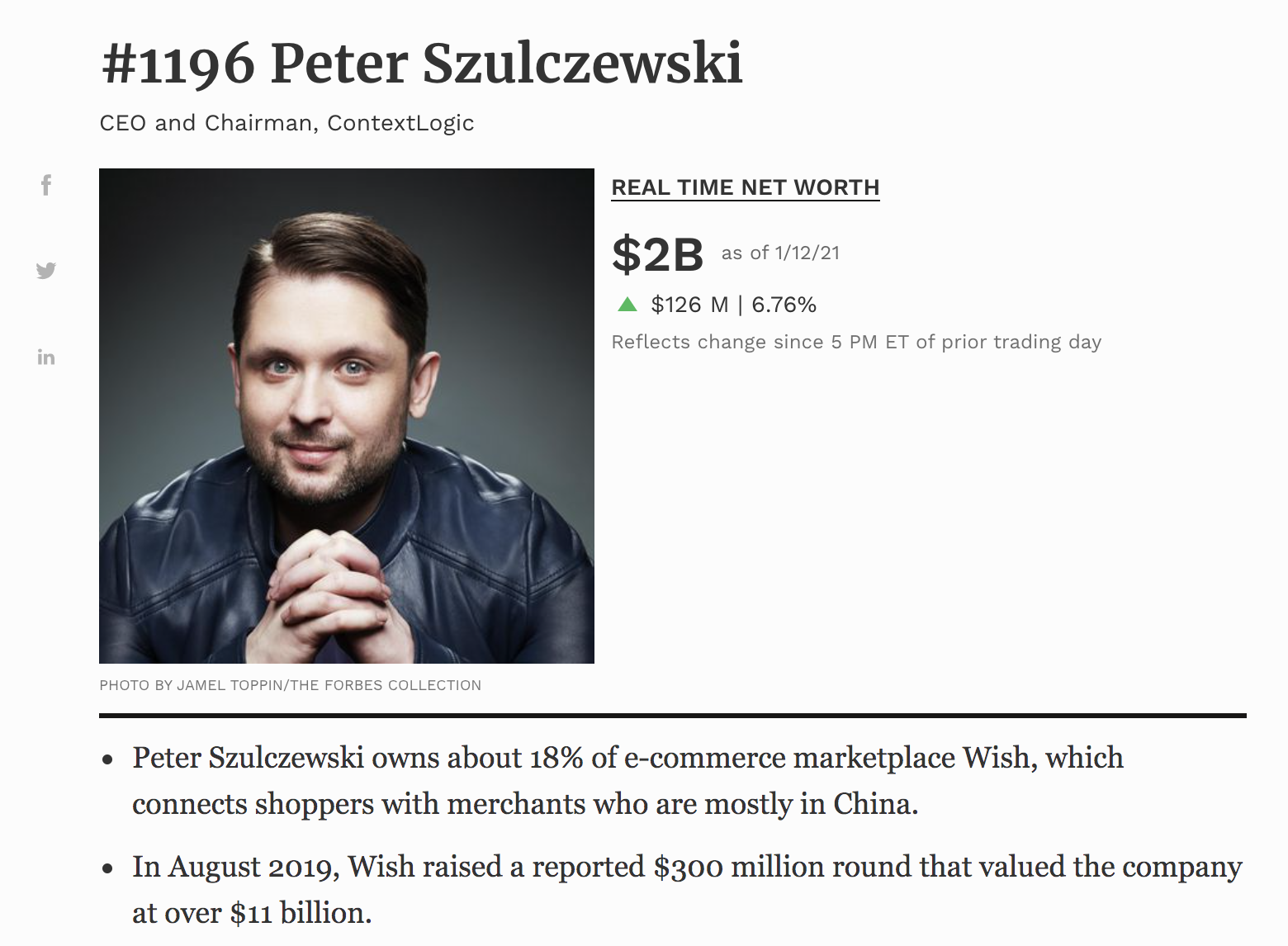 This system was named ContextLogic. He did well to bring on board his college friend, Donny Yang, who, although skeptical at first, supported his idea of introducing Google's methodology of tracking every activity of customers to detect interest points and complement results.
This increased the chances of meeting up with every customer's demands. The first platform, WIshWall.me, was launched in the year 2011. This platform outsourced products for display from several merchants and vendors then displays them on the website where customers can "like and wish" and add to their wish list. When they do this, they earn royalty and freebies that encourage them to stick around.  Emails are then sent to the merchants and sellers to notify them of a ready market for their product, although they have to agree to their products sold at a special discount rate.
Wishwall didn't necessarily make money from these transactions; however, it gradually gained popularity in the e-commerce industry. It grew so large that it attracted Facebook and Amazon's interest, which Mr. Szulczewski politely declined. A better and bigger system was later created called Wish, run by ContextLogic Inc, San Francisco, United States.
Wish has now grown to be a platform where merchants and sellers can directly sell their products on their website and application while Wish gets a percentage off their sales. This gives a platform for sellers who cannot afford Amazon's annual $120 membership levy to host their products.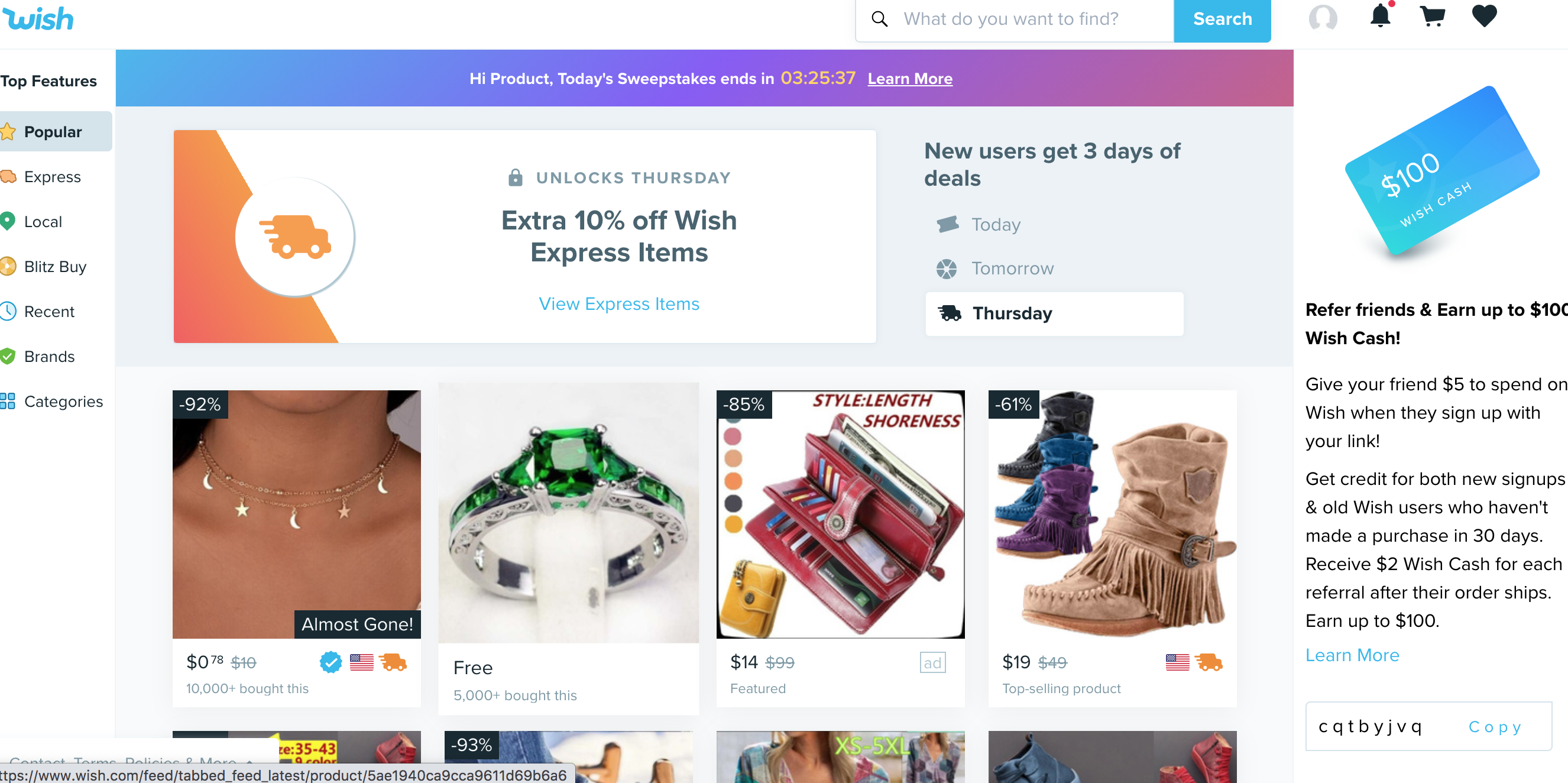 The shipping fee is a plus as it is way lower, thanks to the US Postal Service and China Post's agreement. Although Wish is economically engaged in competition with similar service providers like AliExpress, Amazon, ASOS, and eBay, it has successfully carved out a niche. In 2017, it became the most downloaded e-commerce app in the United States and the most downloaded e-commerce app worldwide in 2018.
It has generated a record of $1.9 billion in revenue. In 2019, Wish was a recipient of Series H funding, led by equity firm General Atlantic, thereby increasing its assets to $11.2 billion. Wish also has a record of 100 million users, 828 employees, $22.3 Billion share price, 124.4 Million website visits as of September 2020.
Product Culture at Wish
Being a data-driven company, Wish banked majorly on the flexibility and authenticity of data for their central analytics and brand development. However, with great success comes great pain.
There was a shortfall in getting and handling data as requests kept piling up. Unlike many other established organizations where the waterfall approach is engaged in problem-solving, Wish uses an agile approach where groups are involved at the same time to allow intersectionality of ideas and brainstorming.
Collaboration among different teams is vital. Engineers, data analysts, and product managers sit at a round table to discuss solutions.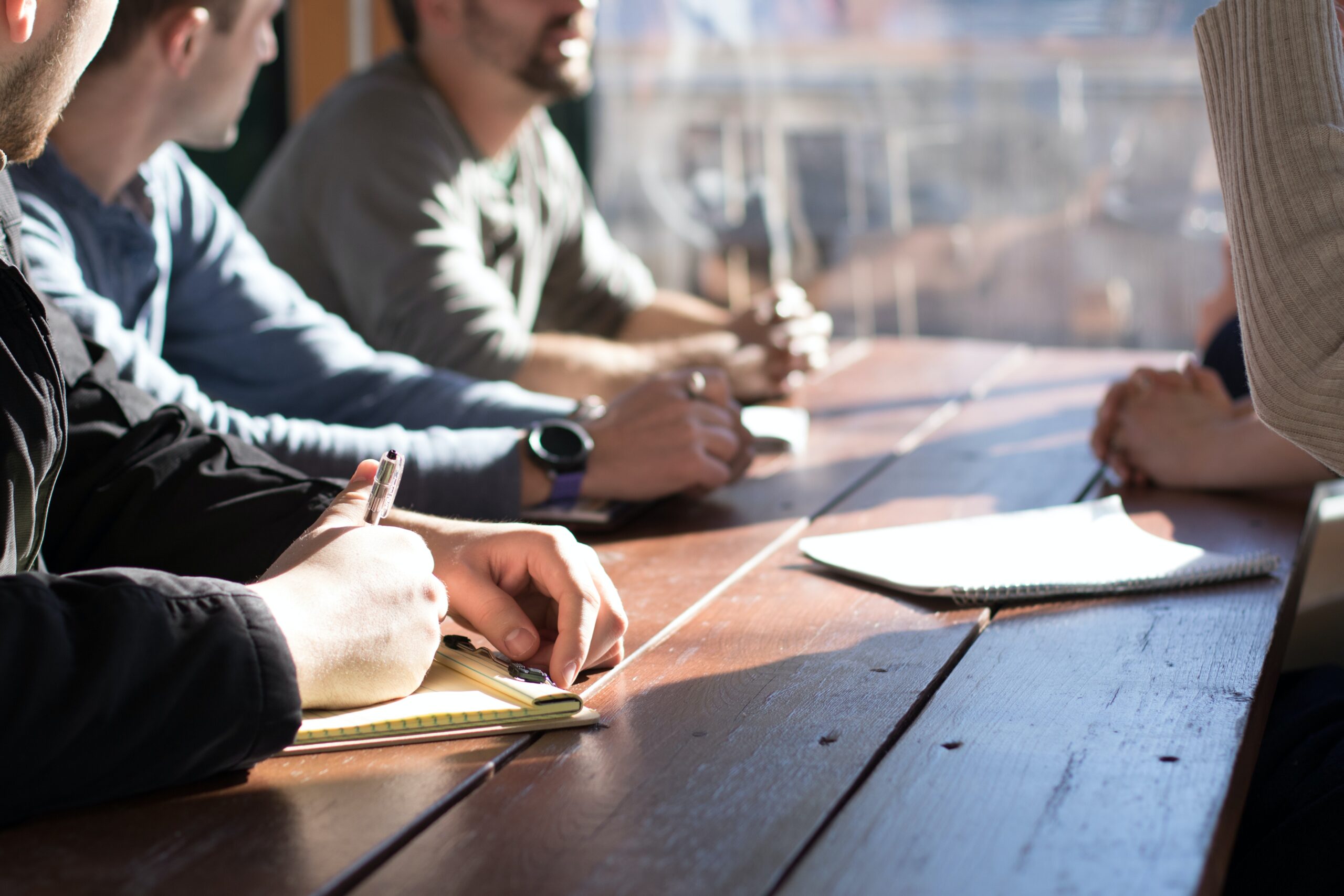 As an organization is brooding employees (Wish has less than a thousand employees), all hands have to be on deck to ensure data is correctly and effectively stored and managed.
With data analysis issues, top data analysts at Wish decided to multitask by sorting out new requests, moving to a better and efficient system of data collection and storage, and engaging in a series of meetings to provide better services. Two senior data analysts' services had to be employed to solve the ad-hoc queries and finally solve the constraint.
However, Wish has now created an infrastructure that can accommodate as much data as possible to run the company for the new phase of its growth. This data architecture sees that data analytics are correctly, efficiently, and timely done to give the best results and user experience.
Here's a list of practices that make product management at Wish unique and noteworthy:
A/B Testing
With a near-perfect data analytics system and problem-solving approach, Wish products are A/B tested, where the highest performing products and features are identified.
 The product with the highest conversion rate is then used. Business owners are not just looking for visitors to their website. Instead, they are more concerned about the conversion rate; hence, the use of A/B testing.
This method helps generate more ROI from existing web visitors. It gives them a better user experience. It helps to improve your website with such low risk substantially, and more importantly, it helps to drive more traffic to your website. This method is one of the many processes of Conversion Rate Optimization (CRO).
The research analysis is one of the first steps to A/B testing. It involves quantitative and qualitatively analyzing user behavior to map out the desired result to user experience. The quantitative analysis consists of using web analytics (for example, Google Analytics) to give a detailed report of the numerical data about user behavior on the website. This gives a statistic about the activities of visitors on the website.
For instance, it gives results of the most visited web page, the page with the highest and lowest engagement, pages users stay longer in, pages often avoided by users, etc. Qualitative research analysis involves using session recording tools to analyze user activities' metrics on the web platform.
The research and analytics results are then used to create a data-based hypothesis that works with various parameters. This will mean understanding the research results and paying keen attention to every detail. Fabricating a theory then comes as a product of understanding and critical reasoning.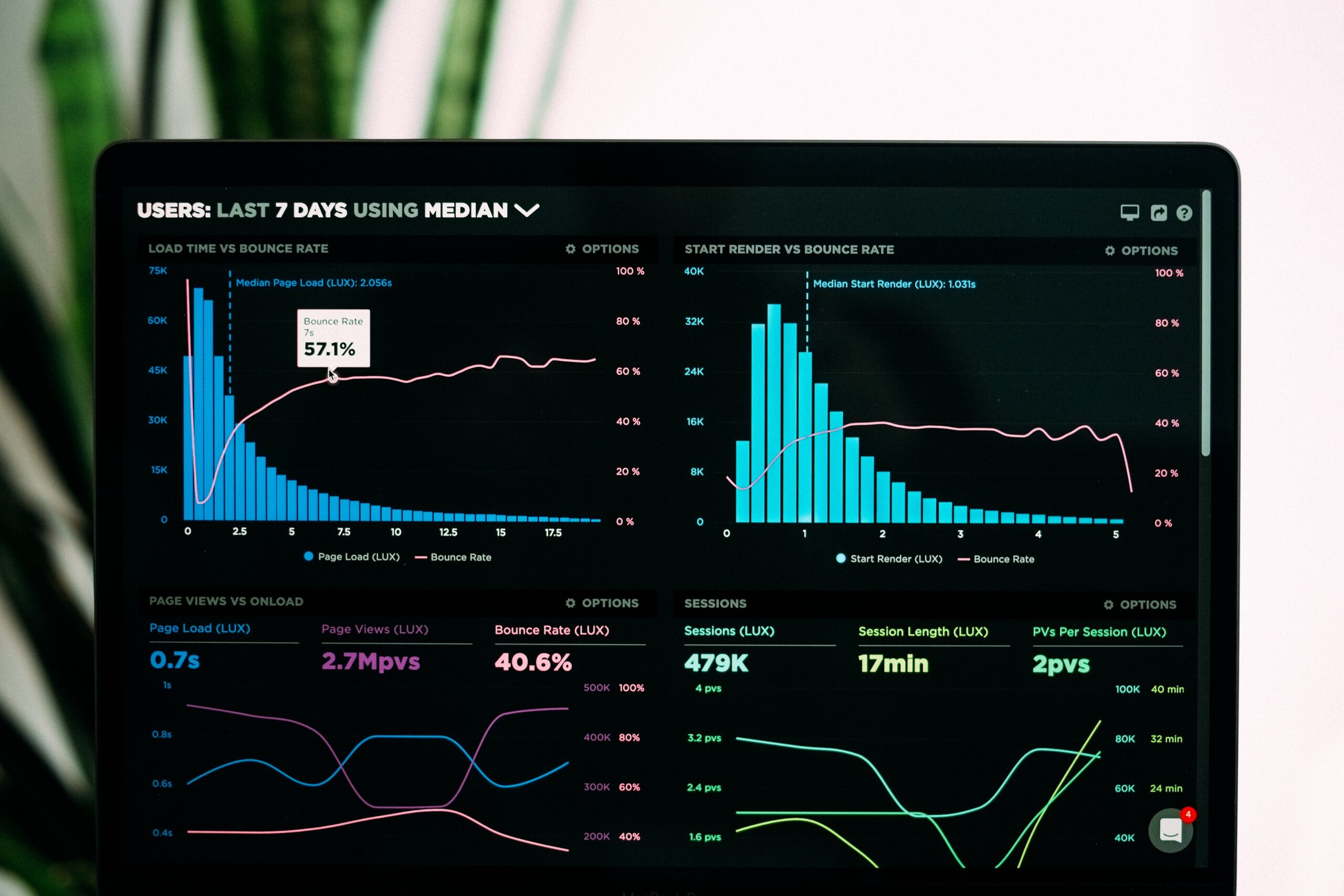 The next step is to create a variation from the hypothesis. A variation is a similar program to the existing protocol. Simply, it means that an interpretation is a new version of the current version with changes derived from the new hypothesis.
The methodology here is to A/B test this variation against the existing program and study the differences. Multiple variations can also be created to have more options to choose from.
Predominantly, the best variation gets to be the version used. The next step is to run the test; you can decide to use Split URL Testing (testing different versions on different URLs), Multivariate testing (testing all your variations on the same webpage), Multipage testing (testing various versions on other/multiple web pages). You can use whichever method suits the goal of your research.
The A/B testing result has to be handled delicately as it determines the next step after the testing. A/B testing works predominantly on data analytics and metrics, so each part of the result must be considered. Analysts must take each metric and each clause into account to determine the success rate of the development.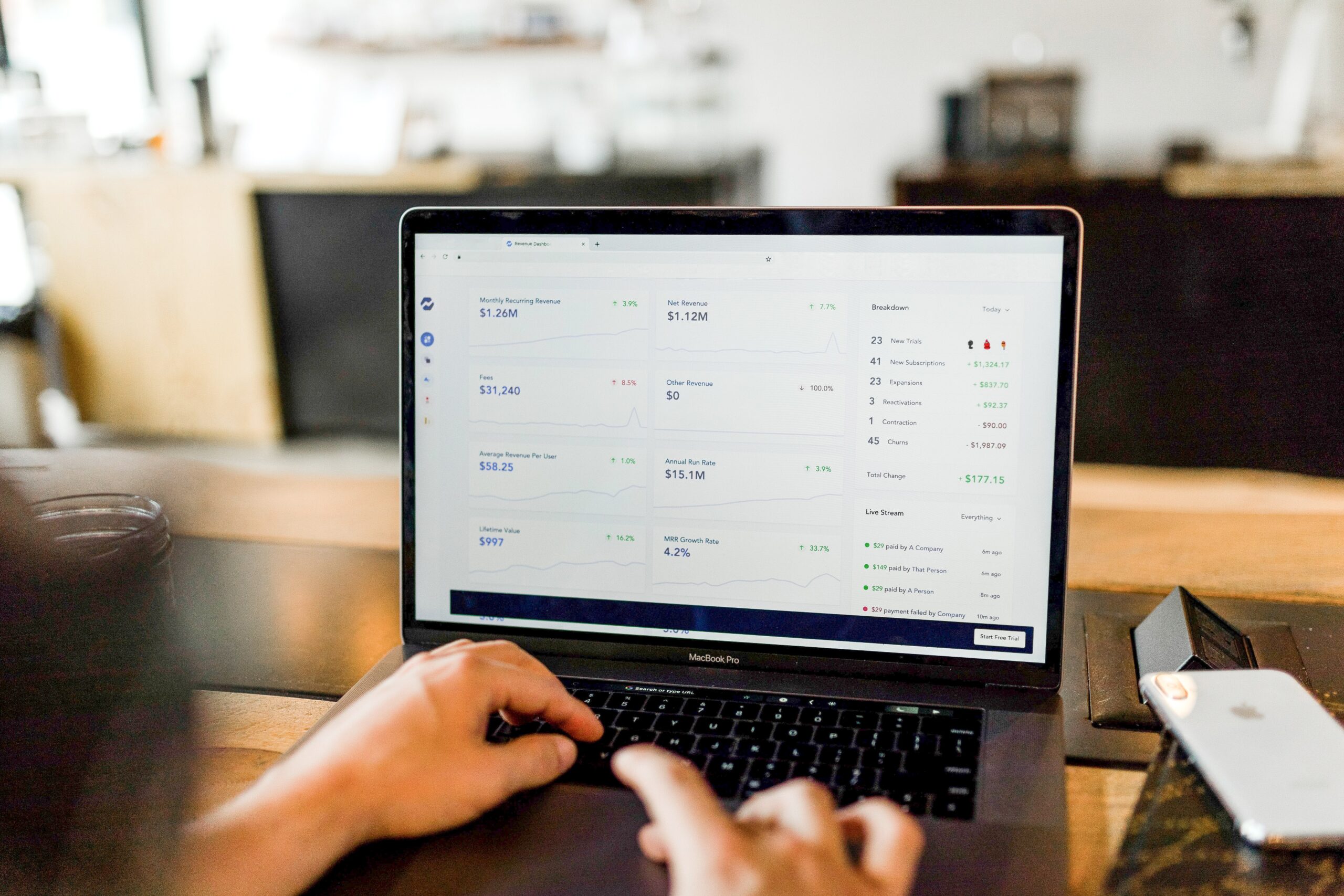 A successful outcome from the testing will show the winning variation for a better user experience. A shortcoming in the testing means the products become the template for formulating another hypothesis and further research and analytics. 
Team Collaboration
Wish, with a robust working strategy, operates in an agile manner for collaboration with other teams. This necessitates interactions with other departments and units to achieve a common goal of building better products for customers.
Working with several teams on a product means different ideas and suggestions are circulated. Everyone is given a fair chance to state their recommendations and complaints, reports are readily worked on, and products are keenly accessed.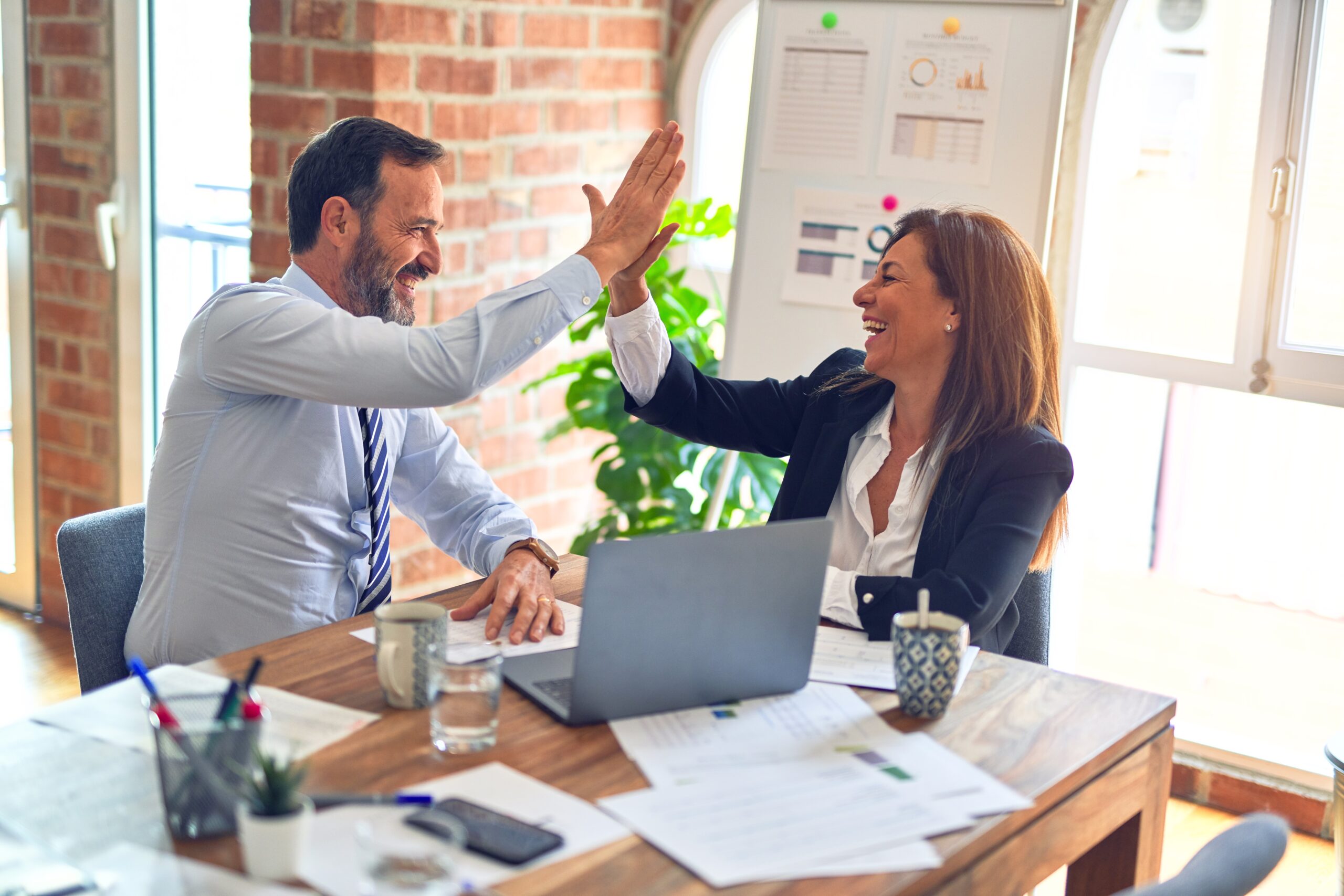 Collaborations between teams are indeed something to look forward to. With a state of intersectional ideas and thinking patterns, everyone brings value to the table.
Vision and Planning
No business thrives without having a set goal and a pre-planned destination. The vision and planning are carried out by every workforce member, not just the product manager. Every employee works with the vision vividly imprinted in their mind and is shown in their work ethic.
With an agile working approach, every hand is on deck to ensure nothing lags, and customers get a better user experience as they use their platforms.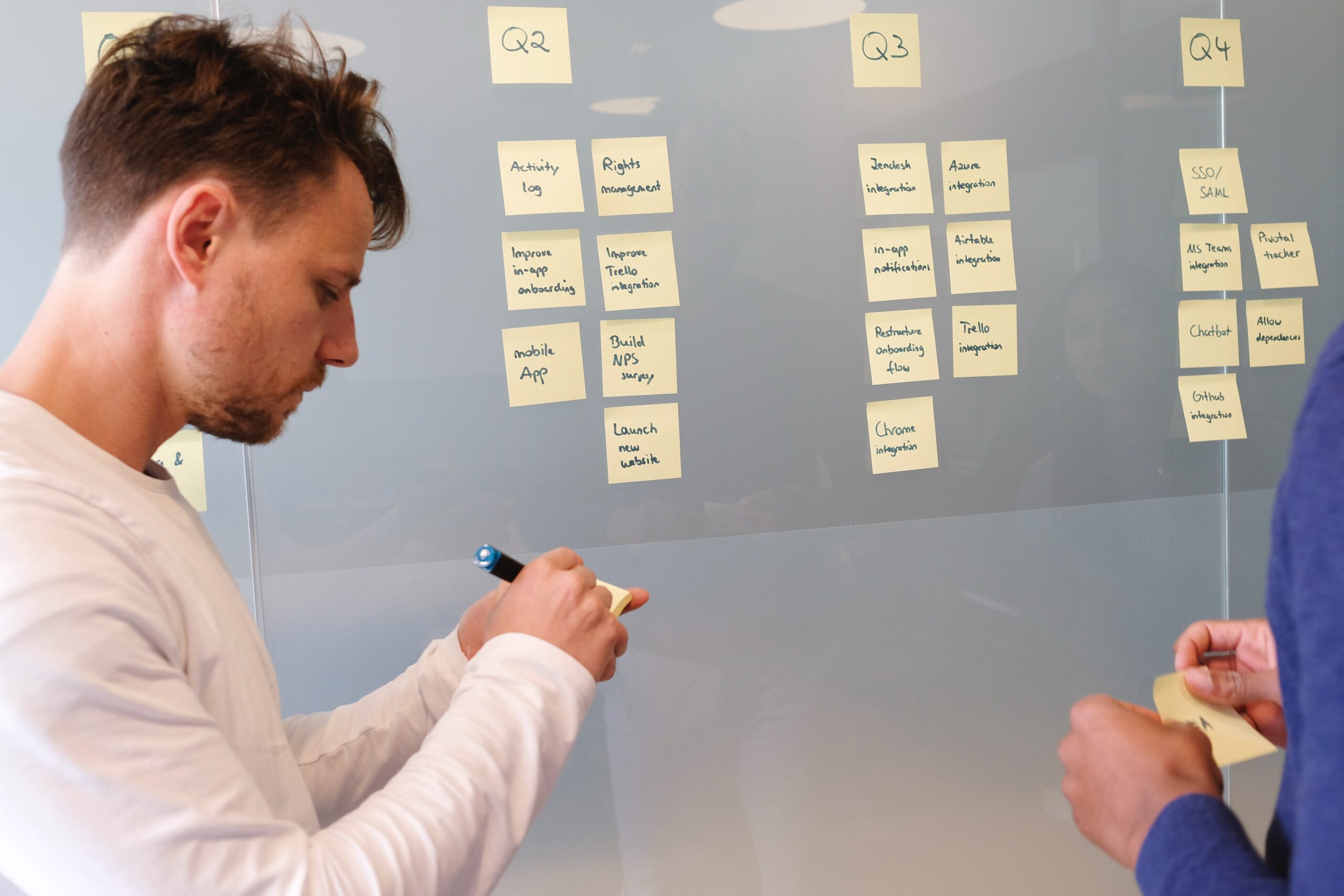 Tackling bugs and customer complaints
In an interview, former PM at Wish,  Kevin Ma called this  "firefighting." Although this does not take up a large chunk of a product manager's work, it is still part of the work. This involves settling complaints and reviews from customers across 160 countries with access to every Wish platform.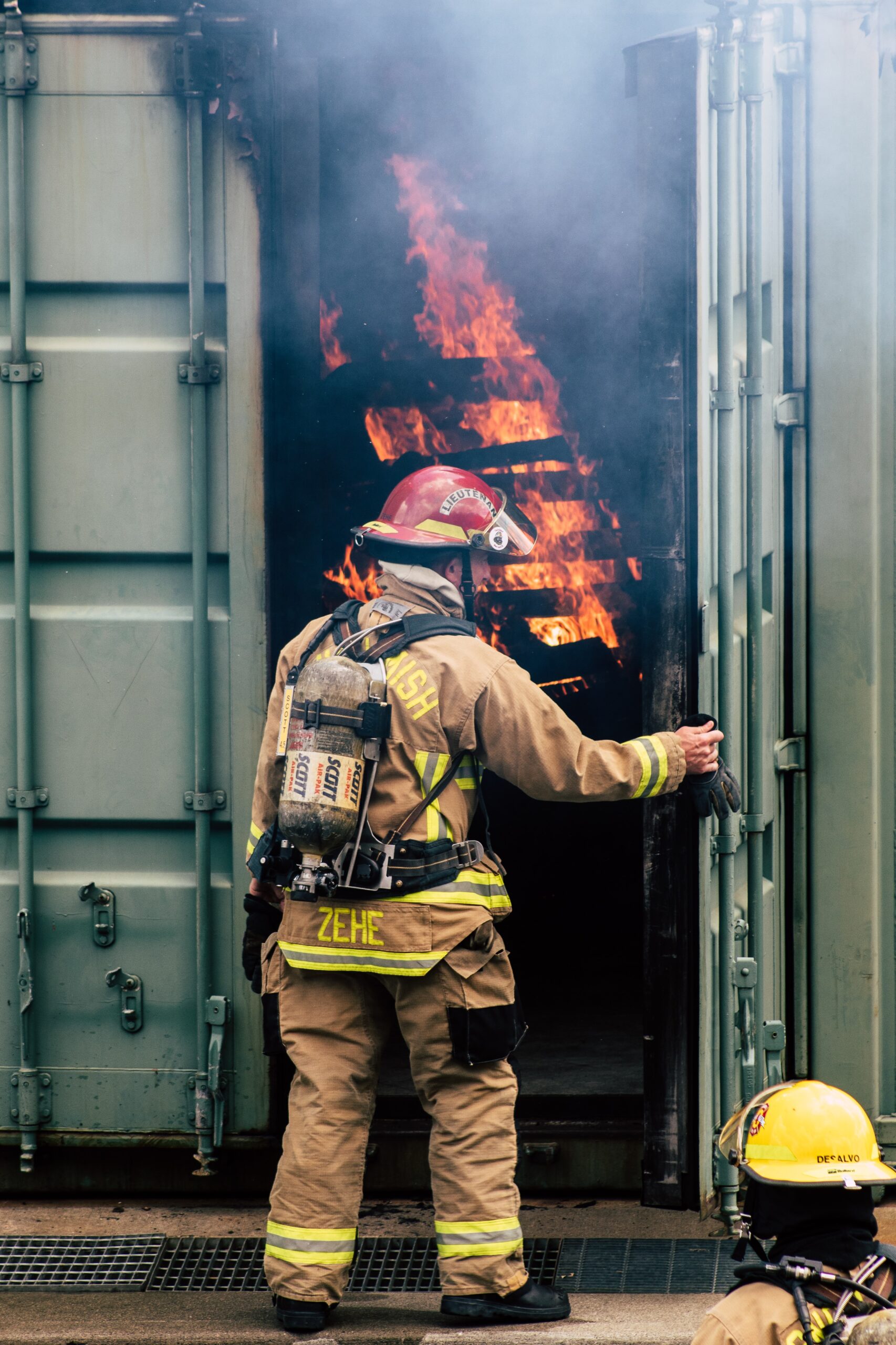 Legal cases are also sorted out as some countries file legal complaints and requests to the company from time to time, requiring pro-active solutions. Thanks to the agile working system, the product manager does not have to settle the complaints alone as he can work alongside his team member and other teams across the organization.
What a Typical Product Manager Posting Looks Like
Like every other product manager job posting, Wish has a standard and basic job description for product managers. Enlisted in their job postings are the requirements and responsibilities of the specified product managing position and expected as a product manager in that team. Interestingly, some of the product manager postings at Wish do not require a specific threshold year or more product management experience.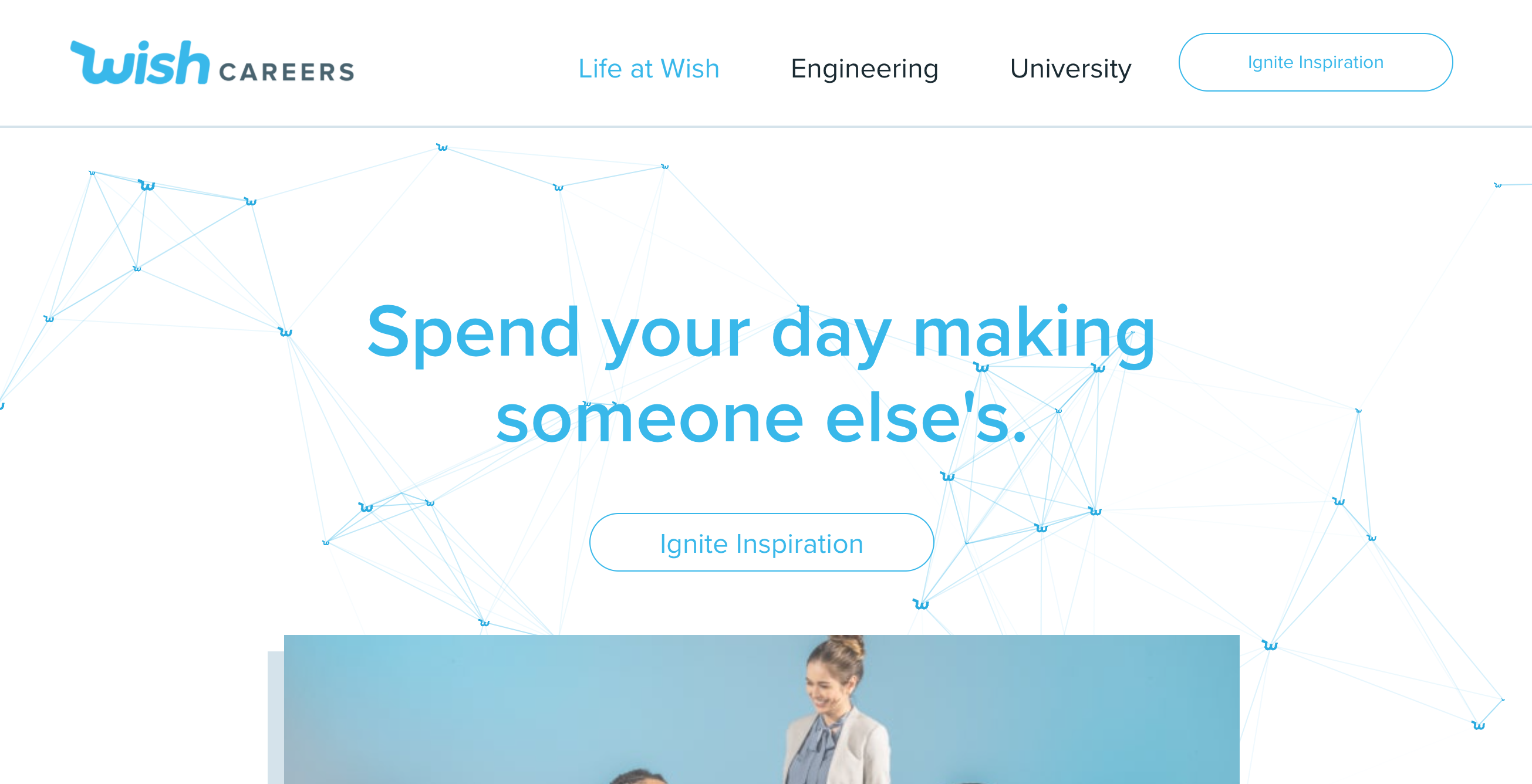 Other product manager job postings, however, do. Irrespective of the requirements, you should apply! At Product Gym, we strongly suggest candidates to apply to increase their chances of getting an interview for your desired position. With different teams and positions having varying responsibilities and requirements, here is a quick overview of the standard requirements for better preparation and planning:
Be bold and creative.
In this case, Boldness requires you to identify new ideas, opportunities, and ventures and devote quality time and energy to getting it done against all odds. Your creativity and gut are required at this point as it brings a different dynamism to improving the company.
Be analytical or, in their words, "intensely data-driven."
Here is an expectation from you to accurately decipher data and know where to look for answers and solutions. Since Wish is a data-driven company, you must be good at data analytics.
Be able to execute those ideas.
This means you must be able to create step-by-step roadmaps to executing your ideas. You must be able to develop, compel, and draw out your plans accurately.  To do that:
You should work effectively with engineering, design, analytics, marketing, and research teams to provide better product solutions and user experience.

You must prioritize work and ideas to help every member of the team get better results and still be able to settle other necessary responsibilities of a product manager.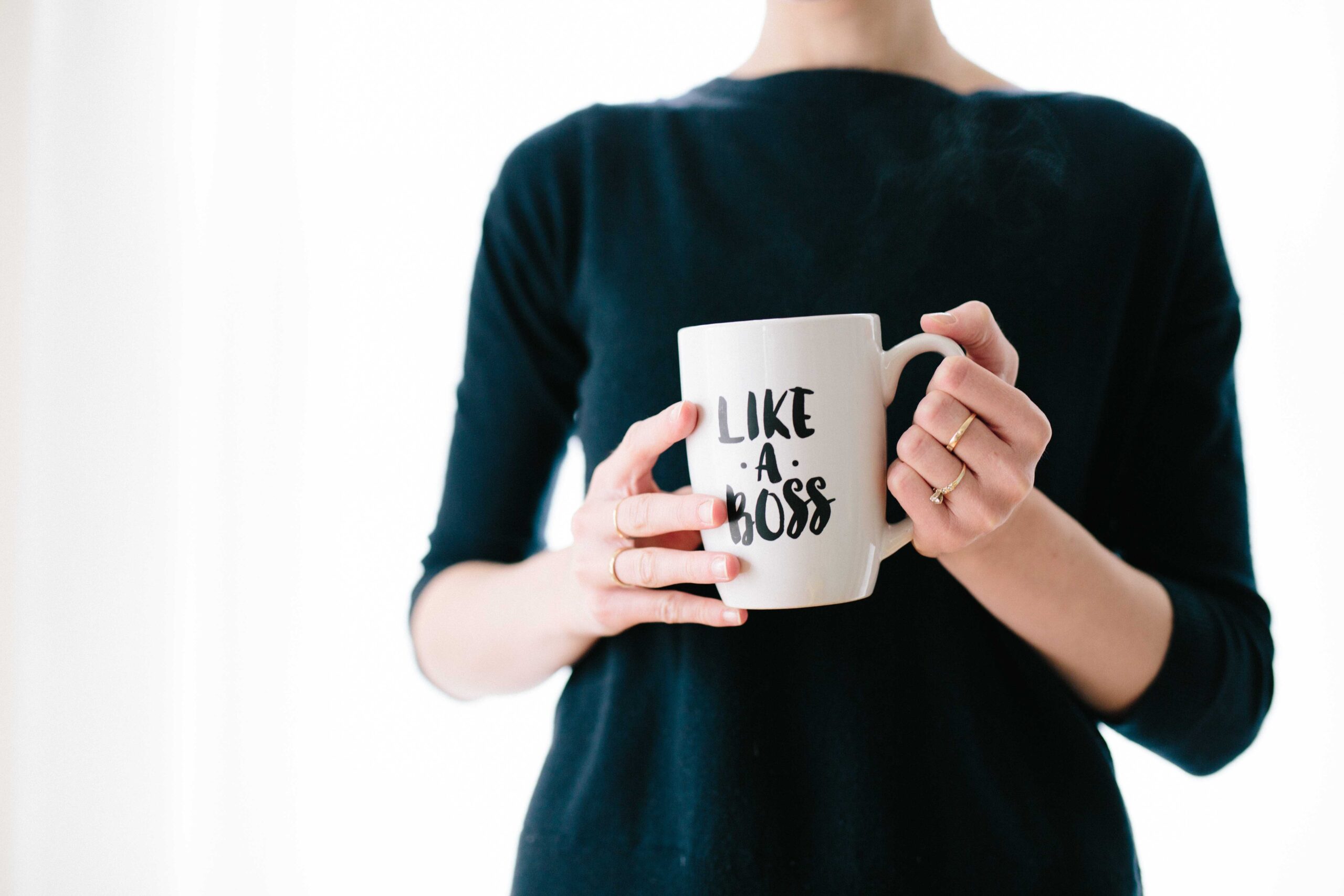 Here are the required skills and knowledge needed for product manager postings:
Strong quantitative skills: The primary role of a product manager at Wish is to read and analyze data. To have this skill is of utmost importance.
Strong A/B testing: You must have the primary and technical knowledge and experience in running, interpreting, and applying results of A/B testing and leading post-launch optimizations accordingly.
Great communicator: You must communicate effectively and work alongside other teams in engineering, analytics, UX/UI design.
How to get a Product Manager Interview at Wish
There are several ways to apply for a job posting to get an interview at Wish; however, getting an interview is the most direct way of getting an interview by applying through their career site or referrals. Regardless of whatever method you use to apply, here are steps to get an interview at Wish:
Write a product manager resume
Your resume is indeed an integral part of your job process as it determines a lot in securing you an interview. To take good advantage of this, carefully observe the requirements and responsibilities highlighted in the section above and make sure to include the keywords in your resume. Regardless of what background you're coming from, your job will require you to take up at least three of the functions highlighted in the section above.
Make sure to check our resume writing guide to write a winner product manager resume that's good for all kinds of product manager positions, and stop trying to customize it on your own.
Learn how to market yourself as the ultimate product manager
Now that you have created your resume, the next step is to improve yourself to secure your position as a product manager. This will require you to make a winning pitch that highlights product management's significant functions and aspects.
Apply!
Sometimes submitting your application for an interview is not enough. You have to network yourself to get the product manager interview. This will require you to learn and apply the step-to-step networking methods with recruiters to get your consultation.
What is the Interview Process and Timeline?
Close observation at the job posting site shows that most of the jobs listed are in the San Francisco Bay area or remote. We also analyzed Glassdoor entrees to come up with the interview process (at this point, we'll like to reiterate that the accuracy level of the interview process listed below is relatively low as the resources available at the time of writing this article was limited).
There is no exact time duration given for an interview at Wish. However, insights offered on Glassdoor suggest that the interview lasts more than two weeks. Here's how the interview process works according to our research:
Introductory call with the recruiters (screening)

Call with the hiring manager (who a product manager)

Potentially, you might be given a case study take-home assignment, as some of the Glassdoor entries suggest.

An onsite interview with different product managers and other teams working with the PMs

The offer!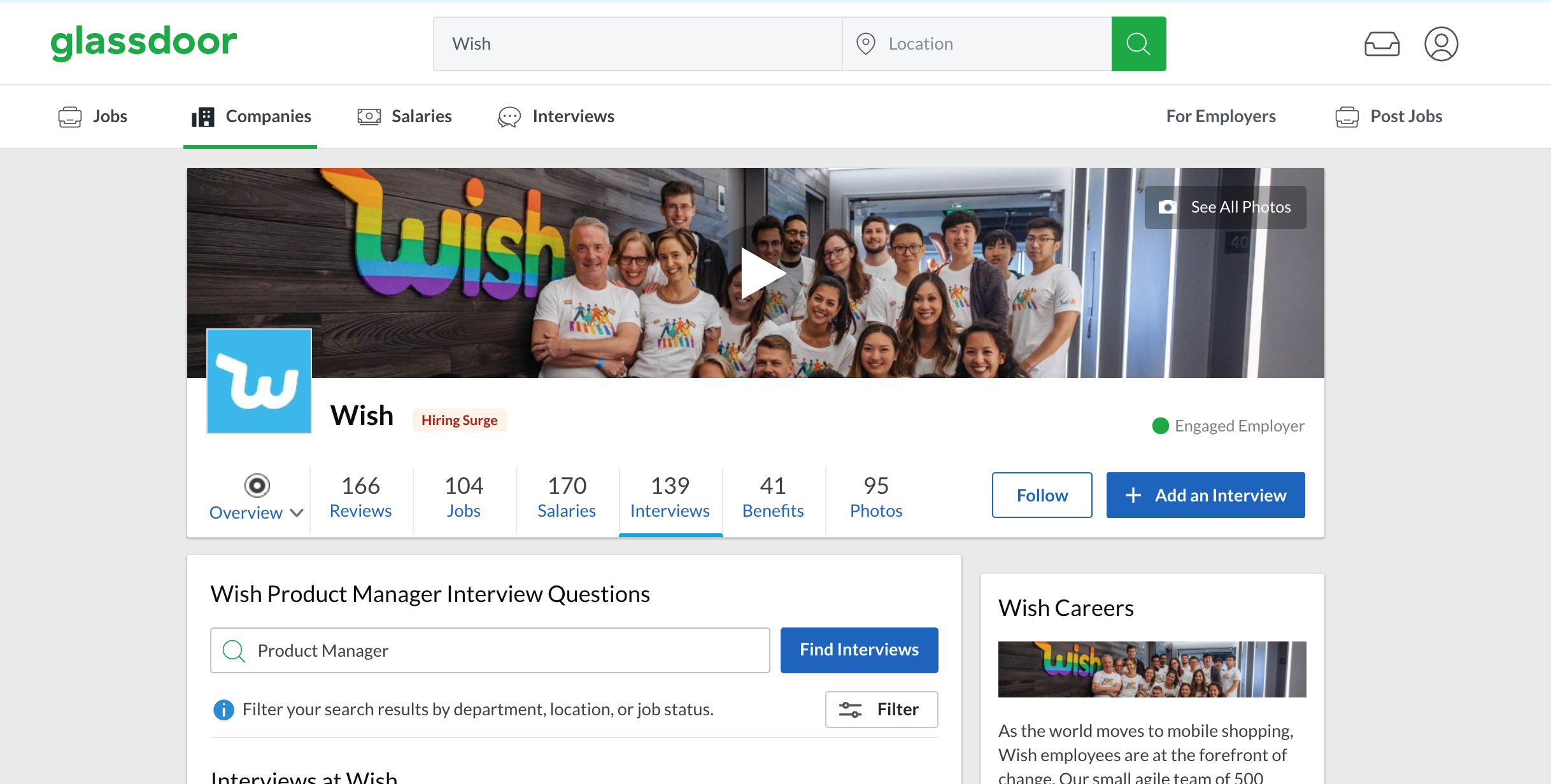 How to Win the Introductory Call with the Hiring Manager to Prove That You're Qualified Enough for the Next Round?
The first-round call will be with the recruiter as you'll be scrutinized based on your resume and your past experiences. The recruiter will also give a detailed overview of the role. If the recruiter is satisfied with your resume and your performance in the first round of calls, the next round will be conducted, a phone call interview from a hiring manager who is a product manager.  You'll be given more info about the role, and you'll also be asked to talk about your previous experience.
While many novice candidates don't notice this, talking about your experience to the hiring manager, who is typically a PM, is perhaps the most crucial part of the product manager interview. Your response to this question can make you or break you. To learn more about how to answer this question, the product manager way, make sure you watch how to respond to the "Tell me about yourself" question video.
For this round, you should be expecting common behavioral questions, and we strongly suggest serious candidates prepare their responses for these commonly asked questions beforehand. If you are wondering what these common questions are, you can check PM Interview guide.
In addition to your preparation for the common behavioral questions, make sure you can answer "Why Wish?" before going for the interview. Make sure you know as much as possible about the company and the product.
How to Win The Wish Case Study?
Although it's not clear if the case study will be a take-home assignment or an onsite question, we're sure you'll receive one.
You should expect an open-ended question on building a feature to drive user acquisition and conversion. Here, interviewers will test your experience and application of analytical knowledge.
You must consider these things while doing your case study interview:
A successful case study is only possible if you know what questions to ask to narrow down your assumptions and develop a tangible product. To answer any case study question in four simple steps, make sure you read our

case study guide

, which has helped all of our members and even non-members land the product manager job of their dream.

Be able to break down your idea into deliverable tasks in any suitable form, such as user stories.

Own your KPIsby identifying key metrics to prove to your interviewers that you made data-driven decisions; read

this guide

to see what metrics matter for e-commerce products.
How to Win the Final Onsite Interview Round with Different Stakeholders?
There will be various rounds with different stakeholders, such as the product team, engineering, design, and senior leadership. If you were given a case assignment in the previous round, you'd most likely present it to your interviewers. If not, you'll receive case study questions during this round. Regardless, you need to be able to answer product sense questions, similar to the ones given below:
How would you improve the Google calendar?

How would you go about deciding what to build?  

What are the metrics that an e-commerce company might need to measure?  

How would you evaluate the success of a merchant on this platform?

Wish has a coffee shop in the office. Sometimes there is a crazy wait for coffee; how can you improve the line?

 
There will be more behavioral questions this round. So, be ready to answer more behavioral questions, such as:
Do you have strong A/B Testing experience; what methods have you used?
When leading a product, what's your management experience within an in-house development environment? Are you comfortable communicating with Engineers?
What product performance metrics do you use? Is this driven by data-driven or otherwise?
What's your favorite product?
As a tech company, there is no doubt that the interviewers will want to learn more about your experience working with the engineering team. If you want to learn more about answering this question, regardless of your experience level with technical teams, make sure you watch this video before stepping into your next interview:
How Did COVID-19 Change Hiring?
With the world's current condition and a sharp change to what we now called the "new normal," the process of hiring has changed. However, Wish is thriving strong amid the situation and recruiting as several job postings are available for the product managers. It's currently labeled with the tag "Hiring Surge" on Glassdoor.
The change at this point is in the structure with which the interviews are now conducted. Recruiters now use the virtual interface to communicate with applicants following the Covid-19 protocols and guidelines. Unfortunately, Wish has not given a guide for how virtual interviews will be conducted, but we can help you with our resources.
We know that recruiters expect the same quality level from you even though virtual interviews are significantly different from in-person interviews. Make sure you read our Product Gym guide to learn and excel at virtual interviews.