This blog post is for Product Managers in the recruiting and hiring cycle, either working with recruitment agencies or working with product management recruiters.
Long story short, this is for anyone looking to hone the interview skills needed for Product Management.
Interviewing is a muscle. Your first few calls will sound the worst because you haven't been exercising this muscle. You're not comfortable talking about yourself, and that's fine.
Yes, we repeat! That IS fine! Only a handful of people are naturally good at interviewing, and it's highly unlikely that you are one of them.
What you need to do is to picture yourself doing it and practice sounding like a Product Manager.
The first thing you should be doing is to prepare a pitch, briefly introducing your professional background. There is a 99.9% chance that the first question you will receive from the interviewer will be, "Tell me about yourself."
While talking about yourself with your resume on hand might look easy, you should know that many people fail this task without sufficient practice. You must prepare your pitch beforehand and work on it to make sure that it satisfies the expectations of the interviewer.
To save you time and help you impress the interviewer, we have prepared you a guide to writing the ultimate Product Manager pitch. You should watch this video before interviewing!
During the Product Manager interview, there are specific terms that you should be using to prove to the interviewer that you are well-suited for the task. Make sure you watch this video to learn what they are and how to use them in your interviews.
Once you are done with crafting your pitch, here are the next steps you should be taking to prepare for your first round of interviews fully. Bear in mind that the first round is almost always with the hiring manager or the recruiter, so the interview's focus is going to be your professional background.
In addition to following the steps that we are sharing below, you should also read our article on the top Product Manager interview questions to expect.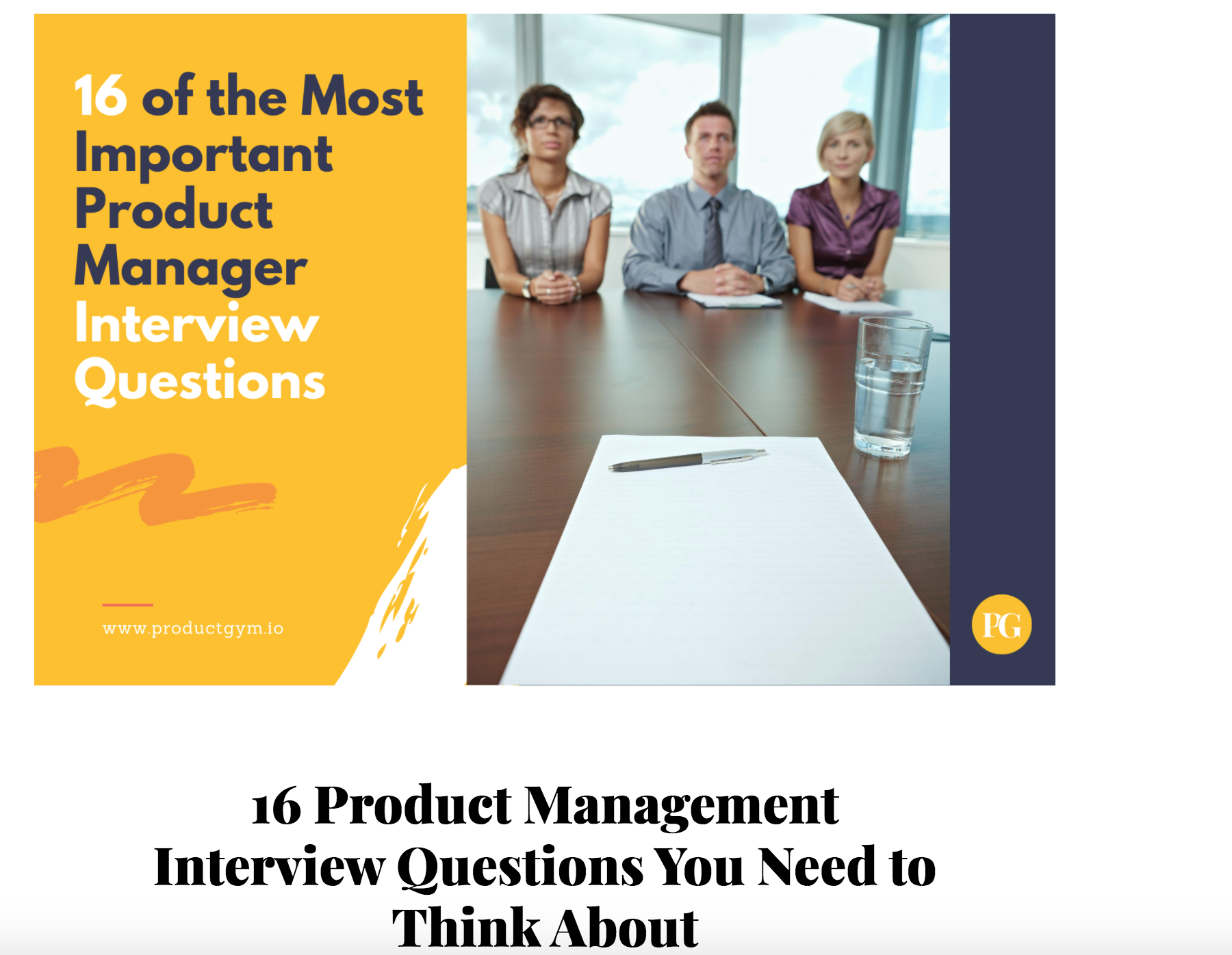 Here are six simple steps that will turn you into an expert interviewer!
Have the first few words that you want to say ready!
Rehearse the first few words that you're going to say in the opening. Use it as a transition into what you want to communicate. Say it to yourself in front of a mirror and make sure you don't stutter or stop.
Don't forget the reasons for leaving.
Recruiters have picked your resume out of hundreds, perhaps thousands of submissions. Please don't give them a red flag to discount you on the first call.
When you talk about the reasons for leaving, don't forget to focus on areas which you had no control over. If you mention something personal, it will likely reflect poorly on you.
Mention only the product relevant pieces of your experience.
Don't just focus on what you are comfortable in. Translate that into something more product-focused or simply talk more about the product experience related to your resume.
You may not have had a Product Manager title, but if you've 'built consensus across multiple stakeholders in cross-functional teams," then mention that and highlight it.
If you are still unsure about how to relate your professional background to Product Management, make sure you read our guide to marketing yourself as the ultimate Product Manager.

Don't get too industry-technical and use jargon.
You are already a working professional, and you come from an already established industry. What tends to happen in first round calls is that you will usually default to what you're comfortable with, so you end up talking a lot using industry jargon.
You have to understand that these recruiters are likely not from your industry. Sometimes they're barely knowledgeable of the industry that they're recruiting for. If you use too much time talking jargon, it confuses them.
When you get to asking them questions, always ask them questions about an organization in general.
Culture. How has it changed? What do they think about the organization? They won't be able to answer any questions that are product specific because that is something that, if you make it to the second round, they will be able to answer.
But, also if you ask too many product questions that you know that they don't know, you'll make them feel stupid.
You MUST ask them what the process is.
You have to ask what the processes for the next steps are. Is it going to be two, three, four calls? Who is it going to be with? Be as detailed as possible. You have to extract as much information in the beginning rounds if you expect to do well in the later rounds.
You can make significant progress in your interviewing by allocating a couple of hours to prepare yourself for these questions. While there is no guarantee that these steps will always lead you to the second round, this should be a useful guide for you.
You should also note that you can face different questions in your first-round interview, depending on who is interviewing you. If that's the case and you don't know how to answer the questions, we strongly suggest you watch our video to answer interview questions that you weren't prepared for.
If you are still struggling to pass your first-round interviews and land your dream Product Manager job, we are here to help! Schedule a call with us today to find out how we can help you!