The one thing everybody hates about job hunting is writing and revamping their resume, because if you were given a shot you could very possibly DO the job. The challenge most applicants have is communicating how their background is a great fit for the roles they are applying to in the form of a resume.
A good resume is not about you; it's about the reader. The first reader you will have is the recruiter and you need to start thinking about the end user experience your resume offers. In other words, you need to treat your resume like a Product. Our members coaching with Product Gym are averaging about 10 to 22+ Product Manager interviews a week by using this formula.
Resume Format and Layout
Template
The first thing you can do to breathe some life into your resume is move it to a different template. We recommend that you visit your local Barnes and Noble and go directly to the Career Section for ideas and inspiration. The challenge that you will face trying to find a template on Google is that there will be way to many resumes for you to choose from. A resume book that was published and lying in Barnes and Noble will have more than enough resume samples for you to choose from.
Quick Tip: Please refrain from choosing resumes with frames on them. Those are the worst. Let's not torture the person that has to read it now, okay?
Go and choose 5 or 10 that you really like, search for them specifically on Google and narrow down the one you like the most. You can look them up by the name that was written on the resume and search for a soft copy. The publisher more often than not could also have a template somewhere within their website.
Resume Font
Even if you don't like the template, envision it with a different font. Imagine flipping homes as a hobby only with your resume. You just need to change the font. One font in particular that we have discovered recently that is really clean and simple is Comfortaa, but there are many others. Stay away from Times New Roman. This is 2019 and you are not Peter Parker responding to a position from the classifieds section of the New York Times. Calibri is nice, but it's been overused so many times. Be unique and think of your branding here. Something very small like changing your font can really add some color for the person that's sorting and sifting through hundreds of resumes. Let's do the right thing and make an impression on the recruiter right from the start.
Structure of a Resume
When it comes to structure, please do yourself a favor and remove your biography and summary up top. Chances are it's not very good and even if it was, nobody is going to read it. Hiring Managers are interested in getting to the heart of the information FASTER.
Good Resume Example:

Yes it looks a little boring, but there are tons we can do to spice this up. Right below your email, you should place your LinkedIn profile URL. The standard mode of operation for any recruiter that is looking at your resume is if they see what they like; they will look you up on LinkedIn. Why do we need to make it harder for them to find us?
Bad Resume Examples: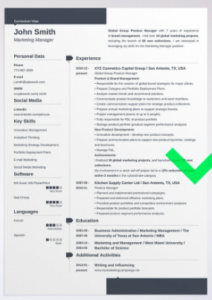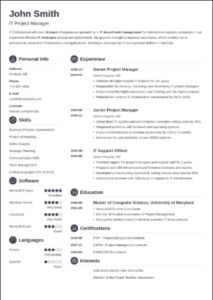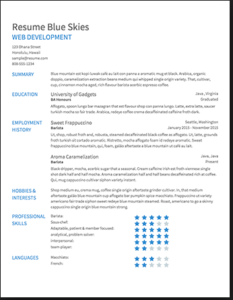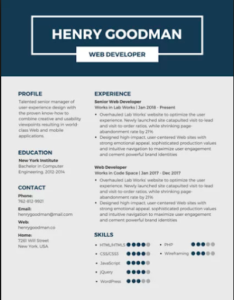 The following are a list of bad resumes and the surest way for your resume to get tossed in the shredder. But why? They look pretty good? Am I not suppose to differentiate myself from the competition? Of course! But let's go back to consider user experience. The person reading your resume is sorting through 500 resumes a day. That's no joke! Don't believe us? PERFECT!!!
Post your own Product Manager job on Indeed and LinkedIn and wait for your phone to light up like a Christmas tree. Honestly, you need to try this! We pay attention to every detail here when it comes to getting the Product Manager job of your dreams. After speaking to more than 500 internal and external technical recruiters that conduct hiring for the leading technology companies across both coasts, we know their eyes only roll one way. Its starts off on top and center then they scroll all the way to the left and work down. This is why it's is so important to have your resume that resembles the good example.
Don't believe us again? Well now that you have posted for your position on indeed and LinkedIn; SORT ALL THE RESUMES THAT COME IN. See how many resumes you can get through and notice how your eyes naturally scroll. What are you looking for first?
Resume Content and Optimization
Content are the bullets you have in your resume and they must be optimized to POP. There should never be more than 5 to 6 bullets per position and they should contain very broad wording. You want to sell your product management expertise either with hard skills or soft. For those of you reading this from a non-technical background, DO NOT FEEL DISCOURAGED. There are plenty of Product Managers out there that do not code and are killing it on the job. Think about optimizing a website; your resume is no different.
Hard Skills Bullet Examples
When it comes to Hard Skills, think things you do with your hands or things you physically go out and hustle to GET DONE.
Managed mobile product development in a fast-paced, Agile environment, working closely with developers and stakeholders to ensure successful product and feature launches

Prioritized backlog with ready-to-go feature requirements so that developers are never blocked

Guided product priorities, product plans, and overall product strategy

Worked with sales and marketing to understand market potential and competitive landscape

Captured customer needs, product scenarios, user stories, and stakeholder feedback to create new and improve existing products

Created and worked with design resources to create wireframes and design comps in order to guide engineering efforts
Hard Skill Bullets are easily quantifiable.
Soft Skill Bullet Examples
When it comes to Soft Skills, these are bullets the exemplify your skills as a leader and/or communicator such as your ability to collaborate. Collaboration is used a lot!
Identify operational and support requirements and facilitate their implementation

Communicate with other cross-functional areas, sharing product plans, identifying possible issues and concerns, and collaborating to address them

Facilitate and support product training and launches

Contribute to broader technology strategy; give feedback to technical teams building products on top of the infrastructure

Discussed the architecture/technical decisions made in the squad

Interface with the rest of the technology organization to understand opportunities, requirements and priorities to ensure the right focus of the team
Soft Skill Bullets are not easily quantifiable hence the verbs like identified, communicated, facilitated, contributed, discussed, and etc …
The art here is how you present this information. There should never be more than 4 to 5 bullets per position. If you got promoted to another position (ie. Product Manager to Senior Product Manager) add that as a totally separate position. Even if you were doing the exact responsibilities, chances are there are more than 10 bullets you can use to define your scope of work. Give each position a good ratio of 2:1 or 3:1 there should be at least 2 to 3 hard bullets for every soft bullet you list. If you are coming from a non-technical background (ie. finance, management consulting, or sales and etc…), soft skills are fucking king for you. That's the only space you can dominate, because stakeholder management is probably something you do very well at this point any how.
Scalability
Anybody that says you need to customize your resume for every position you apply to is a fucking idiot and clearly did not or will ever face the challenges you do in making the transition. If you can't achieve scale with your resume, you are fucked. Why? The reason is that no matter how much you love that company, how much you think you are perfect for the role, think you will have a shot simply just knowing somebody that works there, or anything else, you are not the only one applying. You do not know if they are actually reading your resume. You have no clue for the urgency of the position and whether or not they intend to fill the vacancy. They do not owe you a response. They may never read your resume.
One of the biggest mistakes candidates make is cherry picking. Let's face it, that strategy has led you to shit. Let's have a minute of clarity here, are you seriously thinking you're the only person that wants to work at Spotify or any other household name of 2018? That's not realistic. You need to get your resume out to as many people as possible A$AP ROCKY.
Backstory (Your Narrative or Origin Story)
What is your origin story? Every great empire in the world has some sort of origin story, which helped legitimize their rule over the common folk. What is yours? There are no Product Management Bachelor Degrees out there. It is highly unlikely somebody started doing Product Management right out of school. So, how the hell did you come to be? This is just as important if you are already a Product Manager or an aspiring one. Whether you are selling the truth or otherwise this is where fluff is encouraged. Why? Because your reader sorts over 500 resumes a day. Did you take a rough headcount the last time you visited a PM meetup? That's right! You are not the only person trying to make this transition, so spice things up! New York is one of those cities where people stay after the graduate. On top of that if you haven't realized that the cream of the crop and the best of the best this country; better yet this world has to offer competes here, then you might have bigger problems than trying to make this transition. If you graduated from NYU or Columbia, expect to compete with these boys and girls. If you are coming out of Finance or Banking, KNOW you are competing against many of your colleagues for this very coveted role. There's no hiding from that fact.
You have to do this. This is your brand right here. This is what makes you more awesome, unique, or different from all the other people that are literally gunning for the same job you want so dearly.
Unfortunately, it's also the part you have to have specialized training to do. Particularly, for the reason that everyone is so different, a consultation is definitely required. Come schedule a call to get a second opinion on how you can improve your narrative and we would learn to help you maneuver your competition.