Instacart is an American organization operating grocery delivery and pick-up service across the US and Canada. In a nutshell, this company enables customers to shop from the participating retailers, through the website or the mobile app, with a personal shopper selecting and compiling your products. Want to work for Instacart? First, learn how to win the Instacart Product Manager interview.
Founded in 2012, Instacart was created by Apoorva Mehta, a former Amazon employee who understood the importance of prompt delivery service. Initially a small startup, Instacart serves over 5,500 cities across the US and Canada in partnership with over 350 retailers that have over 25,000 grocery stores.
A product manager role within Instacart enables endless creativity and innovation, allowing you to work across so many other teams, whether it be engineering or business development. Does this sound like a job for you? Then check out the rest of this article to see how to bag an interview.
Company Overview
In a world where instant consumption has become the norm, it was only a matter of time before a same-day delivery of groceries platform like Instacart would gain relevance. It started with the main mission of helping classic grocers to be successful online.
What is so unique about the interface is that the user can shop from one or several local stores and the order can arrive as quickly as one hour after it was placed. In addition to the typical grocery stores that you would expect Instacart to partner with, such as Whole Foods and Costco, they also pair with specialist stores such as the wine merchant Total Wine or pet supplier PetCo. They've even taken this a step further, penetrating yet another market, by partnering with the Yummly platform to provide delivery of key ingredients for recipes.
The Covid19 Pandemic saw the increasing need for platforms such as Instacart due to its contactless nature, especially at the start when many states were given the stay-at-home message, which led to 300,000 workers being hired to meet the new demand. In addition to this, they were a vital channel for the distribution of vaccines to shoppers. They are an organization that grew from strength to strength because of their use of innovation and making the most of opportunities instead of viewing them as threats.
Product Culture at Instacart
Although the concept behind the organization seems simple — delivering the customer groceries from different retailers — it is more complex than that. Their service links customers with coupons and deals from their favorite retailers to constantly updating grocery data from 25,000 stores each night, as well as searching for new retailers to pair up with.
The service is heavily dependent on their software and engineering culture, making ownership the most significant element of tier product culture. Engineers and Product Managers are given creative freedom and ownership of the projects that contribute to the overall success of the organization.
As the company grows, it becomes increasingly important for individuals to possess both the EQ and IQ to manage a project from beginning to end. Ownership grows as you grow within the company, too.
Overall Company Culture at Instacart
Instacart's mission is "to create a world where everyone has access to the food they love and more time to enjoy it together."
Instacart company culture is based on the idea that any type of employee that joins the team has a significant impact on the overall organization. A certain type of individual seems to thrive under the Instacart environment – those who are very smart, good at what they do and are willing to collaborate.
With this in mind, Instacart is sure to invest in its employees so that their impact on the organization and its performance is a positive one. This is reflected in the provided benefits and perks they offer every employee.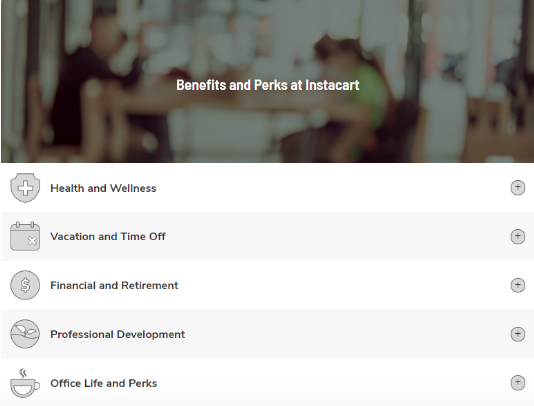 Such benefits include health insurance, fitness subsidies, flexible working hours, just to name a few. However, one that is repeatedly mentioned is the chances for promotion and development throughout the company. Whether this is up the managerial ladder, as seen through their leadership training program, or horizontally across the organization, trying new departments as seen through their technical bootcamp that they provide employees who don't have previous experience in such skills.
Product Team Culture at Instacart
At Instacart a product manager is expected to work across the organization with a variety of teams, whether it be data science, growth or engineering. According to Glassdoor, having that technical knowledge and experience will really help you within the department, but simply because those who are meant to be in charge tend to have relations to the big bosses instead of being qualified for the job.
So with the demand evident for product managers, maybe this job role could be for you, giving you the expertise and creative freedom to really make the job your own.
What Does a Typical Instacart PM Job Posting Look Like?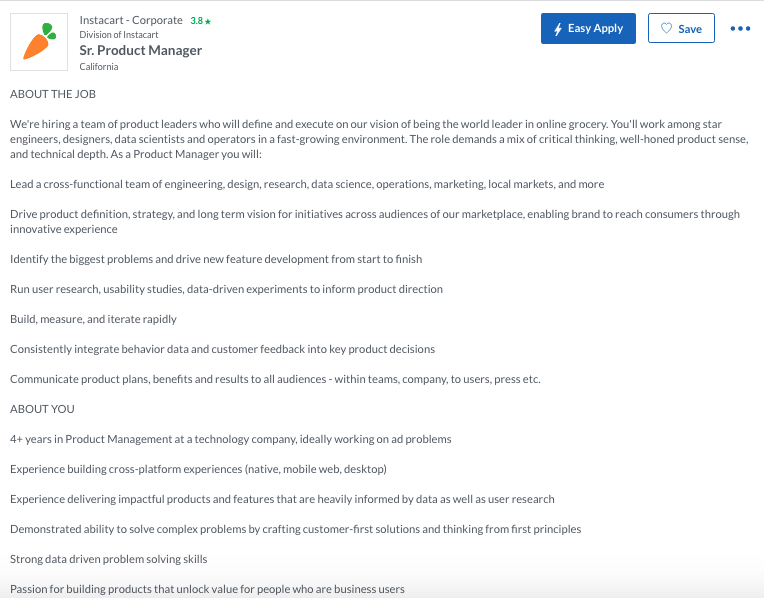 A PM role at Instacart is defined by the ability to work and collaborate with a variety of teams:
4+years of experience working in product teams and additional experience in product management to demonstrate your ability to be able to motivate and organize a team.

Experience in building and developing cross-platform/multi-platform experiences, whether it be on mobile/web/app.

Strong interpersonal and communication skills as the position is defined by the work you do with a wide range of employees at the various different levels of the organization, and the different stakeholders.

A deep understanding of the consumer — this includes being able to collect, analyze and interpret data. This enables the PM to understand the user as well as analyze viewer engagement metrics to truly understand the consumer, how to achieve their loyalty and how they interact with other potential consumers. This also includes a deep intuition and passion for developing the user experience and having an in-depth knowledge of consumer psychology.
Many of the product manager posts at Instacart tend to ask for a bachelor's degree within the technical or quantitative field, previous experience of creating and prioritizing roadmaps, as well strong problem-solving skills.
How Do You Get an Instacart Product Manager Interview?
According to Glassdoor, Product Manager interviews were gained two ways: 50% of interviewees applied online, while the other 50% applying through a recruiter. Instacart is currently advertising 55 Product Manager jobs in the US on Glassdoor. Instacart is renowned for its difficult interview and vetting process. Here's how to really maximize your chances:
Write a Product Manager Resume
Please never underestimate just how important your resume is when it comes to winning an interview — think of it as your passport to gaining access to that interview. You need to ensure it is appropriately structured, demonstrating your previous experience and what you can bring to the role at Instacart. The last thing a recruiter wants to see is a resume that is relevant to the role's requirements and responsibilities.
How do you do this? Check out our resume writing guide as well as our free tutorial on how to synchronize your resume and your LinkedIn profile.
Prepare Your Pitch
What's just as important as nailing the resume? Preparing that killer pitch. It's your one-way ticket of making sure you're impressing the recruiter and winning that interview.
Apply!
A common misconception is that providing your resume is the only way of gaining the interview, when in fact, you can network your way into it. This provides you with the opportunity to familiarise yourself with the work environment, the employee culture and all the information regarding the recruiter. However, arguably the most important benefit of this is familiarizing yourself with the ins and outs of the interview, which gives you an advantage when you're called to interview. Watch this video to learn how to network your way into getting that Product Manager interview.
What Is the Instacart Product Manager Interview Process and Timeline?
The Instacart hiring process starts through a standard application: submit a cover letter and your resume, or network your way into an interview through a recruiter. From there, here's what the process looks like:
Introductory screening call with an HR Representative

Another phone call, this time an introductory interview with a hiring manager

A "challenge", or in other words, a

case study.

Instacart reviews your "challenge" project and contacts you to offer you a job!
The timeline interviewers stated varied greatly for this process. Some applied and went through the process in one or two weeks, but for others, the hiring process was drawn out over three or more months.
How to Win the Introductory Call With the Hiring Manager
This initial stage of the interview is dominated by behavioral questions which tend to include:
Tell us about past projects you've worked on.

Tell me about yourself.

How would you improve Product X?

What is your favourite product and why?
Remember, this is your opportunity to ask any questions you have regarding the role or the organization as a whole. According to previous interviewees, having a technical background and a similar approach to answering the questions. According to Glassdoor, 71% of the interviewees had a negative experience, stating that the questions were extremely difficult or that Instacart would delay the recruitment and interview process to up to six months. The remaining 29% had a neutral experience.
So if you have survived the difficult questions, or have avoided Instacart ghosting you, you're ready for the second stage.
How to Win the Technical Round With the Hiring Manager and Team Stakeholders
The next stage will give the hiring manager an opportunity to identify your technical knowledge, as well as how you have managed previous relationships with stakeholders. The questions they ask can include:
What are the different problems that Instacart would see in their delivery experience? How would you prioritize the problems?

How do you know there are enough shoppers for grocery orders at any given time and area?

How would you conduct a project?

How would you design an Instacart dashboard to predict shopper demand?
However, there are also reviews that this technical round poses the interviewee with a "challenge" — this comprises submitting project artifacts. For example, you might submit status documents or product roadmaps, then give an in-depth report on how they would approach such a challenge and overcome any barriers that could exist.
Check out the video below for more assistance at this stage of the interview (or hit up Product Gym's Youtube channel for more tutorial videos for job hunting):
How Did COVID-19 Change Hiring?
As highlighted before, the pandemic saw increased use of the platform, and more employees were brought on board. However, the hiring of roles such as product managers, and other similar roles, tend to be localized around the California and New York offices.
In terms of the interview process, not much has changed. Instacart has historically used the phone/video call as a way of screening possible employees — therefore, if you need help with approaching such a way of interviewing, then check out our guide to nailing the video call.
Ready to jump into your Product manager job hunt? Check out our exclusive PM job board: we put these listings together so that you didn't have to waste any time researching. Or, if you're not quite ready to take the leap on your own just yet, schedule a free career coaching session with our in-house team of PM experts. We'd love to help you kickstart your Product Manager career.