Whether you're an aspiring first-time Product Manager or a seasoned vet looking to make a career pivot, product management training programs are bound to crop up in your Google search. There's no product management focus in an MBA degree, and the industry is notoriously competitive to get into. That's what makes the skills training offered by bootcamp-style programs so appealing. So the only question is: which training program should you sign up for?
Here at Product Gym, we're obviously a little biased. We know that we're competing against larger establishments that have been in business longer, like Product School. But we stand firm in the fact that our growing program offers more than the competition, and does a better job of preparing Product Managers for the gruelling job hunt as well as the job itself.
We want you to make the right choice for your career path, whatever that may be. So, here's the side-by-side comparison of our program and Product School's. We hope this helps you narrow down your options!
Product Gym vs Product School: Program Overview
| | | |
| --- | --- | --- |
| Course Content | Product Gym | Product School |
| Subject Matter Experts as Instructors | Yes | No |
| Course Duration | 6 weeks | 8 weeks |
| Course Material Access | Lifetime | Course duration |
| Enrollment | Anytime | Scheduled |
What you'll learn during a Product Management course is important when making a decision. All three courses will offer education in essential product management skills, so how are they any different from each other?
Our course content is 100% dedicated to helping you ace the interview and crush it on the job. Our archive of Product Management Interview Questions has given us very actionable insight that the questions you are asked pertain to the job you will be hired to do. In addition, we also have materials on all the necessary skills you need to do the job with more being added based on market demands.
Product Gym Skills Courses
Here's the full breakdown of our courses offered, along with the Instructor's titles and experience.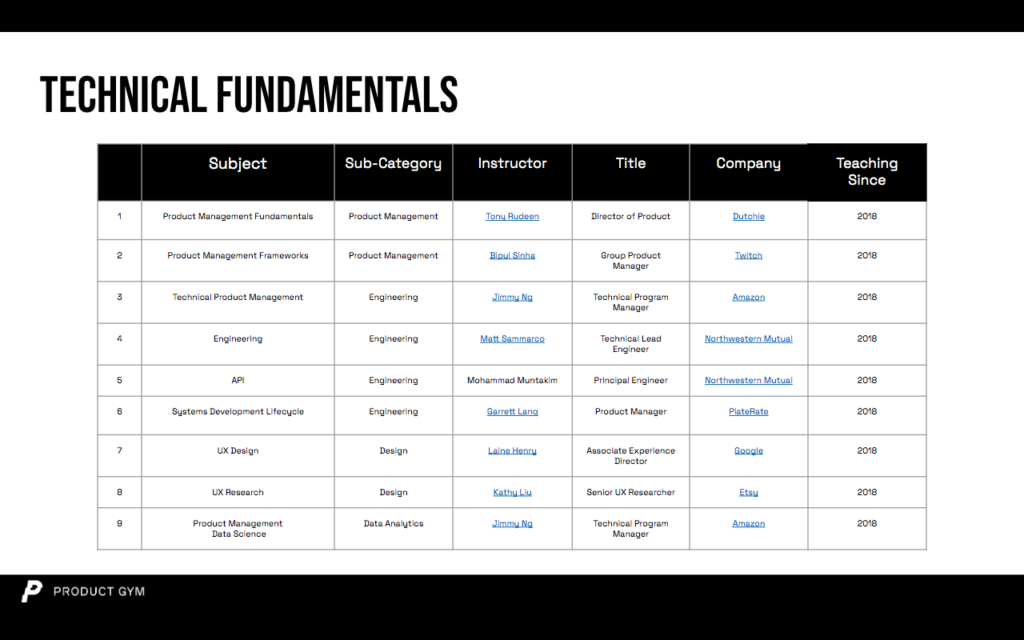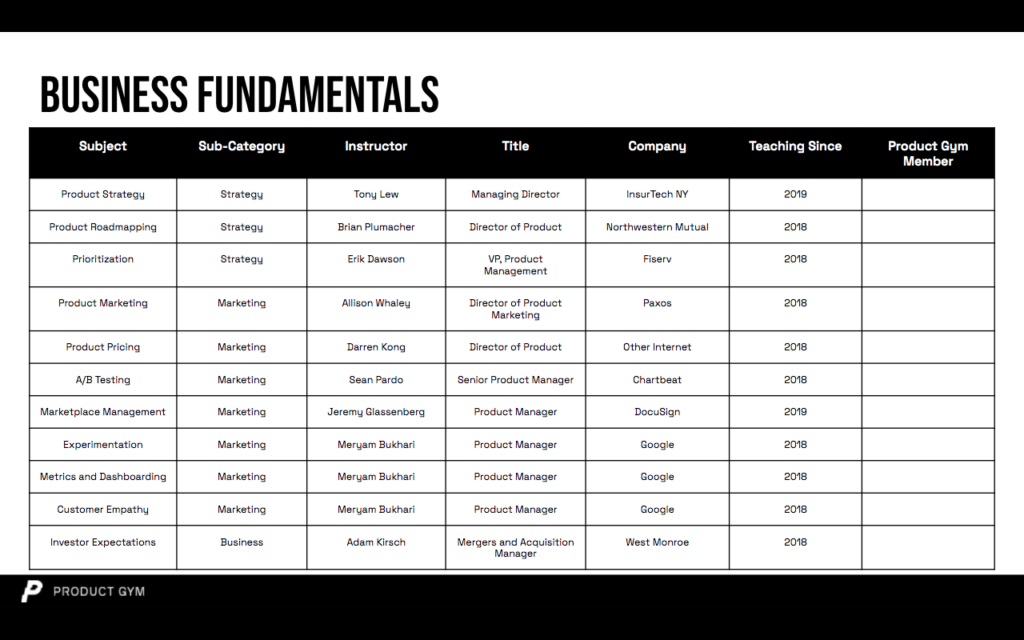 At Product Gym, you are taught by subject matter experts, including:
Technical and Software Engineering Leads

Product Designers, UX Designers/Researchers

Data Scientists

Product Marketing Managers

Product Strategists
They will co-teach the course with the lead product management instructor by focusing each of their respective 2.5-hour sessions on the subject they are professionally skilled in, allowing you to get the most out of each meeting. We want you to be equipped to succeed on the job as well as in your onsite interviews.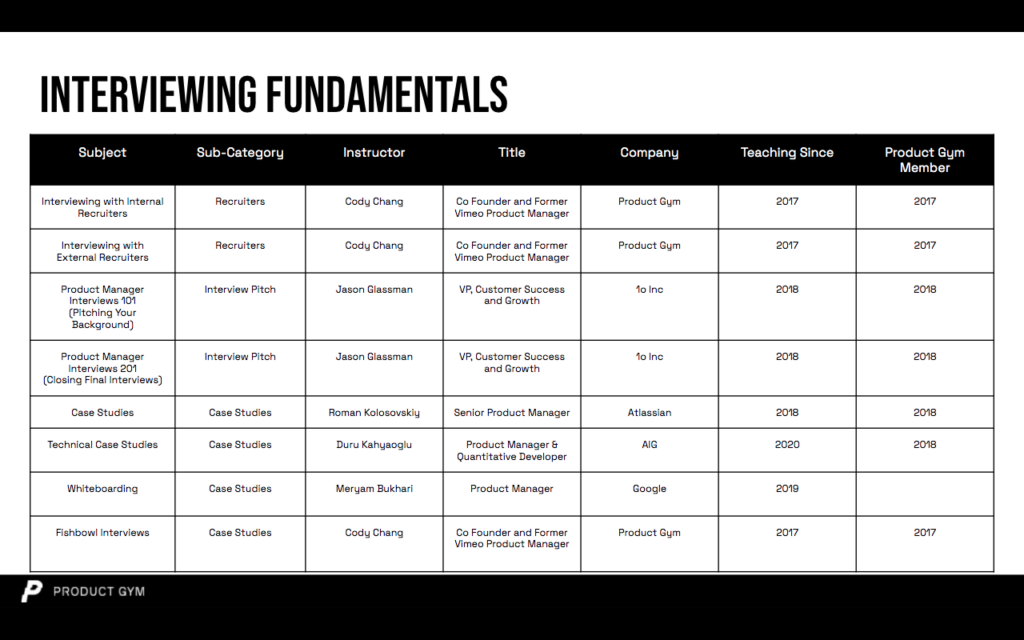 At Product Gym, we understand the importance of interviewing. So, teaching you how to prepare for it is one of the key areas we focus on. You will learn what will typically be needed from you in an interview, and also receive feedback on your interviews.
We take your time seriously when it comes to interviewing. Product Management onsite interviews can last anywhere from 2 to 5 hours. How much time can you take off your day job before it becomes blatantly obvious you are looking for another job? We figured that the best possible advantage we can offer your job search and career development is to invite all the different kinds of stakeholders you will have to interface with on a daily basis as a Product Manager. The better you can understand how these stakeholders think, no matter what questions you are asked during the onsite interview (because it's impossible to know the answer to every question), you can always answer the questions with clarity.
Product School Course Content
Product School does touch on how to actually search for a job. During the course's last week, they teach job search strategies and how to interview for Product Management jobs. But for people transitioning into Product Management, one week is not long enough to master the product management interview.
Product Gym Instructors
Another area you should focus on when choosing the right Product Management course for you is the amount of support you will receive. The instructors themselves are key to your success during a Product Management course, so having multiple instructors or coaches to go to for help is extremely important. It wouldn't be fair to assess the quality of the instructors themselves, as all of them have experience with Product Management. However, Product Gym does provide a certain advantage when it comes to its instructors.
Product School Instructors
At Product School, you have one lead instructor per course, and that's it. This means that if you need help or advice, Product School limits you to only one person to contact. While the instructor might be a Product Manager with a great amount of knowledge, they might have trouble getting you the personalized help you need. The instructor would most likely be spreading themselves too thin, and you could simply slip through the cracks and not receive the help that you need because there wasn't time to get to you.
One thing missing in Product School, in regards to instructors, is variety. product management requires you to be proficient or at least knowledgeable in multiple areas of expertise, and no one Product Manager is perfect. Some Product Managers will be better suited to teach you certain aspects of the job than others. With only one lead instructor, there is no way to be sure that you are getting the best possible instruction for every aspect of product management.
Product Management Course Duration
Close to 43% of our membership comprises of Product School graduates who were unable to land Product Manager positions after they graduated.
With our lifetime membership, all of our members are able to access our course materials for as long as they need after their course has ended. The reason for this is that we understand that your transition may last a while depending on the amount of time you have to interview.
Upon your enrollment, we put you directly into a pre-course session so you are not waiting for your course to start. Product Management is not about staying still, so why should you?
With a full-time job as well as other responsibilities, it can be hard to find time to take a full-time product management course. For this reason, our Product Management course is part-time, meeting after your day job twice a week. While this is also the case for Product School's course, the length of the course itself is what separates us. The course at Product School lasts eight weeks while Product Gym's courses only last 6 weeks, which makes it the shortest and most flexible course available to you. We waste no time teaching you the ins and outs of product management and will help you get your resume ready for applying as soon as possible.
Product Management Course Material Access
Product Gym is one of the shortest programs currently on the market. We focus on more robust topics that matter in the transition to product management while cutting out the unnecessary such as 2 weeks of public speaking training. As a bonus, Product Gym is the only program that will give you course material access after the course has ended.
It would be unrealistic to say that every person who enrolls in a Product Management course will land a job within the course duration, regardless of which one you choose. We are aware that some people might take more time to find a job than others, so we give our members access to our course materials for up to twelve months after enrolling in the course. At Product School, your course material access ends when the course does, which means when your 8 weeks are up, you will not receive any more help, whether you found a position or not.
Product Management Course Enrollment
With Product Gym, you can enroll anytime that works best for you and still receive the full six weeks of instruction. At Product School, the courses have scheduled start and end dates, so if the dates they provide don't work for you, you're out of luck.
With Product Gym, the course starts when you want it to.
Product Gym vs Product School: Case Study Support
| | | |
| --- | --- | --- |
| Case Study Support | Product Gym | Product School |
| Case Study and Interview Assignment Support | Yes | No |
| Senior Member Support (support from senior members who have done a similar if not the same case study) | Yes | No |
Case Study and Interview Assignment Support
There are four rounds to every Product Management interview. Case Studies and Interview Assignments have become more prevalent between the second round phone call interview and the third round onsite interview. This is absolutely crucial to the success of every Product Manager candidate in the market.
Product School doesn't provide their members with any support in this area. However, Product Gym's curriculum includes access to case study templates, a bank of case study question prompts for you to practice with, and feedback from senior members and coaches on your initial case study practice. Our case study curriculum was developed by Roman Kolosovskiy, a Product Gym senior member who is now a Senior PM at Atlassian, as well as our Head Coach and Mentor.
Product Gym vs Product School: Branding
| | | |
| --- | --- | --- |
| Branding | Product Gym | Product School |
| Resume Revamp | Yes | No |
| LinkedIn Profile Optimization | Yes | No |
| Cover Letter Revamp | Yes | No |
| Pitch Refinement | Yes | No |
We will show you how to revamp your resume, LinkedIn, cover letter and personal pitch for the ATS aks (recruiting software or resume bots) within 7 to 10 days after you enroll with Product Gym. You will create your rough draft as part of our course offerings and we will help you with the final draft. To ensure quality control you will not be allowed to apply unless your resume is approved.
Resume Revamp
At Product Gym, we understand how recruiting works, as well as how Product Management hiring teams sift and sort through resumes. You will learn how to brand and optimize your resume so that your applications can pass through the resume bots that serve as the gatekeepers between you and the Product Manager job of your dreams. Your newly revamped resume will be designed for every position posted on the job boards. That way you do not have to waste your time spending hours on end customizing your resume for positions that you may never hear back from.
Upon your enrollment at Product Gym, our Member Success Agent will walk you through the Member Portal. There, you will be provided with detailed instructions on how to craft your resume. This process should take you no more than a few hours. Next, our Member Success Agent will proofread your resume and give you the green light before you apply — the branding will be approved in 5 days or less.
LinkedIn Profile Optimization
Did you know that 80% of the Product Manager positions out in the market are not even posted on job boards? These positions are the exclusive roles in that companies use specialized technical recruiters and headhunters to help scout out. Your LinkedIn profile only has one purpose, and that is to help generate more interviews that you actually care about. For those of you coming from Accounting, Banking, Consulting, Finance, Sales, Marketing, and a few other niche roles, you are probably already receiving LinkedIn Inmail Messages about roles that you do not care about.
Product Gym will help optimize your LinkedIn profile for the roles that you actually do care about. Think of this process as "Search Engine Optimization" or "SEO" for your LinkedIn profile.
Cover Letter Revamp
Cover letters still matter, and that is why Product Gym will help you write one. The importance of cover letters is high; most Product Managers we talk to will not consider a Product Manager for a hireable position unless they have a well-constructed cover letter.
Pitch Refinement
We will also help you create your perfect personal pitch that will help sell your background and strengths. This way, you have a tailored pitch to go into every interview. A personal pitch that highlights your strengths rather than your weaknesses will dramatically differentiate you from your competition.
Product Gym vs Product School: Career Coaching
| | | |
| --- | --- | --- |
| Career Coaching | Product Gym | Product School |
| Career Coaches | Yes | No |
| Lifetime Membership Network | Yes | No |
| On-Campus Recruiting | Yes | No |
| Web-Based Resources | Yes | No |
When considering which Product Management course is the right choice for you, one should consider the level of career support they will have during their time in the course. Product management is a highly competitive field to get into: you need a supportive community in a place that will keep you accountable. Here's what our online platform looks like for members and coaches to share questions, comments, and requests: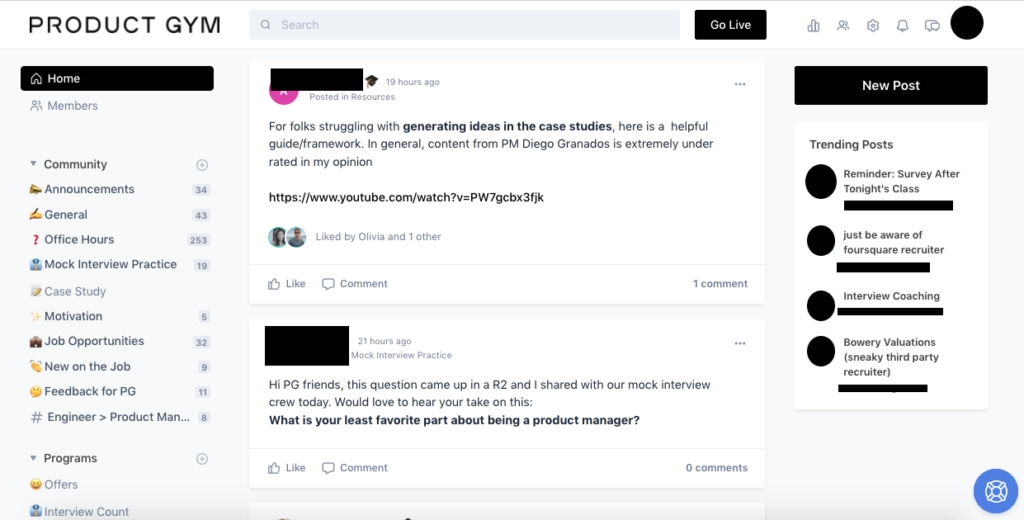 (don't mind those black shapes on the image — we just need to respect the privacy of our current members!)
Career Coaches
At Product Gym, our Career Coaches have former Technical Recruiting backgrounds (they understand hiring intimately) and are here to help you every step of the way. You will always have the support you need to become a successful Product Manager, from a personalized game plan to never-ending motivation.
Product Gym In-Residence Career Coaches help you reach your Career Goals faster by:
Customizing an effective career-management strategy.

Assisting with self-assessment exercises.

Providing a suite of tools to research industries and job functions.

Developing necessary career skills (e.g., resume writing, networking).

Teaching interpersonal presentation strategies through mock interviews.

Evaluating job offers and teaching negotiation techniques.

Providing strategies to leverage your strengths and industry experience for you to transition into the best Product Manager role for you.
But don't take our word for it, visit our SwitchUp Review Page to see what our members have to say.
The Product Gym Lifetime Membership
Product Gym members enjoy full access to our lifetime membership network for both job searches and for connecting with local product managers and PG members. Some of our senior members came to Product Gym after first going through Product School's program. Check out what they have to say about Product Gym vs Product School in this video:
On-Campus Recruiting
Product Gym's on-campus recruiting services are available to all Product Gym members and senior members. Since Product Gym specializes in training Product Managers, companies reach out to us all the time to help fill their vacancies.
Member Portal and Web-Based Resources
Product Gym members have full access to Product Gym's proprietary web-based career-management resources. Our online repositories provide a wealth of content specifically targeted to the needs of Product Gym members, including:
Articles

Archive of interview questions and classes

Online Guides

Relevant Links
Product Gym vs Product School: Application Training
| | | |
| --- | --- | --- |
| Application Training | Product Gym | Product School |
| Scalable Application Methodology | Yes | No |
| Introduction to Technical Recruiters | Yes | No |
| Application Assistant | Yes | No |
With Product Gym, you will start applying 10 to 14 days after you enroll. On the other hand, our competitors will encourage you to apply to positions towards the end of your course or even after your course has ended.
The only leverage your Product Management Instructor offers you is the insight they can provide for you during actual product management interviews. We have our members apply within 10 to 14 days because we understand that it takes time for hiring teams to get back to your application.
PS: If you're looking to start applying right away, you'll probably want to access our free Product Manager job board. We update it every week with all the best new job postings, all in one place, so you can apply faster!
Scalable Application Methodology
Our proven application methodology allows for you to apply to 60 to 100 applications in less than 1 hour. You are busy, and we appreciate that. Spending hours on end applying to positions is not scalable, which is why we created a process where you can achieve scale with your applications.
Introduction to Technical Recruiters
We also introduce you to an approved list of Technical Recruiting vendors. With this list, you do not have to worry if the recruiter you are working with has your best interests at heart. Technical Recruiters work with companies of every size to ensure they onboard only the best Product Managers each local market has to offer.
Product Gym vs Product School: Interview Support
| | | |
| --- | --- | --- |
| Interview Support | Product Gym | Product School |
| Start Interviewing | From day one | After the course ends |
| Interview Feedback | Yes | No |
| Office Hours | Yes | No |
| Case Study and Interview Assignment Support | Yes | No |
| Real-Time Coaching Feedback | Yes | No |
Start Interviewing Now
In addition to teaching the essential skills required to be a successful Product Manager, Product Gym places an emphasis on helping you secure your own interviews so you can land the right Product Manager job faster. The application, as well as hearing back from the company you applied to, takes time. It can take as long as 4 to 6 weeks. It is imperative that you apply to as many jobs as possible, so you can start interviewing immediately. Anybody that has aggressively job hunted before understands that if you apply for a job today, that does not mean that you will hear back tomorrow or even this week.
You will be able to start generating interviews within 21 days after you enroll with us, while at Product School, you won't begin interviewing until after the session ends.
Interview Feedback
Since our inception, we have been able to develop a strong archive of Product Management Interview questions. We have provided feedback to all the interviews our members do, so they can understand what they did well, what they need to improve, and how.
Office Hours
Our Office Hours support is designed to address and archive interview questions submitted by members — these questions are answered daily by our coaches. Within Office Hours, our coaches have addressed over 3,000 product management interview questions. The answers and explanations are available to you at any time.
Big Obvious Disclaimer
This content was written by the Product Gym team. The fun fact is that this course was built by our Founder, Richard Chen, after his experience as the Campus Director for Product School's New York Campus. It was not created to compete, but to serve the needs of a more specific target. Product Gym's objective is to "make sure you learn in a very practical way how to land a Product Manager job."