We will get started by teaching you how to generate more Product Manager interviews, give you an extensive overview of what to expect every round, and a list of the most commonly asked Product Manager interview questions.
Let's get started by looking at the bigger picture…
Your Job Application Is Very Simple: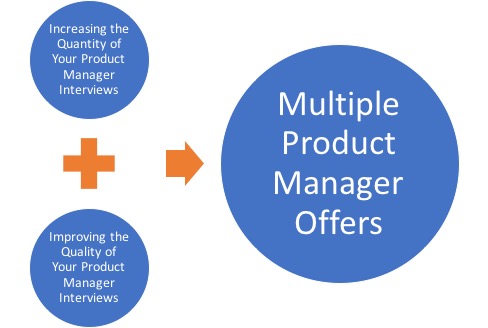 If you want to be a superstar at interviewing, there is one thing you should do: interview!
The best way to improve your Product Manager interview skills is through direct experience. Also, there is only one way of getting more interviews: applying to every opportunity. Whether you're interested in the company or not, just send out your resume and try to land as many interviews as possible.
You need to be pushed out of your comfort zone to feel comfortable sharing your experiences, summarizing your resume, and answering behavioral/technical questions. This will inevitably raise the quality of your interview techniques and take you to the further stages of your job application.
Also, Keep in Mind That: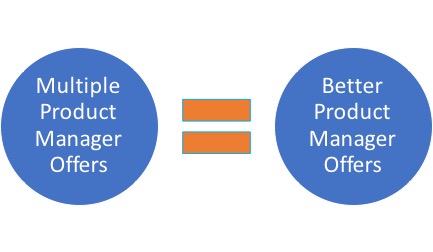 If you have multiple offers in your hand, then you would have the leverage to choose the best one for you. Therefore, the more you interview, the more (and better) offers you get!
Here's what we will be talking about in this article:
Phase 1: The Application
Why Job Hunting NEEDS to Be a Numbers Game
You will never improve the quality of your interview game without increasing the quantity of the interviews you go on. To earn that offer, you have to make the company want you. That will never happen until they are confident that you are the right person for the job and their team.
And they can never achieve this level of confidence until you are confident in yourself and in your Product Manager interviewing skills.
There is one, and only ONE way to build up that confidence: interviewing as many times as possible. Notice that we are not talking about mock interviews.
We are talking about ACTUAL interviews.
You have to be comfortable with getting out of your comfort zone. You should have no problem presenting yourself and doing your elevator pitch to complete strangers.
But how do you know you're confident enough? Is there a way to measure it? Not really, but you can use the definition below to understand when you are most likely performing Product Manager interviews confidently. Note that the companies interviewing you should also feel this way if you're going to receive that next round invitation.
Playing the numbers game never fails you…even during COVID-19. Despite the significant decrease in hiring, Product Gym members have been landing jobs constantly. Watch this video to learn how: