If you're dipping your toe into product management, you've probably heard the phrases "scrum" and "agile" thrown around quite frequently. But what is scrum? We're not talking about rugby.
Scrum Definition
Scrum is one of the most popular, if not the most popular, management frameworks available. Most Product Managers around the world use Scrum, making it a very important framework to learn and understand.
Scrum is available to Product Managers all over — however, it can be quite difficult to utilize without the proper training. The reason Scrum as a framework in Agile methodology is so popular is how lightweight it is and how simple it is to understand. However, do not underestimate the framework, as it is simple to understand, but difficult to master.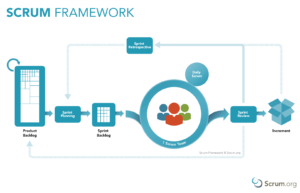 The layout of the Scrum Framework
The framework all begins with the Product Backlog or all of the projects that are necessary in order to make the Product successful. This backlog is then split upon during sessions known as sprints, which is the basic unit of development in Scrum lasting about a month or less, with a 'done' product increment is produced.
The Sprint is a timed effort, in which it is designated to a specific time duration. The Product Backlog is split into a Sprint Backlog, which is then given separately to different Scrum teams who conduct daily scrums, which is a 15 or so minute event for the development team to sync and create a plan for the next 24 hours, and sprint reviews, which is used to assess the increments, and readjust the backlogs if need be. If the Sprint is good, then it is placed back into the Product Backlog — if not, then it is incremented, or placed into a Sprint Retrospective to distribute once again into the cycle.
The Scrum Team
The Scrum Team consists of a Product Owner, the Development Team, and a Scrum Master. These teams are not only self-functioning, but they're also cross-functioning teams composing around these 3 critical roles. Since the teams are self-functioning, they make their own decisions and choices on how to best accomplish the designated work, rather than have an outside source give directions on how to proceed with the work.
So, how would this exactly provide beneficial aspects to a company? The Scrum team model is designed to optimize Creativity, Flexibility, and Productivity for individuals.
Still Have Questions?
If you're learning the ropes of product management, it helps to have some support. Product Gym is a lifetime membership program for PMs, PM job hunters, and product people of all sorts. Getting people jobs in product management is our bread and butter: that makes us very good at assessing where you're at in your job hunt and equipping you with the knowledge and skills you need to kickstart your dream career in product management. And that includes necessary information like learning about Scrum and Agile Methodology.
If you want to learn more about the ins and outs of Product Manager skills and job search tactics, get in touch with us! We're offering free career coaching sessions with our in-house team of PM Recruiter experts. We'd love to hear from you.