Are you having doubts about which Product Management program to choose to take your career to the next step? Here's an honest comparison of Product Gym vs Thinkful to help you with choosing the right curriculum for you!
There is no doubt that there are other Product Management programs other than us here at Product Gym. And each of these programs come with their pros and cons. Here are the main differences to help you weigh your options
Product Gym Is Specialized While Thinkful Is Generalized
If you go to Thinkful's website, you will quickly notice that their Product Management program is one of the many programs they offer.
Like many other programs out there in the market, Product Management is likely to be an add-on to their primary focus, which looks like it's Software Development.
The testimonials, success stories, and member data come from people who took the Engineering courses and can't see anything related to Product Management on their home page.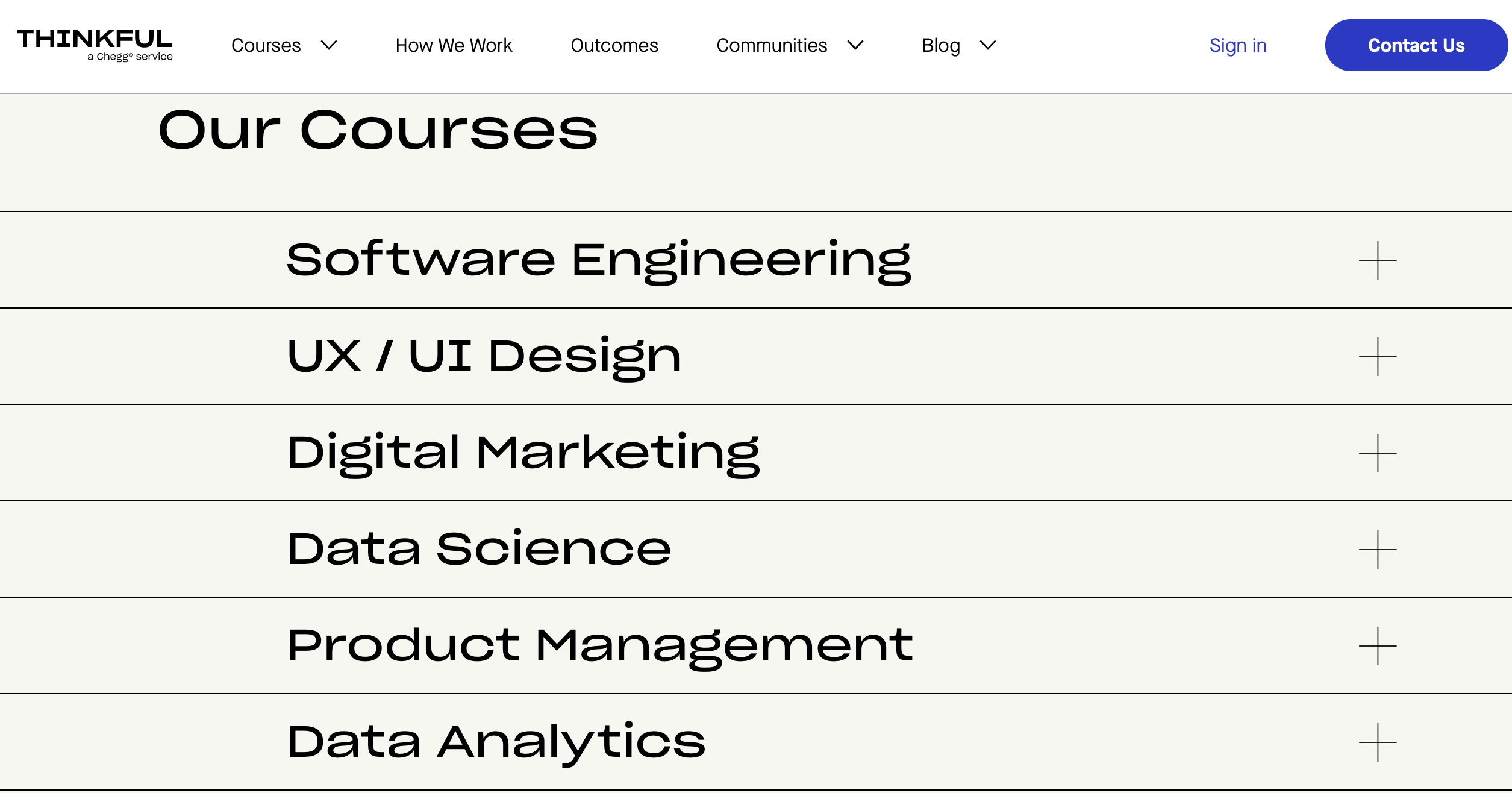 You don't even have to go to our website to tell you that we are all about Product Management. As you can understand from our name, Product Gym offers a single program that focuses solely on Product Management.
All of our resources and work improve our services and make our curriculum the best in the market. There is no other specialty we have.
Success Stories
Product Gym vs Thinkful: which one leads to a higher success rate? We know that the best way to see if a program works or not is to take a look at the success stories coming out of it. Product Gym is very proud of its members, and we use our website and YouTube channel to host our members who transitioned into Product Management with us.
They prove that our approach works; they also act as an inspiration to many people who don't necessarily come from PM backgrounds and find it impossible to make a switch.
We have a page on our website dedicated to our members' success stories, who come from a broad spectrum of professional backgrounds.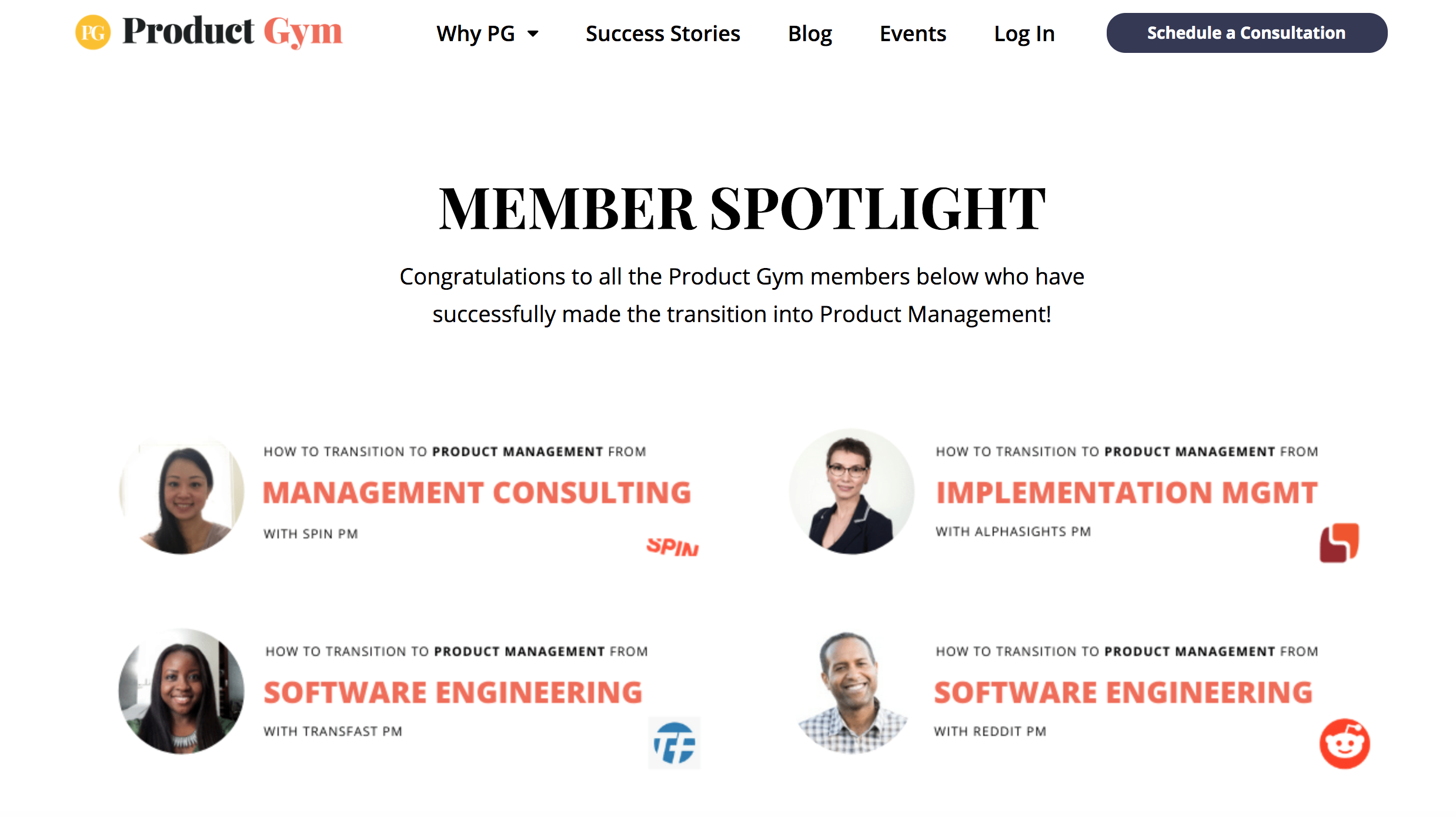 Taking a look at Thinkful's Product Management page, however, we are yet to see a single success story that shows that their members were able to land a Product Manager job after signing up for their program. All of the success stories are about people who transitioned into Software Engineering.
Product Gym and Thinkful Reviews
Like the second point we've made, readProing a program's reviews can give a prospective member a good sense of the program's effectiveness. In our opinion, the most reliable source to check for reviews in our industry is SwitchUp.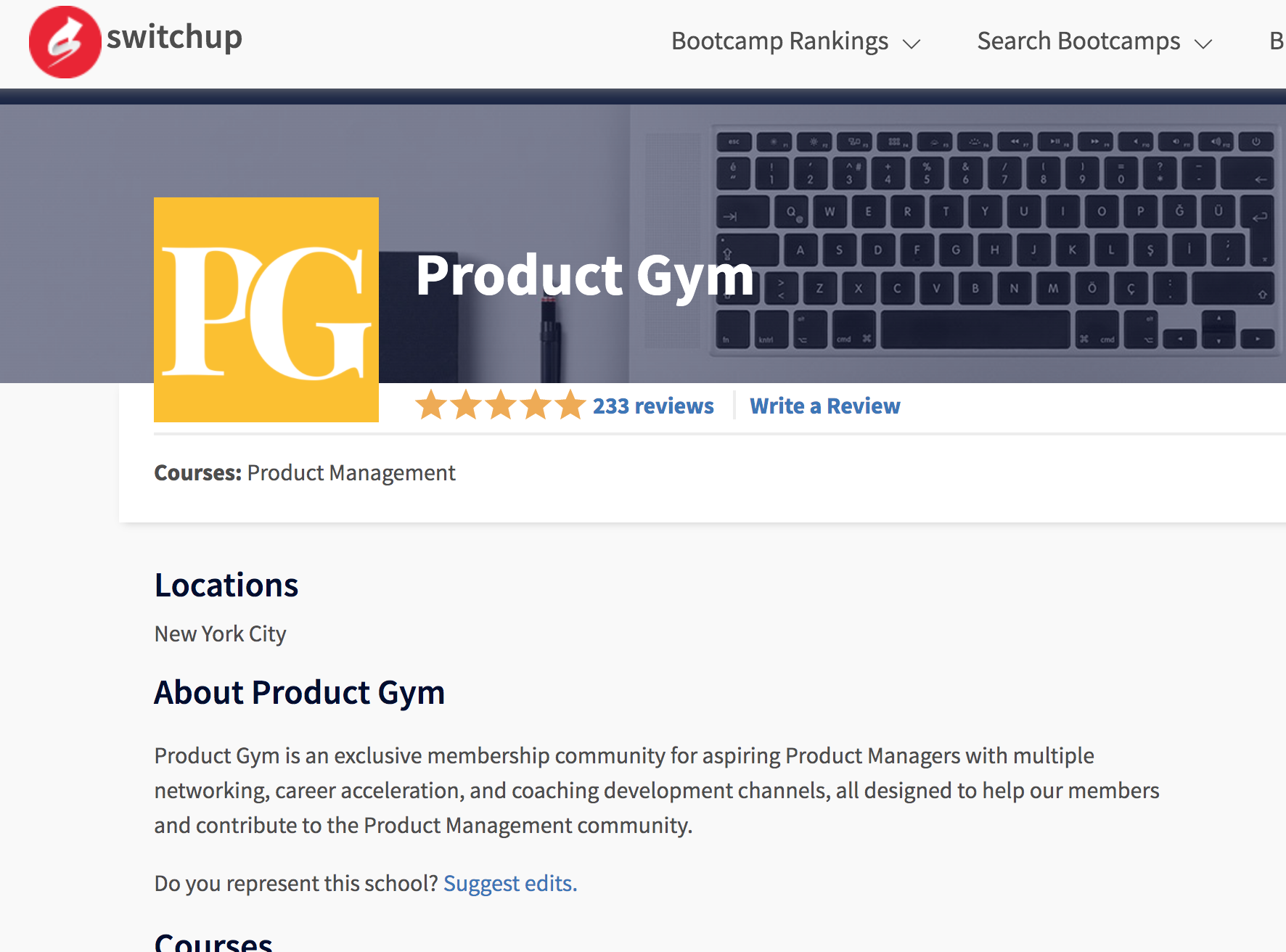 Product Gym has over 200 reviews that are only about members transitioning into Product Management with us.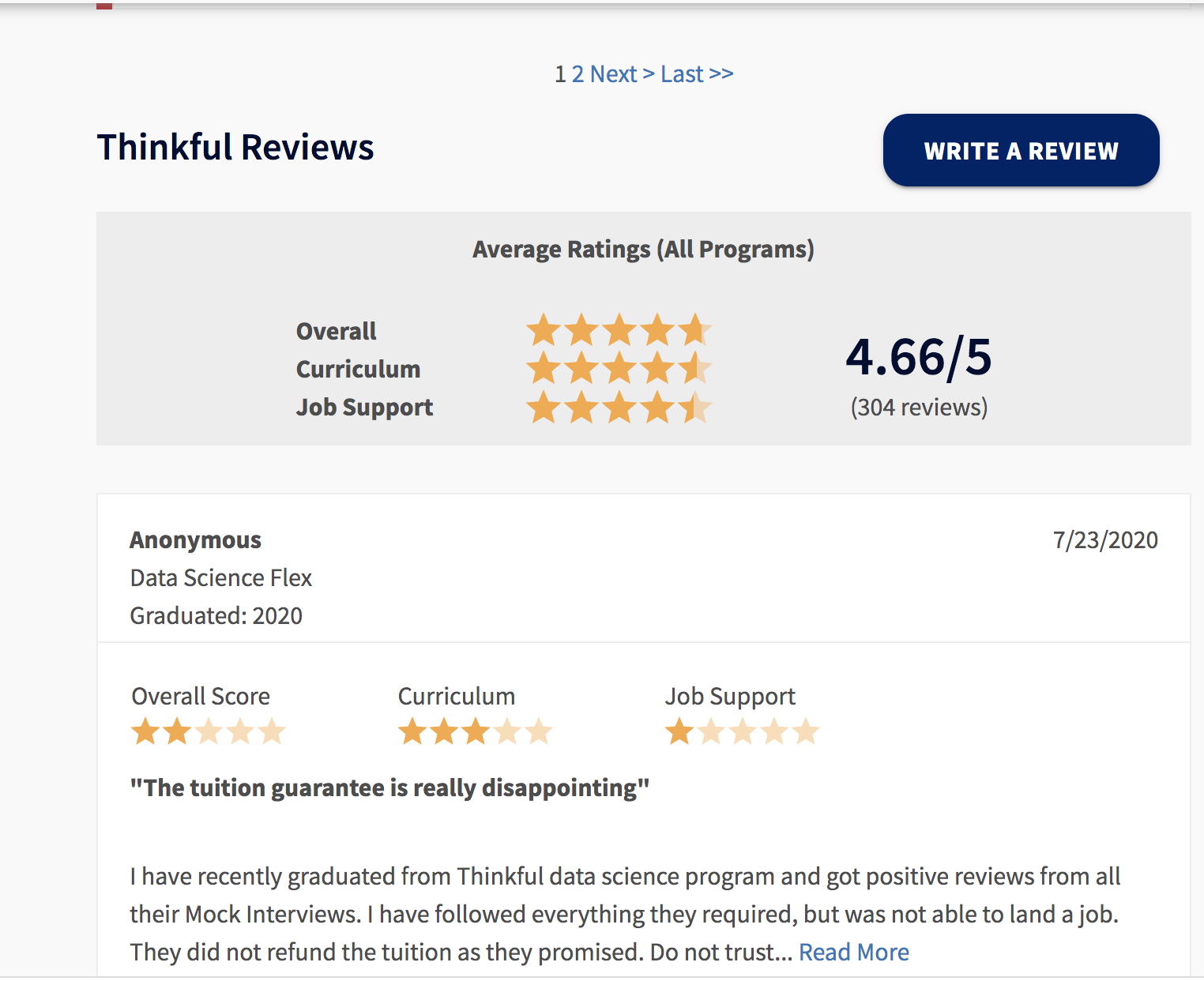 Looking at Thinkful's first page of reviews, we are yet to see a single review on their Product Management program, which should be a good indicator that this program is not getting a lot of demand.
Pricing and Payment
Both Product Gym and Thinkful offer their Product Management programs for $4,500 when the member decides to pay the fees upfront. Both programs also offer more flexible options.
At a slightly higher price, Thinkful has a monthly payment plan.
Another standard payment plan that both programs have is the Income Shared Agreement (ISA). We both recognize that while prospective members might be eager to make the career transition, they might not have sufficient funds to support themselves.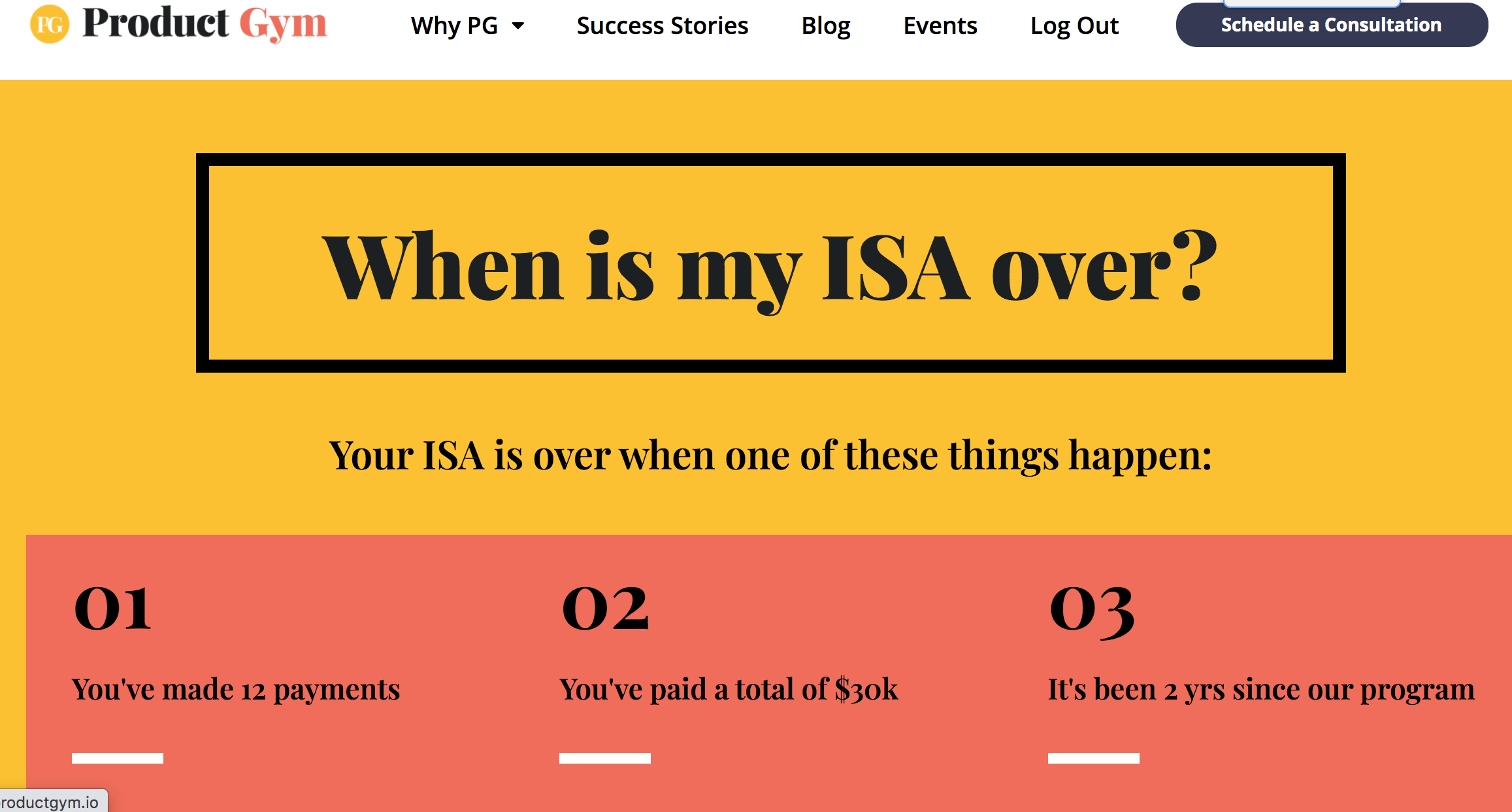 Product Gym's ISA model only charges the member $500 or $1,500 upfront (depending on which ISA plan the member decides to go with) and takes the rest of the fees once the member lands and starts their Product Manager job. We take 10% or 6.5% of their annual income (once again, depending on which ISA plan the member decides to go with), given that they make at least $60,000 annually. We also know that paying all of the fees upfront is a challenge, so members have 24 months to make 12 required payments. Regardless of how high your salary is, you are capped at $30,000 in terms of fees.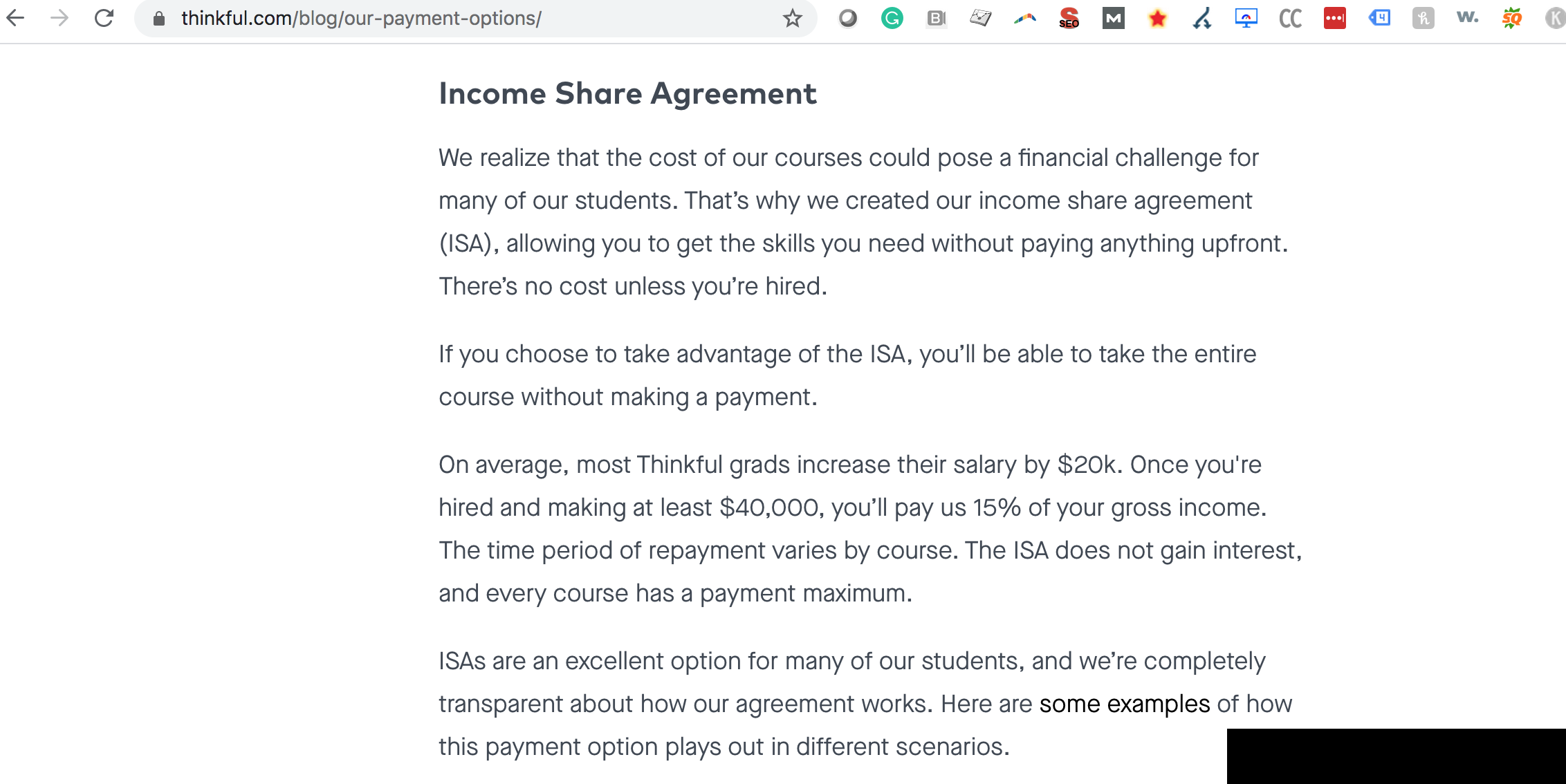 Thinkful's ISA model doesn't ask for any fees upfront and takes 15% of the member's income once they land and start a Product Manager job with an annual salary of at least $40,000. You can reach out to them to learn more about their repayment options.
In addition to ISA, Thinkful also offers members loans as another payment option. Interested prospective members can check their blogs for more information.
Product Gym vs Thinkful: Curriculum
Product Gym offers its members both the breadth and depth of today's Product Management practice. While our number one priority is to ensure that all of our members land Product Manager jobs, we also want them to be the best at their jobs. Here's a sample view of our curriculum: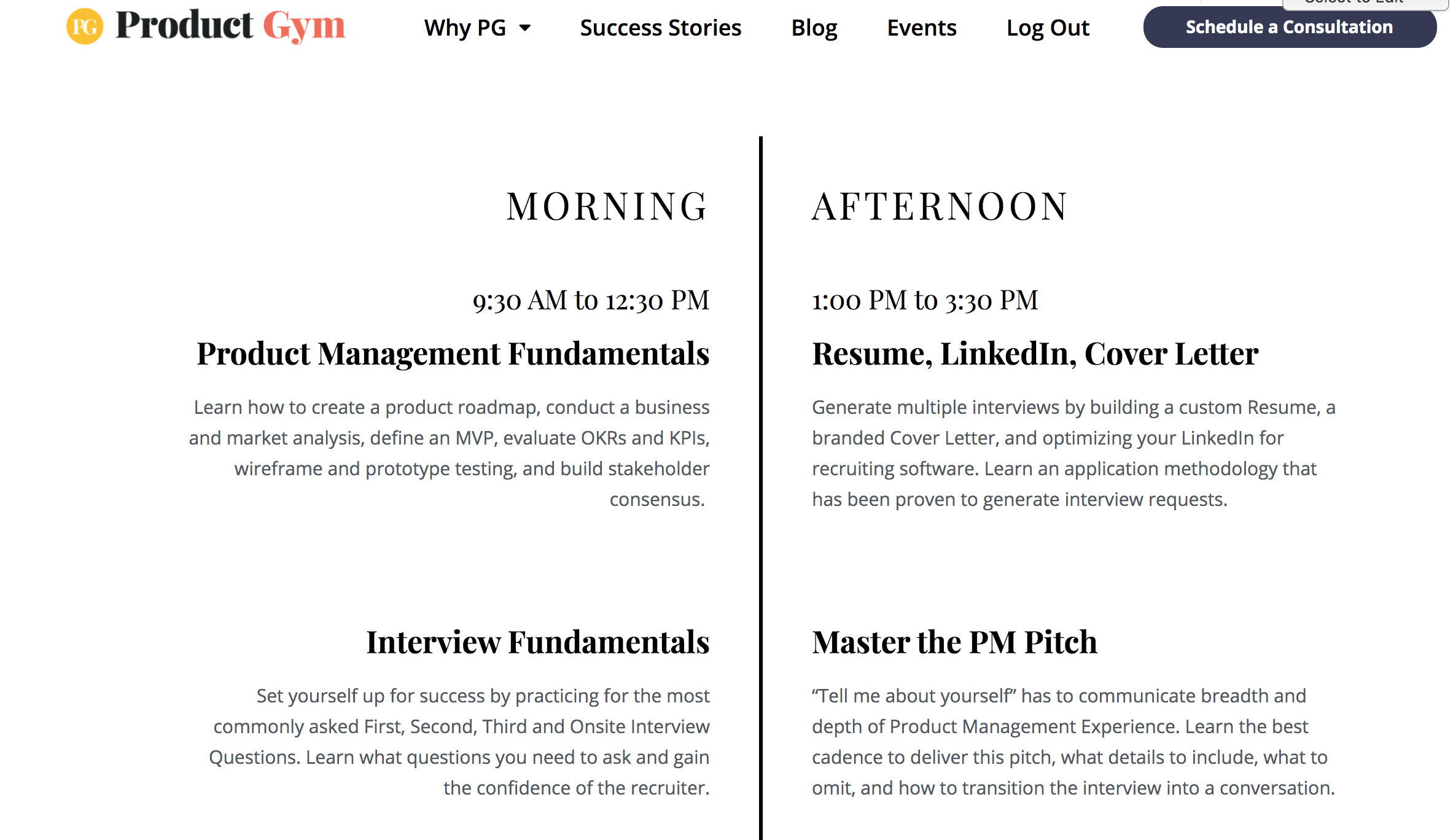 Thinkful also has a similar curriculum when it comes to Product Management practices. They also have a program that focuses on teaching the fundamentals of PM and UX design for client-faced projects, data science to understand and assess product KPIs, and agile basics to discover how iterative product development works.
Their website claims that there is also career coaching and one on one consulting offered, although we didn't see any details about how that aspect of the program works.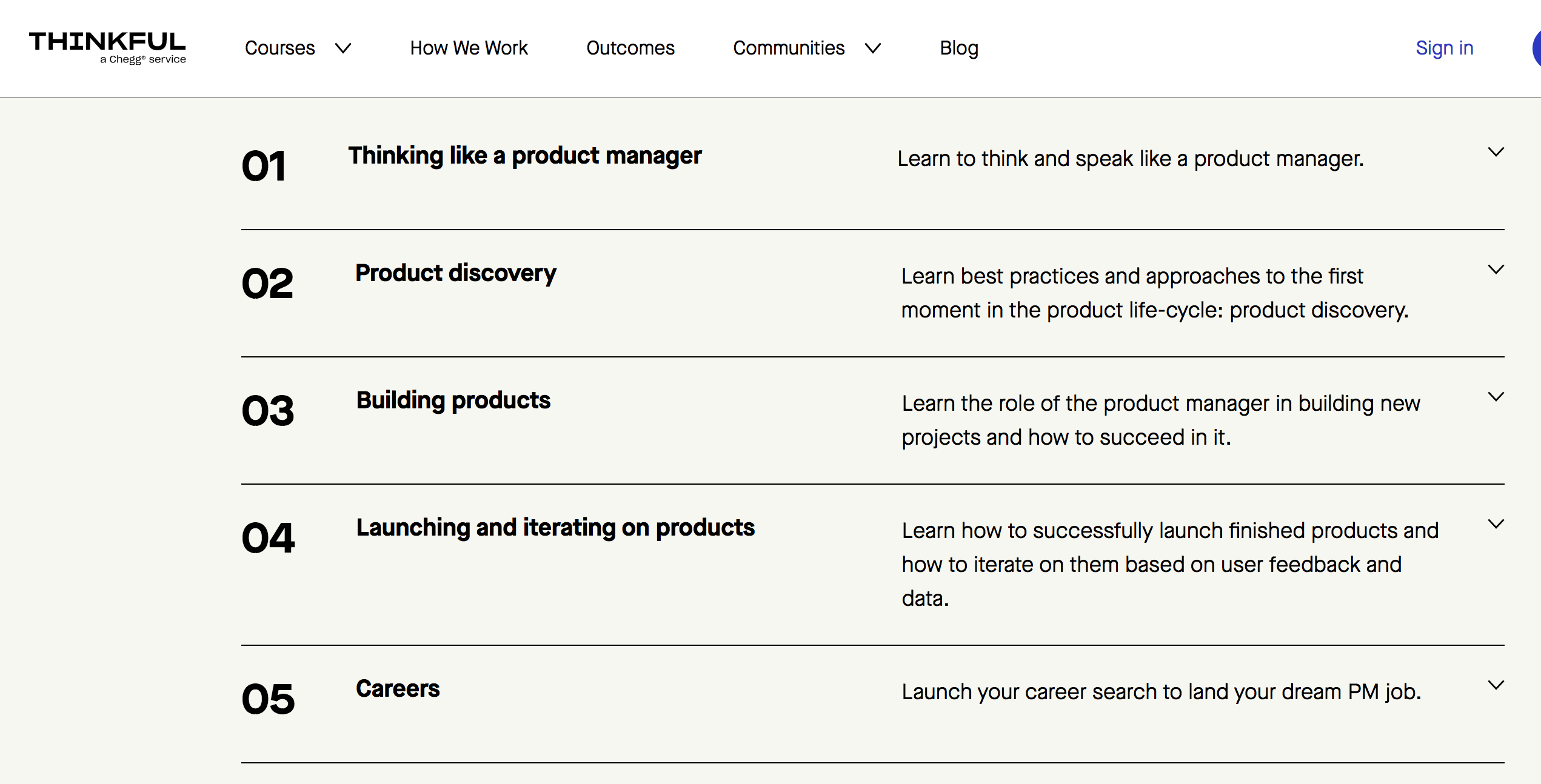 Product Gym vs Thinkful: Duration
Product Gym's cohorts are pretty flexible, given that most of our members are currently employed with very involved careers, and it's only a 40-hour program stretched into six weeks. Even when the classes end, the members have full, lifetime access to the course material and the career coaches who help them with branding, interviewing, pitching, and even salary negotiations!
We recognize that the current job market is very dynamic, and we have to have our members prepare themselves in the least amount of time possible. We offer both in-person courses (pre-COVID times, of course!) and online courses since we have members coming from all around the U.S. and the world!
According to Thinkful's website, the part-time Thinkful Product Management program takes six months to complete, and the members are expected to dedicate 25 hours a week. This is considerably longer than the Product Gym program. We weren't able to locate any information as to whether members have lifetime access to the course material or not.
Product Gym vs Thinkful: Community
We take pride in our Product Gym community, and our alumni are actively involved with the current members when it comes to asking for company-specific interview tips or information. We have a very active online forum that lets our current members and alumni be there for another and support their career transition journeys.
The Product Gym family currently spans all over the U.S. and the world, giving the members the incredible opportunity to network with people from all backgrounds!
Like Product Gym, Thinkful has a big community active in many U.S. cities, although we were unable to tell how much of that community is made up of Product Managers. We also didn't see any mention of an international presence.
Product Gym vs Thinkful: Resources
Product Gym proudly shares its knowledge with the rest of the world, free of charge! The Product Gym blog and YouTube channel have all kinds of resources when it comes to answering the most fundamental and the most specific questions about Product Manager careers. We publish our branding and case study approach, as well as our interviewing guides. We also host our alumni to share with us how they used our background to get a Product Manager career so that people with similar experiences can use their tips to change the course of their career.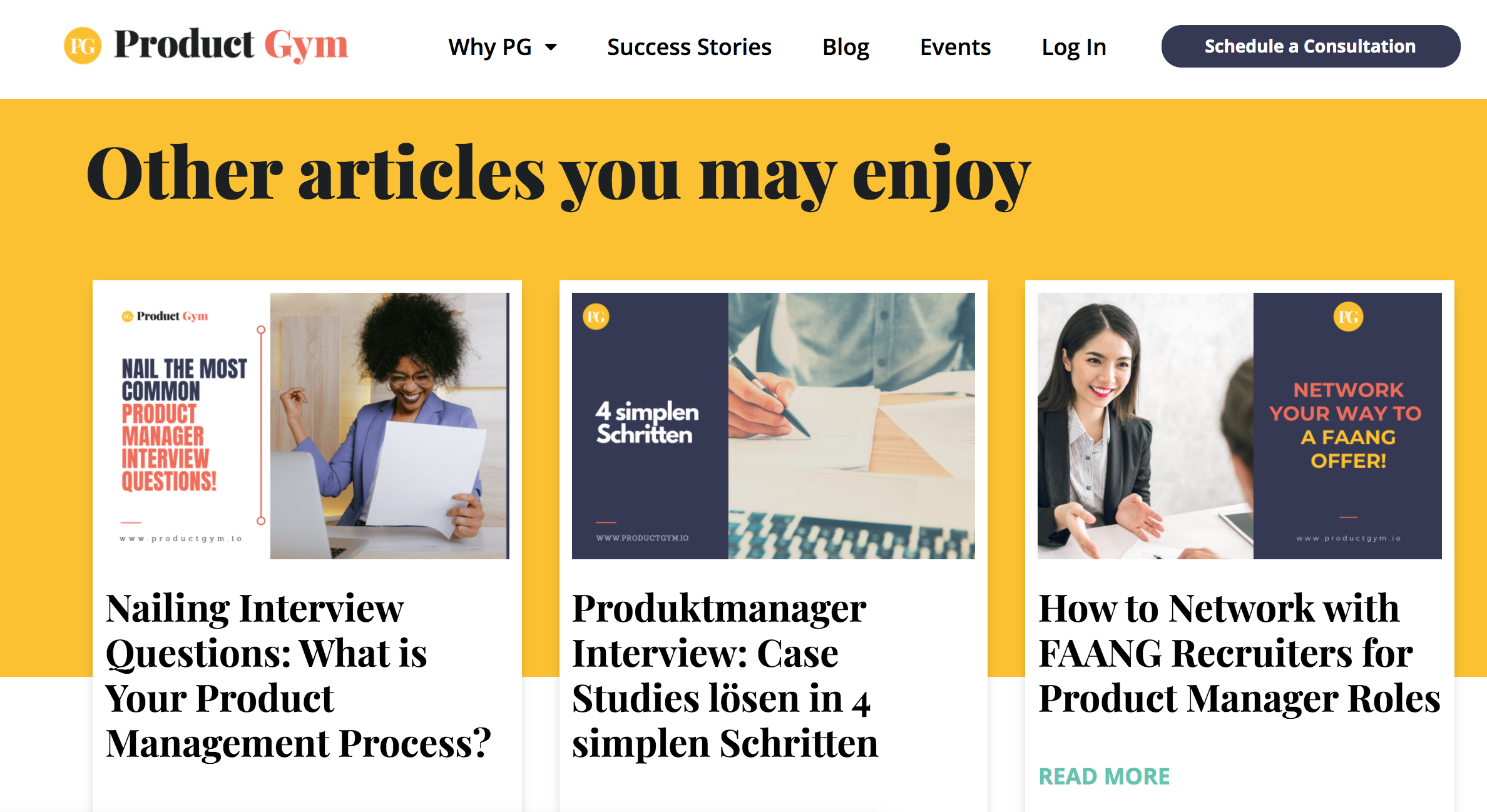 Like Product Gym, Thinkful also has a blog and YouTube channel, although the number of blog posts about the Product Management practice and the job hunt is minimal. We were also unable to locate any videos focusing on Product Management on their YouTube channel. It looks like they are still in the process of working on their PM content.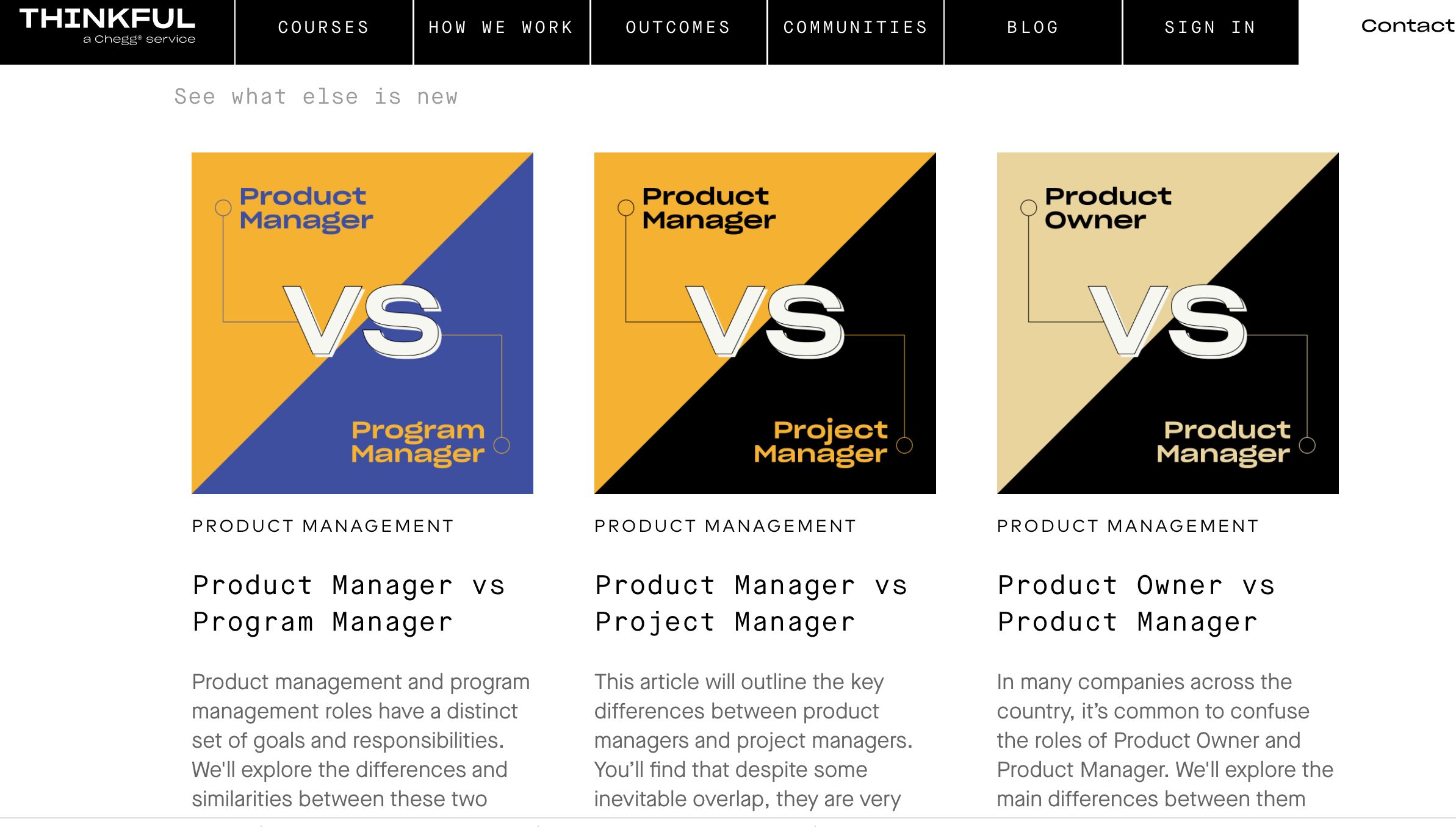 With the many programs available to you nowadays, it's very challenging to select the one that perfectly fits your needs. We hope that this article clarified some of the common questions that you might have while making a choice.
If you are interested in how Product Gym can help you, schedule a free consultation call with us today!