One of the best things you can do to set off your career as a Product Manager is to invest in a product management program. It's a great way to develop core competencies, build a personal brand, and bolster your interviewing skills — every expert in the industry has taken a product management course at some point in their career.
But not all are built the same, and being such a crucial part of your career development, it goes without saying that you should invest your time and money into an effective program with a high ROI. At the same time, the right product management course for an experienced PM would offer no value to someone who's just starting out.
So how do you find a Product Manager training program for you? Whether you're trying to break into the product management world or trying to land a better job, here's everything our career coaches advise you should look for.
What Should You Look for in a Product Management Program?
This might not be what many people want to hear, but getting the most out of Product Manager training online or off is just as much a result of the effort you put in as the merit of the course itself. In fact, successful Product Manager career coaching is a tripod model; there are three legs that support it, all equally important:
Clearly defined goals

Quality training

Personal commitment to the journey
During our free call consultation sessions, people often ask our career coaches whether Product Gym's career accelerator program is right for them. The coaches always start by asking, "What are you looking to get out of the program?"
Clearly defined goals are key to evaluating a product manager program as they provide a lens through which it can be examined. What are you trying to achieve as a Product Manager by joining a program? With this in mind, do the programs you are considering offer the tools, support, and education you need to achieve these goals?
The answers may not be as straightforward as you think. What you come up with depends on the quality and experience behind your product management career coaching as well as your own personal ideas and attitudes. However, it is important to be honest with yourself about the bigger picture.
What's Your End Goal?
Let's take the example of a person trying to break into the industry, or looking to land a better Product Manager position in a different company. There are multiple programs out there that offer product management skills training, but if these are your goals for taking a course, you need a program that will not only give you on-the-job skills, but also offer career skills training.
Research and experience have consistently shown us that while crucial, job skills are just one part of the hurdles job seekers face. The other major challenges are generating interviews and landing worthwhile offers.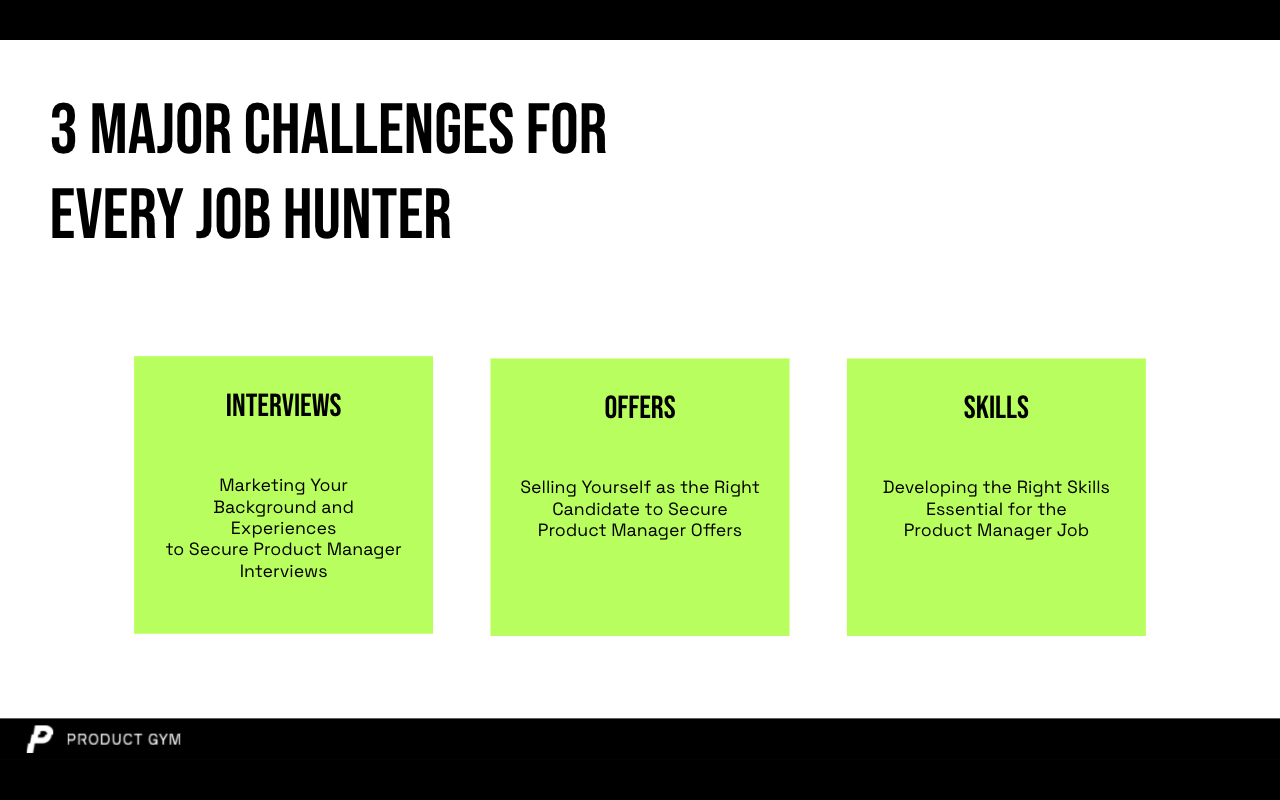 If this goal applies to you, solving these challenges should be at the top of your criterion when looking for a product management program.
This is part of the reason why Product Gym's membership program is so successful. We are the only leading program that offers both career skills and job skills to actually target getting a job.
Our unique approach to applying for product management positions is designed to do three things:
Prepare newcomers or veterans with real-time, relevant knowledge in product management.

Ramp up on interviews in several weeks' time.

Work with you to navigate the product management hiring landscape to garner multiple offers.
All this by product management instructors who share a similar career transition path and understand how it feels to be on the outside looking in.
How to Vet a Product Management Training Program
Having outlined your goals and narrowed down your options, the next step should be to assess the product management programs you have chosen. Most leading product management training courses require a heavy financial investment, so it's crucial to know how to identify one that will be valuable to you.
Here are some questions to explore:
1. What Is the Program's Placement Rate?
Job placement rate is one of the top things to consider because it is a direct reflection of the program's end goal for you — which should be to see you succeed and achieve your dream PM job! Positive numbers show commitment to helping you succeed. At the same time, the course you are looking at should be ready and willing to provide this information.
2. What Are the Instructors' Qualifications?
Look for information on the "faculty" and explore how much experience they have teaching about product management and the job market. Bonus points if the instructors have had a similar career path to yours. Which brings us to our next point…
3. Have People With Your Background Succeeded Through the Program?
A program with experience training people coming from a similar situation as you is more likely to anticipate your goals and curate your learning to fulfill them. For example, our membership program at Product Gym mostly with candidates from the below backgrounds: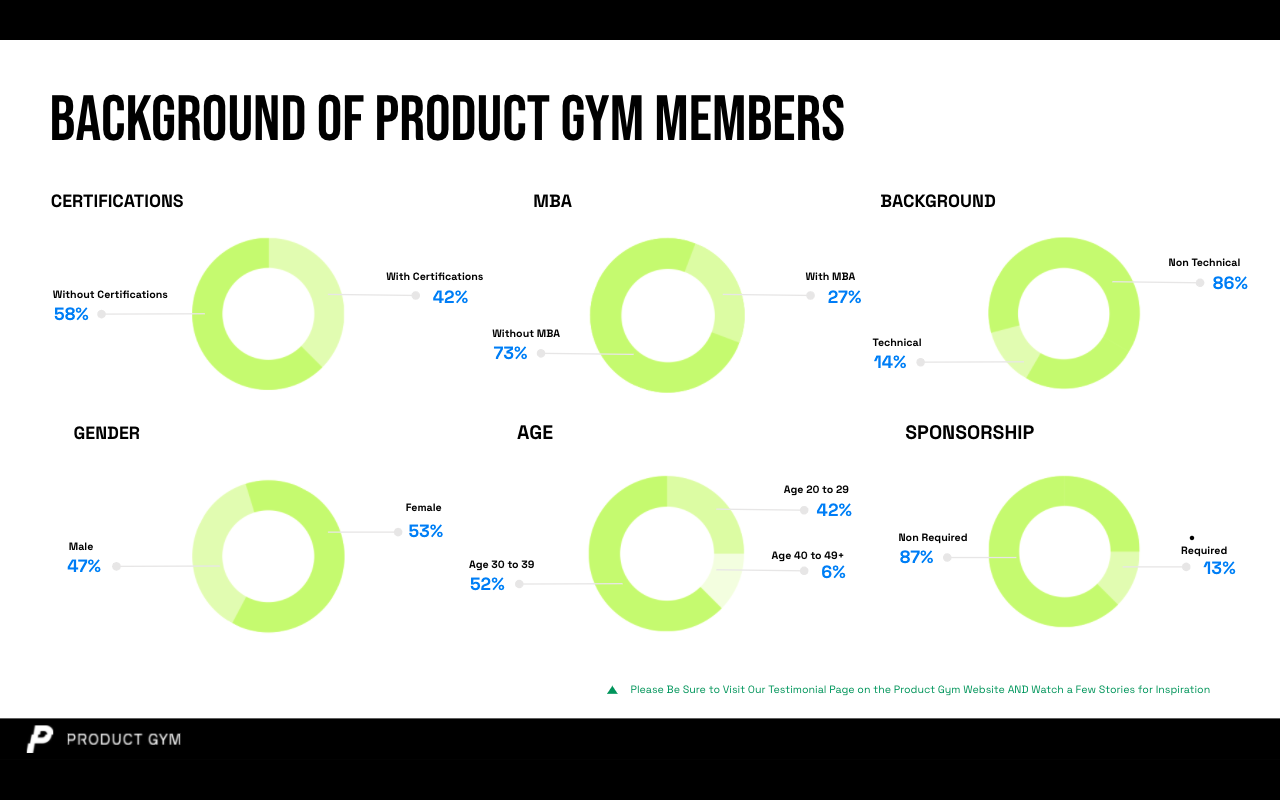 We tailor our program with this in mind, enabling us to provide effective knowledge and skills development, proper positioning, and career skills for these groups.
4. How Is the Course Designed?
Today's knowledge development process should be engaging with out-of-the-box methods. At the same time, a good program is one that gives you plenty of one-on-one time with your instructors. Combine the educational videos and remote lessons of Product Gym's curriculum with community platforms, practical exercises, and check ins when you need them. You'll receive consistent feedback and have access to a support system of coaches and other members even as you master the initiative of independent learning.
5. What Are Other Members Saying About It?
Last but definitely not least: Testimonials. No one can give you a better picture of a product than another user, so look out for reviews of the course from former students to not only vet whether the course delivers on its promise, but also to get a better picture of whether it is suited to your goals.
Product Gym's Product Management Training Program
Product Gym is dedicated to providing effective skills instruction and job-hunting strategies for the best candidates that want to make a career change or upgrade. This is what makes our product management program one of the best.
We know what you're thinking, everyone says they're the best. And that's true, so we'll let you decide for yourself. Here's a walkthrough of our program process to give you a good idea of why it's so effective.
All our members start with a 45-day kick-start program that covers both product management and key career skills to train you to succeed in interviews and the job itself. Yes, success can happen as quickly as 45 to 90 days after you start. Here's a snapshot of the journey you will take with us: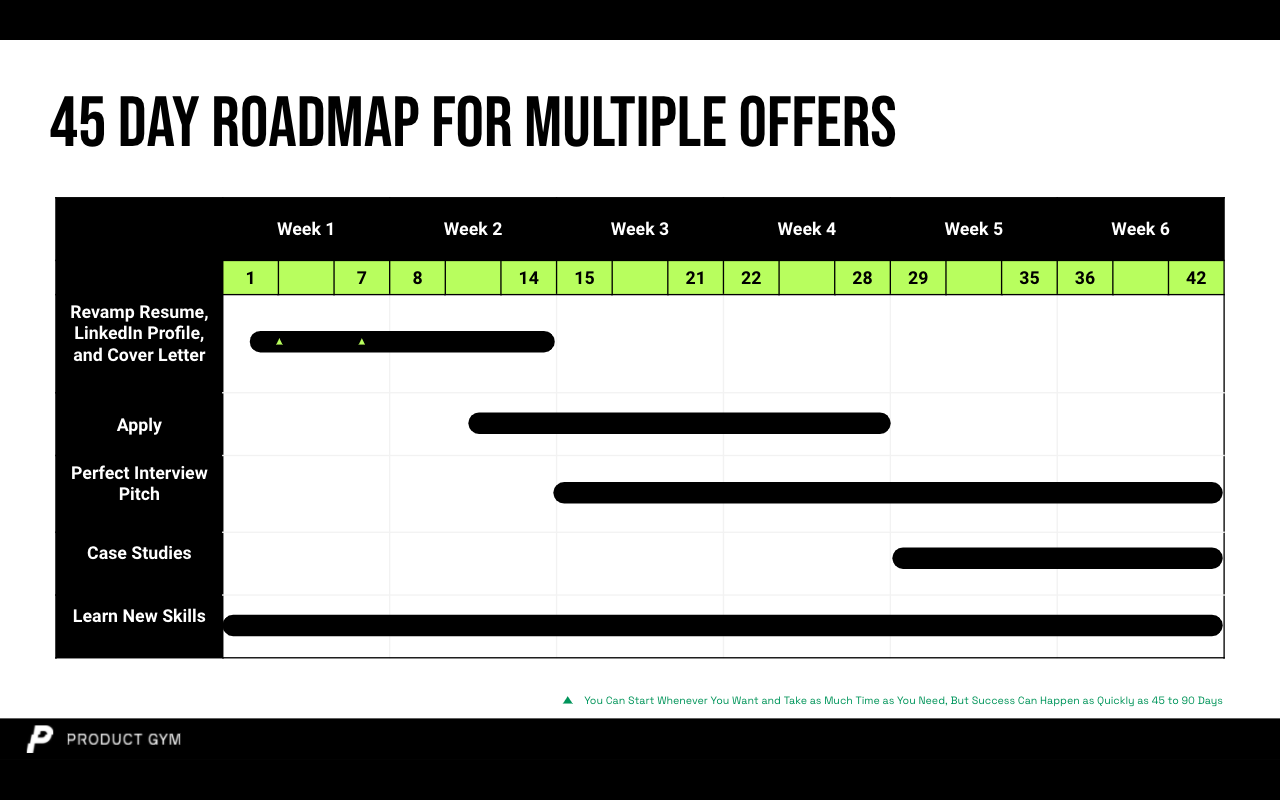 Let's take it step by step: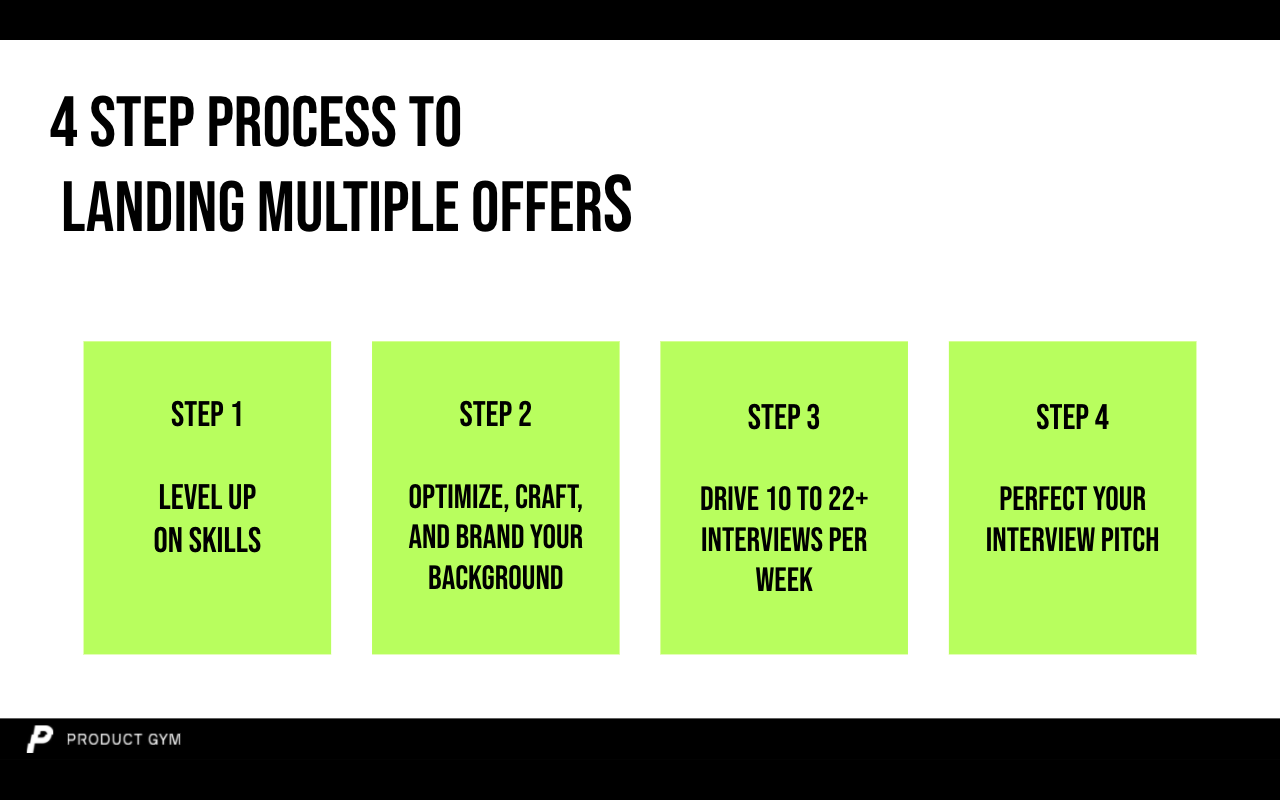 Step 1: Level Up on Skills
As mentioned before, a lot of Product Manager job seekers feel that their core competencies are lacking in some form or another. That's not good. To have the confidence to interview well and even apply to your dream job, you need to feel as if you can add value to a company's team.
So first things first, we work with you to develop the essential, practical, on-the-job skills for your product management career. We believe every member must have a strong and well-rounded technical foundation beyond just understanding basic engineering concepts and terminology to be a successful Product Manager. You'll also learn business fundamentals — which are vital to driving revenue and keeping your job — and interviewing skills that will help you communicate what you learn.
What's even better is that all our instructors are leaders in their fields and industry practitioners, so you will know all your learning can be applied in a real-world context.
Step 2: Optimize, Craft, and Brand Your Background
Here we'll take on challenge two: Getting interview offers. In this step, we focus on marketing your background and experiences to secure product manager interviews.
The number 1 question we receive on every consultation is, "Am I good enough to apply for a Product Manager position?" The majority of our members start out with imposter syndrome which stops them from pursuing their goal of becoming a PM — The root of which is an unclear skills development plan and lack of interviews that lead to job offers.
Since we'll already be working on supplementing your job skills, we'll focus on bolstering your confidence by increasing the number of interview requests you receive per week. Fewer interview requests = A higher degree of imposter syndrome. More requests = More confidence. Luckily, securing interview offers is easier than you think.
Here's a well-kept secret among industry recruiters: All recruiting is conducted through Applicant Tracking Systems (ATS). This means that the way to get more offers is to optimize your resume for these systems. Our experts will help you do that:
We're so confident in our branding optimization that we offer all our candidates a 30-day money-back guarantee if you execute all our deliverables and don't see any new offers coming in.
Step 3: Drive 10 to 22+ Interviews Per Week
It's no secret that hiring during COVID-19 has slowed down as companies prefer to hoard cash and HR departments push back on new hires. Because of this, old ways of getting interviews are proving ineffective, and let's face it —tactics like networking, cold outreach, and industry meet-ups were never reliable and efficient to begin with.
In this step of the program, we introduce candidates to Product Gym's effective interview roadmap that helps them generate around 10 to 22+ interview requests a week.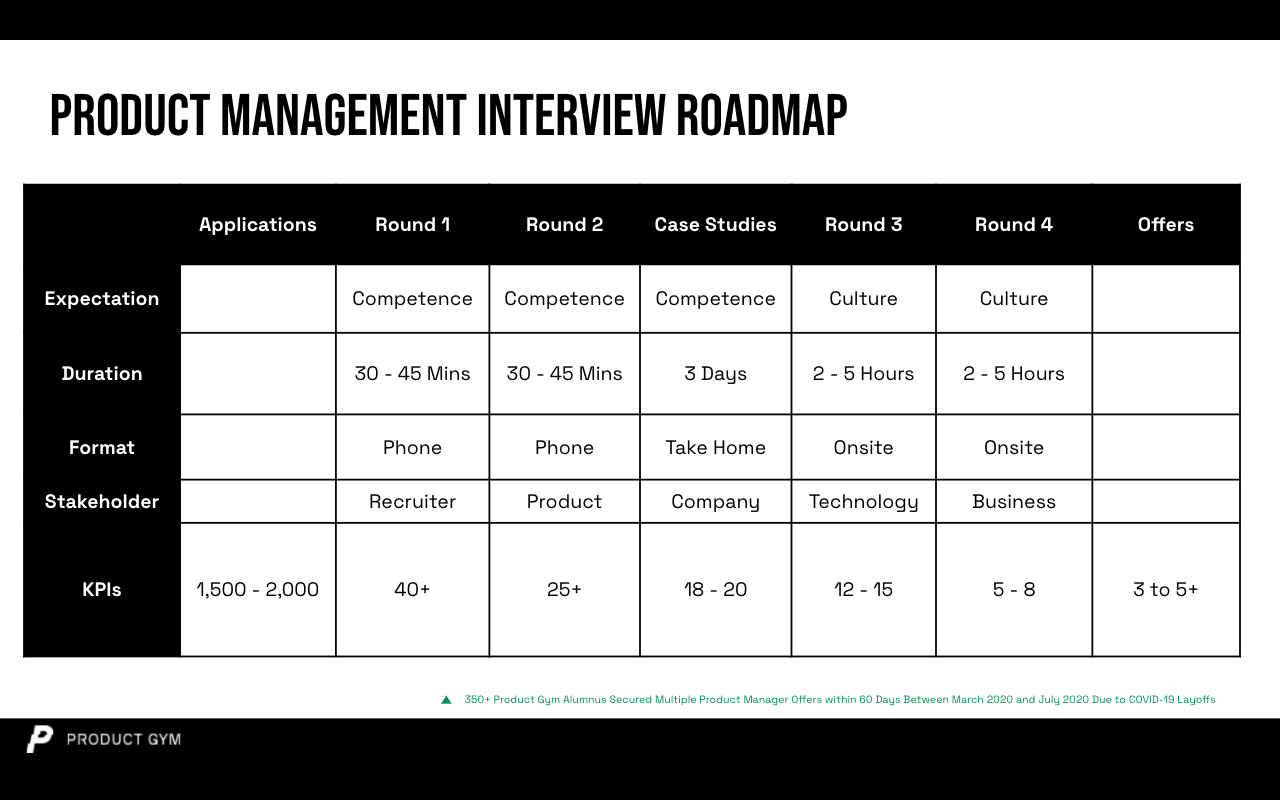 Step 4: Perfecting Your Interview Pitch
How do you sell yourself as the right candidate to secure multiple interview offers? Let's be honest, nobody wants to sit in an interview if they don't have to. They're intense and draining, and the process from start to finish is an emotional rollercoaster. In fact, this emotional roller coaster is why 97% of Americans refuse to go on the job hunt despite hating their job — and their life as a result.
Here's another fact: Companies ask you the same questions regardless of size, industry, or location. These questions are used to score for three general requirements:
Background culture fit

Business or marketing acumen

Technical ability
The order of importance may surprise you: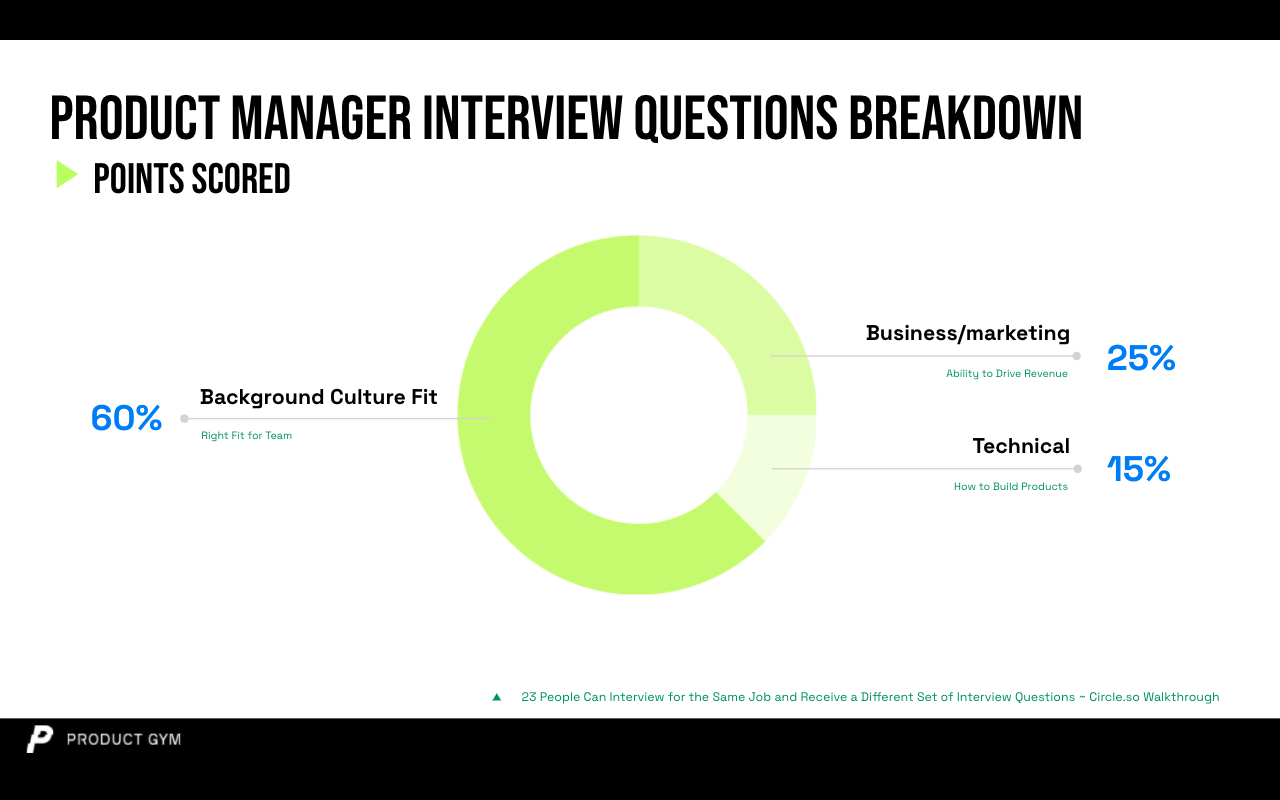 With this in mind, Product Gym has developed a successful method for perfecting candidates' interview pitches.
In a snapshot, this is what you will go through:
Apply and interview for Product Manager positions with companies outside your target city (low competition companies).

Gather your most frequently asked questions from 15 to 30 practice interviews.

Interview coaches (Product Gym alumnus) aid in tailoring your responses during group coaching calls.

We A/B test your responses until we have achieved a proof of concept for your pitch.

Apply and interview for Product Manager positions in the target city with your proven pitch.
Bonus Step 1: Deliver Winning Case Studies for Offers
Most interviewers will expect you to work on a case study, and when you're going through multiple interviews, giving the same answer for case study questions isn't going to work. Your answers should change based on who is asking and the context behind the questions they are asking. The average Product Manager job hunter spends 15 to 20+ hours per case study.
If you're going through multiple interviews a week, you just don't have the time to fulfill that.
That's why it's crucial that we teach candidates our simple methods for tackling case study interview questions.
Bonus Step 2: Negotiate Bigger Product Manager Job Offers
Salary negotiation isn't easy, and it can be particularly tricky in product management. The salary range for a product manager's position can be wide, making it difficult to know what you should ask for. In the same breath, candidates might struggle to come up with a suitable number. The amount offered is often dependent on many factors such as experience, location, domain expertise, technology, and more — there are a lot of factors to try and sort out on your own.
That's why it makes sense to choose a PM training program that assists not only with material and skills learning, but that also offers negotiation training. For example, Product Gym takes each member through negotiation training and ensures they get one-on-one time on a coaching call to work through their strategies. That assistance doesn't go anywhere after members get an offer either; everyone's free to use Office Hours to ask questions and get feedback, even after their offer.
And it works: On average, Product Gym members get $20k to $25k more than the verbal offer they were quoted.
Why Product Gym is the Best Product Management Program Choice for You
Product Gym started with an idea to help grow the Product Manager community by offering realistic skills, techniques, and strategy training to people looking to transition into a product management career. If this sounds like you, then you are going to find exactly what you are looking for in our program.
Worried that you don't have enough experience? Let us be the judge of that. Our coaches are both former technical recruiters that specialized in recruiting for Product Manager positions as well as veteran Product Managers. Like you saw in our graphic above, there's multiple ways you can get into product management even if you are coming from a different background. Most of our students don't have Product Manager certifications, MBAs, or even a technical background.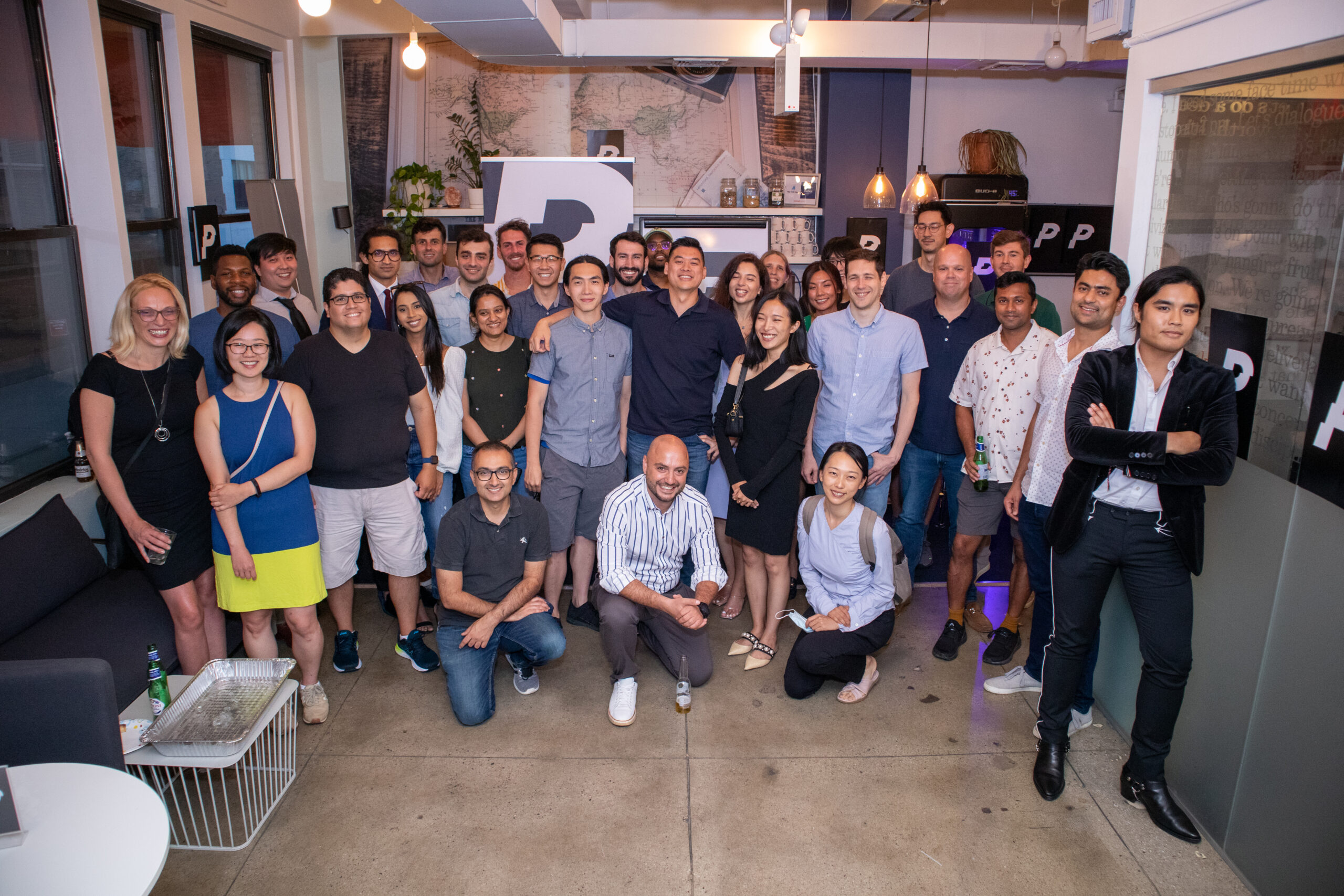 Traits of a Good Product Gym Candidate:
All we look for in a potential Product Gym member's application:
Motivation

— What is your reason for looking for a Product Manager position right now?

Accountability

— Are you ready to do the work required for you to be successful?

Coachability

— How well do you listen and follow instruction?

Urgency

— How quickly are you looking to take the right Product Manager position?
That's it. That's all you need. Our high placement rate speaks for itself. Forget background or knowledge, if these traits sound like you we can help you generate interview offers in as little as 45 days.
Here's what makes our approach so successful:
1. Curriculum
We know what you need and have distilled our curriculum to offer just what you need to get ahead in the industry.
We'll take you through the technical fundamentals:
Product management fundamentals

Product management frameworks

Technical product management

Engineering

API

Systems development lifecycle

UX design

UX research

Product management

Data science

Machine learning
The business fundamentals:
Product strategy

Product road mapping

Prioritization

Product marketing

Product pricing

A/B testing

Marketplace management

Experimentation

Metrics and dashboarding

Customer empathy

Investor expectations
And to tie it all together, the interview fundamentals:
Interviewing with internal recruiters

Interviewing with external recruiters

Product Manager interviews 101 (pitching your background)

Product Manager interviews 201 (closing final interviews)

Case Studies

Technical Case Studies

Whiteboarding

Fishbowl Interviews
Don't all of the above items seem like topics every Product Manager needs to learn?
2. Coaches
We believe this is what truly sets us apart.
You need a team that understands what recruiters look for to help you learn the job and career skills necessary to generate offers. Our product management instructors, interview coaches, and subject matter experts are senior Product Managers, engineering leads, UX research and designers, visual design experts, product marketers, and data scientists from top-tier tech companies and small scrappy startups. Their breadth and depth of experience equips you with the skills needed to ace the product management interview. This wide team also allows us to offer you separate instructors for every course, instead of one or two PMs teaching every skill.
But that's not all: On top of the instructors, you will also get to work through the process with a team of coaches who have been where you are as a member and are available for all the real-time feedback and advice you need.
3. Lifetime Membership
End of the journey? As a Product Gym alumni that most probably means you are happy in your new position, but we know our members are go-getters who want to keep learning and stay up to date, and we'd love to stay connected with them.
That's why we offer a true lifetime membership, where our members keep all the resources and remain connected with the PG community for as long as they need. Expand your skill set, give back, and drive some revenue for yourself even after you leave the program.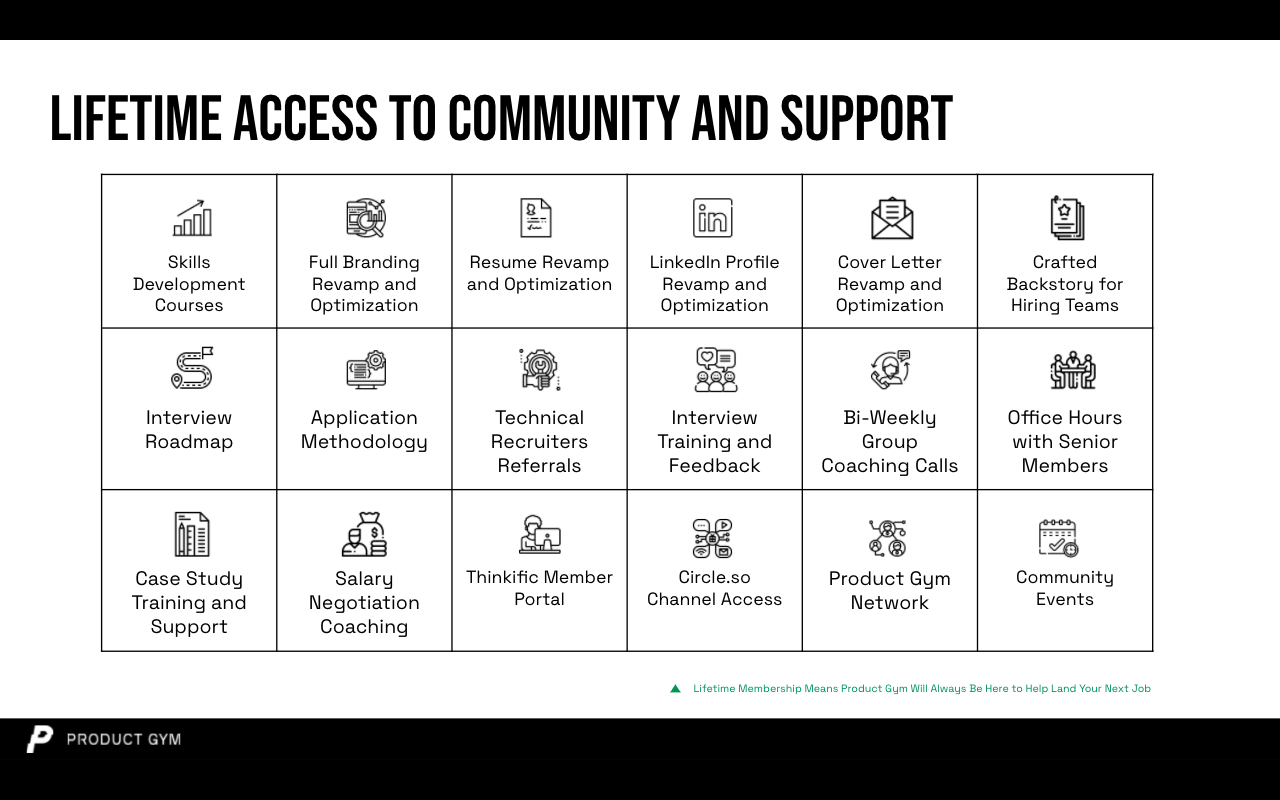 On top of that, we give our members opportunities to keep earning, even after they have secured their dream position:
Refer Members to Product Gym and get $500 compensation per person.

Write blogs for Product Gym to earn $100 an article.

Host webinars and events with Product Gym for $100 per session.

Record YouTube videos for Product Gym.

Go on to become a Product Gym instructor, mentor, or coach.
Remember, lifetime membership also means Product Gym will always be here to help land your next job!
4. Community
We set out to develop a practical curriculum for our members, and along the way also built an expansive community of driven product people. We often hear feedback from Product Gym members about how being part of a community of other ambitious members helped them to succeed.
In this case, accessing a Lifetime Membership also means belonging to a powerful network of Product Managers, Senior and Director PMs, career coaches, and PG staff. We're all here to see members succeed: our community does what it can to lift each other up.
How Does Product Gym Compare to Other Product Management Training Programs?
You might be thinking, "But other leading programs also offer the same benefits and perks." That's a good question: do they?
When deciding which product management program is suitable for you, consider whether other programs will provide you with:
An effective and results-based training program.

Coaches who are experts in a variety of different backgrounds to equip you with the skills you need and who have been where you are as a member.

Instructors who are available for all the real-time feedback and advice you need.

Professional branding that includes revamping your resume, LinkedIn profile, cover letter, and backstory for ATS (aka recruiting software or resume bots).

Case study support.

Active career support from coaches during

and

after your time in the Product Manager program.

Unlimited access to a true lifetime membership network, which you can use for job searches and networking with local product managers and fellow members.

Member portal and web-based resources.
There's lots to compare, so we made it easier by putting them side by side — and step by step — with other leading product management programs. Click the table if you want to zoom in and take a closer look.
1. Skills Development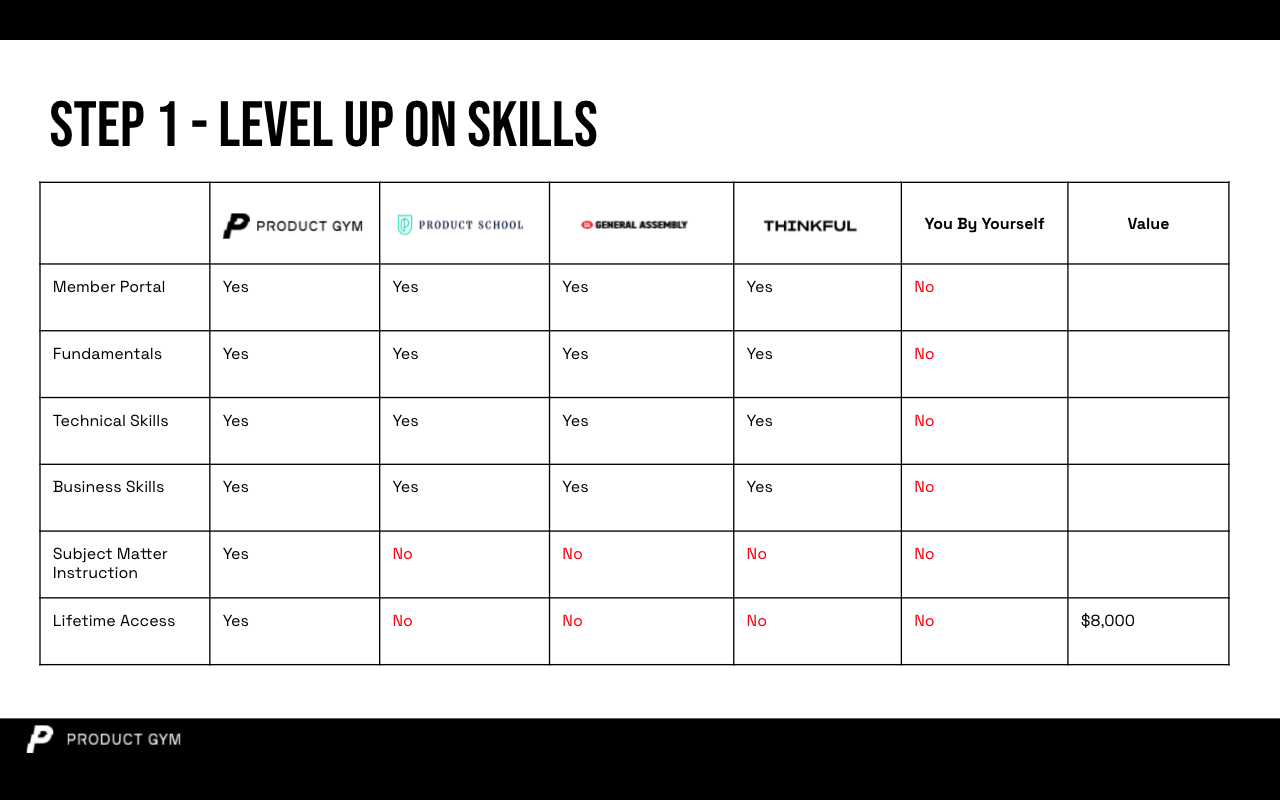 2. Branding
3. Scalable Application Training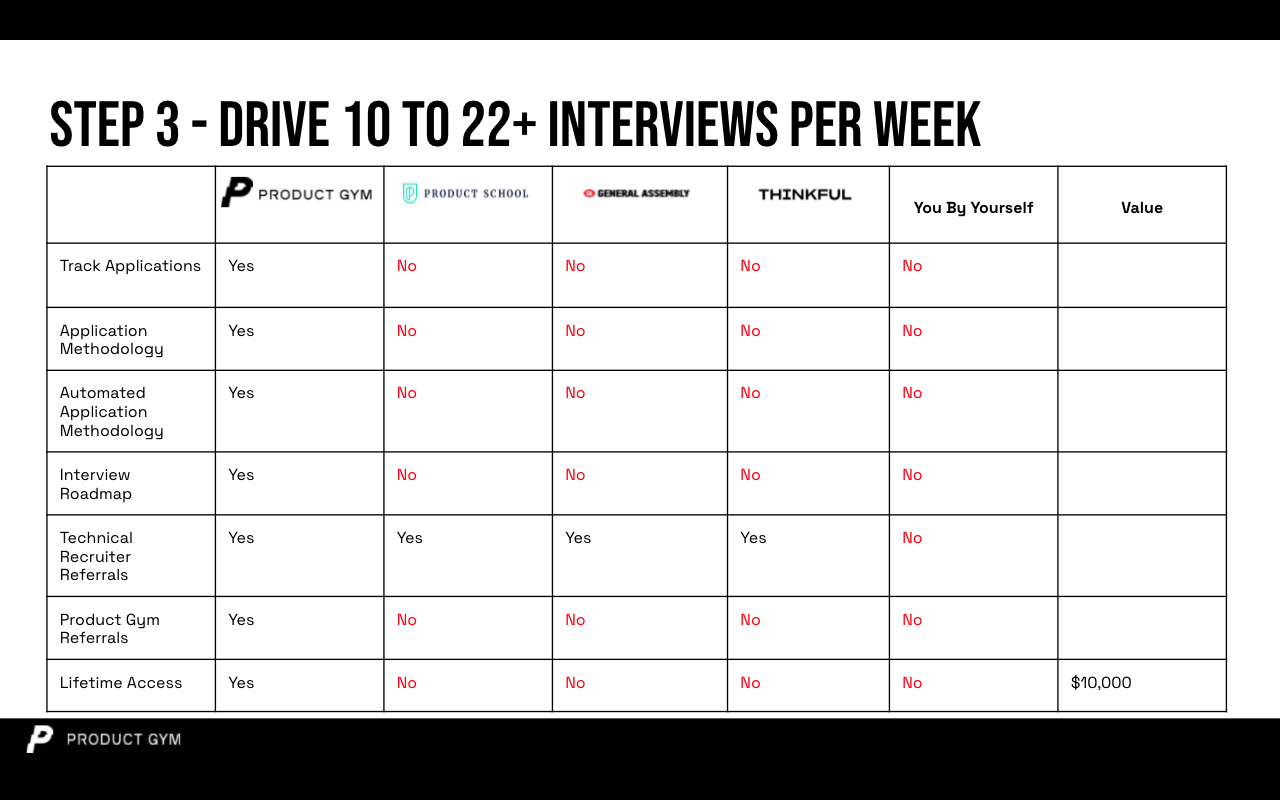 4. Interview Support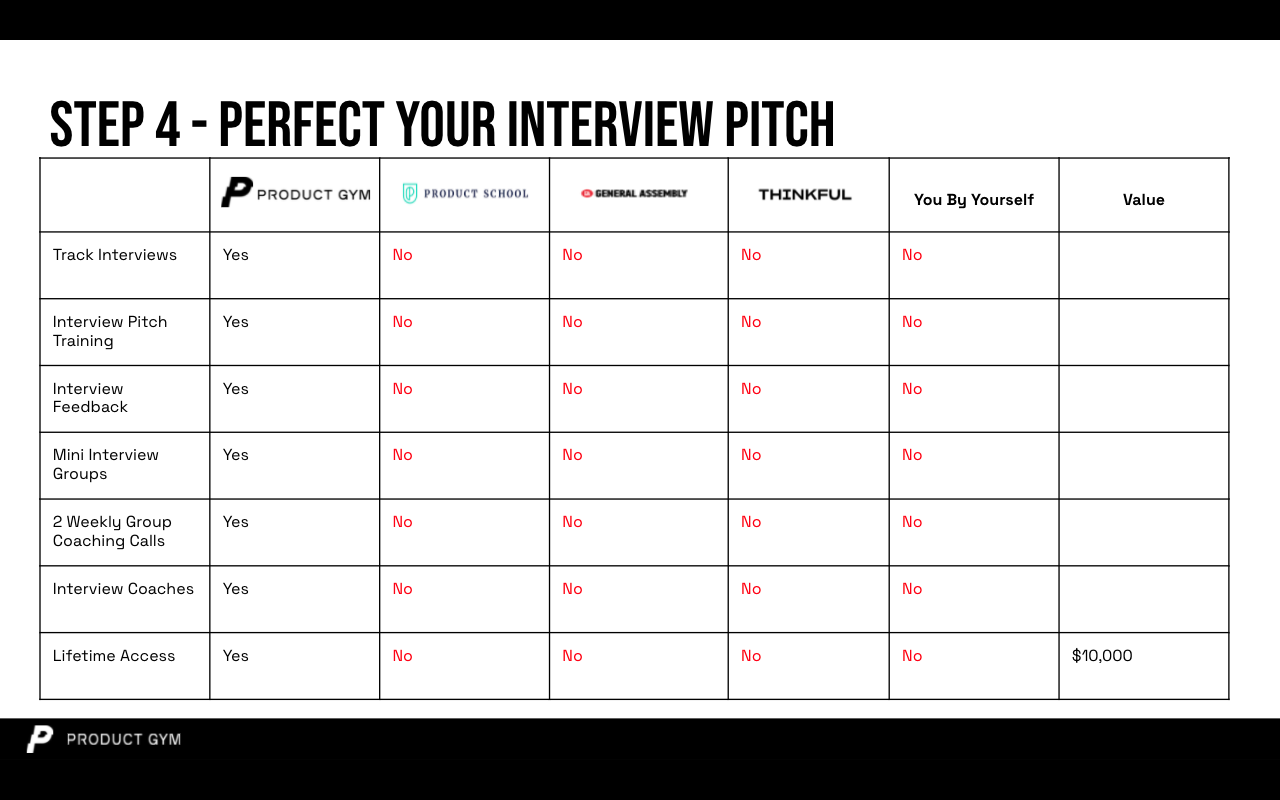 5. Case Study Support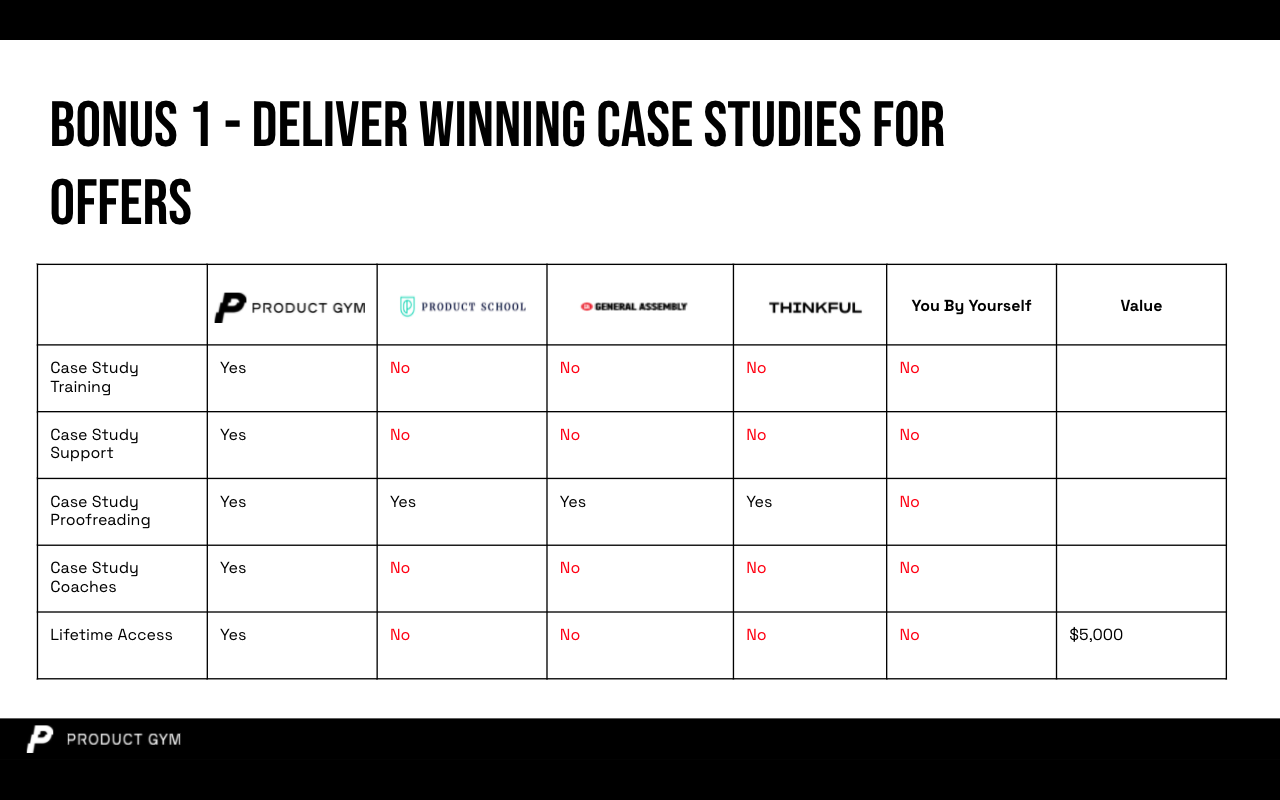 6. Maximizing Results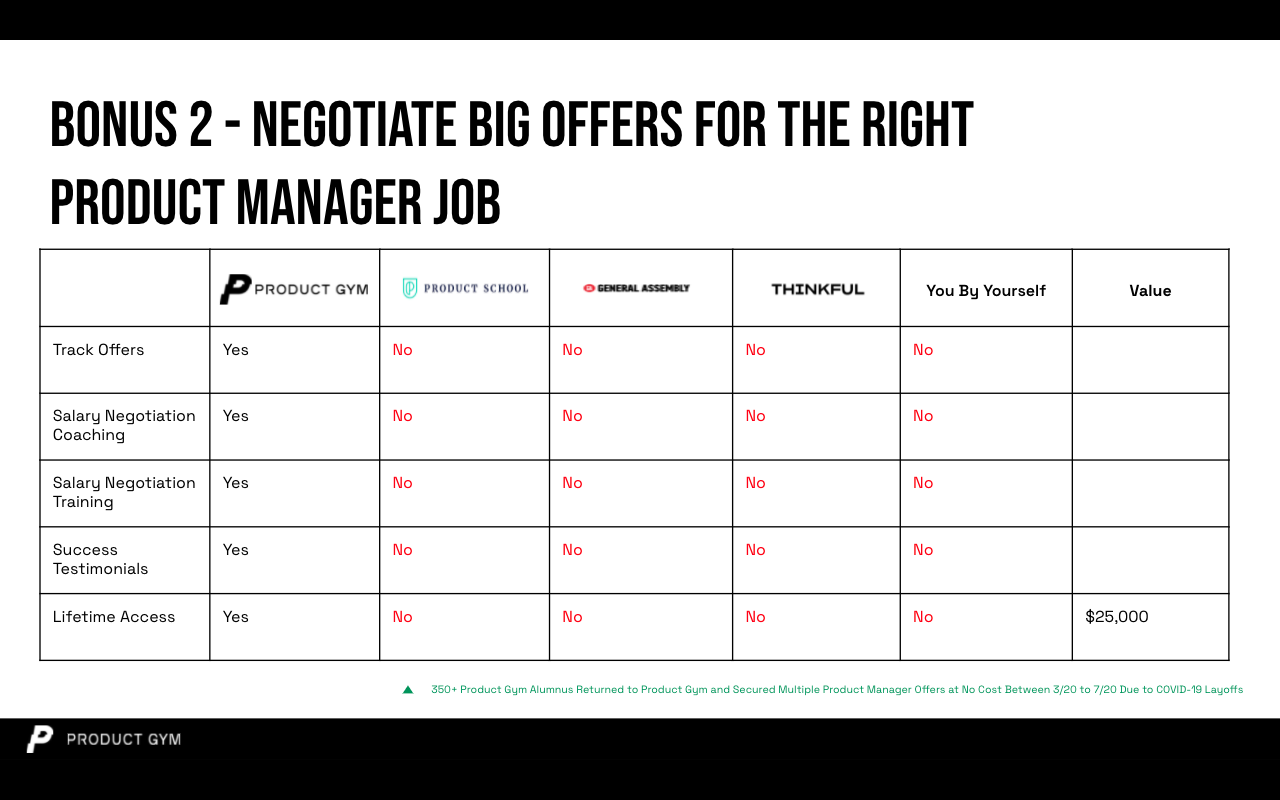 Yes, we may have a strong bias, but that's why we've laid it all out for your consideration. We're proud of what we've constructed and achieved at Product Gym, and even prouder of our members who have gone on to thrive in the industry.
After all, our purpose is to make sure you learn — in a very practical way — how to land a Product Manager job.
Ready to Take the First Step Towards Your Product Manager Career?
We know we are! Join other successful Product Gym members who have made the transition into product management today.
If you still have questions about product management training programs, get in touch with us. We're offering free career coaching sessions with our in-house team of coaches. We'd love to hear from you and answer any questions you have.