You may have noticed a trend with product management job descriptions recently. The term 'growth' seems to be popping up more and more in titles and descriptions of product management job postings, especially within the tech industry. So what exactly is a Growth Product Manager, and what makes it different from a core PM role? And more importantly, how can you land the job?
While product management roles have been growing rapidly for a while, a recent analysis of Google Trends revealed an increase of 425% in average monthly interest in growth product management over the last 5 years. In simpler terms? The role of the Growth Product Manager is on the rise.
What Is a Growth Product Manager?
It's not just a buzzword; more and more companies are incorporating growth Product Managers into their teams to work alongside core PMs. If this is your first time hearing about this, it might be easy to assume that the role of a Growth Product Manager vs Product Manager is interchangeable. While there are some similarities, there are a few significant differences that set growth Product Managers apart.
To begin to understand what a growth Product Manager is all about, it can be helpful to look at the origins of the term in the product industry. The term 'growth hacking' first started to creep into the vocabulary of product organization professionals throughout the tech industry about a decade ago. Entrepreneur Sean Ellis coined the term in 2010 to describe a new kind of marketing role for startups. "Growth hackers" were becoming increasingly central to startups trying to maximize their early growth phase.
This concept of a marketer that was laser-focused on agility and metrics was Ellis' answer to traditional marketing professionals. According to Ellis, "Growth hackers" are characterized by a focus on finding ways to build sustainable, repeatable growth quickly.
Because the word 'hacking' has some negative connotations, "growth hacking" gave way to "growth marketing" and the rest was history. Many years later, growth marketing is so common that it has become the gold standard for 'good marketing'. The line of separation between the traditional and growth marketer is blurred. The expectation has become that all digital marketers utilize the responsive and reactive model of growth marketing to remain in a constant state of optimization.
We can draw a similar conclusion about the sudden appearance of Growth Product Managers.
What Does a Growth PM Do?
Still in its infancy, the role of the Growth Product Manager (or Product Growth Manager, as they're sometimes also called) is a specialized kind of PM that lacks a standardized definition. The responsibilities of the position can vary from company to company, but they all share a few core things in common.
Within organizations that have embraced a product-led growth strategy, traditional Product Managers are being faced with pressure to produce commercial results quickly. While PMs are often great at managing customer relationships and experiences and mapping out plans for further product development on Product Roadmaps, the pressure to fill sales growth quotas and meet short-term targets is not something that always comes naturally. This is where Growth Product Managers come in!
Here are a few of the key responsibilities that make up the GPM role:
Work with a dedicated cross-functional team to hit specific goals (think engineers, analysts, and designers)
Focus on improving business metrics
Identify opportunities for growth and lead the charge on removing barriers to value
Prioritization: unlike a traditional PM, the GPM will prioritize iniatives based on their potential for business outcome
Growth Product Manager vs Product Manager
Whereas a traditional Product Manager's key stakeholder is the customer, a Growth Product Manager's key stakeholder is the business. A Growth Product Manager will ideally be able to come into a product-led growth environment and work alongside core PMs to focus on improving a specific metric or goal. Similar to the Growth Marketer role, it's all about finding sustainable, repeatable, and rapid growth. Growth Product Managers will always be more focused on the bigger picture.
Like a traditional Product Manager, Growth Product Managers are still concerned with customer problems. But where a traditional Product Manager will focus on improving their product and the customer experience, a growth Product Manager will use their understanding of customer problems to prioritize solutions that result in the most significant growth.
Similar to how traditional Product Managers will work with teams to create a Product Roadmap, Growth Product Managers will create a growth strategy plan to acquire new customers by identifying markets, key personas, and demographics, and finding a way to connect them with the most efficient acquisition channels. Depending on the size of the company, Growth PMs may or may not have a cross-functional team of engineers at their disposal.
How Career Coaching Can Help You Become an Growth Product Manager
At Product Gym, our career coaches apply a simple four-step framework to land our members the Product Manager job they're looking for. With this structure and the support of the PG community, both aspiring and veteran PMs have increased the number of calls they receive for interviews. The process also leads to more interviews converted into offers.
Here's how the magic works:
1. Optimize
From the best techniques for writing a cover letter to building an attractive Product Manager resume, the first step our coaches focus on boosting your credibility and professional branding. We'll help you optimize your application with:
A resume designed to beat the ATS
A cover letter that shows your culture fit
An optimized LinkedIn profile that aligns with the above
A 30-second personal pitch that sells you as the best possible candidate
At Product Gym, we provide branding workshops, resume reviews, and the tools you need to take your professional branding to the next level.
2. Apply
Product Gym members apply for 20+ Product Manager jobs weekly, and often average 9+ interviews in any given week. By perfecting your application strategy and interview approach through practice and experience, you'll build the confidence and expertise you need to wow the recruiter and interviewers at your dream company when the time comes.
Of course, our tried and tested application framework is paired with tools, tips, and interview support that all come together to form a job-hunting strategy that really works. And our coaches are with you every step of the way.
3. Convert
Once you've lined up your interviews, it's time to zero in on converting those round ones into round twos, and so on, all the way to the Growth Product Manager job offer. It's no secret that our coaches focus on the Product Manager interview process here at Product Gym: we're there to help our members learn how to ace every step and every question — including behavioral questions, technical questions, case studies, salary negotiation, and more.
4. Learn
When should you start building your product management skillset? Before you apply? When you're on the job? Honestly, transitioning into product management can be a long journey. We encourage Product Managers (whether you're a first-timer or an industry vet) to start learning at the beginning and continue on past the finish line.
You likely already have skills that translate well into a Product Manager role: keep sharpening them, and find the gaps where you can learn, grow, and practice new skills to become a better Product Manager every day.
We want to make sure our members show up skilled and prepared for their interviews and their first day on the job, which is why we offer 20+ technical and business courses taught by industry experts.
What Growth Product Manager Skills Do You Need to Succeed?
Analyzing and testing data: Regularly analyzing metrics and data points — such as key product growth — will allow you to track your success and optimize the growth strategy plan accordingly. Because of this, a successful Growth PM will be results-driven and have a keen mind for

statistics and analysis

.

Problem-solving: A successful GPM should be a

sking questions constantly about what is and isn't working. Growth Product Managers use their curiosity and problem-solving mindset to consider how initiatives can be more efficient and more effective.

Communication and collaboration: because Growth Product Managers will work alongside core Product Managers, there will be situations where Growth PMs and PMs may have to collaborate. Diplomacy and excellent communication skills will help any Growth PM navigate the sometimes tricky waters of inserting yourself into someone else's project and making suggestions for changes.
Flexibility: Ideal Growth Product Managers embrace flexibility, and are very agile and able to 'go with the flow.' The ability to be comfortable in any situation and the willingness to be open-minded and curious about what is and isn't working will nurture the creativity that Growth Product Managers will benefit from.
Job Posting Examples
Let's look at a few examples of real GPM job postings to get a better idea of the key roles and responsibilities of a Growth Product Manager.
Facebook
Meta's job posting for a Product Growth Manager at Facebook explains that the ideal candidate will ideally be very fast-paced and quick-moving as they work with cross-functional teams of engineers, designers, data scientists and researchers to build products. Here are the listed responsibilities of the Growth PM job description:
Display strong leadership, organizational and execution skills.

Is the primary driver for identifying significant opportunities, and driving product vision, strategies and roadmaps in the context of broader organizational strategies and goals.

Incorporate data, research and market analysis to inform product strategies and roadmaps.

Maximize efficiency in a constantly evolving environment where the process is fluid and creative solutions are the norm.

Drive decision-making through user insights, quantitative analysis and AB testing.

Lead the strategy, roadmap and execution of key initiatives and products.

Experience of going through a full product lifecycle, integrating customer feedback into product requirements, driving prioritization and pre/post-launch execution.

Great attention to detail coupled with the knowledge to see the bigger picture, prioritize competing needs and provide extreme clarity to your team and partners.
In this list, we can see that there is a definite blend of traditional and growth-centred product management duties. Again, because Growth Product Managers are such a relatively new position, the roles and balance of responsibilities will vary from company to company.
DoorDash
For instance, let's compare the job posting above to this Growth Product Manager job description at DoorDash: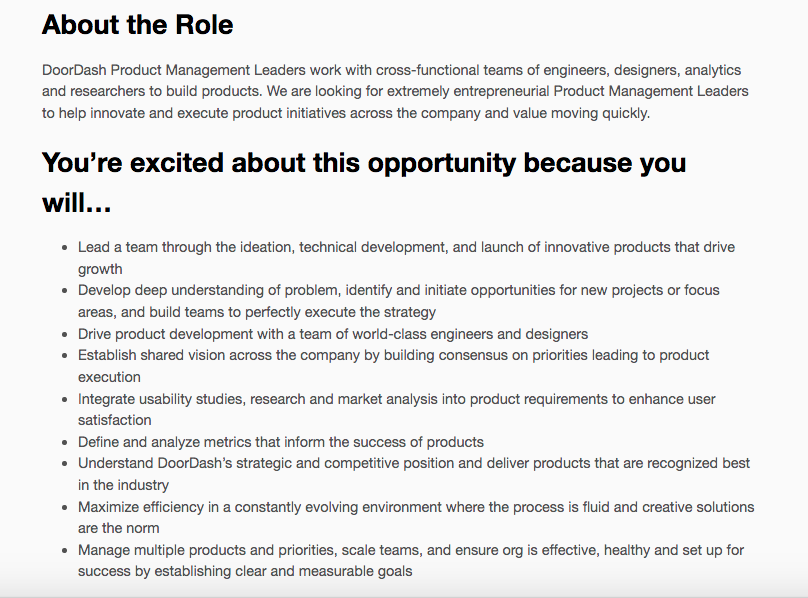 While the Facebook job posting focused on strategy and the product lifecycle, the DoorDash job description seems to hone in on metrics and research. Both roles highlight the need for efficiency and an ability to manage cross-functional teams.
How to Become a Growth Product Manager
If you feel like you have what it takes to be a Growth Product Manager, there has never been a better time to try. Check out our job board to find postings from great companies, and make sure your resume is polished up and on point. Highlighting any previous experience in growth positions like marketing or sales is great, but just like traditional Product Managers, Growth Product Managers come from all backgrounds. The truly important thing is that your resume is well written and your online branding is up to date and reflecting your best self.
Once you've got that down, we recommend working on your personal pitch and learning more about the company and the job to prepare. If this is something you struggle with, schedule a call with one of our senior advisors and they will be able to help you put your best foot forward. After that, all that is left is to apply!
Of course, following up with recruiters if you haven't heard back can be a good idea but it's important to do it the right way.
Adopt a Growth Mindset
It may be the case that eventually, Growth Product Managers will experience the same shift as Growth Marketers before them. As growth product management becomes synonymous with 'good' product management, the word 'growth' will start to disappear and the norm will become for all Product Managers to expand their scope and skillset. It's hard to say, but one thing is for sure: growth product management is here to stay.