Did you know the average age of a Product Manager is 39 years old? How about that there are 41,370 Product Managers working in the US? Thanks to the transparency of sites like Zippia, we can dive into these Product Manager statistics and more like never before. 
You might want to have an idea of Product Manager statistics while on your job hunt for a few reasons:
Understanding how minority groups are represented in your industry can help you better interact with your team members. You can ultimately work towards closing age gaps and diversifying who gets a seat at the table.

 Industry statistics can show you who is working where, as well as the average levels of experience and education people bring to their roles. All this context can help you make decisions about your own job hunt.

Product Manager statistics that show job satisfaction, turnover rate, and years spent in the same role can give you an idea of what to expect and what areas to focus on, based on your own goals.
We've collected essential demographic information from surveys on the industry and have gathered it into one easy-to-read piece. Read on for the PM statistics you need to know.
1. Gender and Product Management 
As in many industries, men tend to dominate product management roles. Women hold only 35% of Product Manager jobs. These women, on average, earn 7% less than their male counterparts.
On top of that, a significant amount of that percentage assumes entry-level jobs instead of those higher up the PM career ladder: 64% of senior-level Product Manager roles are held by men. Product Plan also reported that 3% of Product Managers preferred not to disclose gender, or identified as non-binary.
With this gender gap, communities like Women in Product are crucial to the product management community. Women in Product's mission is to "Equip women to thrive in product management careers at all levels."
Why is this statistic important? Because when we achieve and sustain gender equality within organizations — and especially when women are fulfilling higher-level positions — profit performance increases by 15%, customer experience improves, and it enables the company to retain skilled and talented employees.
2. Age Statistics in Product Management 
Is ageism an issue in product management? As a product management career tends to require previous experience, there aren't many incredibly young Product Managers.
A study undertaken back in 2016 demonstrated that 39% of Product Managers taking part were between the ages of 35 – 44. 54% were between the ages of 45 – 54. Interestingly, the same study conducted in 2019 showed that 34% of PMs were 30 – 39, and 34% were 40 – 49. 19% were in their fifties, and only 9% were in their twenties.
3. Racial Representation in Product Management
Zippia's 2018 report shows that, with 73%, the vast majority of Product Managers are White. Comparatively, Product Plan's 2021 survey found that 59% of product people identify as White, and 22% identify as Asian. Unfortunately, all other racial identities represent only 15% of senior leadership roles in product.
"Less than 20% of all minority communities are represented in product management."
The lack of representation in product management is also demonstrated by racial wage gaps. Here, Asian Product Managers tend to earn higher than their counterparts on average. In this 2018 survey, Black or African American PMs had the lowest average salary.
4. Product Manager Statistics: Experience
Generally speaking, age demographic connects diectly to the level of experience — but not always. The same two reports compared above show that the percentage of Product Managers with less than 5 years of experience is increasing. In 2019, 33% had 0 – 4 years of experience: the highest percentage in the graph. Next, 26% of Product Managers have 5 – 9 years of experience, while 16% have 10 – 14. Comparatively, in 2016, an average of 15% of Product Managers had 5 years of experience or less.
5. What Industries Are Popular with Product Managers?
Again, as long as there's a product, there's a need for a Product Manager. But what industries are currently in need of higher numbers of Product Managers? According to Product Plan's The 2021 State of Product Management Annual Report, compiled data from LinkedIn shows that the demand for Product Managers in the US has doubled across the past five years.
As demonstrated in the image below, it is the technology industry that makes up for more than half of the industrial demand for the PM role. Granted, there are other industries that are also quite prominent, such as healthcare and finance, but none compare to the sheer dominance that the technology market has when it comes to the need for Product Managers. 
6. Where are Product Managers Working?
Following on from the section above, let's hone in on the Product Manager statistics for companies that are popular with PMs. Here are the top five as listed in Glassdoor: 
UBER: as the first of its kind, as well as being the market leader, UBER is very much dependent on improving the consumer experience, so it is understandable its demand for highly – skilled Product Managers. 
Amazon: Not only is this one of the leading organizations in the whole world, but with as little as two years experience and a bachelor's in a business and economic-related subject, you can become a Product Manager for Amazon. 
Slack: Although a large organization, Slack very much operates as a startup in terms of how PMs work and the amount of creative freedom one gets over one's projects. 
Microsoft: This organization has a prominent reputation for innovative Product Managers. Microsoft is famous for the creativity they allow when it comes to product work. Furthermore, the company provides a great salary, job security, and a positive working environment. 
Adobe: This organization is so popular as they desire PMs that want to take risks and increase innovation when it comes to their products and services. Furthermore, they are so helpful for those PMs that really want to advance their career within the organization. 
Average Salary Within Product Management 
According to Zippa, on average, Product Managers earn an annual salary of $118,411. However, there are many different factors that can alter this. Here are the top 3 aspects that affect salary:
Location

: Larger cities are likely to

pay higher salaries

; for example, San Francisco's average PM annual salary is

$129,572, which is a 9.4% increase from the average. This also diversifies further when looking at Product Manager roles across different countries. 

Industry

: The demand for Product Managers across different industries varies. Thus, such demand can determine how much a Product Manager earns. 

Career Progress

: You're more likely to earn the higher you go within a company or industry. So for a Product Manager in the US, the average entry-level role pays $88,000  —  25.6% less than the average

Product Manager salary

.

This goes to show the scope of just how much a Product Manager can earn as soon as they work their way up that career ladder. 
Average Education Level Within Product Management 
For the average Product Manager role, a Bachelor's in Business, Communications, or another transferrable major, tends to be enough to kickstart a career in product management. However, there always seems to be a debate within the community about whether a Bachelor's degree is enough for advancing through a PM career.
45% of Product Managers have a Master's or Doctorate degree, with 48% of all Senior Product Managers having such advanced degrees. This demonstrates that education beyond a Bachelor's degree isn't essential, but it may be helpful, depending on your situation. Ultimately, the level of education needed is dependent on the company you're working for and the location in which they operate.
Skills Within Product Management
In addition to education, there are certain skill sets that are useful when it comes to being a Product Manager. As listed by Zippa, there are 15 core skills needed for optimum performance as a Product Manager, which has been ranked by the percentage of Product Manager resumes they were featured on. Here are the top five: 
Product Management (12.7%): This is incredibly broad. However, It comprises a bundle of necessary skills such as working with cross-functional teams, stakeholder management, and implementing a pragmatic marketing framework. 
Business Intelligence (10.9%): This is essential for being able to work with the finance and operational departments within the organization, as well as producing reports. 
Quality Assurance (9.6%): QA is vital to assuring that customers receive the very best product possible. This is also achieved by creating a quality assurance framework or plan.
Test Scripts (6.4%): Although this skill is more prominent for PMs within the tech and finance industries, these

are

the leading industries hiring Product Managers. Such a skill helps the development team and to debrief users.

Creating Roadmaps (5.6%): This is a much-required skill across all industries when it comes to being a Product Manager. Roadmapping defines product strategy and provides stakeholders with specific times and deadlines to help monitor the product. 
Activities Within Product Management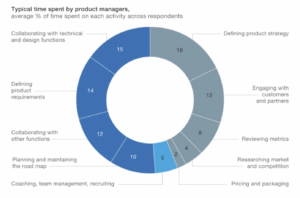 The roles and responsibilities of a Product Manager vary with each individual role. However, according to McKinsey & Company, 80% of Product Managers are involved in designing activities. Furthermore, other common activities include defining product strategy, collaborating with design and technical functions, planning and maintaining product roadmaps. Other significant activities are demonstrated in the graph, alongside the percentage of time PMs dedicate to it.
Significant Issues Within Product Management 
Around 30% of Product Managers believe it's internal politics that make up the biggest issue. When asking Product Managers how they would see these resolved, many listed effective communication and organization as the solution. Other issues mentioned include demanding deadlines, lack of control when it came to actual product management, and constantly changing marketing dynamics.
That's a Wrap on Product Manager Statistics 
There you have it! We've gone over some of the most asked and popular statistics when it comes to the life of a Product Manager. Have you got some more questions or want to talk in more detail about your product management career? Schedule a consultation call with us to learn how Product Gym can help you accelerate your product management career.